No Churn Butter Pecan Ice Cream is easy to make at home without an ice cream machine. It's a simple egg-free vanilla ice cream filled with crunchy candied pecans and the best summer treat. Tastes better than store bought!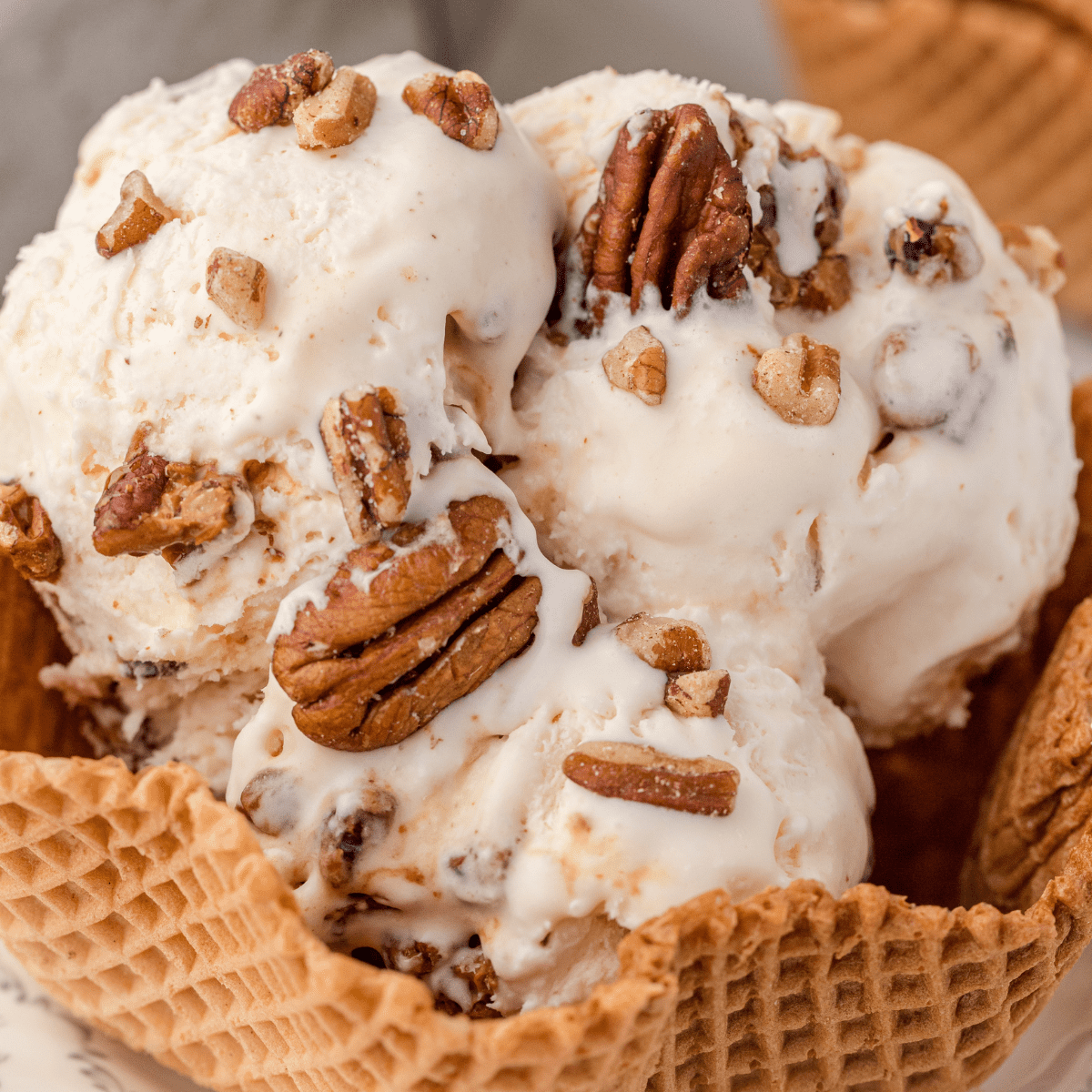 When I was a little girl, my dad's favorite ice cream was butter pecan. I remember that he ordered it every time we went to the ice cream shop after dinner, and we always had a carton in the freezer.
I was thinking of my dad when I created this no churn butter pecan ice cream recipe. I think he would approve because it's got just the right blend of salty and sweet and just the right blend of creamy and crunchy.
Why this is the best no churn butter pecan ice cream
I love no churn ice cream recipes because no ice cream maker is required. I have an ice cream maker, but I have to put the base in the freezer for 24 hours prior to using it, and it's sort of a pain. With no churn recipes like this one, I can whip up the ingredients and have them in the freezer in under 15 minutes and still enjoy the rich and creamy ice cream flavor that I love.
When you toast pecans, they develop a rich, creamy flavor and a sweet, crunchy texture that complements the vanilla ice cream perfectly.
This recipe doesn't require any egg yolks, making it a quick and easy alternative to traditional ice cream. There's no cooking required after you candy the pecans. The ice cream mixture is whipped, mixed, and frozen. That's all there is to it!
What you'll need to make the best no churn butter pecan ice cream recipe
EQUIPMENT
INGREDIENTS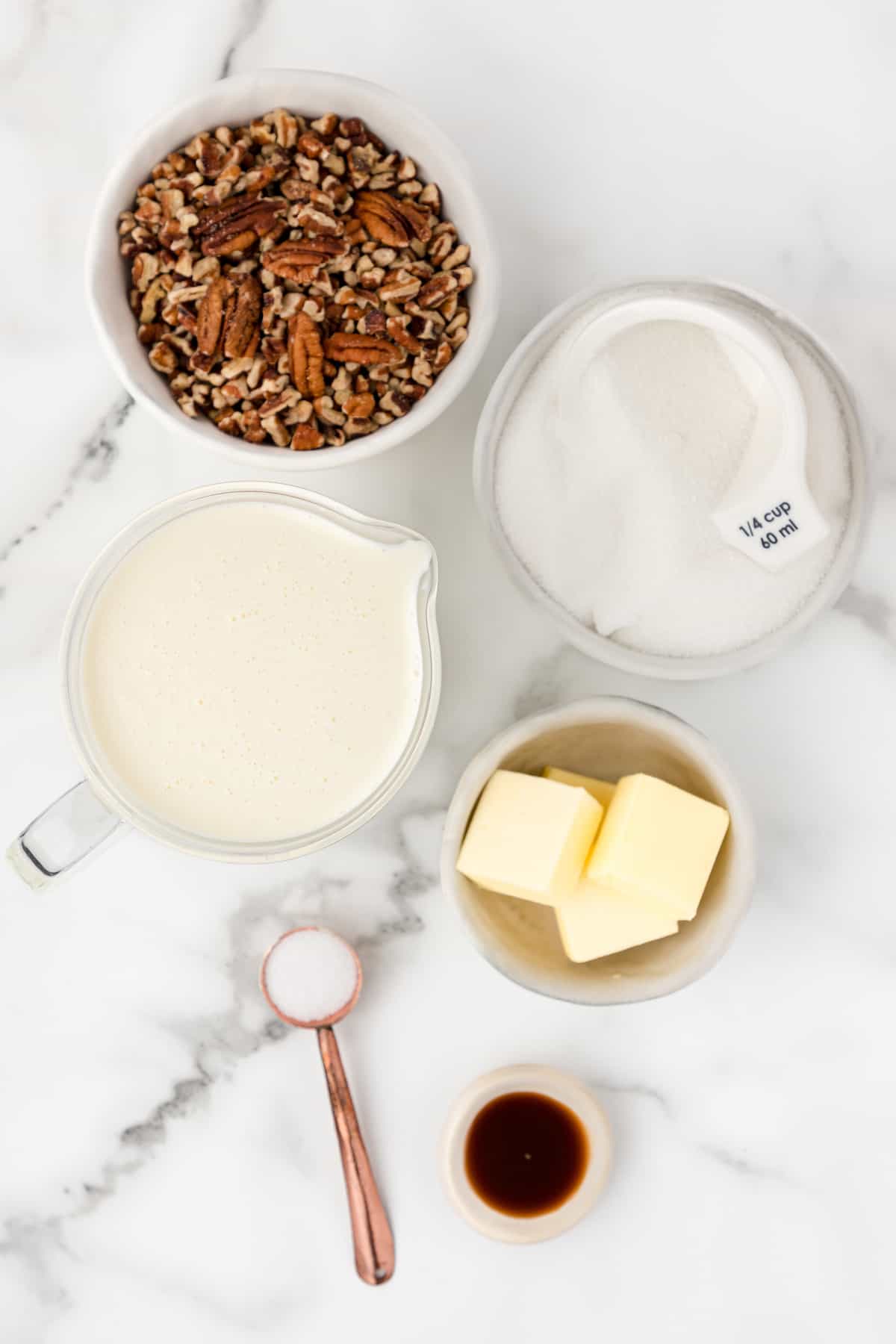 See printable recipe card at the bottom of the page for measurements and nutritional information.
Salted butter - If you don't have salted butter, no big deal. You can use unsalted butter and add an extra pinch of salt.
Chopped pecans - If your pecans are not already chopped, you can pulse them a few times in a food processor. You may want to pulse them regardless so that you have smaller pieces.
White sugar - You could substitute brown sugar if you needed to.
Heavy cream - This is also called heavy whipping cream, and it is the base of the ice cream. You can't make ice cream without it, and whole milk is not a suitable substitute.
Salt - This brings out the sweetness in the ice cream.
Vanilla bean paste - You can substitute an equal amount of vanilla extract, but first let me tell you why I prefer the paste. Vanilla extract is made by soaking vanilla beans in alcohol and then removing the beans prior to bottling. Vanilla bean paste is made from actual crushed up vanilla beans (you can see them!) and has a stronger vanilla flavor. It also lacks the alcohol taste that sometimes is leftover when you use vanilla in uncooked foods.
How to make no churn butter pecan ice cream
If the pecans are not already in small pieces, add them to a food processor to chop. Pulse a few times to get a variety of sizes.
To toast the pecans, add the chopped nuts to a medium skillet or saucepan with 4 tablespoons of butter and ¼ cup of sugar over medium-low heat.

Stir continuously while the butter melts, until the butter and sugar form a crust on the nuts.

Set the glazed nuts aside to cool.
Beat the heavy cream in a medium mixing bowl until soft peaks form. Do not over beat or the cream will turn into whipped cream (and then butter if you keep going - you don't want butter!).

Once soft peaks are formed, add the remaining sugar, vanilla, and salt and beat a bit more, but not too much.

Fold in the cooled buttered pecans into the ice cream base with a rubber spatula or wooden spoon.

Pour the butter pecan mixture into an airtight ice cream container and freeze for 6-8 hours or overnight.

Add a couple of scoops to a waffle bowl with a drizzle of homemade hot fudge or caramel sauce and a dollop of whipped cream. Yum!

Tips for the best no churn butter pecan ice cream
Make sure your cream is super cold before you start. Don't let it sit on the counter while you toast the nuts.
You can substitute almonds or walnuts for the pecans, if you prefer.
Make sure you allow plenty of time for the ice cream to freeze. Six hours is ideal, but overnight also works.
You can add a half teaspoon of cinnamon to the nuts and/or to the ice cream base to give your butter pecan a slightly different flavor.
Do you have to toast the pecans to make butter pecan ice cream?
Yes. If you don't toast and candy the pecans, they will get soggy in the ice cream mixture. It also gives them a caramelized flavor which is really nice in the vanilla ice cream base.
How to store leftover butter pecan ice cream
I prefer to use an airtight ice cream pan to store my ice cream, but if you've made it in a standard loaf pan, you'll need to wrap it tightly in plastic wrap and then aluminum foil. The ice cream will stay good for a few weeks to a month in the freezer, but it really the best in the first week.
If the ice cream has been in the freezer longer than overnight, you might have to let it soften at room temperature for 5-10 minutes prior to scooping.
Try out these other delicious homemade ice cream recipes:
Recipe