This baked apple pecan pancake recipe is simple and easy. Originally from The Pampered Chef, it is the best breakfast for dinner or brunch recipe! Cooked in the oven with fresh apples and chopped nuts. Great for fall family gatherings.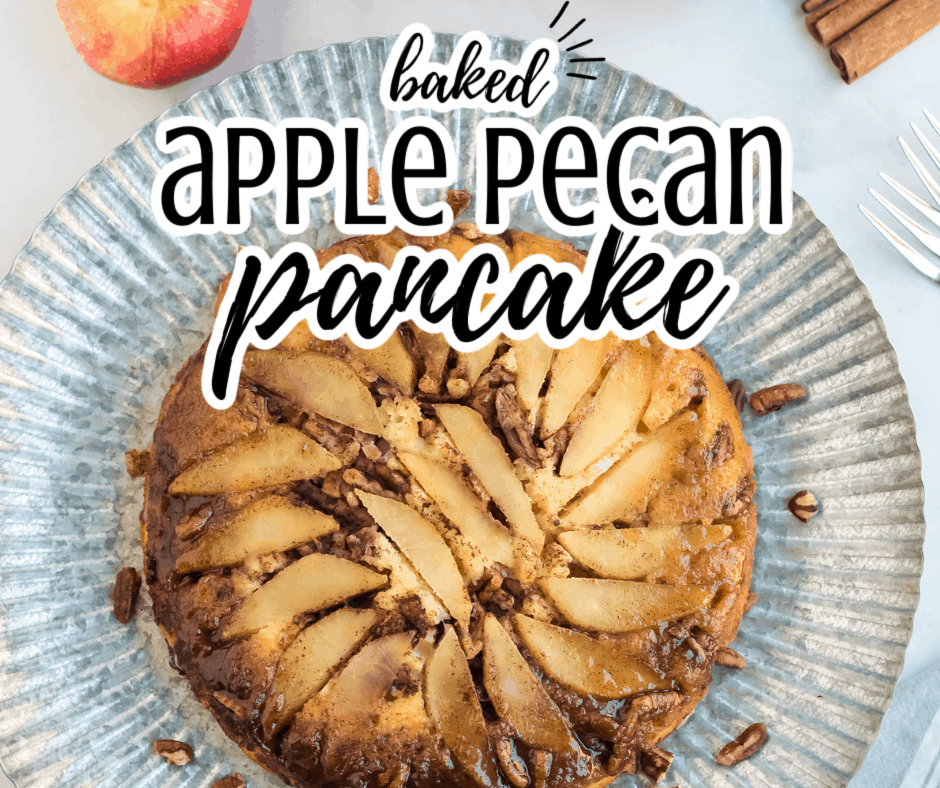 Breakfast for dinner is my favorite. It's like permission to eat sweet foods that would otherwise be off limits as normal supper fare.
There is something so comforting about sitting down to a meal of apple pancakes and ham and cheese omelet roll for supper. I can't explain it.
If you have a small appetite like me, you probably want only a half of a slice of omelet roll and a very small sliver of this apple pecan pancake, but you can still have both.
Pancakes can be labor intensive, so the fact that this super easy one is mixed up and baked in one piece in the oven makes it a breeze. There is no standing over a griddle for an hour making every pancake perfect. They're all together, and they're all perfect!
All you have to do is turn out the cooked pancake onto a platter, slice it into wedges (like a cake), and serve. It couldn't be easier.
I know that this pancake is not the prettiest meal, but don't let that fool you. It tastes AMAZING, and you will be in heaven when you eat it. It's like the pancake version of apple pie.
As I mentioned above, we have eggs with our pancakes to make the meal a little more filling. You could add sausage or bacon as well. It would also be really good to top the cooked pancake with some fried apples and maybe whipped cream.
Wait, are we talking about the meal or the dessert?
Gluten-free alternative
We continued to enjoy this recipe even after I went gluten-free. We made it with Pamela's Gluten and Wheat Free Baking and Pancake Mix, and it was just as good as the original with Bisquick. The two are interchangeable in this recipe.
How to make baked apple pecan pancakes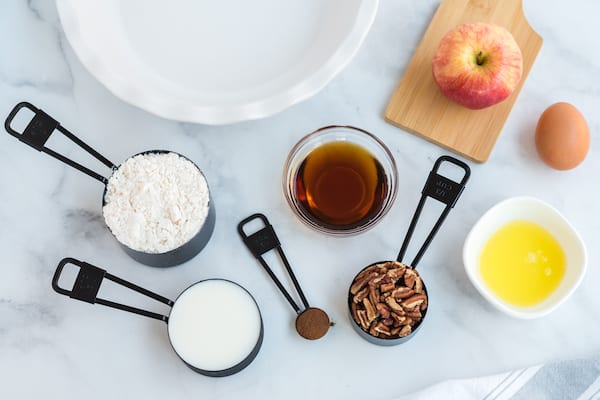 Preheat the oven to 350º.
Mix Bisquick, milk, and egg in a medium bowl. Set aside.

Pour melted butter into a 9-inch pie plate or baking dish.

Arrange apple slices in bottom of dish.

Sprinkle cinnamon and pecans over apples and drizzle with syrup.



Carefully pour batter over the top.

Bake at 350º for 30 minutes or until top springs back when touched.

Loosen edges and invert onto a serving platter. Dust with powdered sugar if desired. Cut into wedges and serve with additional syrup.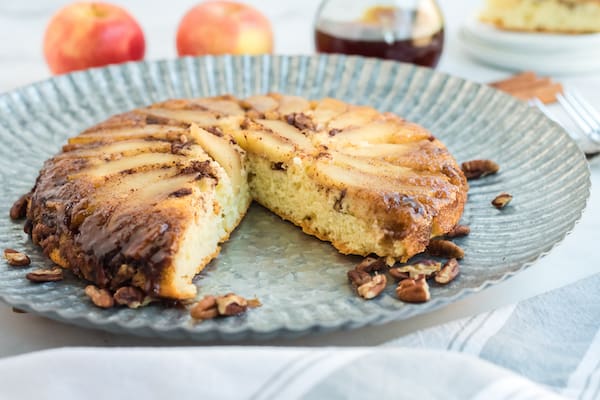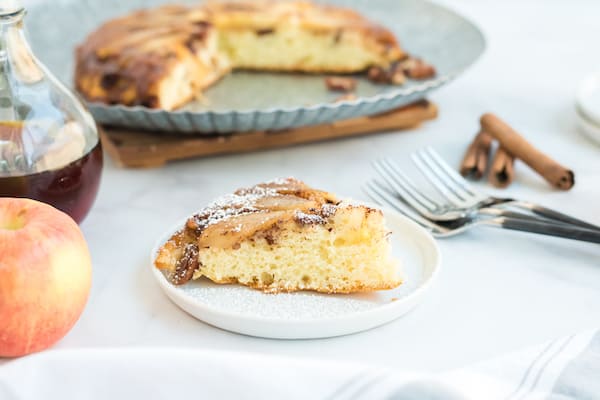 More yummy apple recipes
Try these other apple recipes while you're here:
Recipe