How to make the best homemade pizza dough - This easy recipe uses yeast and all purpose flour to make a simple, fast, and healthy thick crust. You can use Instant Yeast or active dry yeast and this recipe has no baking powder. We use our KitchenAid mixer and the dough hook to form the dough. Includes instructions for how to cook the pizza.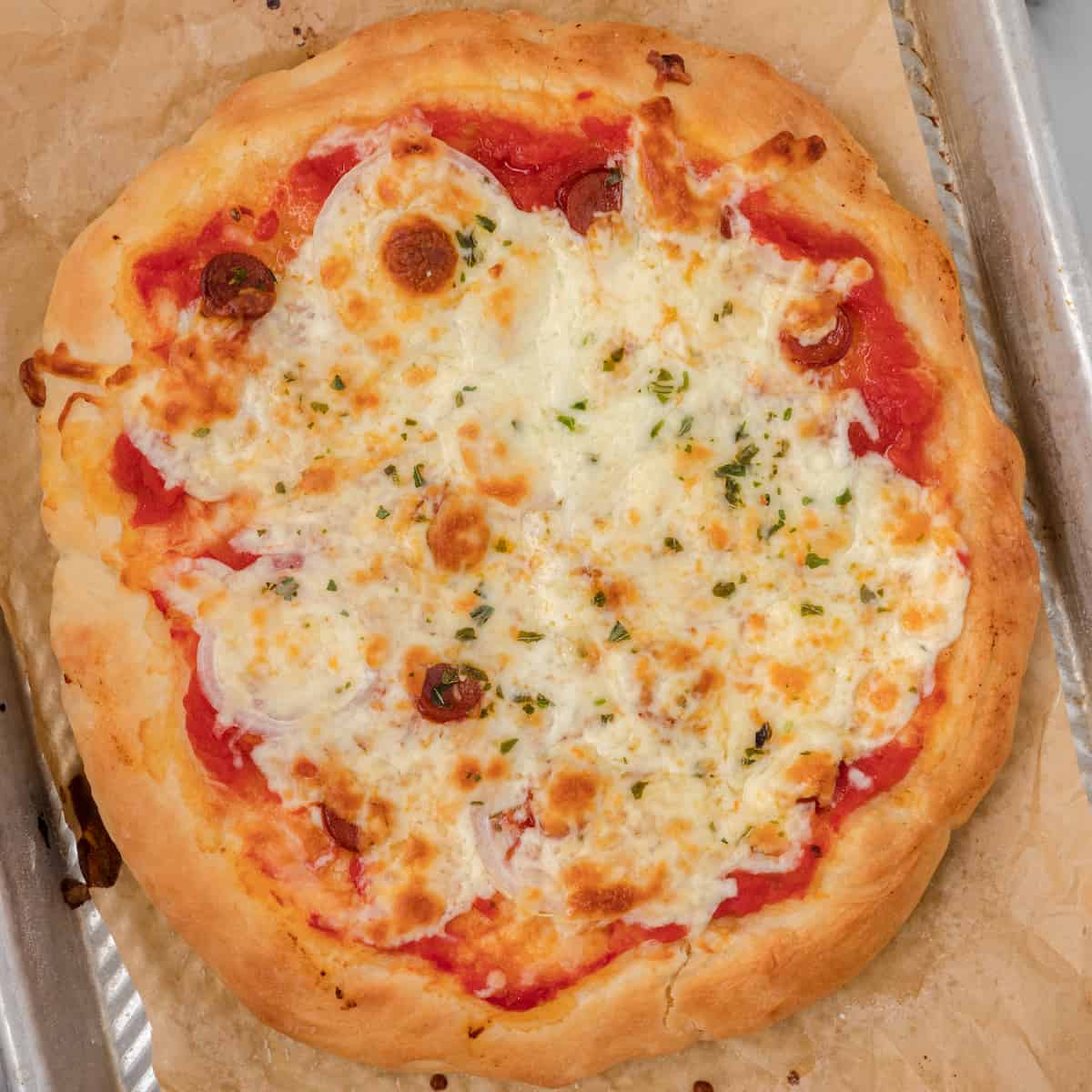 We have tried a lot of pizza dough recipes.
For more than a year, we've eaten homemade pizza almost every week, usually on Sunday afternoon or evening. It's become our tradition. As we're lazing around, doing whatever it is we've decided to do, we make a ball of pizza dough and then we all decide what to put on it.
At first, we used a bread machine pizza dough recipe that came from The Complete Tightwad Gazette book.
Unfortunately, we were never completely happy with that recipe.
Not long ago, I went searching for a new pizza crust recipe, and I found one on AllRecipes.com. I adjusted it, of course (because we never leave a recipe alone, ever), and what came out of it was the best pizza crust we'd ever eaten. It's on the thicker side: light and soft on the inside and crispy and crunchy on the outside. We discovered that we like it best when it's grilled outside, but it's also really good when baked in the oven.
I've shared 24 different recipes for homemade pizza over in this post, so definitely check that out for all kinds of unique and interesting ways to cook and top your pizza. The possibilities are endless.
Our favorite pizza flavor at the moment is White Spinach Pizza, but we also really like BBQ Chicken Pizza.
What you'll need to make the best homemade pizza dough
EQUIPMENT
INGREDIENTS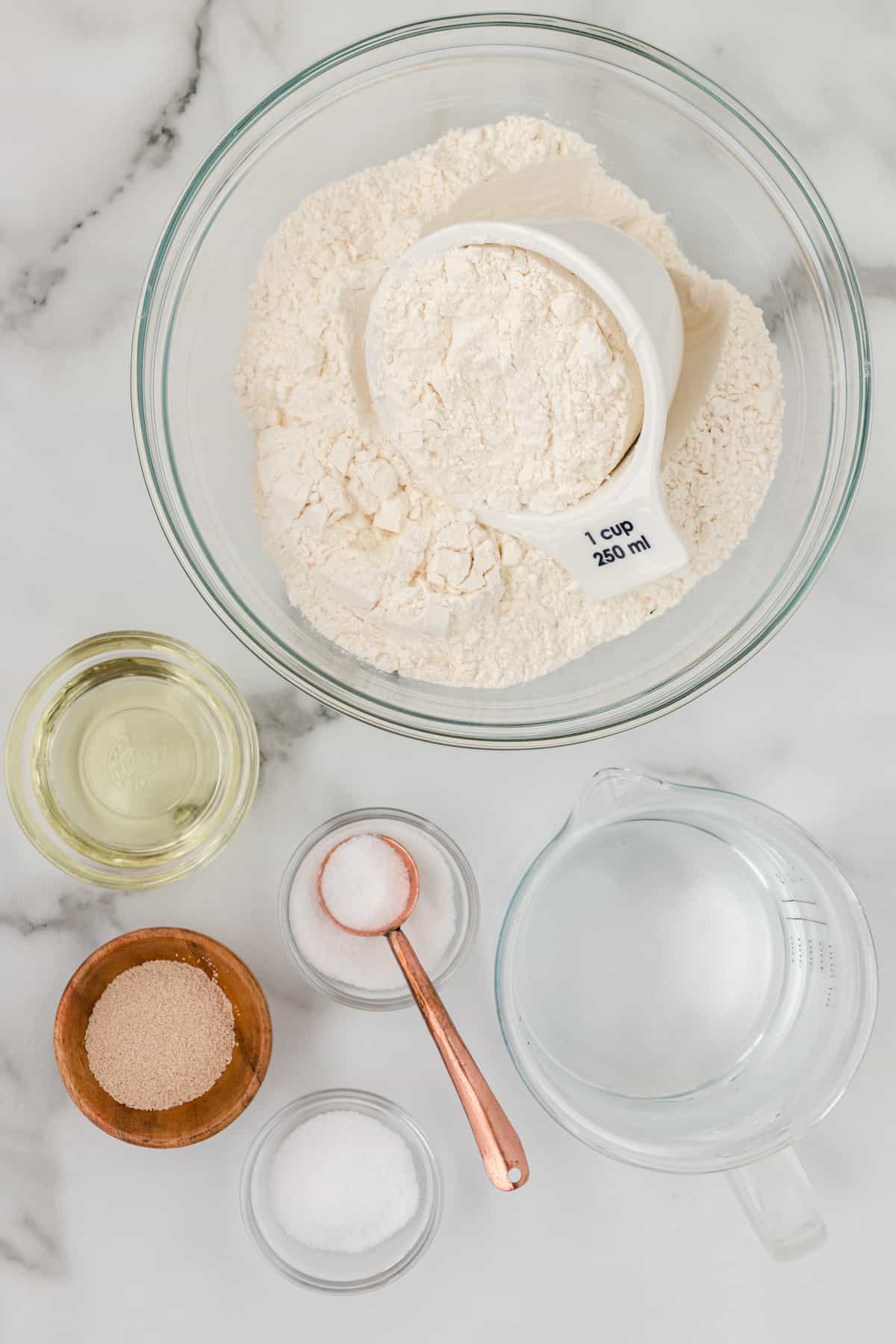 See printable recipe card at the bottom of the page for all measurements and other information.
Active dry yeast - If you're able to find rapid rise yeast, you can add it directly to the dry ingredients in step two, omitting step one all together. In that case, make sure your water is very hot, between 120-130 degrees, or whatever temperature is suggested on the yeast package.
Warm water - You need this to activate the yeast. It should be warm to the touch but not too hot. If it's too hot to put your finger in, it's too hot and will kill the yeast.
White sugar - Some of this will get added to the yeast and water to feed the yeast. (That's what makes it get frothy!) The rest will be added to the flour and mixed into the dough.
Bread flour - Bread flour is the best flour for making homemade dough because it has more gluten than all purpose flour and bakes up crispier. If you only have all purpose flour, use that. Your pizza dough will still come out really well. I do not recommend gluten-free flour in this recipe.
Olive oil - You can really use any oil.
Salt - Don't leave this out. Salt helps the dough to rise properly.
To make your homemade pizza, you'll also need pizza sauce, shredded mozzarella cheese, and a variety of toppings which can include pepperoni, sausage (pre-cooked), bacon, onions, peppers, mushrooms, black olives, pineapple (with or without diced ham), ribbons of basil, and Parmesan cheese. I've also had really delicious pizzas made with cheddar or even provolone cheese.
Do I have to pre-cook the pizza toppings?
Anything you put on the pizza raw will still be raw when you eat the pizza because the pizza only cooks for 10 minutes. It's not enough time to cook anything; just to melt the cheese.
You absolutely need to pre-cook bacon or sausage before adding it to a pizza. It's up to you whether you want to pre-cook veggies like peppers and onions. Never pre-cook herbs like basil as most lose their flavor when heated.
How to make the best homemade pizza recipe
In a small bowl, dissolve 1 teaspoon of sugar and the yeast packet in warm water. Let yeast stand for 15 to 20 minutes, until the mixture is frothy and has lots of air bubbles.

In a large bowl, combine the remaining sugar, flour, oil, and salt.

After it's frothy, add the yeasty water to the flour mixture.

Stir well, until the dough is thoroughly combined and beginning to stiffen. We use the dough hook and our big KitchenAid mixer for this step.

Cover the bowl with a clean damp dish towel and let the pizza dough rise for 30 minutes.

Once the dough has doubled in size, you're ready to make a homemade pizza!

Preheat the oven to 425º.
Dump the dough onto a lightly floured surface.

Stretch it into your preferred shape (rectangle or circle). Don't smash it with a rolling pin! Use your hands to stretch and shape the pizza.

Pre-bake the homemade pizza dough for 10 minutes at 425º. This step is necessary to ensure that the crust is crispy in the center. If you don't pre-bake, your crust will either be soggy and uncooked in the center or burned on the edges.

After the crust has pre-baked, cover it with sauce and toppings.

Sprinkle generously with cheese.

Bake for another 10 minutes or until the edges are golden brown and the cheese is melted.

Why isn't my yeast making air bubbles?
Yeast is a live organism that needs to eat and breath. (That's what makes the bubbles, the respiration.)
Always check the expiration date yeast before you open it. If it's too old, it is more than likely dead. When you put it in warm sugar water, nothing will happen.
Yeast has to "bloom" (i.e. get frothy) in order to make the pizza dough rise. If there's no live yeast in the dough, you will have made fancy paste, and your pizza crust will be inedible.
If your yeast doesn't bloom, it's because it was old and the yeast had died. You can't fix it. You have to throw the mixture away and start over.
Can you make a thinner crust using this homemade pizza dough?
Of course! The pizza crust will be as thin as you roll it out. We generally leave ours on the thicker side, but if you want a thinner crust, divide the dough in half and roll the half out to the size you want.
Can you freeze homemade pizza dough?
Yes! Homemade pizza dough freezes really well. After allowing the dough to rise, pop it into a plastic freezer bag or wrap it in two layers of plastic wrap followed by one layer of aluminum foil. It will be good for 2-3 months.
To make a homemade pizza from frozen dough, allow the dough to defrost in the fridge overnight. Set it on the counter to warm up for 30-60 minutes before rolling it out.
Try these other delicious pizza recipes while you're here:
Recipe
---
This is my 1,000 post on Feels Like Home. Just thought I'd mention that since it's sort of a big deal. I started blogging on July 30, 2007, just eight weeks after Grace was born. I wrote a lot of things that aren't worth reading and a few things that might be. In February 2008, I rebranded the site, and the rest is... in the archives. I just thought I'd mention it, in case you haven't been here since the beginning.