How to make the best homemade pizza dough - This easy recipe uses yeast and all purpose flour to make a simple, fast, and healthy thick crust. You can use Instant Yeast or active dry yeast and this recipe has no baking powder. We use our KitchenAid mixer and the dough hook to form the dough. Includes instructions for how to cook the pizza.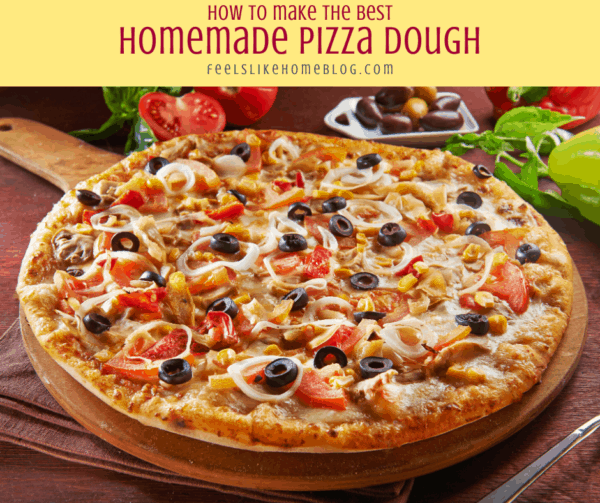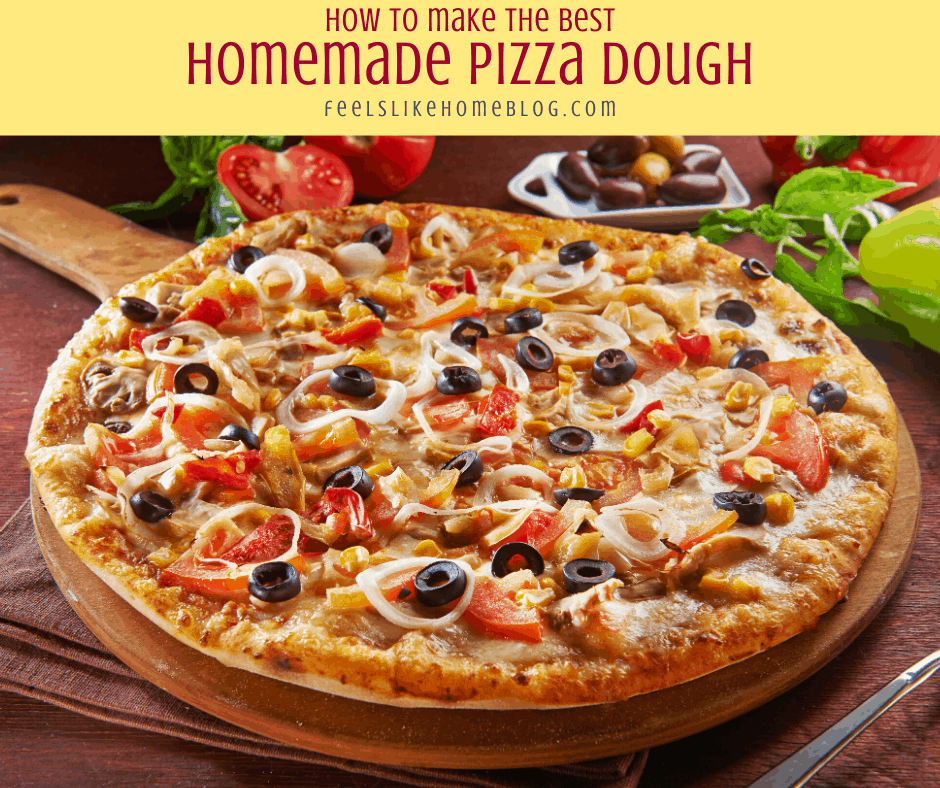 We have tried a lot of pizza dough recipes.
For more than a year, we've eaten homemade pizza almost every week, usually on Sunday afternoon or evening. It's become our tradition. As we're lazing around, doing whatever it is we've decided to do, Joe makes a ball of pizza dough and then we all decide what to put on it.
At first, we used a bread machine pizza dough recipe that came from The Complete Tightwad Gazette book.
Unfortunately, we were never completely happy with that recipe.
Not long ago, Joe went searching for a new pizza crust recipe, and he found one on AllRecipes.com. He adjusted it, of course (because we never leave a recipe alone, ever), and what came out of it was the best pizza crust we'd ever eaten. It's on the thicker side: light and soft on the inside and crispy and crunchy on the outside. We discovered that we like it best when it's grilled outside, but it's also really good when baked in the oven.
I've shared 24 different recipes for homemade pizza over in this post, so definitely check that out for all kinds of unique and interesting ways to cook and top your pizza. The possibilities are endless.
Our favorite pizza at the moment is White Spinach Pizza, but we also really like BBQ Chicken Pizza.
How to make the best homemade pizza dough
In a small bowl, dissolve 1 teaspoon of sugar and the yeast packet in warm water. Let yeast stand for 15 to 20 minutes, until the mixture is frothy.
In a large bowl, combine the remaining sugar, flour, oil, salt, and the yeast mixture. Stir well, until the dough is thoroughly combined and beginning to stiffen. We use the dough hook and our big KitchenAid mixer for this step.
Cover the dough with a clean dish towel and allow it to rise for 30 minutes, until it has doubled in volume.
Preheat the oven to 425º.
Dump the dough onto a well floured pizza stone. Roll it into your preferred shape (rectangle or circle), and pre-bake for 10 minutes at 425º. This step is necessary to ensure that the crust is crispy in the center. If you don't pre-bake, your crust will either be soggy and uncooked in the center or burned on the edges.
After the crust has pre-baked, cover it with sauce, toppings, and cheese, and bake for another 10 minutes or until the edges are golden brown and the cheese is melted.
---
This is my 1,000 post on Feels Like Home. Just thought I'd mention that since it's sort of a big deal. I started blogging on July 30, 2007, just eight weeks after Grace was born. I wrote a lot of things that aren't worth reading and a few things that might be. In February 2008, I rebranded the site, and the rest is... in the archives. I just thought I'd mention it, in case you haven't been here since the beginning.