How to make the best Swiss onion dip - This creamy dip recipe is simple, quick, and easy to put together, baked in the oven, and perfect for vegetables, potatoes, crackers, or chips. I tried it and LOVED it!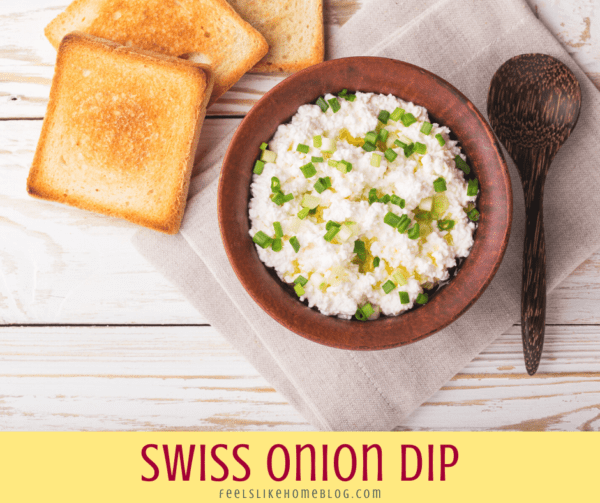 Okay, before I tell you the recipe, I have to tell you where it came from.
My friend, Tyler, is six. He hates onions.
Tyler's family and mine were at the pool recently, and he offered to share his Swiss Onion Dip with me. He said, "It's okay if you don't like onions, you can't taste them." and gave me a Wheat Thin with dip on it.
It was delicious.
It was so delicious that I asked his mother for the recipe, right there next to the pool.
I was surprised to find out that Swiss Onion Dip is made with frozen onions. I had never purchased frozen onions since I have perfectly good fresh ones sitting in my kitchen, but that's what the recipe requires.
I've also tried to make this recipe with fresh onions, chopped fine and sautéed until they are caramelized. It was good that way, too.
Actually, I don't know which one I prefer, the frozen or the fresh onions. It's so tasty both ways. It's like your children. You love them both, but you love them different.
How to make the best Swiss onion dip
Preheat oven to 325º.
Melt butter in a large skillet over medium-low heat. When the butter is all melted, add the onions and salt and sauté, turning every 5 minutes or so. If the onions begin to stick, add a tablespoon or two of balsamic vinegar and scrape up the brown bits from the bottom of the skillet. Your onions are done once they are browned and very soft. This can take up to 30 to 45 minutes.
Mix together the onions, shredded Swiss cheese, mayonnaise, mustard, and black pepper and spoon into a small casserole dish.
Bake at 325 for 30 minutes.

Works well as a dip for crackers, chips, or raw veggies or as a topping for potatoes or cooked veggies.