This creamy hot onion dip recipe is made from caramelized sweet onions, tart Swiss cheese, and a creamy base. It's simple, quick, and easy to put together, baked in the oven, and perfect for crostini, vegetables, potatoes, crackers, or chips. It's the best dip for any party, game day, potluck, or picnic. You're going to love it!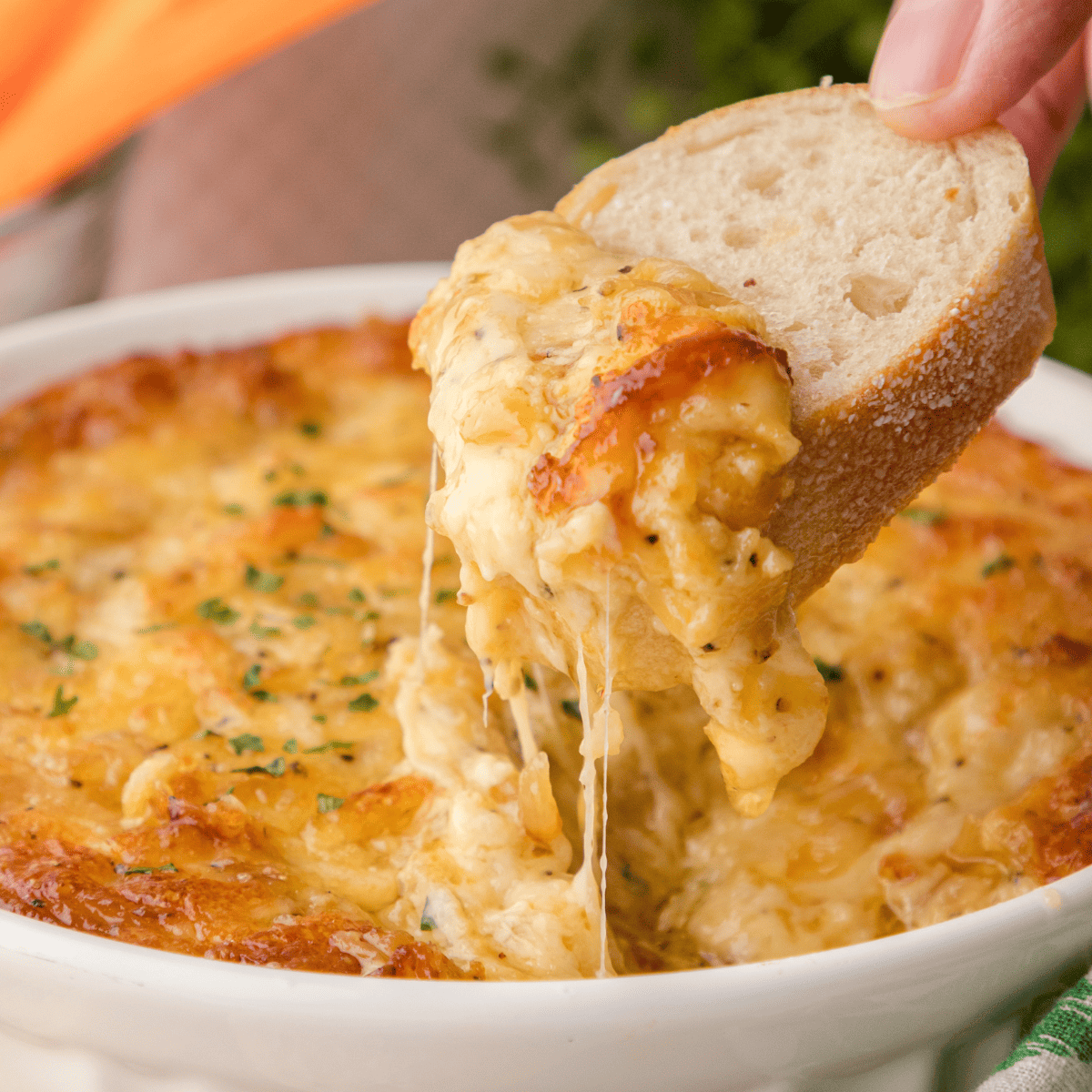 Okay, before I tell you the recipe, I have to tell you where it came from.
My friend, Tyler, is six. He hates onions.
Tyler's family and mine were at the pool recently, and he offered to share his Swiss Onion Dip with me. He said, "It's okay if you don't like onions, you can't taste them." and gave me a Wheat Thin with dip on it.
It was delicious.
It was so delicious that I asked his mother for the recipe, right there next to the pool.
I was surprised to find out that Swiss Onion Dip is made with frozen onions. I had never purchased frozen onions since I have perfectly good fresh ones sitting in my kitchen, but that's what the recipe requires.
I've also tried to make this recipe with fresh onions, chopped fine and sautéed until they are caramelized. It was good that way, too.
Actually, I don't know which one I prefer, the frozen or the fresh onions. It's so tasty both ways. It's like your children. You love them both, but you love them different.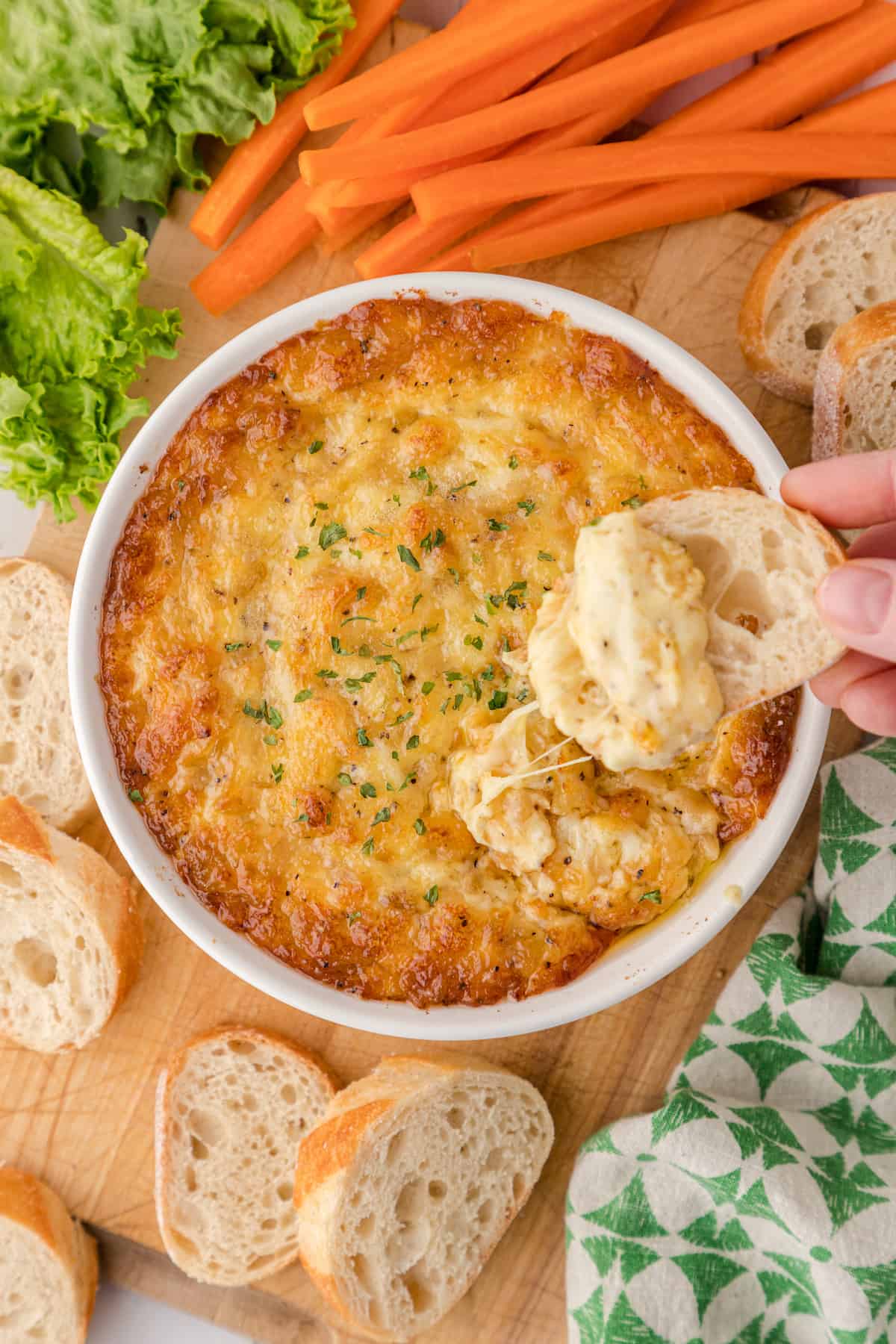 Why this is the best hot onion dip
This easy recipe for hot onion dip only has 5 ingredients (plus salt & pepper), so it's so simple and quick to put together.
This hot onion dip is slightly tangy with a creamy base of mayonnaise and Swiss cheese.
I typically make this in oven, but you can also pop it in the microwave for 5-8 minutes. That makes it even quicker!
This recipe is low carb and good for keto diets.
What you'll need to make hot onion dip with Swiss cheese
EQUIPMENT
You'll need a large 12-inch skillet to sauté and caramelize the onions, and then a smaller baking dish to cook the dip in the oven.
INGREDIENTS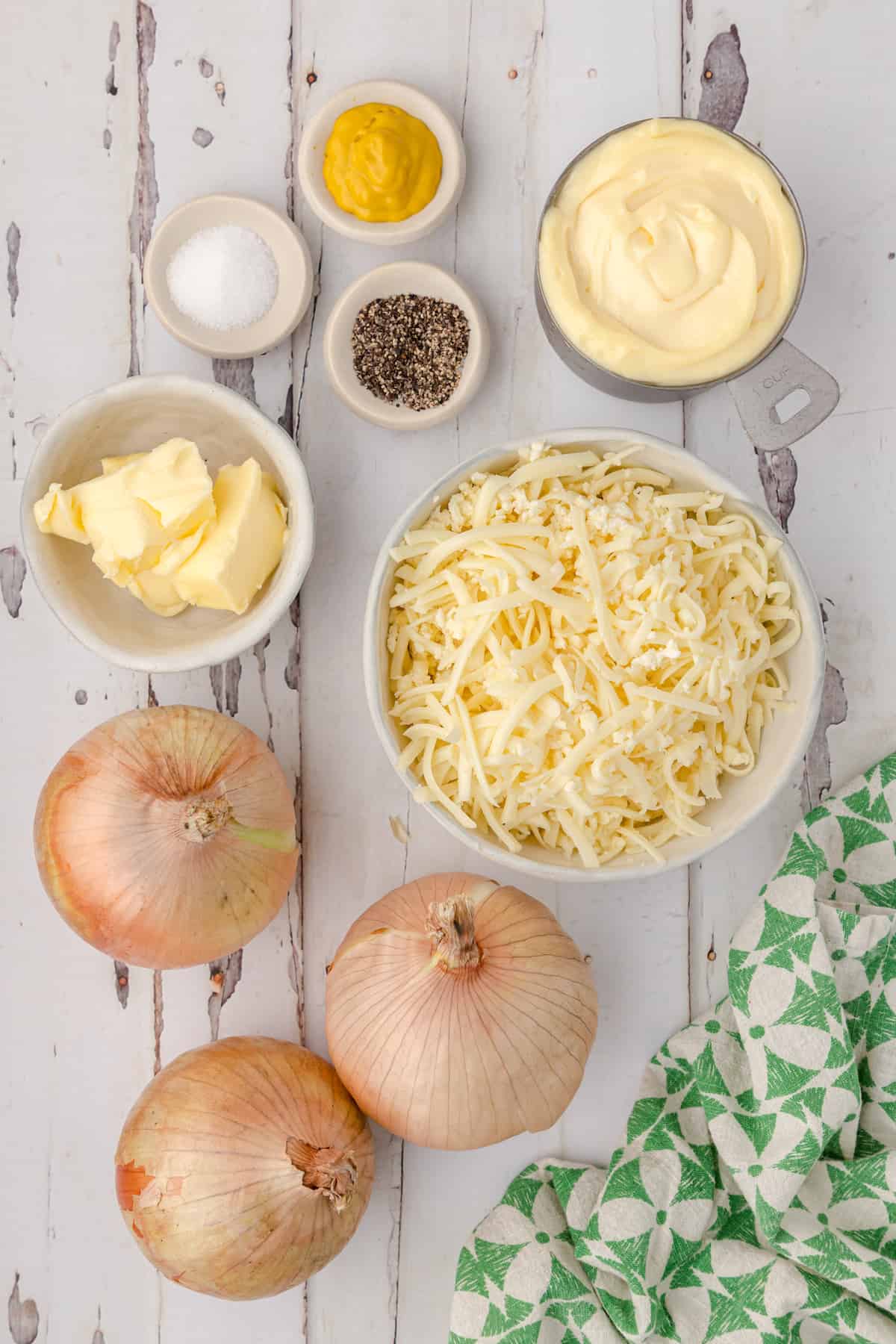 See printable recipe card at the bottom of the page for measurements and nutritional information.
Butter
Large onions - I recommend using Vidalia onions, but you could use any white or yellow onion that you prefer. You'll chop these.
Salt
Shredded Swiss cheese - This is primarily what gives the dip its tangy flavor. You could substitute with mozzarella, cheddar, or any shredded cheese, although whatever cheese you use will change the flavor significantly.
Mayonnaise - This gives the dip its creamy texture and complements the Swiss cheese nicely. If you can't use mayo for some reason, try sour cream, although that too will change the flavor. Don't try Greek yogurt as the lack of fat will leave the dip dry.
Mustard - You're just going to use a tiny amount of mustard to give the dip a more complex flavor.
Ground black pepper - This is optional but adds something. I don't skip it.
How to make the best hot Vidalia onion dip
Preheat oven to 325º.
Melt butter in a large skillet over medium-low heat.

When the butter is all melted, add the onions and salt and sauté, turning every 5 minutes or so.

If the onions begin to stick, add a tablespoon or two of balsamic vinegar and scrape up the brown bits from the bottom of the skillet. Your onions are done once they are browned and very soft. This can take up to 30 to 45 minutes.

Mix together the onions, shredded Swiss cheese, mayonnaise, mustard, and black pepper in a large bowl.

Spoon the onion and cheese mixture into a small casserole dish.

Bake at 325 for 30 minutes or until golden brown.

Sprinkle with fresh parsley.


This recipe works well as a dip for crostini, crackers, pita chips, potato chips, tortilla chips, pretzels, or raw veggies. It can also be used as a topping for potatoes or cooked veggies.



Tips for the best hot onion dip
This recipe requires mayonnaise, not Miracle Whip. I love Miracle Whip on sandwiches, but it does not work in this recipe.
To prevent the cheese from becoming oily, make sure your oven temperature stays at 325ºF and no hotter.
Why are my caramelized onions burning and not caramelizing?
If your onions burn instead of caramelizing, your stove is turned up too high. To caramelize onions properly, you will need to use a heavy skillet like cast iron or heavy stainless steel with the heat at medium-low. If they're browning too fast, turn the heat down, add a tablespoon of water and let them go low and slow. If they're already burnt, throw them out! They will make the dip bitter and gross.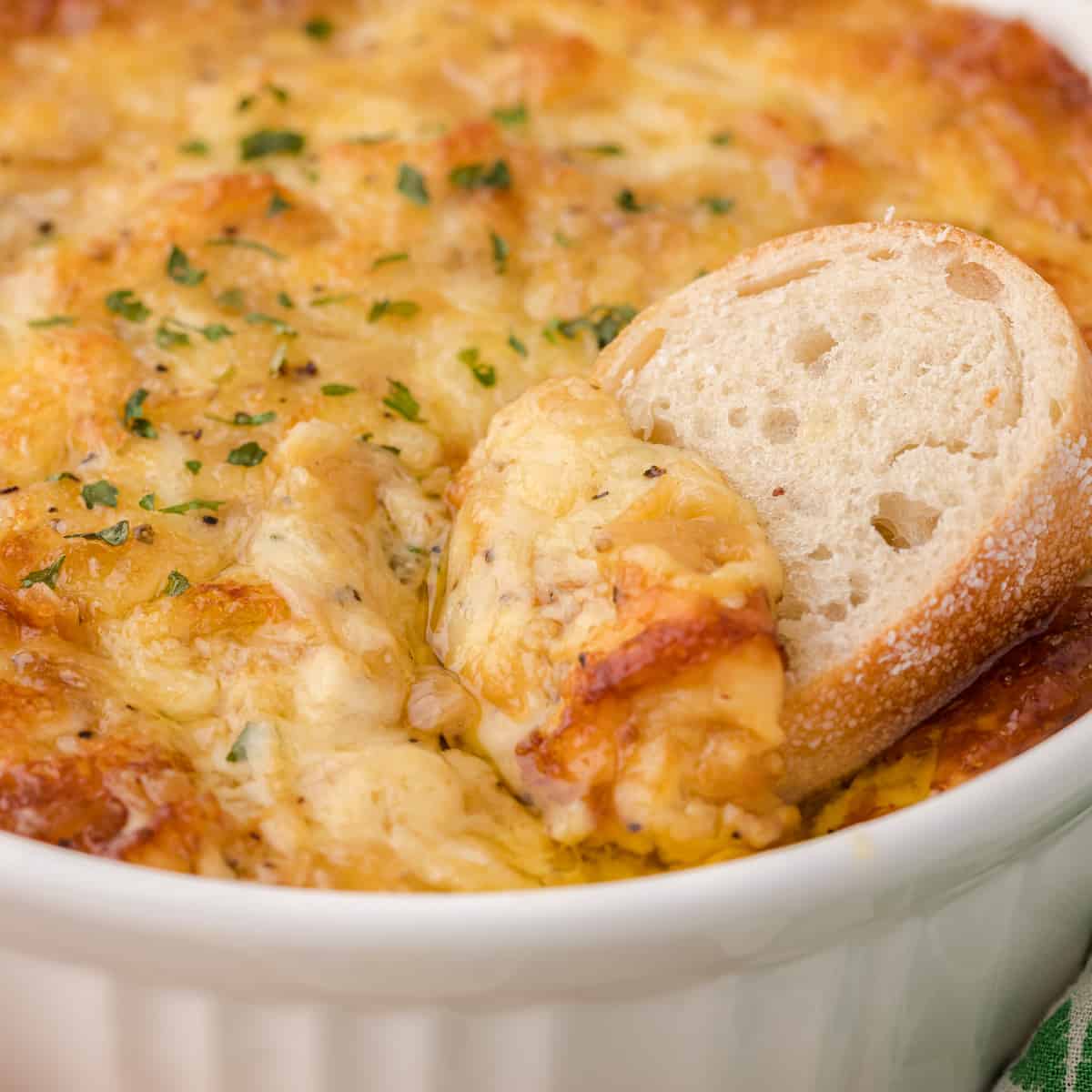 Hot onion dip variations
You can add a can of lump crab meat or shredded chicken to this dip to make it heartier. Add it when you mix all the ingredients.
You can add a couple of tablespoons of minced jalapeños when you sauté the onions to give the dip a spicy kick.
If you like spinach, you can add some frozen thawed spinach that has been squeezed dry. Add this when mixing all the ingredients.
You can add a bit of chopped artichoke hearts when you mix the ingredients together.
Storing leftover hot onion dip
You can transfer this to an airtight container and keep it in the fridge for 3-5 days. Or, you can wrap the baking dish in plastic wrap and keep that in the fridge for 3-5 days.
You can either reheat the dip in the microwave or in the oven at 300ºF.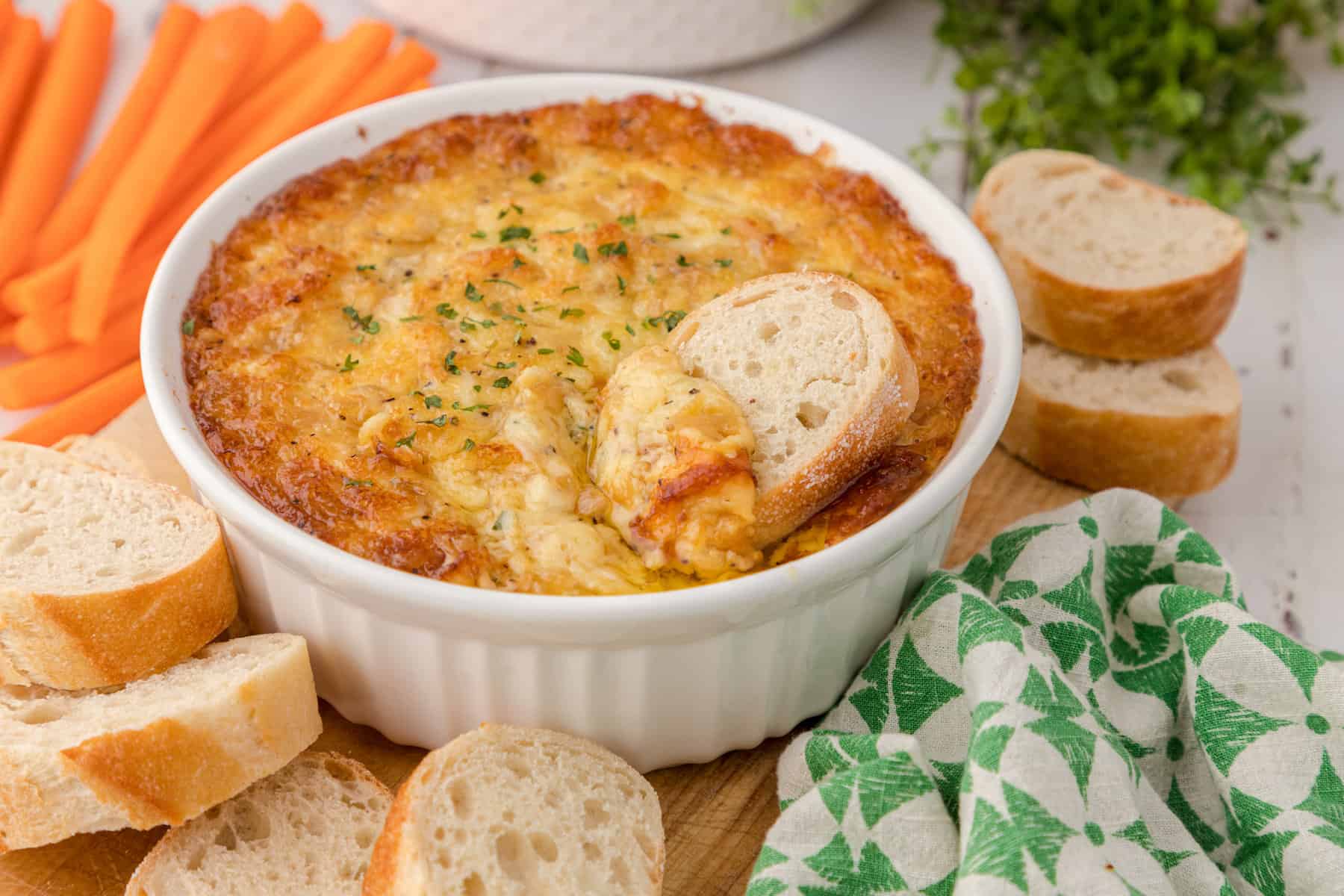 Try these other delicious dips while you're here:
Recipe