This quick & easy cheesy pepperoni dip recipe has all the flavors of your favorite pepperoni pizza in a hot, cheesy dip. It's the best appetizer for any party or game day.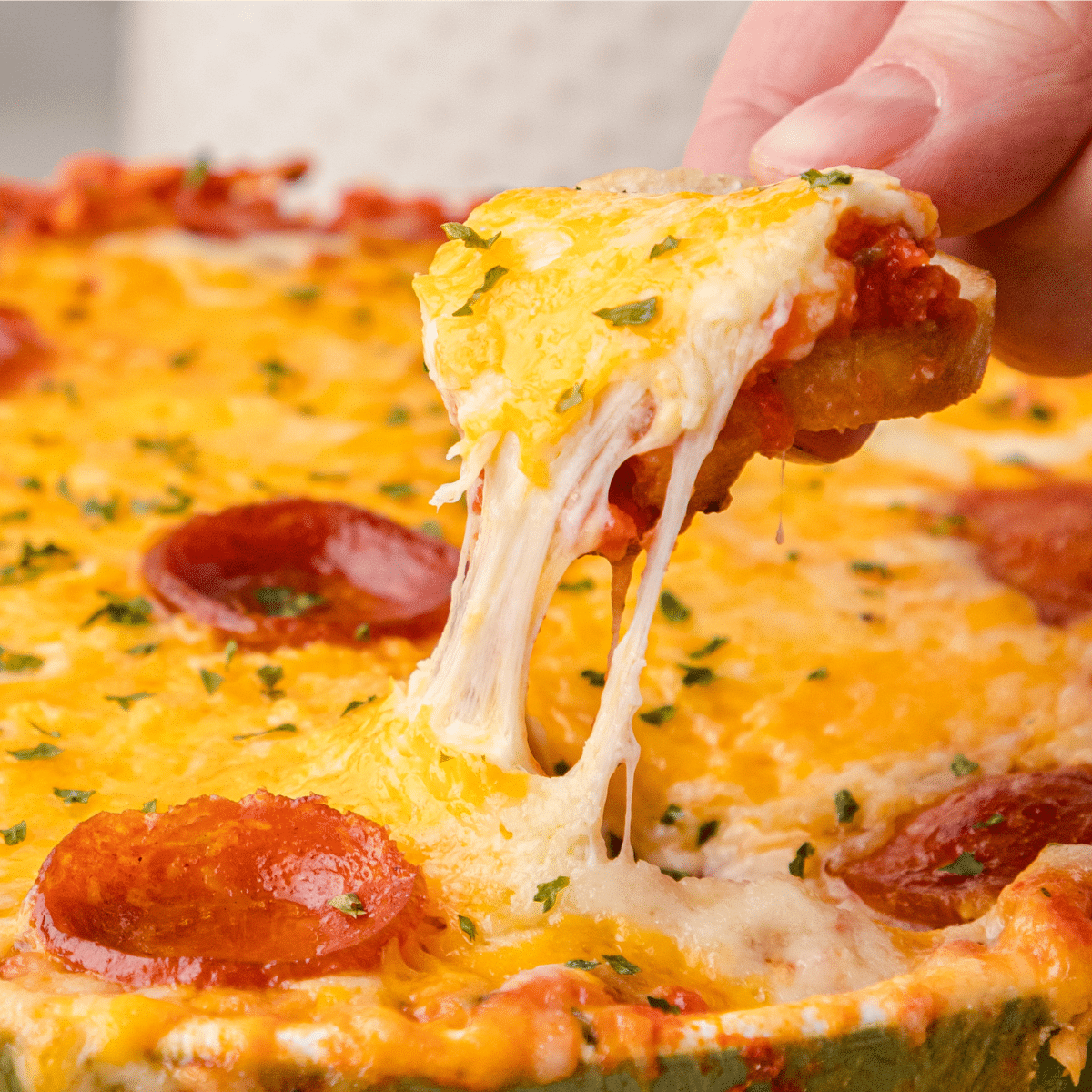 When I was a Pampered Chef consultant, I made this hot pepperoni pizza dip recipe pretty often at parties. It was always a big hit because it tastes amazing, and it's so easy to put together.
All you have to do is soften the cream cheese (this is the hardest part!). You can leave it out on the counter for the afternoon or you can microwave the two blocks for about a minute. I never remember to let it sit out, so I always end up microwaving.
After the cream cheese is soft, all you do is mix in the spices, spread the mixture in the bottom of a baking dish, top with shredded cheese, spread pizza sauce over the cheese, and finish with some additional shredded cheese and pepperoni.
You could pop this hot pizza dip into the oven for a half hour or so, but I prefer to microwave the whole thing because then it's done in less than 10 minutes.
We take this to potlucks pretty often, and there are never leftovers. It's so good and cheesy and garlicky; everyone wants a second helping.
When we make hot pepperoni dip at home, the kids make sandwiches out of their scooper chips. I don't get it, but they always do it, so it must be a thing. Whatever. Kids are weird.
With its garlic and Italian seasoning and a healthy amount of cream cheese and pizza cheese, this quick & easy hot pepperoni dip is sure to please your whole party crowd!
What you'll need to make pepperoni dip
Equipment
There is no special equipment needed for this recipe. You'll just need the standard measuring spoons and cups, a mixing bowl, and a small baking dish or 9-inch pie plate.
Ingredients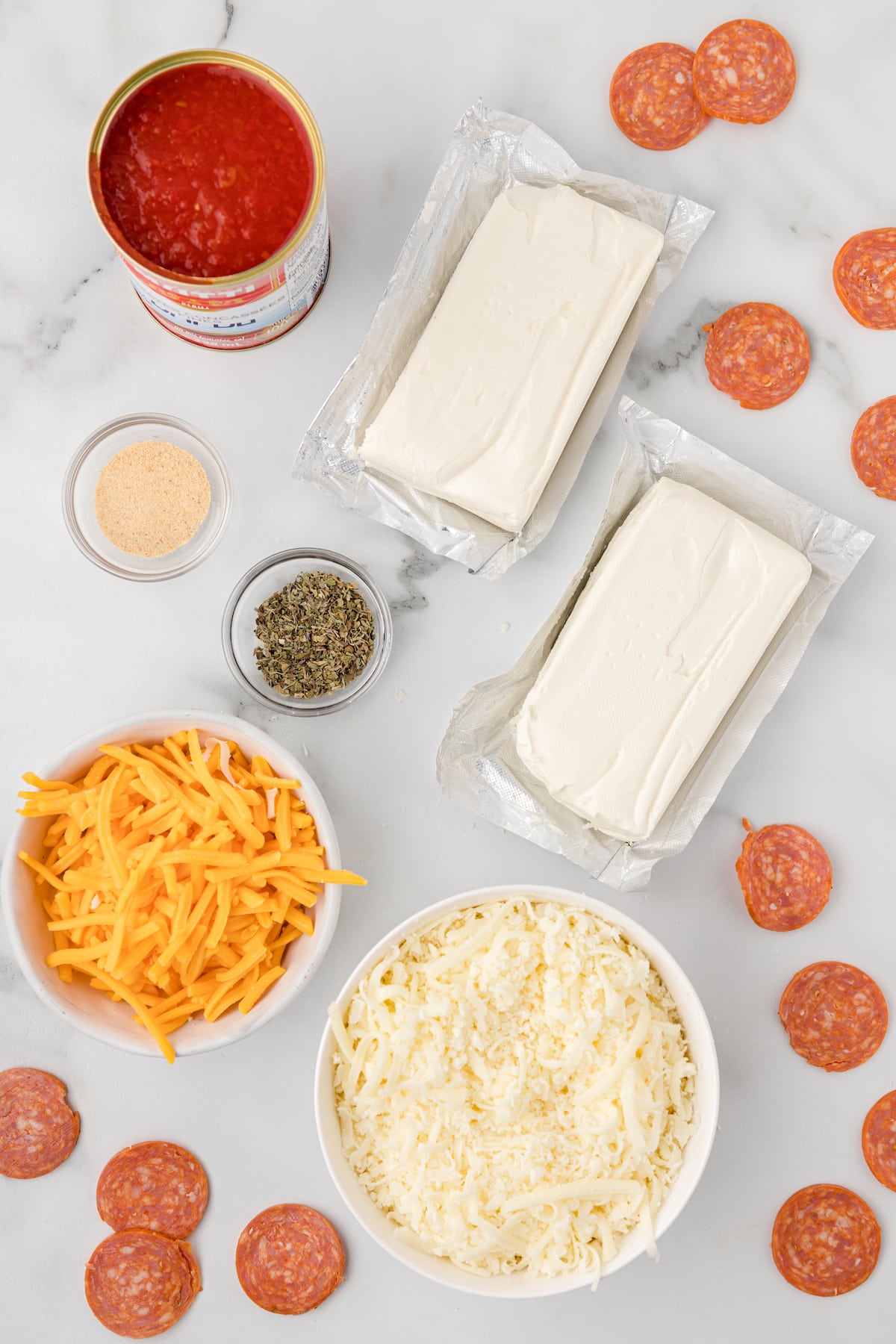 See printable recipe card at the bottom of the page for measurements and nutritional information.
Low fat cream cheese, softened - The cream cheese is the star of this dish. I have seen other recipes that claim that full fat is required, but I have always used low fat and it tastes amazing. You can substitute a vegan cream cheese if you prefer to reduce the dairy.
Italian seasoning - I love dried Italian seasoning, but you can use a blend of fresh herbs if you want to. Double the amount because fresh herbs are bulkier.
Garlic powder - I have made this with a couple of cloves of fresh garlic, and that also tastes great.
Pizza sauce - I have discovered through trial and error that Walmart's Great Value brand pizza sauce has the lowest added sugar, but feel free to use whatever pizza sauce or marinara sauce you want.
Shredded mozzarella cheese - I use pre-shredded cheese because I'm lazy but buying a block or ball and shredding your own tastes a little better.
Shredded Cheddar cheese
Pepperoni slices - Use as much pepperoni as you like. You could also add your favorite pizza toppings like mushrooms, black olives, green peppers, sliced spinach, sliced artichoke hearts, cooked sausage, crumbled bacon, or whatever you like on your pizza.
How to make pepperoni pizza dip
Combine softened cream cheese, Italian seasoning, and garlic powder in a small bowl.

Spread cream cheese mixture in the bottom of a 9-inch pie pan or similarly sized baking dish.

Combine mozzarella and cheddar cheese. Sprinkle half over the cream cheese.

Spread pizza sauce over top of the cheese. Spread to edges of the baking dish.

Sprinkle remaining cheese over pizza sauce. Spread pepperoni and other toppings across the top of the dip. Use as much pepperoni as you want.

Microwave for 8 minutes or until bubbly. (Alternately, bake at 350º for 25-30 minutes.) Sprinkle with chopped fresh parsley or fresh basil. Serve warm with dippers such as tortilla chips, crackers, or crostini.

Tips for the best pepperoni dip
This is a great make-ahead recipe. Simply assemble it to step 5 and then cover it tightly and refrigerate. Pop it in the microwave whenever you're ready to serve.
Serve this dip with tortilla chips (we love Scoops), crackers, pita chips, crostini or baguette slices, or raw veggies. Or, bake some pizza dough and cut into strips for a more pizza-like experience.
You can garnish the cooked dip with some red pepper flakes if you want a little heat.
There are many variations of this recipe. As stated in the ingredients section, you can substitute cooked crumbled sausage or cooked chopped bacon for the pepperoni. You could also go meatless and serve it plain or with slices of mushroom, black olive, red onion, bell peppers, or even ham and pineapple.
You can double this recipe. You'll just need a bigger baking dish. A pie plate won't work.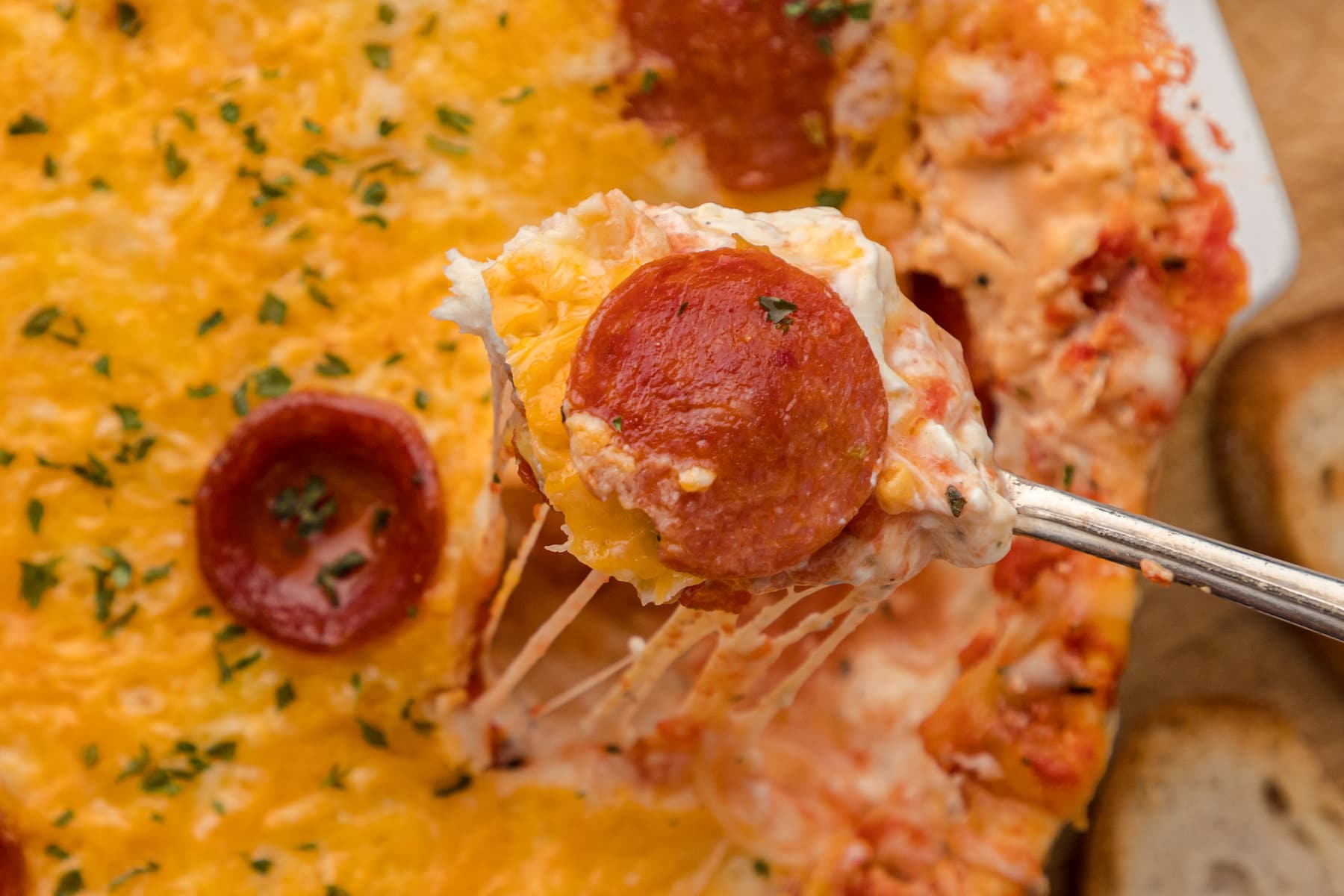 Storing leftover pepperoni dip
This dip stores really nicely. Simply cover the baking dish tightly or transfer to an airtight container. Store in the refrigerator for up to 5-7 days.
To reheat, you can place the baking dish back in the microwave for 3-5 minutes or in a 350º oven for 10-15 minutes or just scoop out an individual portion and microwave in increments of 30 seconds until the dip is as hot as you like.
More awesome dip recipes
Hot dip recipes:
Cold dip recipes:
Cowboy Caviar - This is a weird-sounding black bean and hard boiled egg dip with a cream cheese base. So tasty!
Recipe