Italian Hoagie Dip makes a delicious appetizer or fun twist on lunch or dinner. Stuffed full of the flavors of a classic Italian sub sandwich, this creamy dip will be a hit with both kids and adults. Quick and easy prep that can be made ahead with any deli meat including ham, salami, pepperoni, and prosciutto. Use lettuce wraps for a low carb or keto appetizer.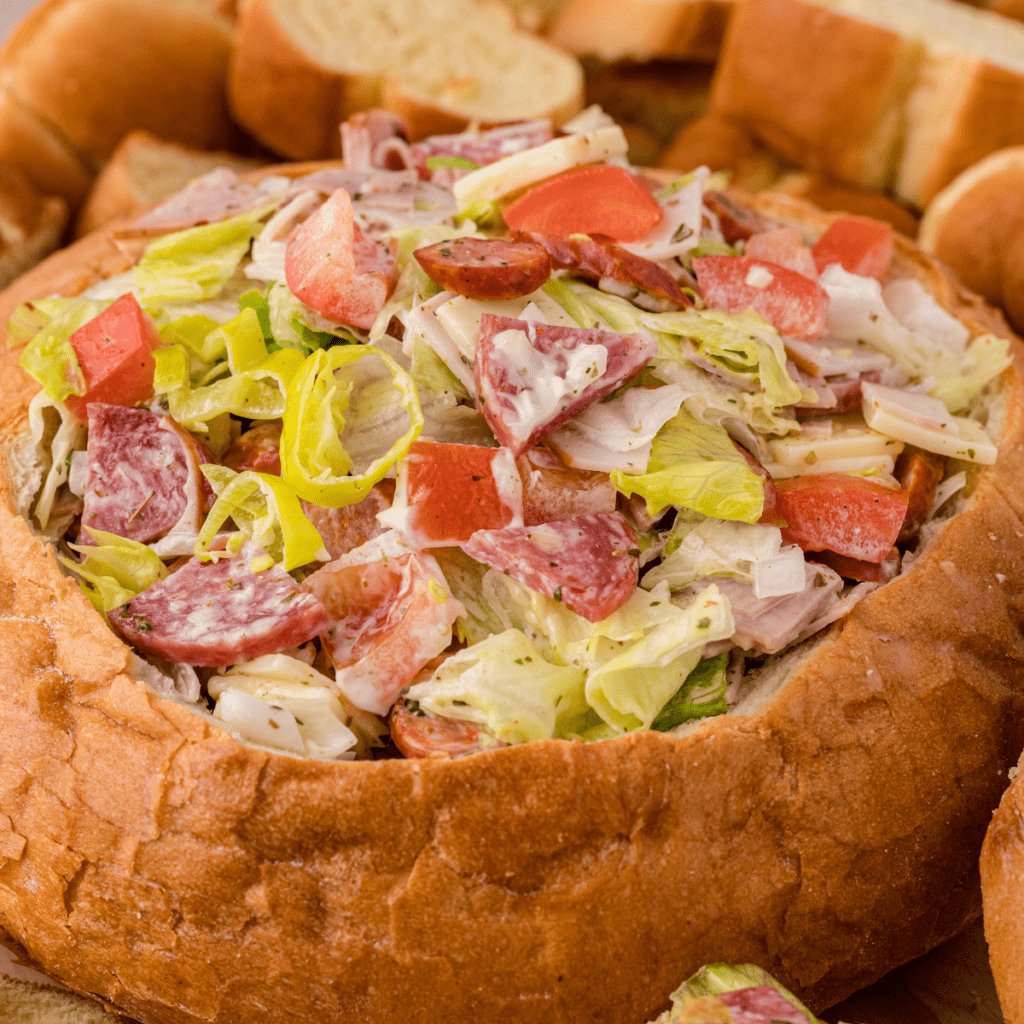 The first time I ate Italian hoagie dip was over a decade ago, at a friend's house. I don't like tomatoes and picked them out, but I couldn't get enough of the dip.
Here in south central Pennsylvania, we call these sandwiches subs. Grace just did a sub sale fundraiser. People in other areas of the state and country call them hoagies, subs, or grinders.
No matter what you call them, an Italian sub is made of layers of deli meats and cheese and topped with an Italian herb mayonnaise, lettuce, onions, tomatoes, and hot peppers.
Personally, I like to put horseradish mustard on mine, too, but not everyone does that - and the dip recipe below leaves it out.
Why this is the best dip
It has all of the flavors of everyone's favorite sandwich in an easy to dip bowl!
Hoagie dip takes less than ten minutes to prepare.
You can make this dip ahead and let it sit in the fridge overnight. In fact, I think it tastes best that way!
What you'll need to make Italian hoagie dip
Ingredients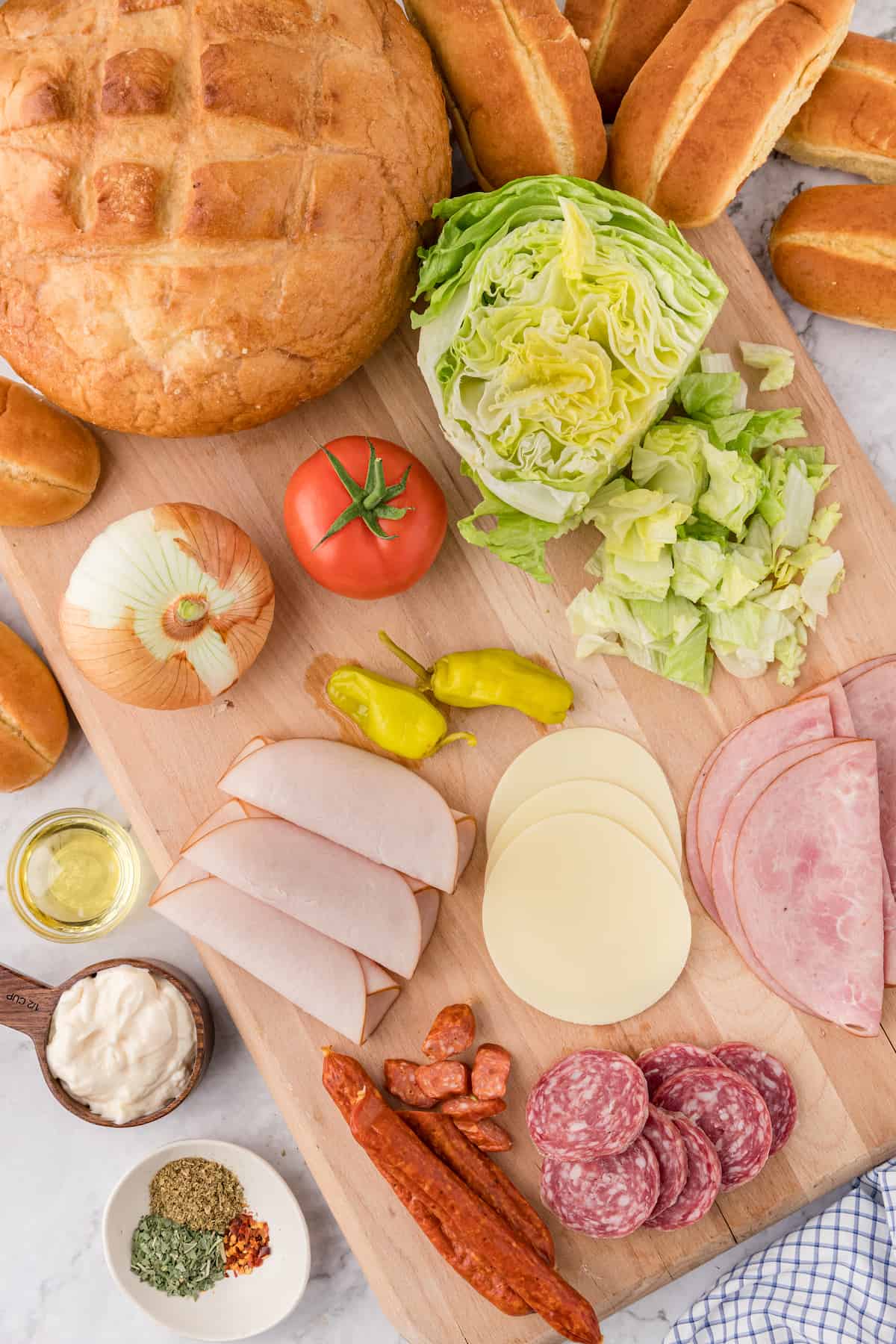 The beauty of this recipe is that you can put in any deli meat that you like, and the dip will be amazing. So if you don't like one or more of the meats I've suggested, double something else or replace it with another kind of meat. Just try to make sure that you're using approximately one pound of cold cuts.
Deli meat, cut into small pieces:

¼ pound Genoa salami
¼ pound ham
¼ pound pepperoni or prosciutto
¼ pound roast turkey

¼ pound provolone cheese
1 large tomato, halved, seeded, and cut into bite-size pieces - You'll definitely want to remove the goopy seeds or they will make your dip slimy.
2 pepperoncini peppers, sliced in rounds - These are the little yellow peppers that are slightly hot. If you dislike them, leave them out, or you could use some sliced banana peppers or even chopped bell pepper if you wanted.
1 medium onion, chopped
½ head iceberg lettuce - Oh how I hate iceberg lettuce. But really, it does work best in this recipe. If you decide to make hoagie dip ahead, leave the lettuce out until just before serving. It could get slimy if you mix it in too early.
Mayo - Low fat or full fat will be fine, but you don't want to use Miracle Whip as it won't taste quite right.
Extra virgin olive oil
Dried basil
Red pepper flakes
Bread bowl - I love to serve this in a big bread bowl, but if you're on a low carb diet or just don't want to do the bread bowl, you could certainly put it in a regular bowl. To make a bread bowl, cut out the center of the bread loaf and scoop out some of the bread.
8 hoagie rolls or baguettes, cut into bite-sized pieces - I didn't suggest this in the recipe, but I think it's nice to toast these slightly before serving.
How to make the best Italian hoagie dip recipe
Chop meats and cheeses into bite-sized pieces (about 1-inch squares).

Place meat and cheese squares in a large bowl.

Chop the onion, peppers, lettuce (see note below), and tomato. Add to mixing bowl.

Stir together.

In a small bowl, combine the mayonnaise, olive oil, and seasonings.

Whisk together until well blended.

Pour dressing over salad. Toss until the dressing is well distributed.

Refrigerate until ready to serve.
To serve, cut the center out of a large round loaf of bread.

Add salad to carved bread bowl and arrange slices of hoagie rolls or baguette slices around the edges.

Tips for better Italian hoagie dip
When you buy deli meat, most of the time, the smallest pre-packaged container is a pound. If you don't want to have a bunch of leftover meat, you can get just a quarter pound of each at the deli counter.
This recipe is awesome to make ahead, but if you do that, don't mix in the lettuce until just before serving.
If you want to serve Italian subs for supper without having to make a whole bunch of individual sandwiches, you could make this dip and pile it on hoagie rolls. Instant sandwiches!
What to dip in Italian Hoagie Dip
As I said above, you can scoop this onto hoagie rolls for instant sandwiches, but the traditional way to eat it is by spooning it onto slices of sandwich rolls or another dipping option:
Toasted baguette slices
Crackers
Pretzels or pretzel chips
Pita chips
Carrot sticks
Celery sticks
Bell pepper slices
If you prefer a low carb version, you can scoop this dip into bibb lettuce leaves and make lettuce wraps.
Hoagie dip variations
You can add coarsely chopped pickle with the tomatoes and onions. I think dill pickles would be best, but you could try some sweet pickles instead if you prefer.
I don't know if it's available outside of central Pennsylvania, but I love to use sweet bologna or Lebanon bologna instead of salami.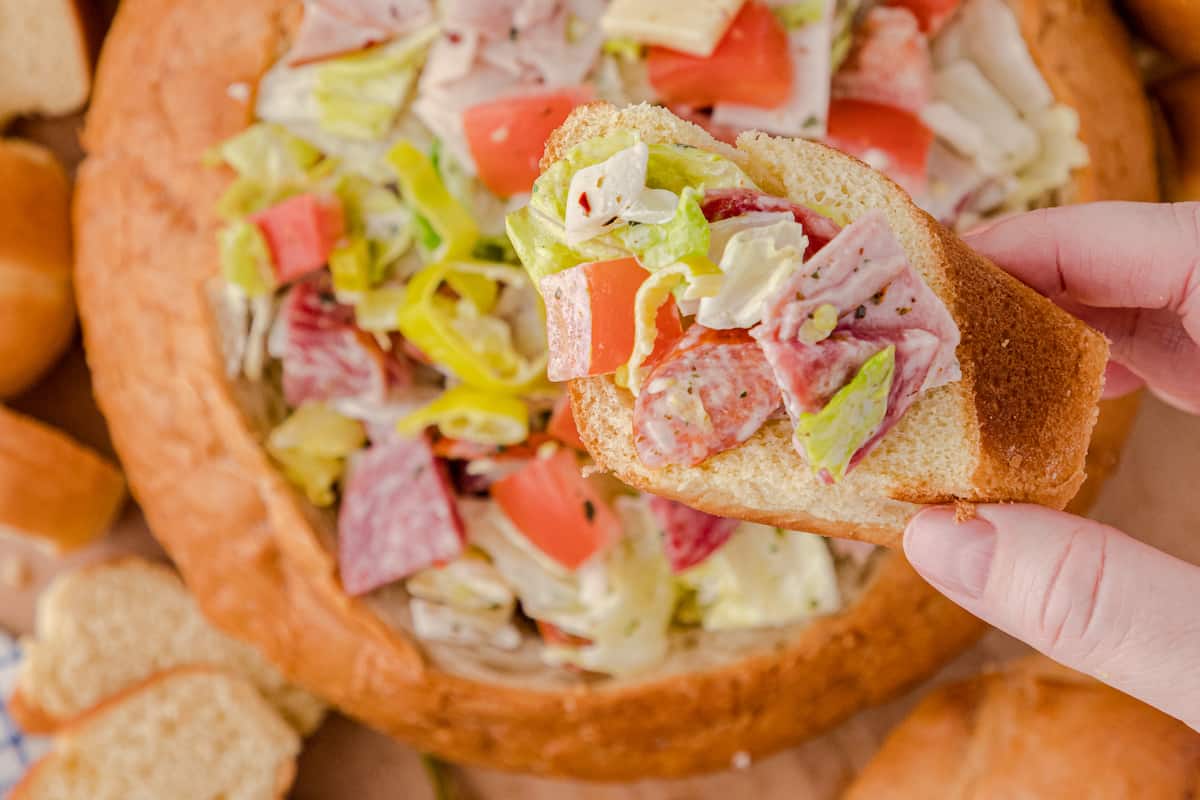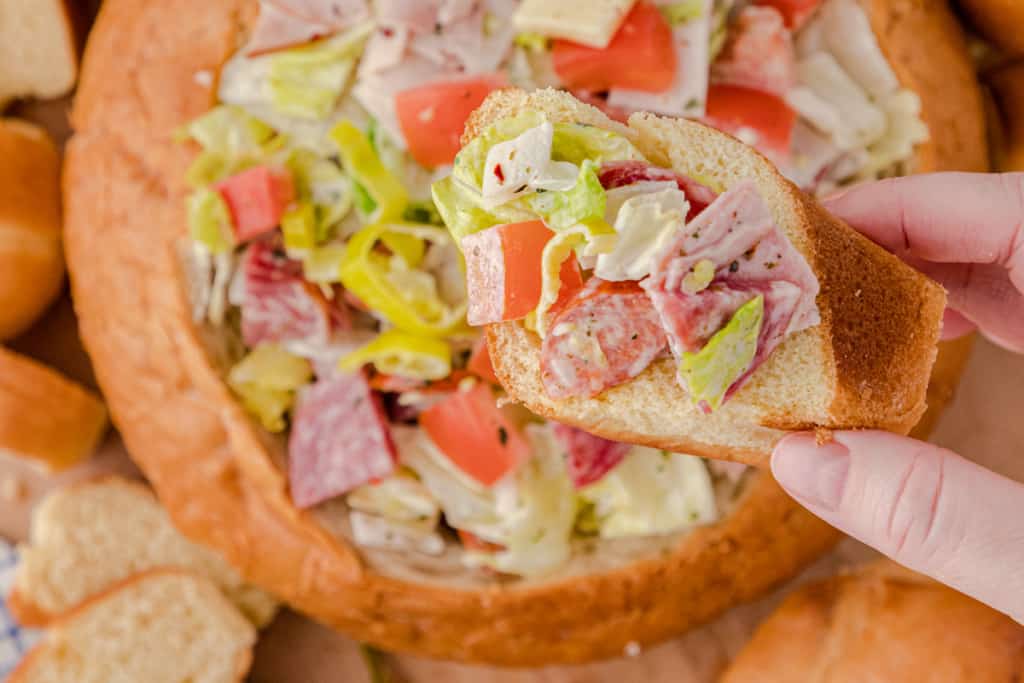 How to store Italian hoagie dip
Hoagie dip gets better the longer it sits, so making it a day ahead makes it taste even better! Just leave the lettuce out until the last minute, when you put it into the bread bowl.
Having said that, bread bowls do not keep well, especially with dip in them.
If you have leftover dip, scoop it out of the bread bowl and put it into an airtight container. You can store it in the fridge for up to 5 days.
If you like hoagie dip, you're going to love these other appetizers!
Recipe