Buffalo chicken dip is the perfect easy appetizer to take to any potluck or party, and the Instant Pot makes it quick and easy to make! This buffalo chicken dip recipe is simple, quick, and easy with only 5 ingredients! All of your favorite buffalo chicken wings flavors but in an easy to eat cheesy chicken dip!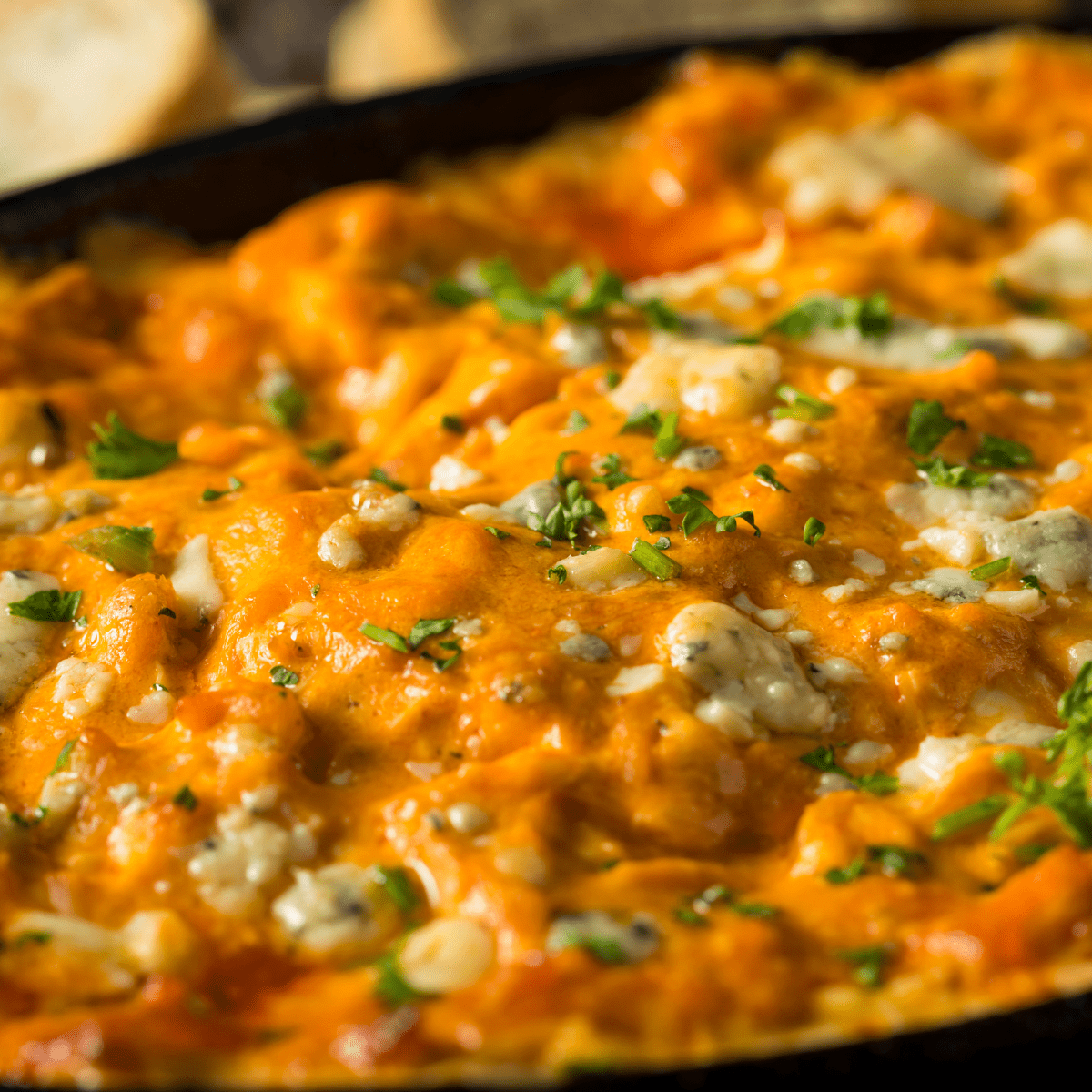 I love Buffalo Chicken Dip, and I have shared two different recipes for it over the years. My favorite, and the favorite of my entire family, is this Frank's RedHot Buffalo Chicken Dip that we make mild so that our kids can partake.
For that recipe, we use canned chicken because it cuts down on the prep time.
But that was before we got an Instant Pot!
The Instant Pot makes buffalo chicken dip really quick and easy without using a can of chicken. All you have to do is put the chicken breast into the pressure cooker with the sauce, turn it on, and enjoy chicken from fresh or frozen in just a few minutes. Shred, toss in the cheeses, and you're done.
Honestly, you probably won't notice a difference between making buffalo chicken dip with canned chicken versus fresh or frozen breasts. It all tastes pretty much the same.
I'm just saying.
What you'll need to make the Instant Pot Buffalo Chicken Dip
Ingredients
Low-fat cream cheese - You can use full fat if you want to, but there is no appreciable difference in this recipe between that and the healthier neufchâtel version.
Frank's RedHot Sauce - My recipe below suggests ⅓ cup of buffalo sauce, but you can use more or less to taste. I prefer Frank's RedHot Original Cayenne Pepper Sauce, but I've also used Frank's RedHot Buffalo Wing Sauce. They're both good.
Ranch dressing - I generally suggest making your own ranch because it tastes out of this world, but in this recipe, you can get away with using bottled ranch if you want to.
Boneless skinless chicken breast - The recipe calls for 1 pound, but you can use as much as 20 ounces and have great results.
Shredded cheddar cheese
Tortilla chips or crackers - To serve. You could also use veggies or crostini.
How to make mild Buffalo Chicken Dip in the Instant Pot
The Instant Pot instructions are completely different from the microwave, oven, and slow cooker instructions which you can find here.
Place 16-20 ounces of boneless skinless chicken breasts in the Instant Pot. Mix the RedHot Sauce and ranch, pour over chicken. Close the lid, seal the valve, and cook for 15 minutes on the high or meat setting.
Allow the pressure to release naturally for 10 minutes, then quick release the rest.
Remove the chicken from the Instant Pot and shred.
Add the cream cheese and shredded cheddar to the pot and stir until the mixture is smooth.
Add the shredded chicken back to the cheese mixture and stir until well combined.
Garnish with parsley, blue cheese crumbles, sliced green onions or chives, or a drizzle of ranch salad dressing or sour cream.
Serve with tortilla chips, crackers, crostini, or cut up vegetables such as celery sticks. Or do like my kids do and just eat it with a spoon.
Buffalo chicken dip variations
This is not a sponsored post, but I am brand loyal for this recipe and always use Frank's Red Hot Sauce because I think it has the best flavor. Feel free to use whatever hot sauce you prefer, but do start with less than you think you'll need and add a little bit at a time, tasting often, until you have your desired level of heat.
You can try mixing shredded cheddar with shredded mozzarella cheese. Or replace half of the cheddar with blue cheese crumbles.
Replace the ranch dressing with blue cheese dressing.
I have kept the ingredients to a minimum, but you could add any of the following to make the good dip taste even better:
1-2 tablespoons of garlic powder
1-2 tablespoons of onion powder
½ tablespoon of black pepper
Cheesy Instant Pot buffalo chicken dip is a family favorite at my house. In fact, we eat it on all the major holidays and occasions, for a late night snack, and every time we have to take a dish to a potluck or party. This is our go-to recipe because it has a whole lot of flavor, but it's so mild that even kids can partake.
Try these other amazing dips & appetizers
Recipe
I was not compensated, and I received nothing free in exchange for posting this recipe and information. I just like the dip.