This simple and easy recipe makes an awesome, healthy, creamy dip or dressing that's just like Hidden Valley. Made with Greek yogurt or sour cream, mayonnaise, and milk.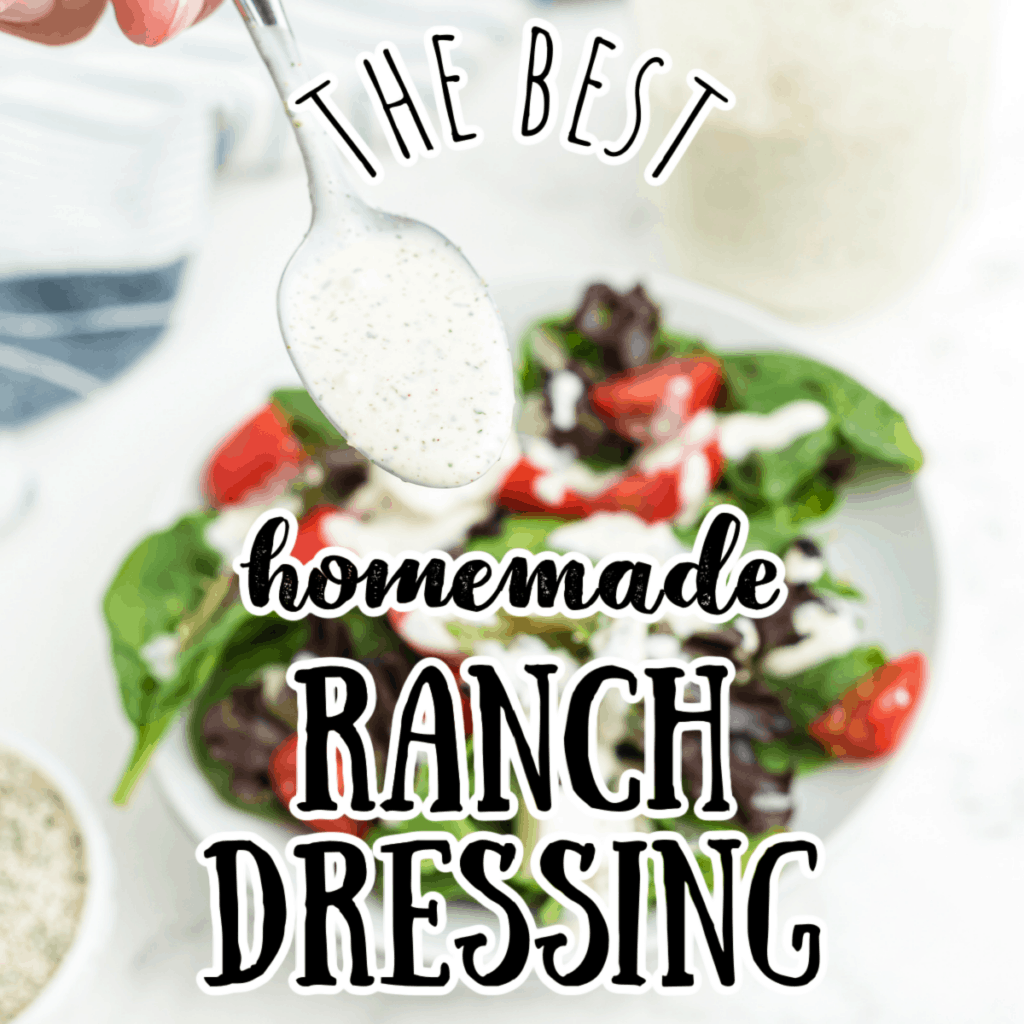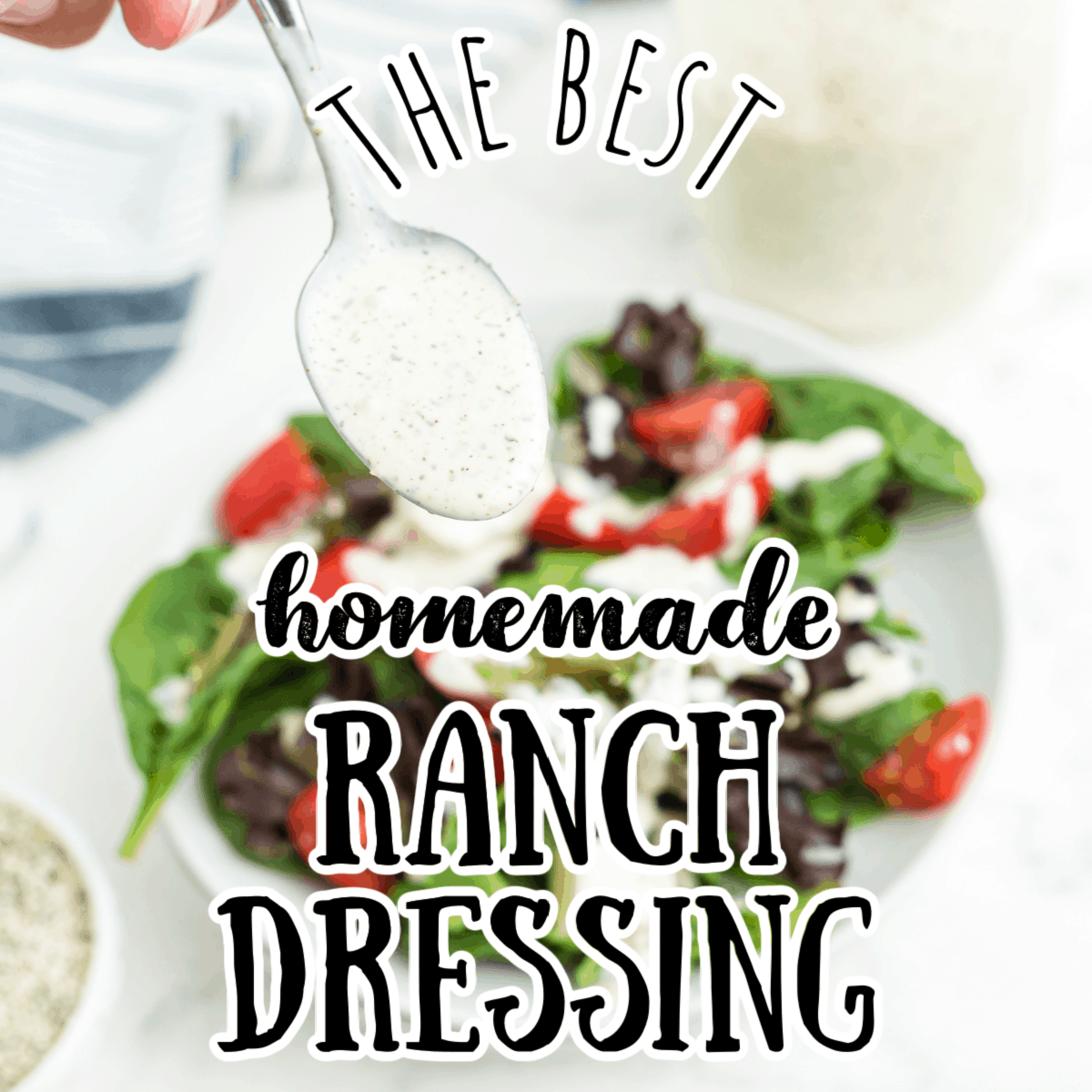 My kids are ranch dressing fiends. I mean, they are too picky to eat salads with ranch, but they eat ranch with chicken nuggets, with mozzarella sticks, with carrots and cucumbers, on plain noodles, you name it, they have tried it topped with ranch dressing.
I really like Hidden Valley ranch dressing. It's really tasty. However, inevitably, someone leaves it out on the table and it develops a funky taste. (Anyone else have that problem? Tell me I'm not the only one.) Then I feel like I have to throw out the whole bottle, not because it's spoiled (at least, I don't think it's spoiled), but just because it doesn't taste the same anymore.
You probably don't care about my ranch neuroses, but there it is.
Anyway, after throwing out a few bottles of ranch dressing, I decided to make my own in smaller quantities. Everything homemade tastes better, and if I could make smaller batches, it wouldn't matter if it got left out because not much would be wasted.
That's where this ranch dressing came from. You can get the recipe and instructions for making the homemade ranch dressing mix in this post. Hop over there first because you'll need that dressing mix to make the dressing recipe below.
What you'll need to make homemade ranch dressing
You need a food processor to make the dressing mix, but as far as equipment for the actual ranch dressing goes, it is minimal. All you really need is a container with a lid to put the ingredients in. You want it to have a lid so that you can simply shake it up until it is a well-blended salad dressing.
Ranch dressing ingredients
Ranch dressing mix - I told you above that you would need this. It is the base of the entire recipe.
Could you use a packet of Hidden Valley ranch mix from the grocery store? Yes, you could, if you want all kinds of preservatives and chemicals in your dressing. Be my guest.
Greek yogurt or sour cream - I love sour cream, but I have switched over the fat free Greek yogurt 100%, and I don't miss sour cream at all. They taste exactly the same and have the same consistency, but Greek yogurt has a boatload of protein per serving and a lot less fat.
Light mayonnaise - Any mayo will do, but I would not use Miracle Whip as that will distort the flavors of the dressing.
Milk - It is up to you whether you use regular milk or buttermilk, but I think this recipe does taste best with dairy milk.
Also, you can use more or less milk, depending on whether you want the dressing to be thin and runny or thicker and more like a dip.
How to make homemade ranch dressing
This can scarcely be called a recipe because it is so doggone easy.
Combine all ingredients in an airtight jar and shake well.
Try to make the dressing a day in advance as the flavors will blend and taste much better the second day.
Store dressing in the fridge up to 5 days.
See what I did there? I added some stuff to the instructions so that it wasn't just "add to jar and shake vigorously." Because, you know, that would have been a lame recipe.
Should you make your ranch dressing in advance?
If it is at all possible, you should absolutely make this dressing in advance. It will reach the peak of its flavor perfection if you let it sit at least 8-12 hours.
However, if you can't let it sit, it will taste fine and you won't be sad.
How to store homemade salad dressing
Since you're already making the dressing in an airtight jar, it is easy to store. Keep it in the fridge for up to 5 days.
I wouldn't keep the dressing if it sits out on the table more than an hour or two. With all fresh ingredients, it doesn't have a long shelf life.
Recipe