This baked French toast casserole with cream cheese filling is a delicious addition to any breakfast or brunch, and it's extra special on holidays and birthday. Make it the night before and soak overnight in the fridge.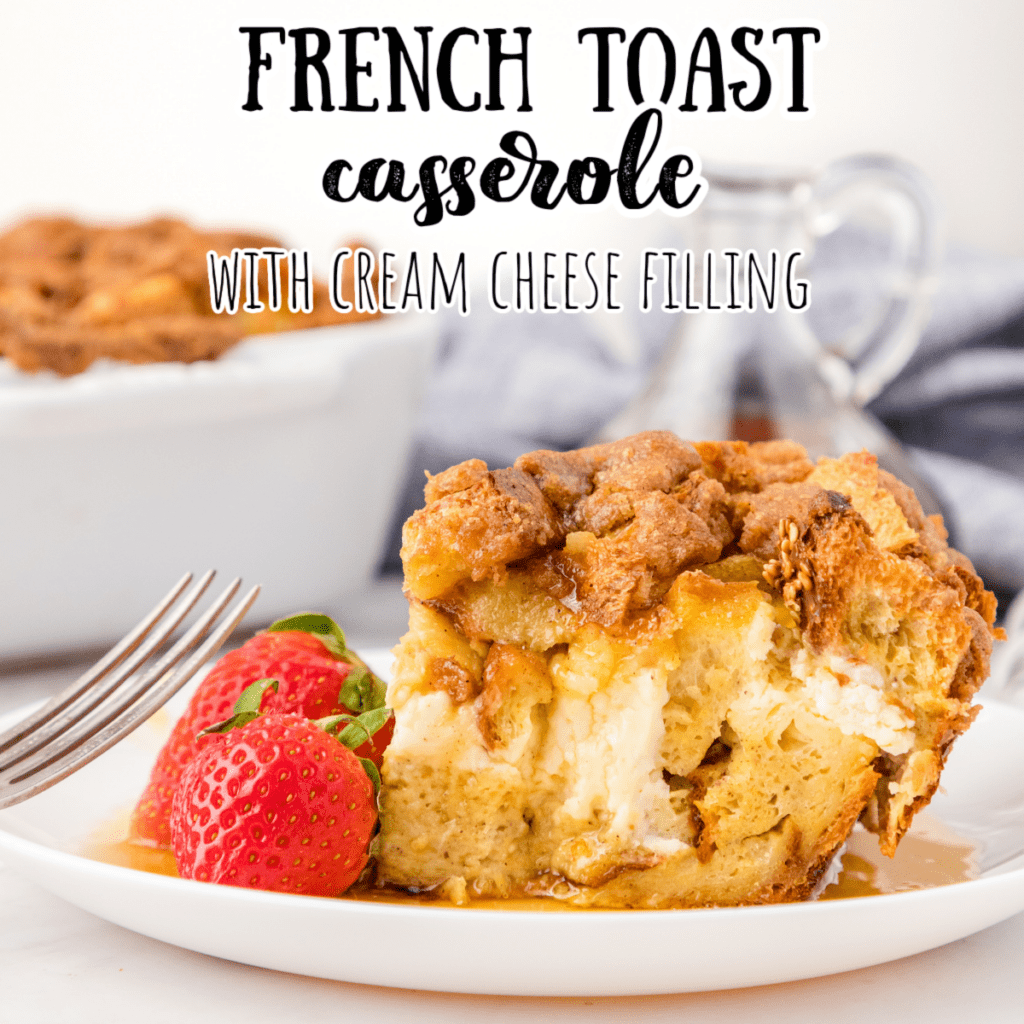 When I was small, I remember my mom making this decadent recipe on special occasions.
She made it for Christmas morning sometimes, and we often ate it when my Grandma visited.
I have lots of memories of smelling this while opening presents and then devouring it with reckless abandon once the goods were all unwrapped.
This recipe takes me right back to life with my mom, and since she passed away in 2013, it's always a welcome memory.
Why you'll love this French toast casserole with cream cheese filling
This recipe is decadent and rich with a cheesecake like filling in between layers of spongy and dense French toast.
This is a simple make ahead recipe - you assemble it the night before, let it soak in the fridge until morning, and then you pop it in the oven and bake. It's super easy and really cuts down on the work in the morning when you've got a hundred other things to do.
You can add a layer of fruit with each layer of bread cubes, and have a burst of sweetness with every bite.
Three Layers of Sweet French Toast Goodness
This casserole has 3 simple but amazing layers:
Soft French toast bread - You pour a thick custard made from eggs, milk, brown sugar, and spices over the bread and soak it overnight so that the bread has a chance to soak up all the flavors of that rich egg liquid. I use whole milk for this one, or you could go extra decadent and use half and half. Yum!
Sweet cream cheese filling - Cream cheese is one of God's finest creations, and when you add a bit of powdered sugar and vanilla, you basically get a cheesecake filling in between layers of bread. Could anything taste better?
Crunchy streusel topping - This is the secret ingredient that other French toast casseroles are missing. You mix flour and brown sugar and add cold butter and spices to make a crunchy surprise in every bite! If you want to go extra fancy, add some chopped pecans. Heaven.
What you'll need to make Mom's French Toast Casserole
Equipment
Ingredients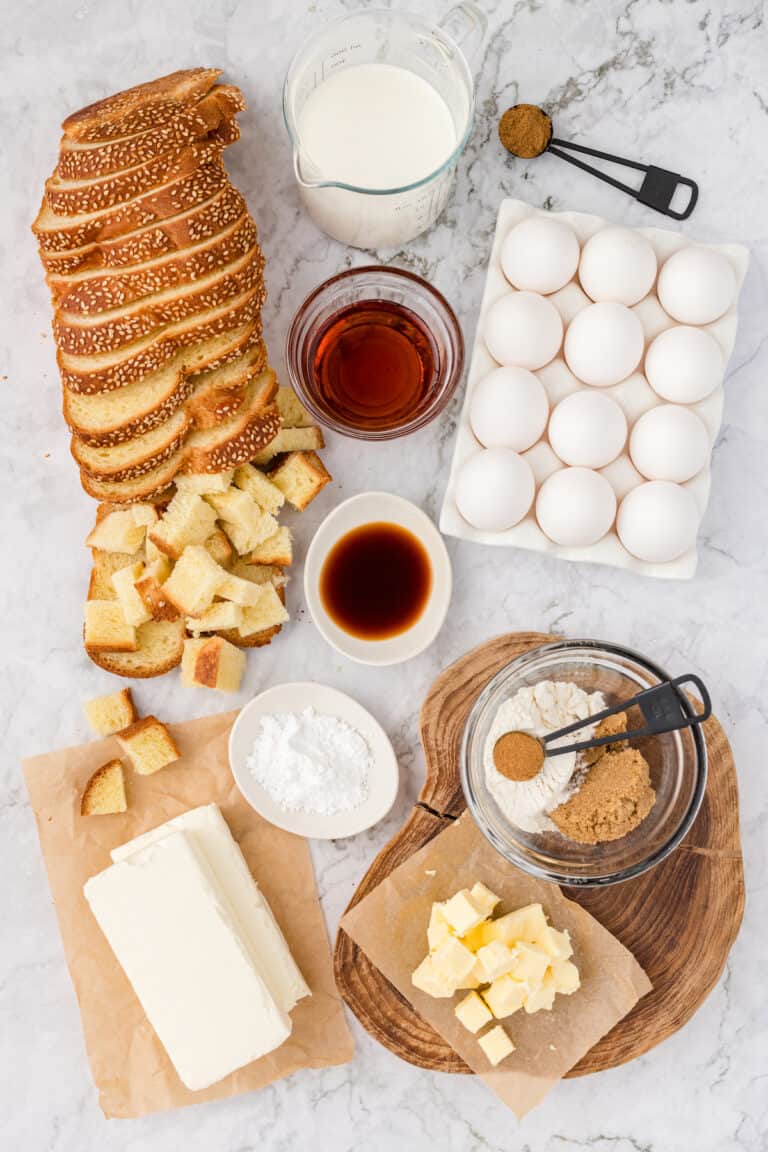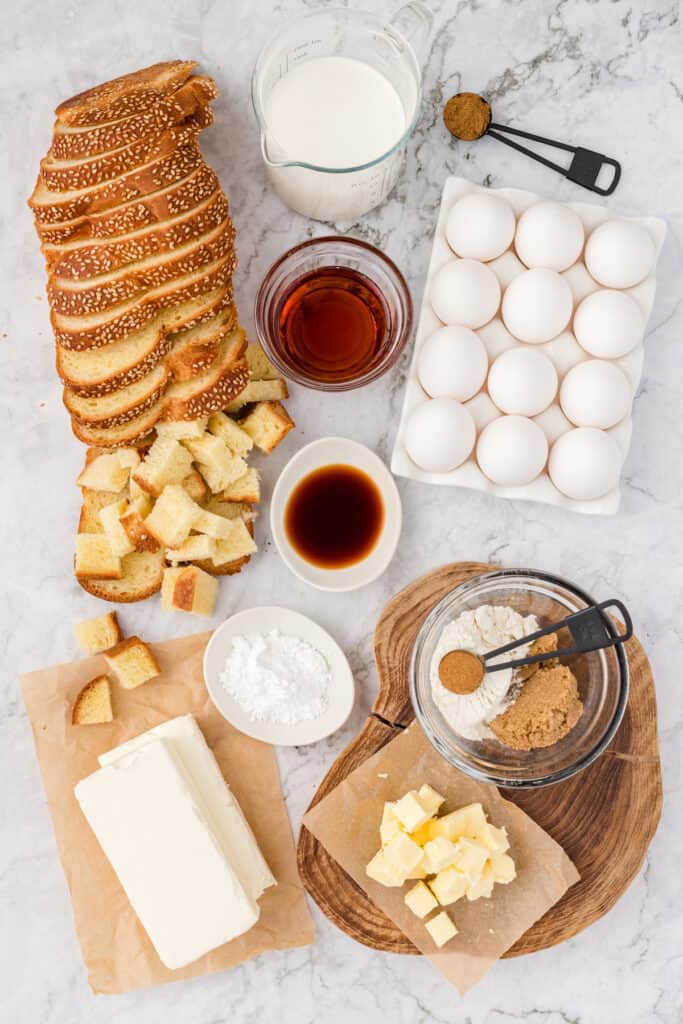 Ingredients for the casserole:
Ingredients for the streusel topping:
How to make a baked French toast casserole
The night before:
Spray a 9x13 pan with cooking spray. Spread half of the bread cubes in the pan.

Use an electric mixer to beat the cream cheese until it's completely smooth. Then add the powdered sugar and ½ teaspoon of vanilla bean paste and beat until combined.

Drop spoonfuls of the cream cheese mixture all over the bread in the 9x13 pan.

Top with remaining bread and set aside.

Whisk together the eggs, milk, pumpkin pie spice, remaining vanilla bean paste, and maple syrup.

Pour over bread in the pan. Smoosh the bread down into the custard mixture a bit so that all the bread has a chance to soak up the liquid.

Cover the casserole tightly with plastic wrap and refrigerate for 8-12 hours, the longer the better.

In the morning:
Preheat the oven to 350ºF.
Remove the casserole from the fridge and discard plastic wrap.
Make the streusel topping. Whisk together the brown sugar, flour, and spice in a medium bowl. Add the cold butter cubes to the dry mixture and use a pastry blender to work them together until a fine powder forms.

Sprinkle the topping over the casserole.

Bake uncovered for 50-60 minutes or until golden brown on top. Dust with additional powdered sugar if desired, and serve immediately with additional maple syrup.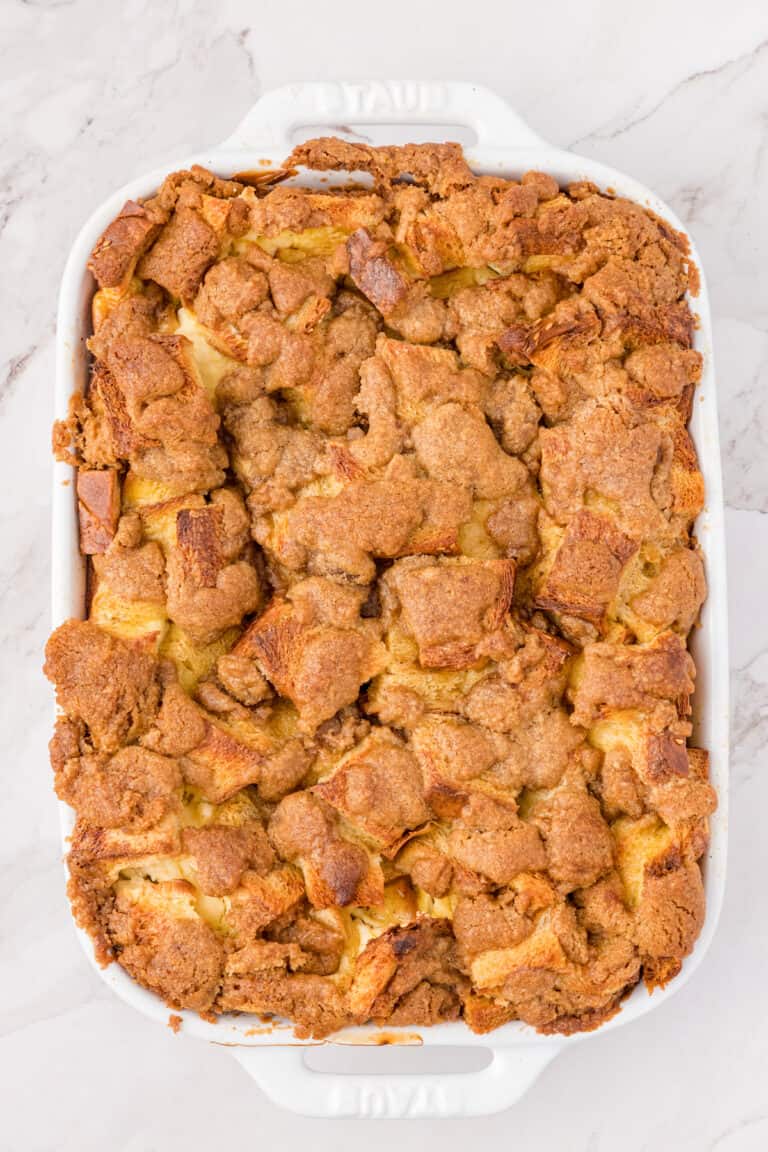 Tips for a better French Toast Casserole
Bread is the most important ingredient in this casserole. You need to use a crusty, dense loaf of French bread, and it really makes a difference if you let it sit out on the counter all day. Plain old sliced bread will get too soggy and will not hold up in the casserole.
Your best bet for bread is to get a day-old loaf from the bakery, slice it, and then let it sit out all day or overnight to get stale. If you don't have time to set it out, you can bake the bread cubes at 275ºF for 10-15 minutes to make them stale.
Make sure the bread is cut into bite-sized chunks.
Cream cheese is the second most important ingredient! Since the cream cheese is used with very few additions, make sure you are using good quality cream cheese. I almost always use neufchâtel (the lower fat and lower calorie cream cheese that looks just like the original), but I don't in this recipe. You will notice a difference if you use low fat, so stick with the high test version.
Make sure the custard mixture is thoroughly mixed or else you will have ribbons of scrambled egg in your French toast casserole. Not the look you're going for!
Don't skimp on the soaking time! The stale, crusty bread needs a lot of time to really soak up the rich custard liquid.
My mom always soaked hers for at least 12 hours, and I think 8 is the bare minimum. You could even make this up to a full day or two ahead of time, and you will have amazing results.
If you underbake this casserole, it will be soggy in the center, and the eggs could be uncooked. If you are worried about the top getting too brown, cover it with aluminum foil and keep it in the oven for the whole 50 minutes. If you have a food thermometer, you want the center to reach 165ºF.
Can you make French toast casserole ahead?
You have to! The recipe, as written, requires soaking overnight. However, you can also make this casserole way ahead and freeze it before baking. Prepare the casserole as instructed and, instead of storing in the refrigerator, cover tightly with plastic wrap and then aluminum foil and freeze for up to 2 months. Thaw overnight in the refrigerator, then add the streusel topping and bake as directed.
IMPORTANT: DO NOT PUT A FROZEN OR VERY COLD GLASS DISH STRAIGHT INTO THE OVEN! Cold glass will most likely shatter when exposed to a high temperature. If it's frozen, be sure to put it in the fridge overnight to thaw. If it's cold from the fridge, let it sit on the counter for at least an hour before putting it into the oven. (This does not apply to stoneware or other bakeware, just glass.)
What to do with leftovers
This recipe makes A LOT of food. If you're concerned about having too much, you could make a half batch in a 9-inch square baking dish. You should only cook it for 30-35 minutes in that case.
If you make the whole thing and have leftovers, you can store them in an airtight container or zippered bag in the fridge for up to 3 days. Just be aware that the streusel will get a little soggy. You can crisp it up a bit by reheating in a 250ºF oven for 15 minutes rather than reheating in the microwave.
More overnight breakfast recipes
More delicious breakfast recipes
Recipe