These French Toast Muffins are easy to make using foods you already have in your pantry! French bread, cubed and covered in a rich egg yolk, heavy cream, and vanilla mixture, is stuffed with a delicious cream cheese filling, and baked until golden and crispy. They're the perfect bite-sized breakfast.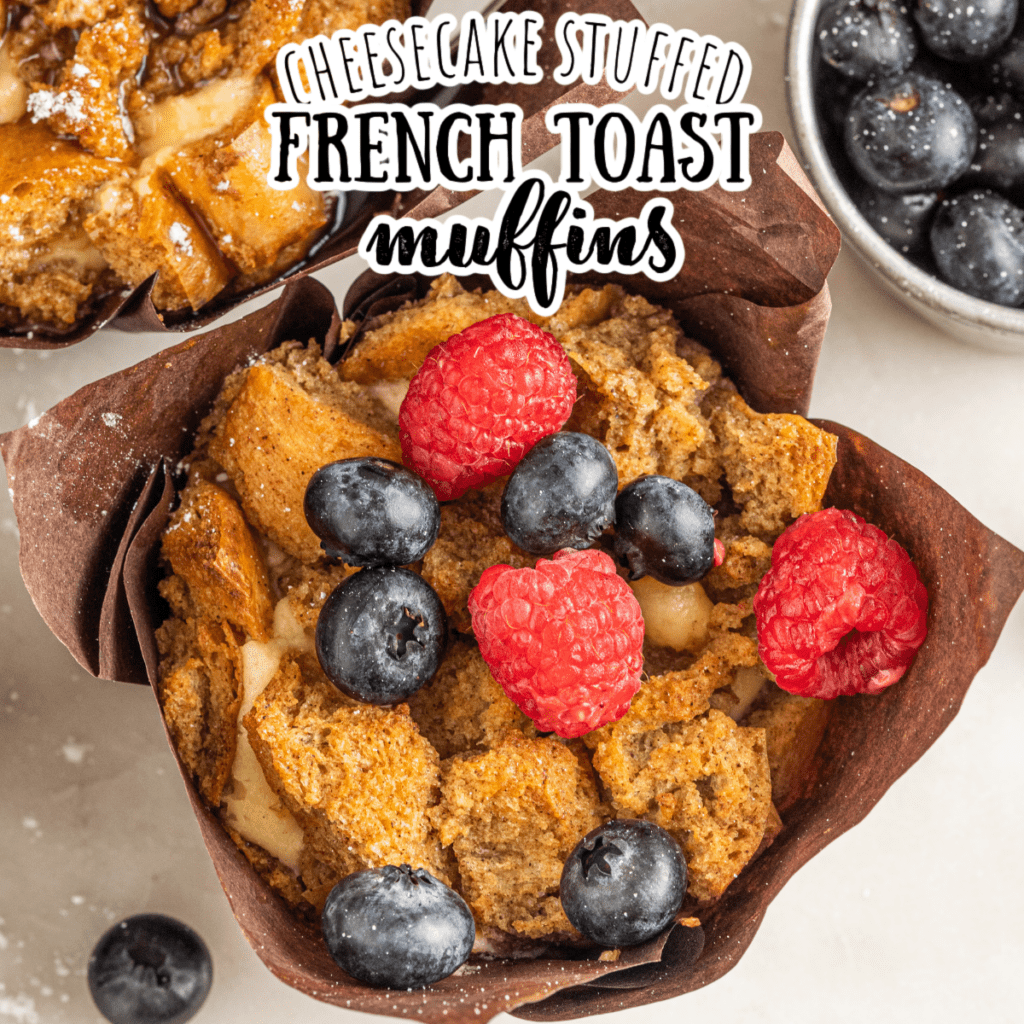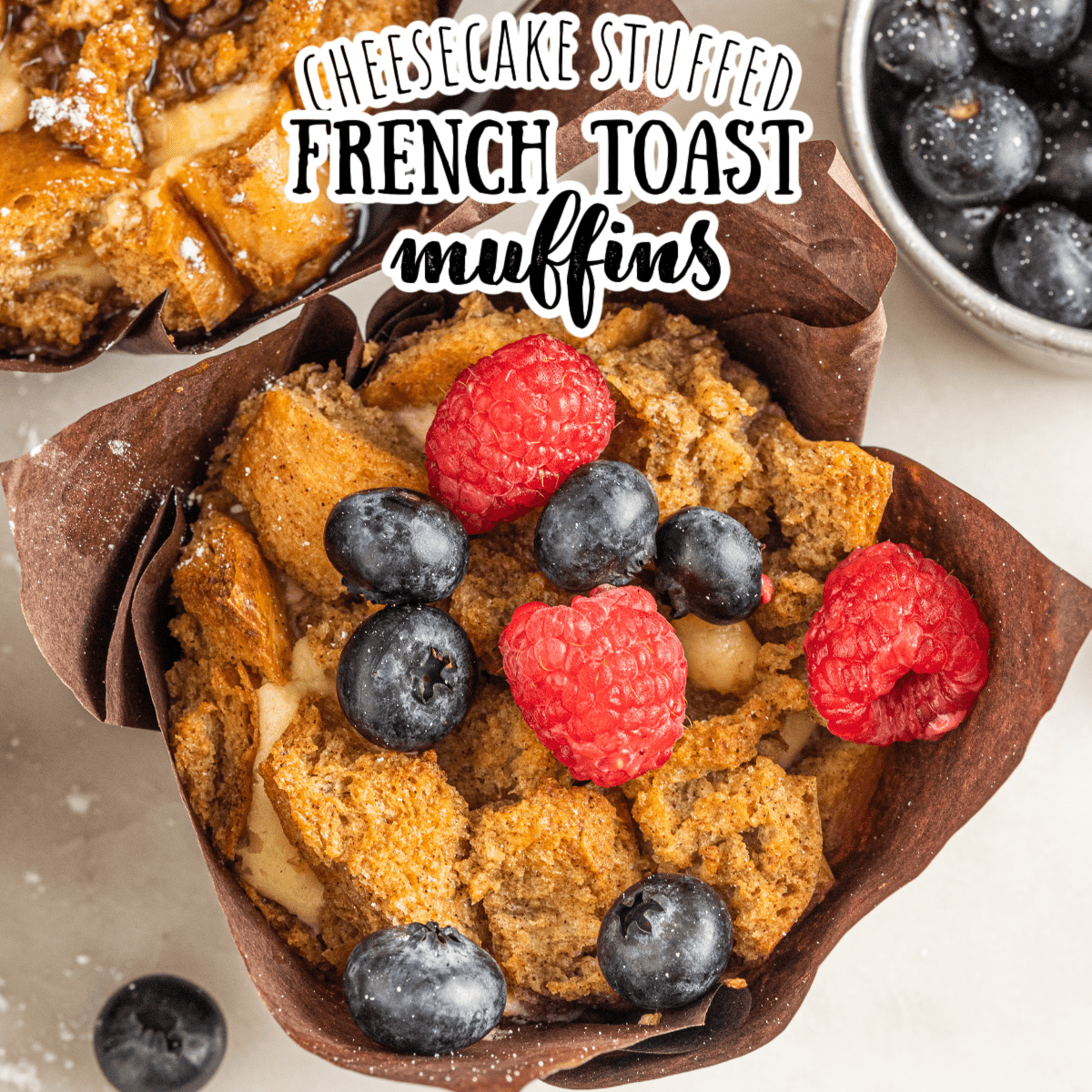 When I think of Christmas breakfast, I think of my mom's stuffed French toast casserole which is absolutely amazing. However, stuffed French toast casserole is not portable and so has to be saved until after all the presents are opened.
Wanting to serve something hand held that could travel to the living room while the kids are opening their presents, I decided to transform my mom's casserole into cheesecake stuffed French toast muffins. The taste is very similar, but these are portable.
French toast muffins are impressive and would make an awesome addition to any brunch or breakfast table. They look (and taste!) like they were really complicated, but actually, they come together in a few minutes.
What are French toast muffins?
Soft, chewy french bread is soaked in a custard-like mixture, pressed into jumbo muffin tins, filled with a delicious cheesecake mixture and baked into a perfect muffin. Top with fresh berries and drizzle with maple syrup for a scrumptious breakfast or brunch!
What you'll need to make cheesecake stuffed French toast cups
Equipment
You will need a jumbo muffin pan with muffin cups or liners. You could probably make the recipe with a regular sized muffin pan, but they will (obviously) be much smaller, and you will have to cut your bread into smaller pieces.
I used an egg separator and a citrus juicer, but you could probably do those things by hand if you're in a pinch.
Finally, you will need an electric mixer of some sort. The stand mixer is the best to use, but mine is a pain to dig out from the back of the counter and so I most of the time use my hand held electric mixer. It's a little less convenient to use and doesn't do quite as good of a job as the stand mixer, but it still works pretty well.
Ingredients
For the muffins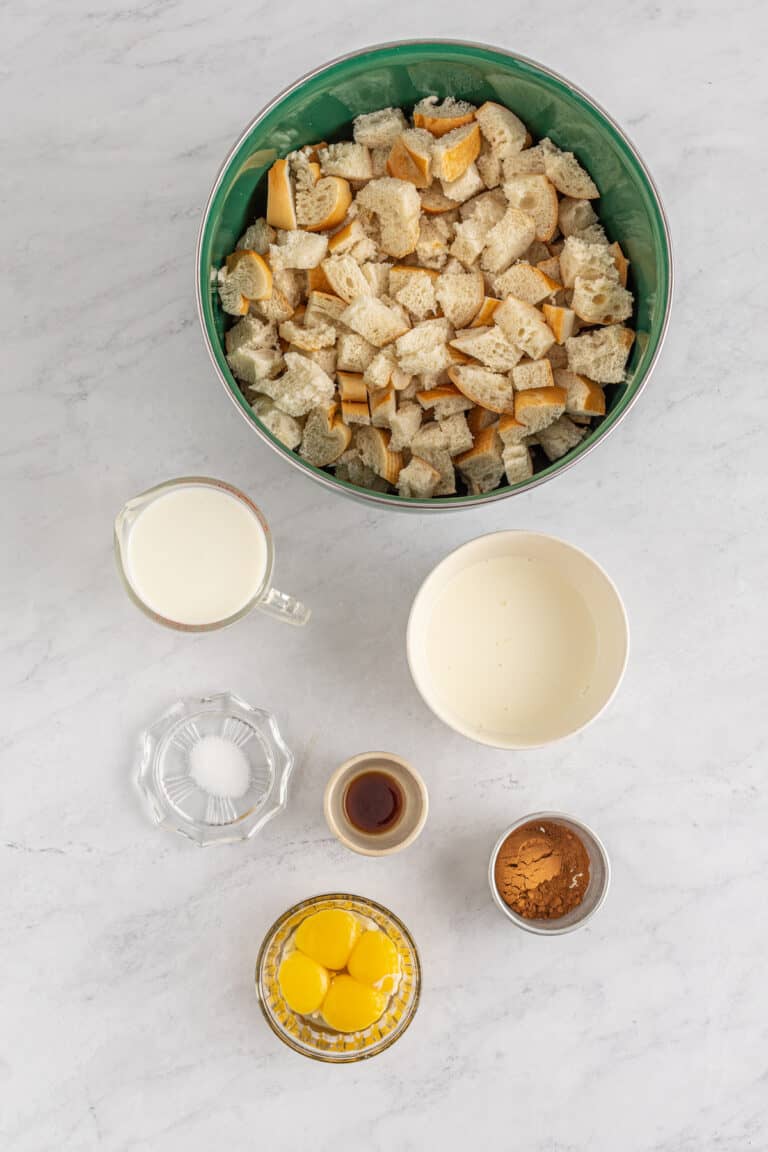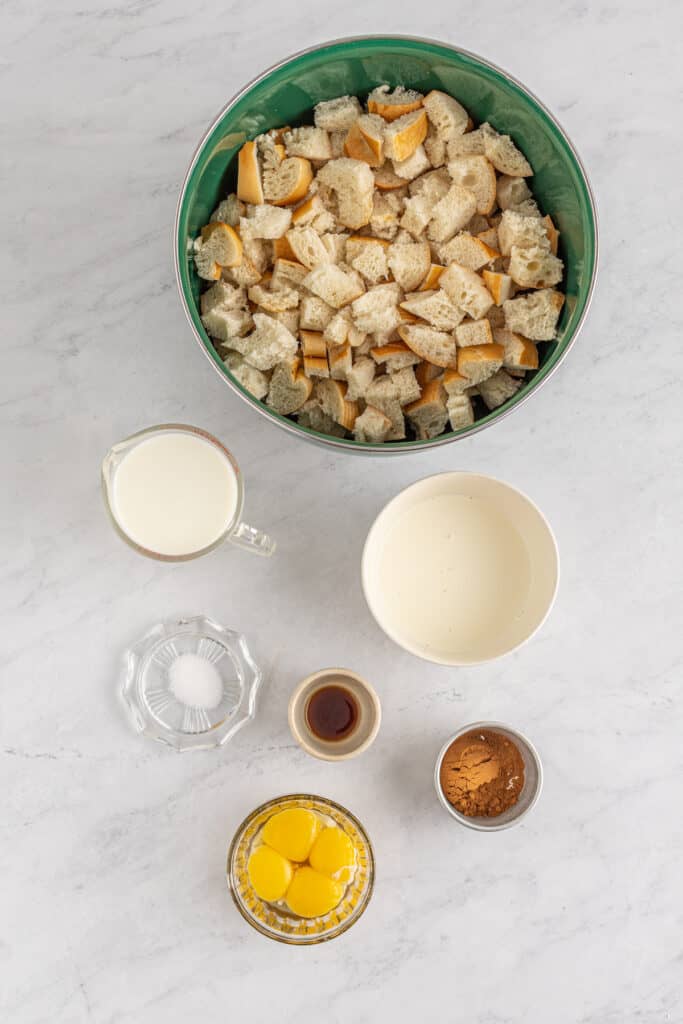 Cooking spray - If you're using paper muffin cups, you probably don't need cooking spray, but I sprayed my muffin cups anyway to make sure the French toast released from the paper nicely.
Milk - Dairy or non-dairy milk will be fine.
Heavy cream - This makes the custard nice and thick and rich.
Large egg yolks - You will not use the egg whites, just the egg yolks.
Ground cinnamon - I love cinnamon in French toast. It gives French toast a really nice, deep flavor and adds something that you will miss if you leave it out.
Vanilla bean paste - Vanilla bean paste is thick and glue-like and contains ground up vanilla beans. You can substitute an equal amount of vanilla extract, but it won't have as much rich vanilla flavor. Vanilla extract is made from vanilla beans soaked in alcohol for a long time. This is fine, but the actual beans are removed from the liquid before it's bottled up and sold to you.
Salt
Sugar - I used white sugar, but you could also use brown sugar.
French bread, cut into small cubes - I like French bread for this recipe because it is firm and holds up nicely, but you could use any bread really, including white bread, brioche, or even croissants just as long as you let the cubes sit out for a day or so to get stale prior to soaking it in the custard mixture.
For the cream cheese filling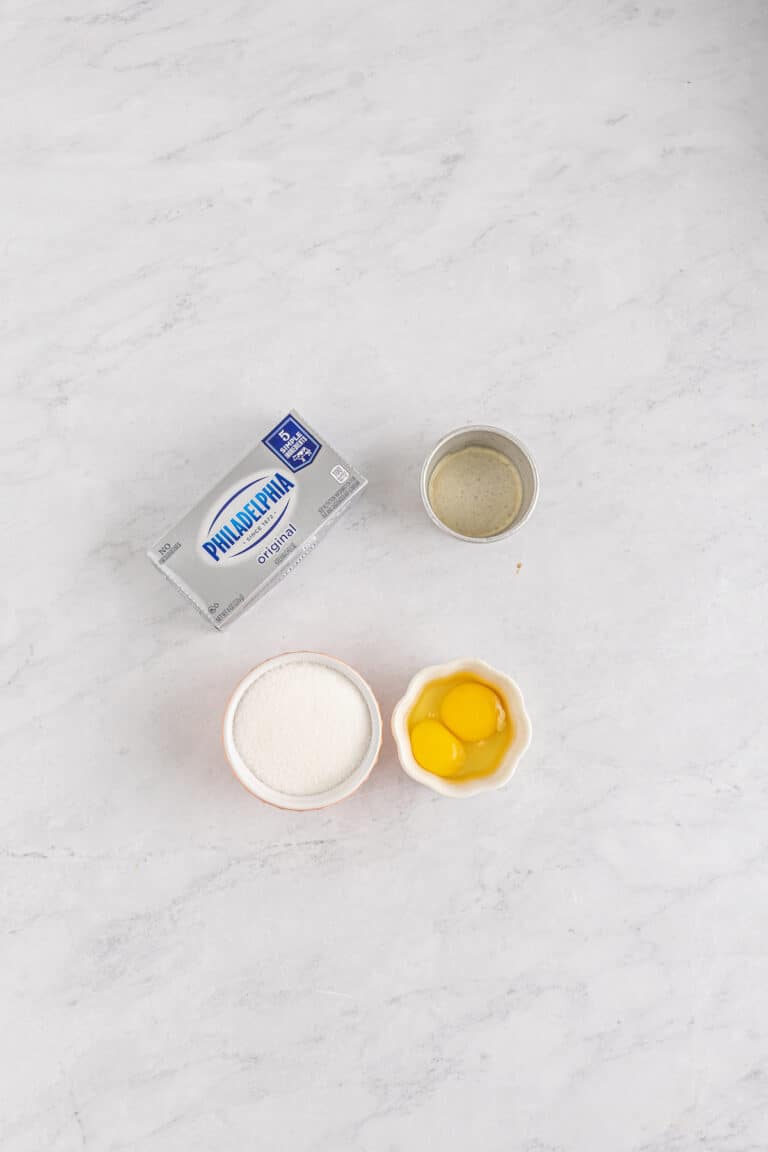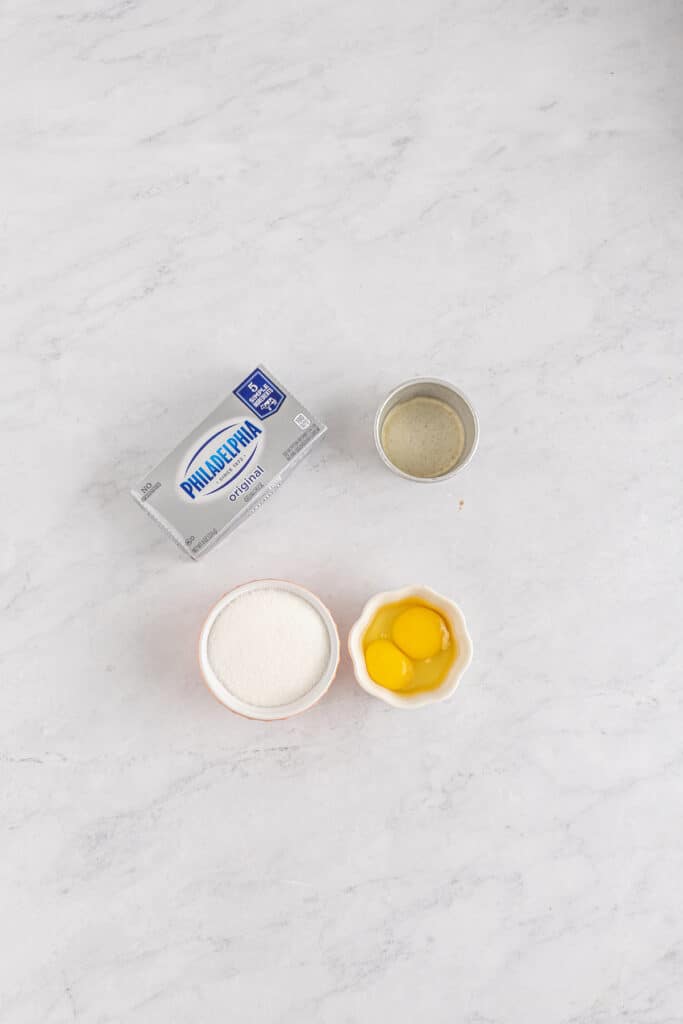 Cream cheese - Anytime I'm making cheesecake anything, I buy the full fat cream cheese. The lower fat version simply doesn't taste as good.
Sugar - White sugar only here.
Large egg - The whole egg, white and yolk.
Large egg yolk
Lime juice - It's okay to substitute lemon juice here. You might be tempted to leave this out because you're only using a small amount, but please don't. You need the acid in the cheesecake filling to make it taste like cheesecake and not just cream cheese. And please, for the love of all that is holy, buy a real lime for 80 cents and squeeze it yourself. There is no comparison between fresh lime juice and that nasty stuff that comes in a bottle.
For serving
Powdered sugar - A sprinkle of powdered sugar makes the muffins look and taste really nice.
Melted butter
Warm maple syrup
Raspberries
Blueberries
Blackberries
How to make French toast muffin cups with cheesecake filling
For the French toast muffins
Preheat the oven to 350ºF. Spray a jumbo muffin tin with nonstick cooking spray or line the wells with disposable muffin liners..
In a large mixing bowl, whisk together the milk, heavy cream, eggs, cinnamon, vanilla bean paste, and salt until well combined.

Stir in the sugar.

Pour the egg mixture over the french bread and toss to coat. Let it set for 5 minutes to allow the bread to soak it up, pressing the bread down into the custard if necessary.

For the cheesecake filling
While the bread is soaking, make the cheesecake filling. Add all of the cheesecake filling ingredients to the bowl of a stand mixer fitted with a paddle attachment. Beat together on high speed for 2 minutes to ensure that the mixture is smooth and creamy. Alternately, add ingredients to a medium bowl and use a hand mixer with the beater attachments to beat for 2 minutes or until smooth and creamy. If there are any cream cheese lumps after beating, make sure to use a spoon to smoosh them against the side of the bowl and then beat for a bit longer to mix them in.

To assemble the French toast muffins
Press enough of the soaked bread mixture into each mold to create a base and sides, leaving just enough of a well in the center to fill with cheesecake filling. After filling all 6 muffin cups, there should still be about 1 ½ cups of soaked bread leftover to form the muffin tops.

Spoon cheesecake filling into each of the muffin wells.

Top with the remaining soaked bread.

Bake in the preheated oven for 45 minutes or until tops are golden brown.

Remove from the oven and place on a wire cooling rack for 15 minutes before serving. The cheesecake filling will be very hot.
Serve plain, sprinkle with powdered sugar, topped with fresh berries, and/or a drizzle of melted butter and maple syrup.
Tips for the best French Toast muffin cups
The bread soaks up the custard mixture better if it has been left out in the open air for a day to dry out. Simply chop it up the day before and place the cubed bread into a large bowl, cover it with a towel, and place it out of the way until you are ready to use it.
Be sure to beat the cheesecake mixture well so that no lumps of cream cheese remain. If after beating it, there are still lumps, simply press them against the side of the bowl with a wooden spoon or rubber spatula to disperse them.
For an extra fancy touch, warm the maple syrup up slightly before serving it.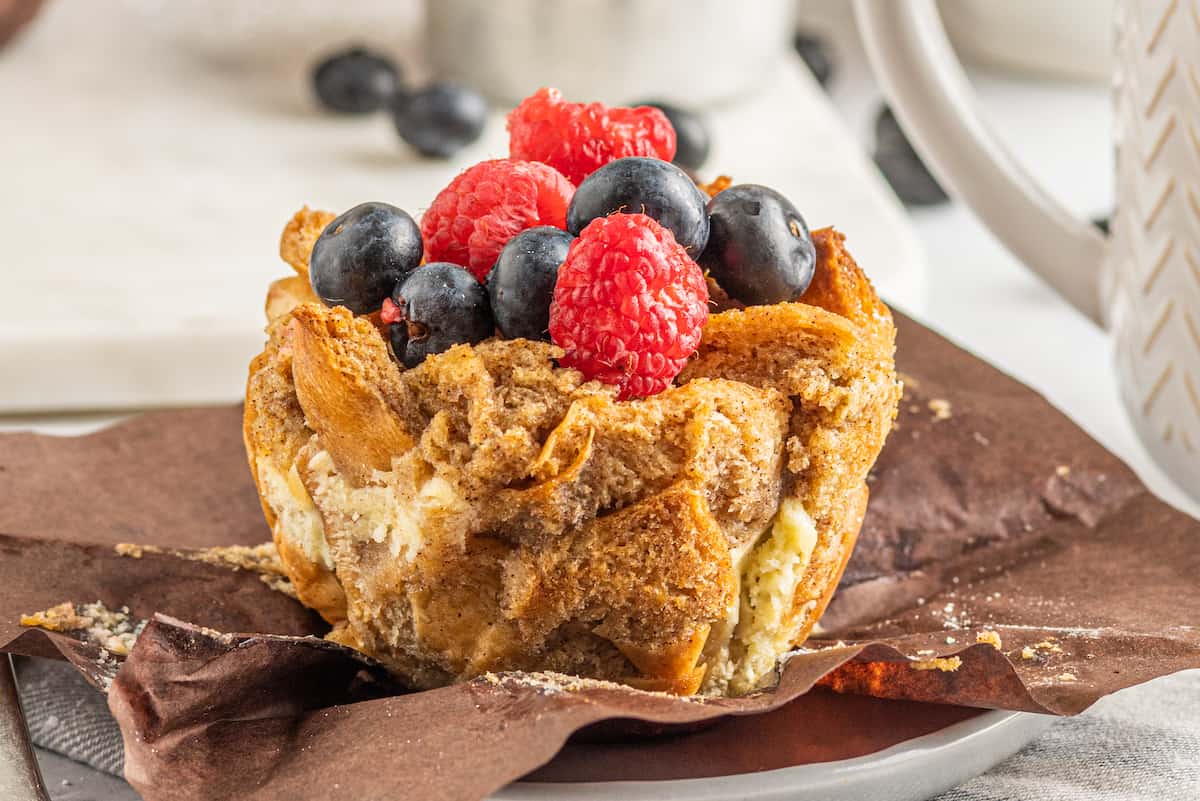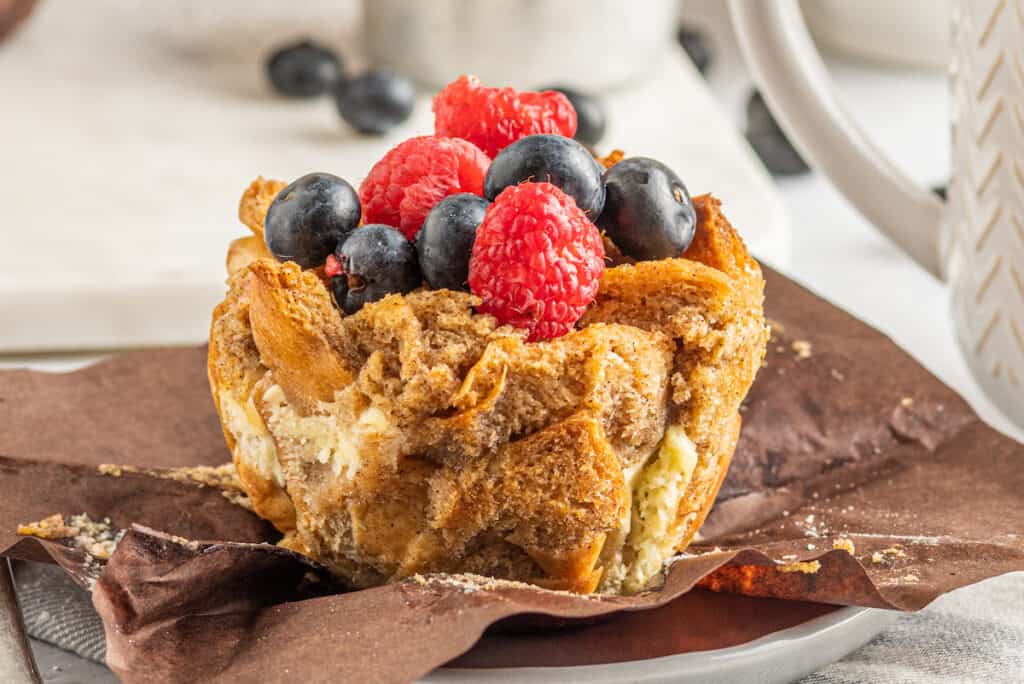 French Toast Muffins Variations
Cinnamon - This can be left out or replaced with nutmeg, ginger (use very little), allspice, pumpkin pie spice, or apple pie spice.
French bread - You could use any bread really, including regular sandwich bread or brioche bread. Whatever you use, just be sure to leave it sit out over night to get a little stale so that it will soak up the custard before you bake it.
Nuts - I think some chopped pecans or walnuts would be amazing tossed in with the bread cubes.
Chocolate - Add a handful or two of chocolate chips with the bread cubes.
Fruit - You can add fresh or frozen (thawed and drained well) berries or chopped apples or pears to the bread mixture.
Can French toast muffins be made ahead?
Yes. You can bake the muffins, wrap them in plastic wrap, and store them in a zippered bag or airtight container overnight. In the morning, reheat them in a 325º oven for about 10 minutes or until warm.
I would not recommend preparing the bread and custard mixture and leaving that sit overnight. The bread will get too mushy and may fall apart.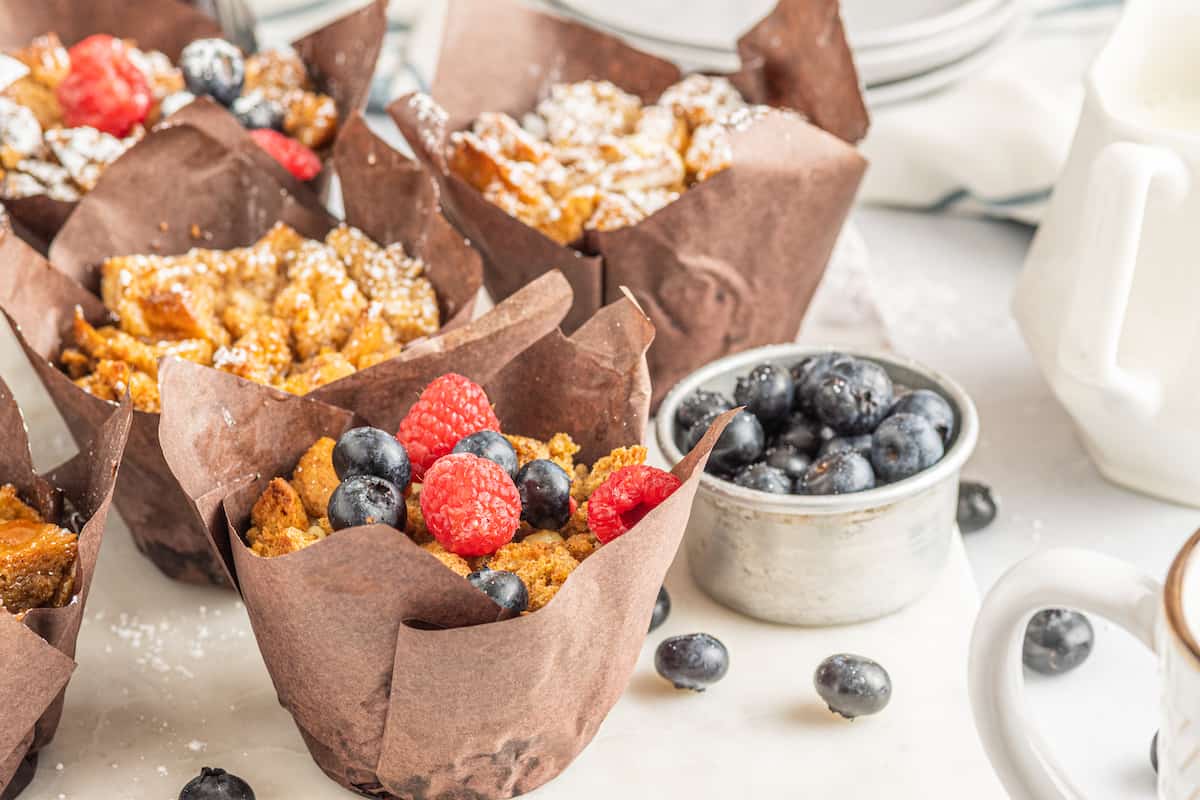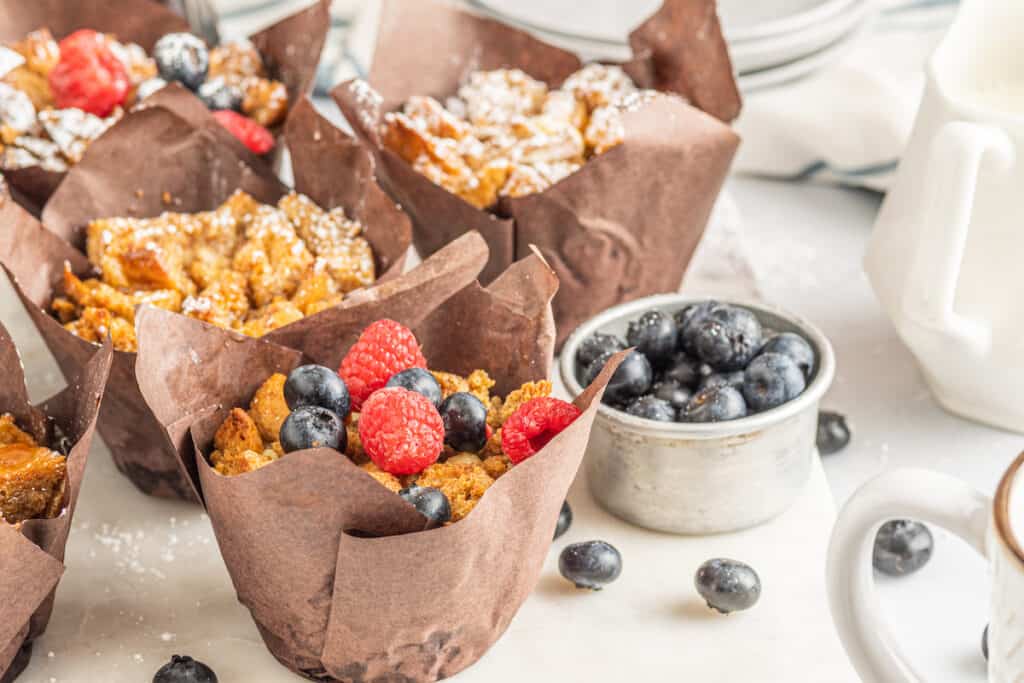 Storing French toast muffins
French toast muffins may be stored in an airtight container in the fridge for up to 2 days.
You can freeze these muffins in an airtight container or zippered freezer bag for up to a month. Thaw in the refrigerator overnight before reheating in a 325ºF oven for 10-15 minutes or until warm.
Other hand held breakfast recipes you will love
And if you love French toast, give this one a try: Raspberry Cream Cheese Stuffed French Toast!
Recipe