Healthy grilled French toast sticks made from scratch with a rich milk and egg batter and cinnamon and nutmeg. Cooks up crispy on the outside and soft and fluffy on the inside. Served with a simple, wholesome raspberry sauce instead of syrup.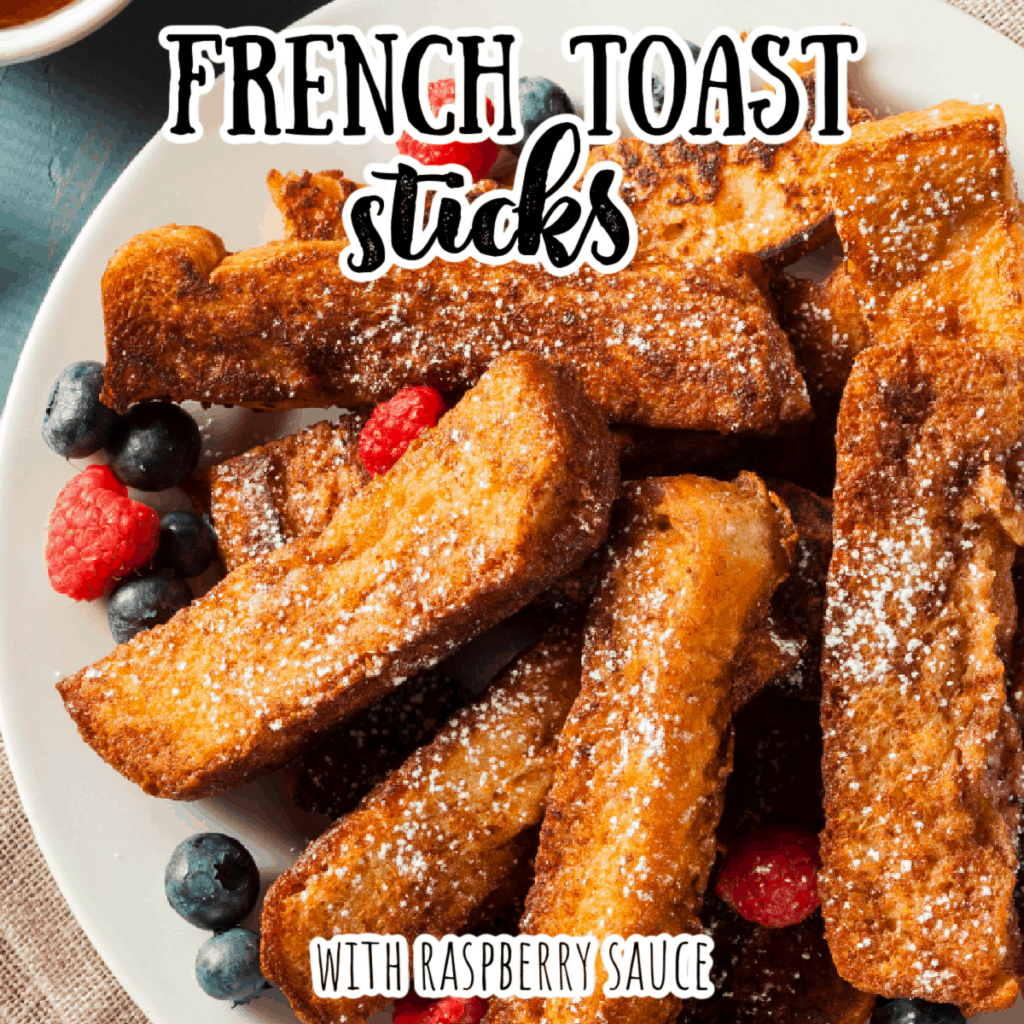 Kids love junk food. Doesn't everybody?
I think part of the allure of junk food is that we aren't supposed to eat it. We want what we shouldn't have.
When I was at the Sara Lee Back to School Nutrition Summit in July, Chef Jill Houck talked to us about making healthy, nutritious foods look like junk food.
Is that brilliant or what? I love the concept.
I think Gracie will devour anything that looks remotely like a French Fry, as long as she can dip it in something that reminds her of ketchup. That's exactly what Chef Jill was betting on when she created the recipe below.
You could make these ahead of time and freeze them. Wouldn't your mornings be simpler if you were pulling a couple of French Toast sticks out of the freezer instead of trying to cook them from scratch?
Who needs those pre-made frozen ones from the grocery store that are deep fried? Not my kids!
What you'll need to make healthy French toast sticks
For the French toast sticks
For the dipping sauce
How to make healthy French toast sticks
Combine the milk, eggs, sugar, cinnamon, nutmeg, and salt. Mix well with a whisk until smooth. Refrigerate until needed.
In a blender, combine raspberries, lemon juice and sugar until smooth. Pour into a small bowl and refrigerate until needed.
Heat a skillet over medium heat and brush spray with butter-flavored cooking spray or a small amount of butter.
Dip the bread sticks into the batter, coating them evenly. Cook the slices on one side until evenly browned, then turn and brown the other side.
Serve the French toast sticks immediately with raspberry dipping sauce.
Cut French Toast sticks into thinner sticks for little kids to dip into the raspberry sauce like fries in ketchup.
What makes these French toast sticks healthy
Normally, French toast sticks are deep fried, and these aren't which makes them healthier right off the bat.
More than that, most of the time, we drizzle or dip the sticks into syrup. Syrup, while tasty, is a nutritional mess, so substituting raspberry dipping sauce instantly bumps up the vitamins and minerals that your kids need.
And, if all that wasn't enough, it's very easy to disguise whole grain bread in these French toast sticks. Your kids won't know whether the French Toast sticks that they're dipping came from white bread or whole wheat. They'll just dip and eat. Win!
More French toast goodness:
Try these other delicious berry recipes while you're here:
Recipe