Red, white, and blue fruit tart - Easy pre-made pie crust, light cream cheese filling, and fresh or frozen berries make this the perfect patriotic dessert for Memorial Day, July 4th, or Labor Day! This red, white, and blue fruit tart is a light and refreshing end to any summer picnic or holiday meal!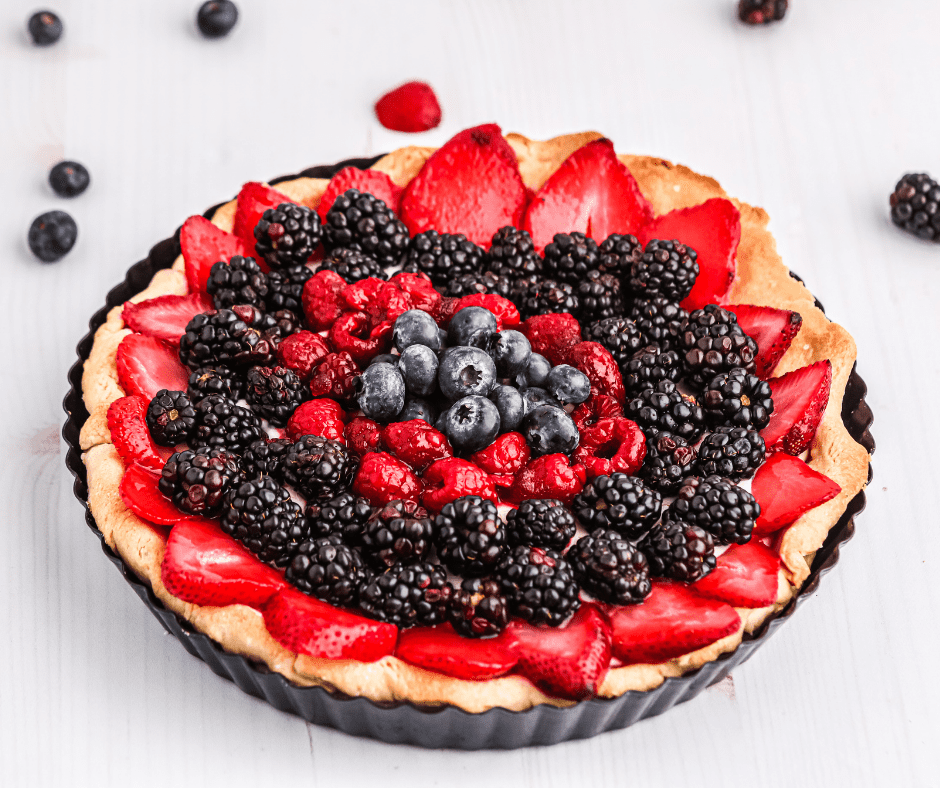 This fruit tart is so pretty and impressive that you won't believe how easy it is to make! It is just a couple of steps, and you're done in minutes.
I have been on a red, white, and blue kick lately, as you can probably see on my blog. I have made red, white, and blue fruit salad, fruit tart, and layered jello (coming soon on the blog). I've been preparing for the summer holidays and also just generally like patriotic-looking everything (clothing, foods, home decor, etc).
The American flag is a source of pride for most Americans. I remember back to September 12, 2001, when the stars and stripes were flying on every home. It was a tragic time in our history, but it was also a proud and unifying time. We rallied together as Americans against a common cause.
Also, my dad is a veteran, and I think of him when I'm celebrating the patriotic summer holidays as well as all year round.
Or maybe I just like red, white, and blue. Who knows. I guess I don't really need a reason.
Anyway, I really love berries, especially strawberries and red raspberries (I talked about my pseudo strawberry allergy in this post), and I have been obsessed with recipes showcasing them.
When I was a little girl, Old Grandma had a huge patch of raspberry bushes just outside her front door, and I remember loving to pick those berries and put them on my cereal every morning (because I always ate breakfast at Grandma's house even if I'd already eaten at home). With that memory in mind, I planted a dozen golden raspberry bushes the first spring after I bought my house, and I have planted more golden and red raspberries every couple of years since. (In theory, raspberry bushes will spread and take over, but mine have done thrived for I don't know what reason. I suspect they don't like the soil which is a heavy, red clay. My berry patch is a work in progress.)
Because my berry patch is not a big producer, I just go to a farm and pick my berries or I buy them at the farmer's market. They are delicious either way, and they are in season now in some parts of the country, but not for six weeks or so where I live.
How to make a red, white, and blue fruit tart for July 4th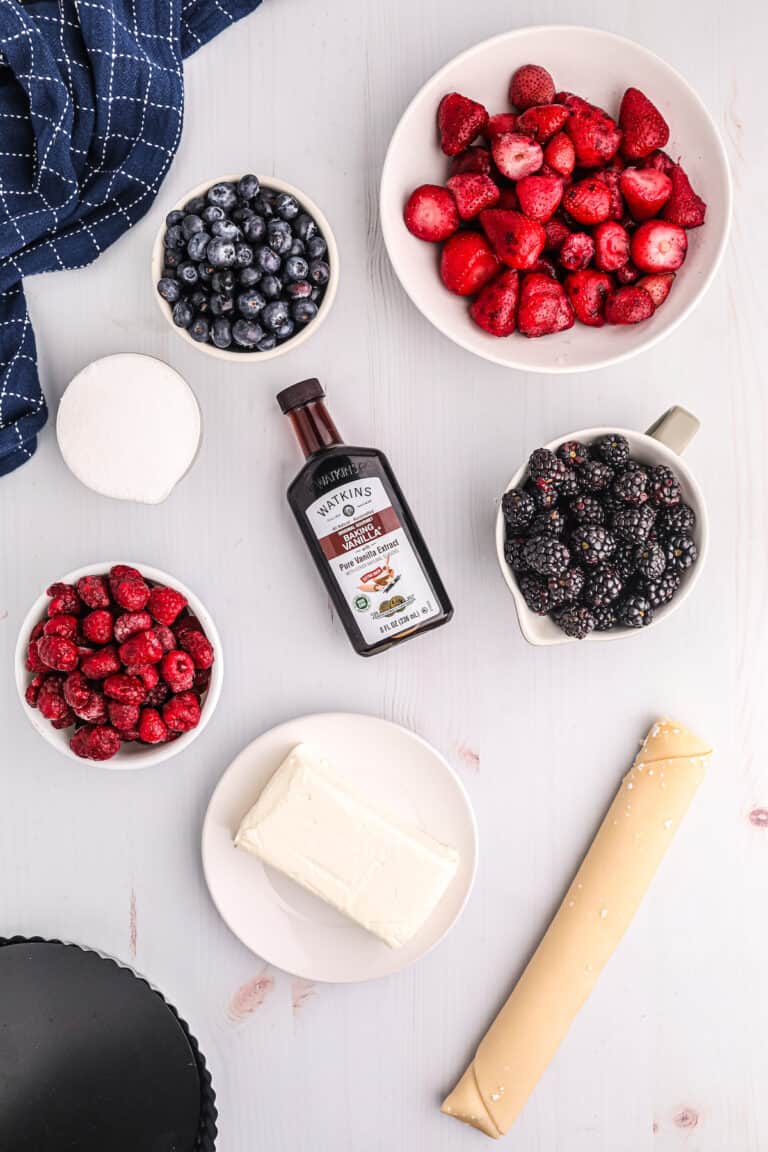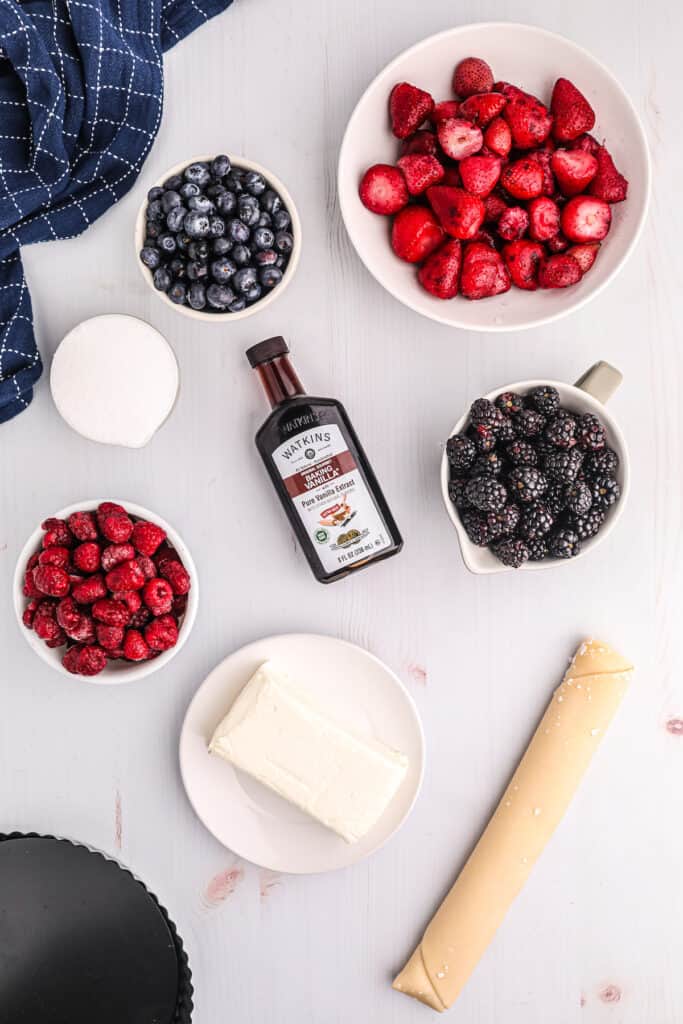 Red, white, and blue fruit tart ingredients
one refrigerated pie crust - It is perfectly acceptable to make a pie crust from scratch if you want to. You will want it to be soft and pliable for the recipe, so if it is frozen, thaw it. If it is from a box, you will need to soften it per the package instructions.
one block of full fat cream cheese
white sugar
vanilla extract
strawberries
blueberries
blackberries
red raspberries
Equipment needed to make the tart
Making the red, white, and blue fruit tart
Heat the oven to 450ºF.
Carefully unroll the dough and place in the tart pan.

Use your fingers to press the dough firmly into the pan, making sure to press along the sides as well before pricking with a fork (to prevent air bubbles).

Bake the tart crust for 10-12 minutes or until golden brown. Allow the crust to cool completely before adding the cream cheese filling.

When crust is cool, add the cream cheese, sugar, and vanilla to a medium bowl and use a hand or stand mixer to beat a medium speed, until smooth.

Evenly spread the filling to cover the entire crust.

Arrange fruit as shown (or in any pattern you like) on top of the cream cheese filling.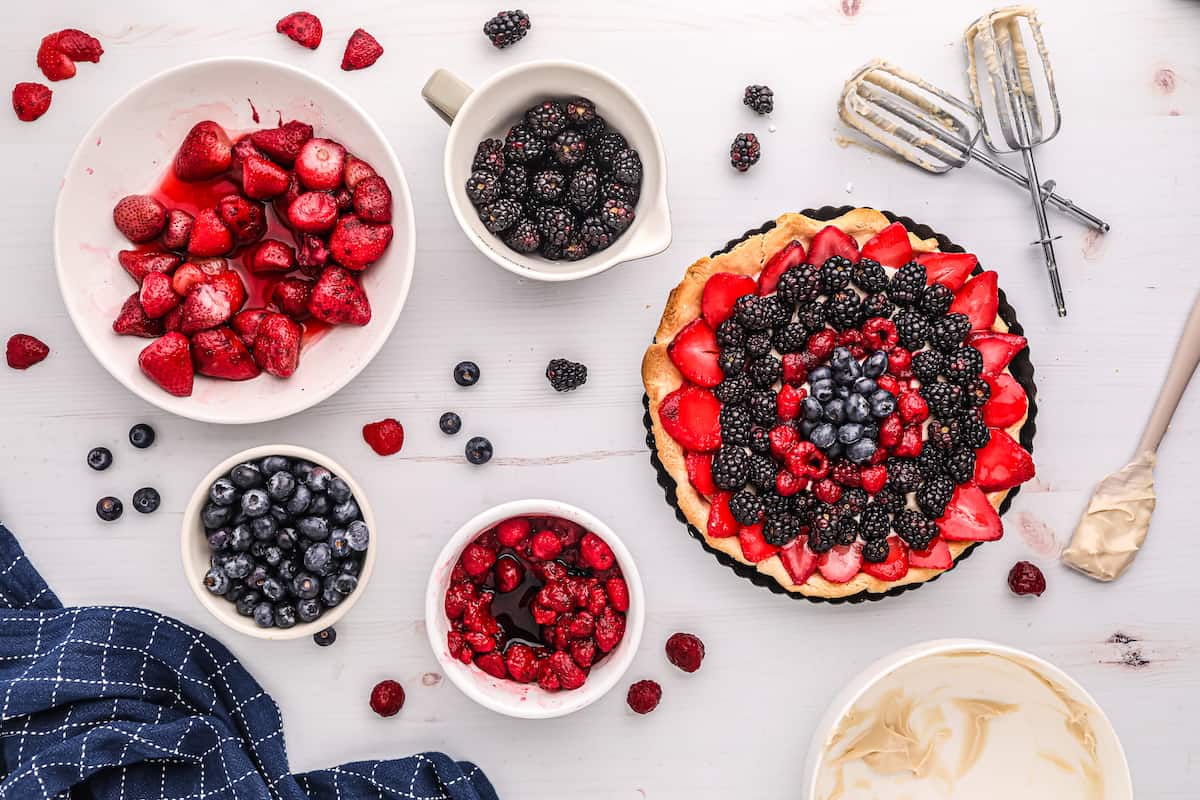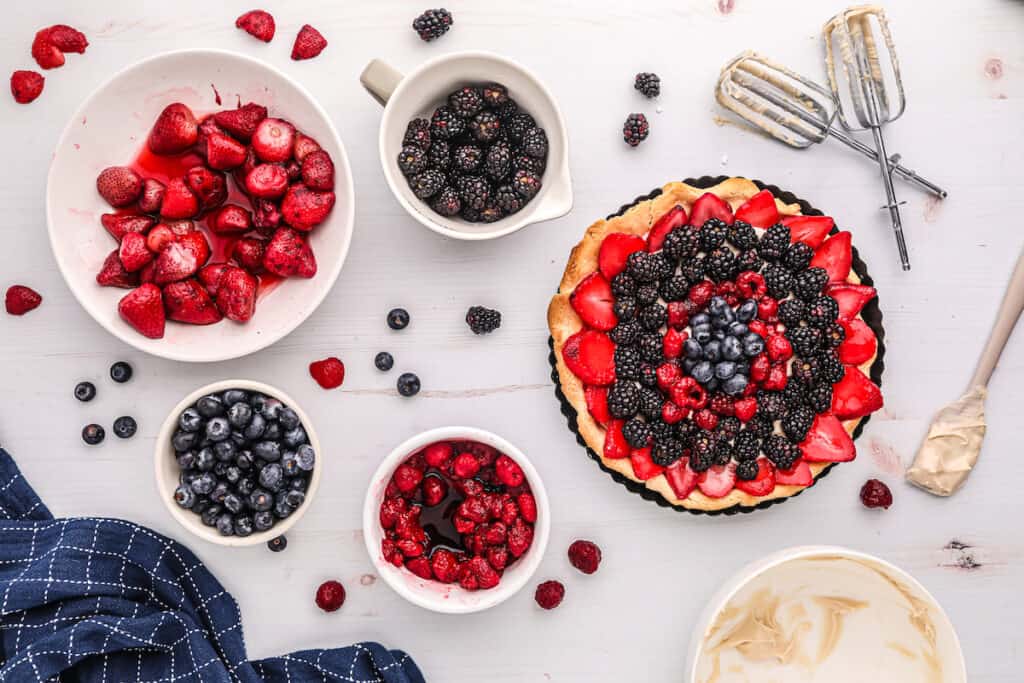 Tips for a perfect red, white, and blue fruit tart
Store the completed fruit tart in the fridge up to 3 days.
We love this tart as soon as we finish assembling it, while everything is room temperature. It is just as good after it has been chilled for a few hours.
This recipe is easy to customize and you use any fruit you like. If you're making it for a patriotic holiday, try to stick to red, white, and blue colored fruit. Here are a few suggestions:
Red - cherries, strawberries, red raspberries, watermelon, pomegranate, cranberries
White - pears, apples, white nectarines, white peaches
Blue - blackberries, blueberries
Try these other patriotic recipes:
And these other berry treats:
Recipe