Easy strawberry and cream overnight oats are simple & quick to make and are loaded with nutritious ingredients like steel cut oats, strawberries, and almond or coconut milk. Makes a thick, creamy, healthy, vegan breakfast!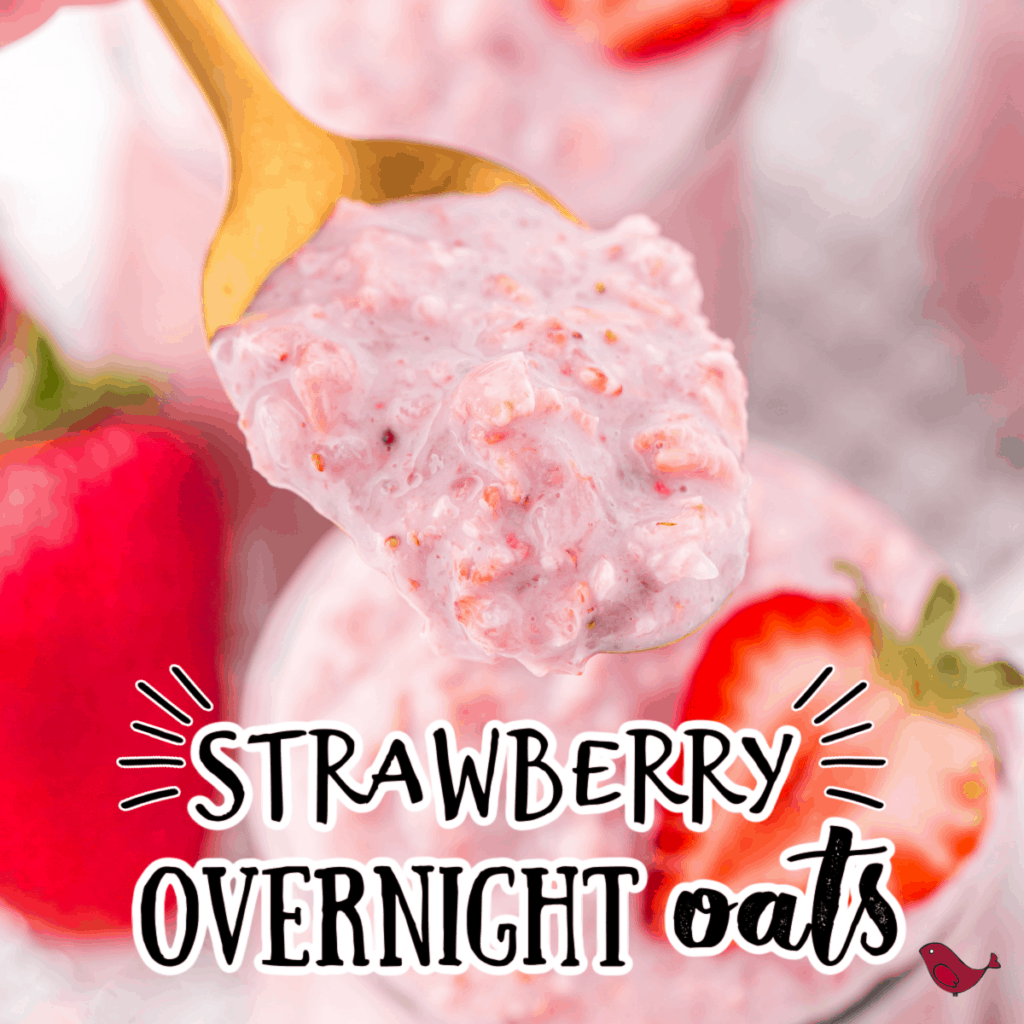 I first discovered overnight oats in the fall when I found a recipe for pumpkin pie overnight oats and adapted it for my own tastes.
I absolutely loved the convenience of dumping everything together in the evening and having a thick, creamy, and flavorful breakfast in the morning.
10 out of 10, must try, as my teen would say.
Now that the pumpkin time of year has passed, I wanted to try some more seasonally appropriate overnight oats. I've been working on raspberry (more on that to come in the future), but strawberry was the first one on my list.
I went looking for a good strawberry overnight oats recipe, and I couldn't find anything that suited me. All of the recipes called "strawberry overnight oats" were really just plain oats with strawberries on top.
Who wants that? Not me! I wanted the berries to be actually IN the oats, not just a topping. I wanted the oats to soak up all that strawberry goodness while they worked overnight.
I am totally over the moon in love with these oats, and now I fear I may never delve into raspberry territory again. The strawberry comes out so well and is so refreshing and sweet and tasty.
Maybe once strawberries go out of season, I'll think about raspberries again. Who knows. I also want to try peanut butter and maybe even pb&j in the future.
You will never want to eat strawberry oatmeal from a packet again, and you'll never need to because overnight oats are SO EASY to prepare!
Way easier than the packet in my opinion, partly because I always ended up boiling the packet over in the microwave. Then I had to clean up the mess of course, and who has time for that?
Is this recipe vegan? How about gluten-free?
Yes to both! These oats are so healthy and free of most allergens and problem foods. They are totally:
Gluten Free
Healthy
Refined Sugar-Free
Vegan
Plant-Based
Dairy-Free
Now, if you prefer, you could use dairy milk, and the oats would be delicious. But as the recipe is written, this one is totally dairy-free.
What you will need to make strawberry overnight oats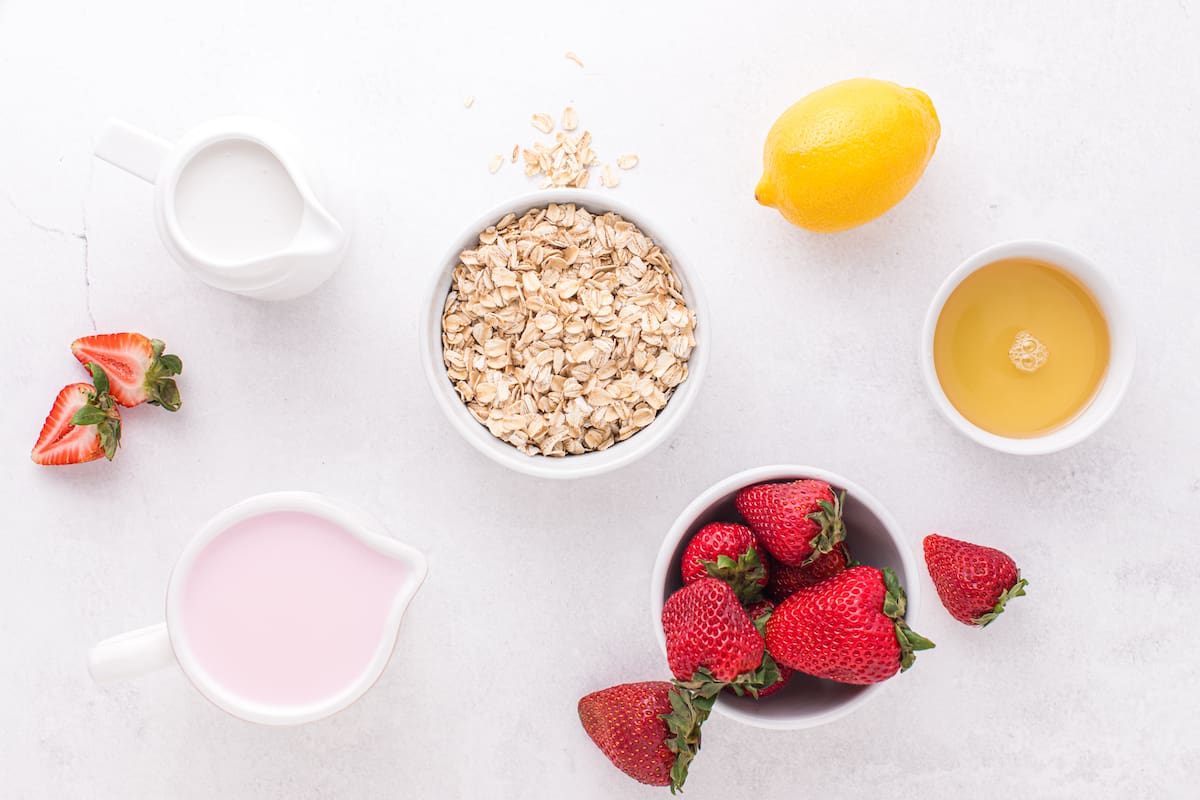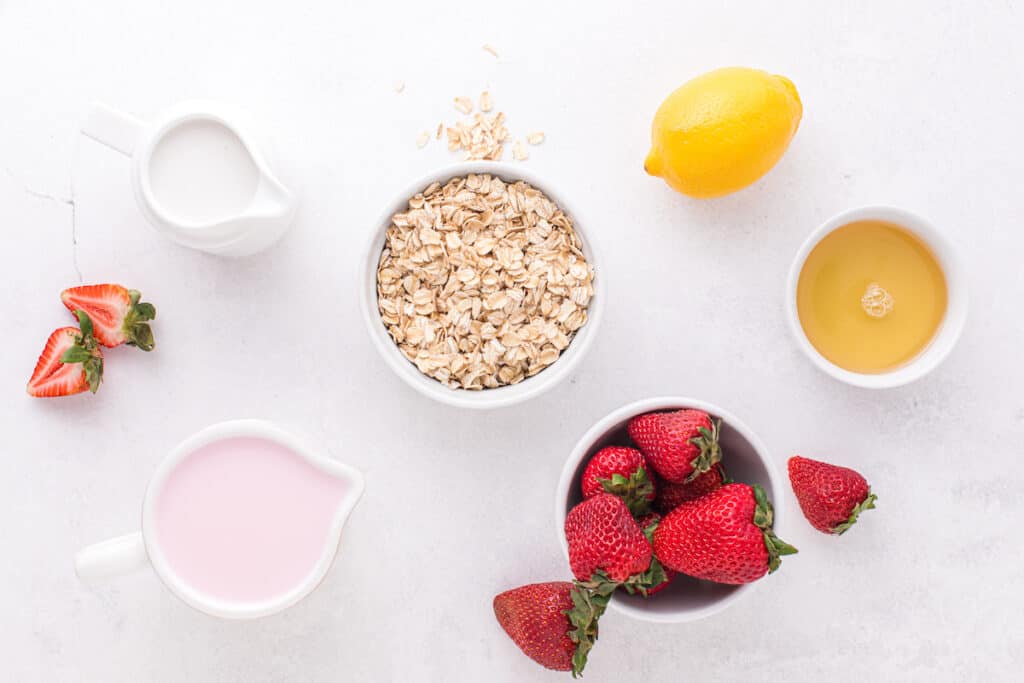 Required ingredients:
Strawberries - This is the perfect time of year to make strawberries and cream overnight oats because strawberries are in season and ripe for picking in fields all over Pennsylvania (where I live). Everything tastes best in season! BUT, if you are reading this in the winter when berries are hard to find or not that pleasant-tasting, you could also use frozen strawberries that have been thawed and drained. (Be sure to drain them first or your oatmeal will be runny.)
Overnight oats: I buy oats labeled Overnight Oats at Walmart. They are basically the same as old-fashioned rolled oats. This type is definitely best for this recipe, but you can also use steel-cut oats if needed. Instant oats will NOT work because they break down too quickly and will become mush. Some people like to put the oats in the food processor with the strawberries for a smoother texture, but I don't do that myself. I like a chunky texture.
Almond milk: You can replace this with any dairy or non-dairy milk. I personally use unsweetened vanilla flavored almond milk or else lactose free milk. Both are great. You could also use regular or low fat cow's milk, coconut milk, or soy milk. Use whatever you have.
Strawberry milk powder: I know this is fake food, but it tastes good. If you prefer a healthier version without the fake food, see below in the variations section.
Honey: You can easily replace this with agave nectar or maple syrup instead.
Lemon juice: For the love of all that is holy, please buy a lemon for 60¢ and squeeze your own fresh lemon juice. Fresh juice tastes better in every case, and you WILL notice a difference in the oats if you don't use fresh. Lime juice is an excellent alternative and will also taste really good.
Toppings: You can garnish your overnight oats with extra sliced strawberries, granola, and/or whipped topping. While I think all of those are lovely, I do not however garnish mine at all. I just eat it straight out of the jar I stored it in overnight.
Equipment needed:
Mason jars - I store my overnight oats in two 16-ounce mason jars in the fridge. The recipe makes two 16-ounce jars, but you could also use four 8-ounce jars and eat straight out of the jar in the morning. One less dish, right?
Food processor - As I state in the recipe below, it is possible to make this recipe without a food processor, but I have found that is how I get the best results. The food processor makes nice, evenly small pieces of strawberry, and that's what I like in my overnight oats. If you don't have one or don't want to use it, you could pulse the berries in a blender a couple of times on a very low setting like chop, or you could dice the strawberries with a knife.
How to make strawberry overnight oats
The beauty of overnight oats is that you just dump everything in a jar, mix it up, and stick it in the fridge.
This particular recipe is slightly more complicated because you have to chop up the strawberries in order to get them to impart their sweet and juicy flavor into the oats, but the process is still really simple.
Add the strawberries to a food processor and pulse 4-5 times until the berries become a rough puree.

Add the rolled oats, almond milk, strawberry powder, honey, and lemon juice to the strawberries and pulse 2-3 times or until combined.

Divide the oat mixture in half to fill two 16-ounce mason jars. Cover with lid and seal tight. Refrigerate overnight.

In the morning, top with freshly sliced strawberries and whipped cream (both optional) and serve.

How to store overnight oats
You can store most overnight oats in the refrigerator for up to 5 days in an airtight container, and these are no different. I prefer to make mine in a mason jar so that I can store them in those same containers until they get eaten.
Overnight oats variations
You can play around with strawberry overnight oats according to your dietary preferences.
One option is to use kefir or Greek yogurt instead of strawberry milk powder. To do this, reduce the almond milk to 1 cup, omit the strawberry powder, and add in 1 cup of strawberry kefir or strawberry Greek yogurt. These will be more tart, so you may want to taste and adjust the sweetener if necessary.
Another option is to use already prepared strawberry milk in place of the powder. In this case, you would reduce the almond milk to ¾ cup, and add 1 cup of strawberry milk. Or go crazy and replace all of the almond milk with strawberry milk. You do you.
Overnight oats in general are extremely versatile, and so many things can be added to make them even more delicious. Before I made strawberry oats, my favorite was pumpkin pie overnight oats which are so delicious.
Here are some other variations I can't wait to play with:
Switch out some strawberries for some bananas and make strawberry banana overnight oats.
Add some granola on top just before serving for an extra crunch.
Chop up a few almonds, pecans, or walnuts, again adding just before serving.
Try using a different flavor of kefir or Greek yogurt.
Satisfy your sweet tooth by adding chocolate chips or a drizzle of chocolate sauce on top.
Add some blueberries, raspberries, and/or blackberries to make a mixed berry flavor.
For a tropical breakfast, use straight vanilla-flavored milk, kefir, or Greek yogurt (no strawberry powder or milk), and add mango, pineapple, or peaches instead of strawberries.
Ground flaxseed, chia seeds, or protein powder can also be added for some extra health benefits. (Be careful adding more than a ½ scoop of unflavored protein powder because in large quantities, it does have a flavor. Ask me how I know.)
Try these other delicious berry recipes while you're here:
Recipe