Pumpkin Pie Overnight Oats are a healthier way to start your mornings. Packed with hearty old fashioned oats, sweet pumpkin, and a sprinkle of cozy fall flavors, you can have this protein-packed dish prepped in minutes. Thick, creamy, and bursting with flavor, these overnight oats are the perfect breakfast to enjoy all year long!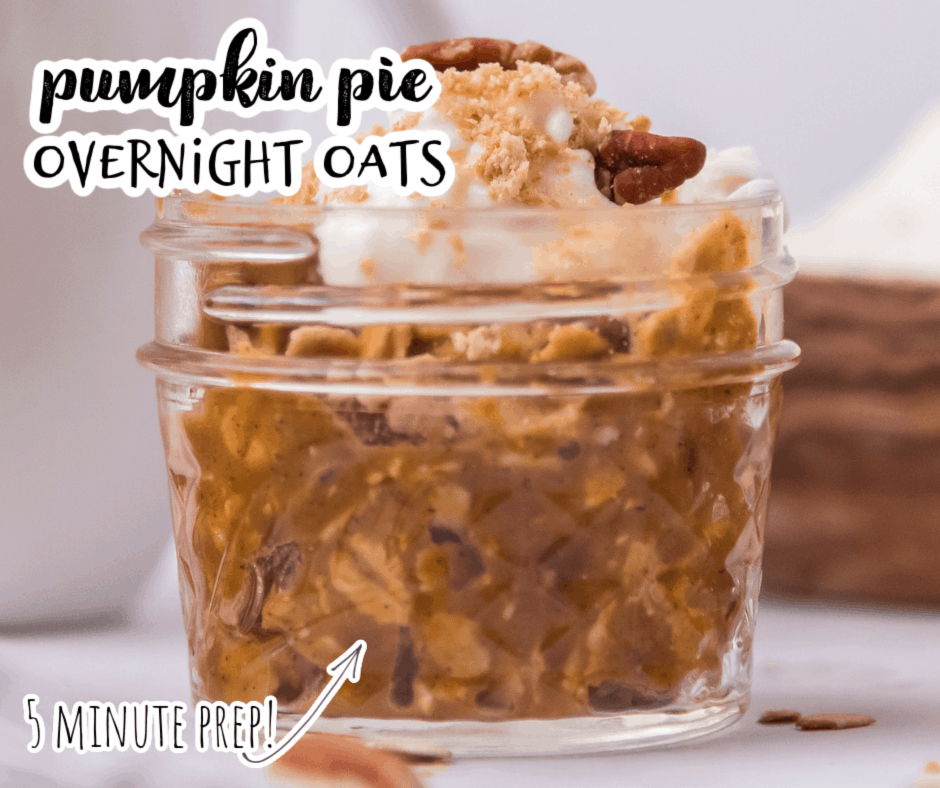 I have eaten oatmeal on and off through the years. I'll get on an oatmeal kick, eat nothing but that for a few weeks, and then pass on to eggs or some other higher protein meal.
I have a great recipe for homemade oatmeal packets. They are cheap and customizable and easy to prepare, and I ate them for breakfast every morning for almost a year.
The only thing I didn't like about those oatmeal packets is that they get so hot. You have to cook them, and for the oats to really soften, they have to boil. So then it takes forever for them to cool down enough for my delicate mouth to eat them. I just can't if the food is too hot. (Joe on the other hand? Nothing burns his mouth! I swear he could eat hot coals.)
Anyway, once I found out how easy it is to prepare overnight oats, I was hooked. Basically, all you have to do is stir the ingredients together in a bowl, throw them in the refrigerator, and wait til morning. That's really all there is to it!
I don't eat these pumpkin pie oats for breakfast every morning. I alternate with eggs and protein shakes sometimes. But I eat them often enough to know the recipe by heart.
I have heard of people eating their oats cold, straight out of the fridge, but I prefer mine to be slightly warmed, just enough to take off the chill. I spoon a serving out of the bowl, pop it in the microwave for one minute, then stir and eat. They are the perfect temperature for me.
Oh, and if there is Cool Whip in the fridge, I'll add a spoonful of that. But the oats are just lovely even without it.
How to prepare overnight oats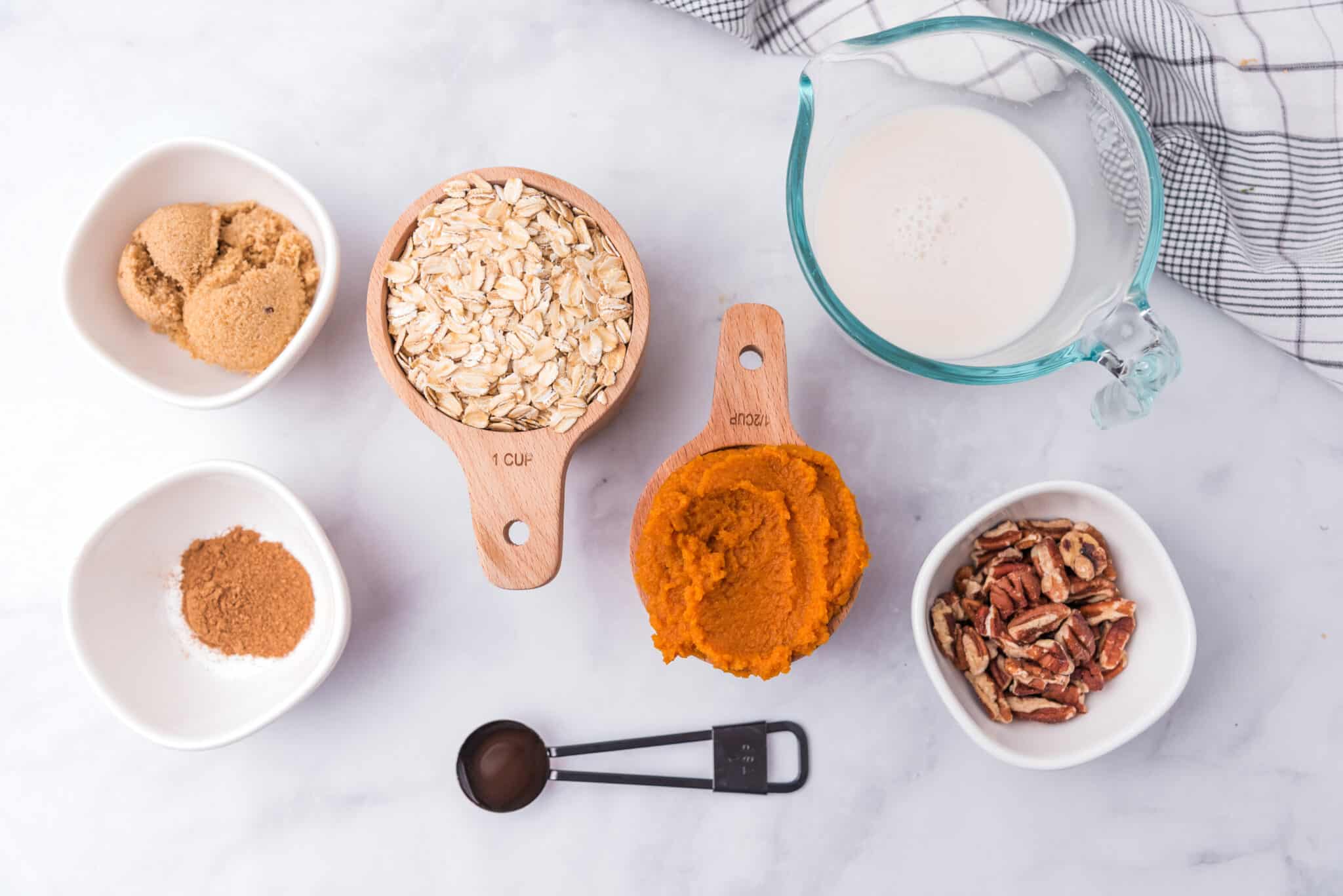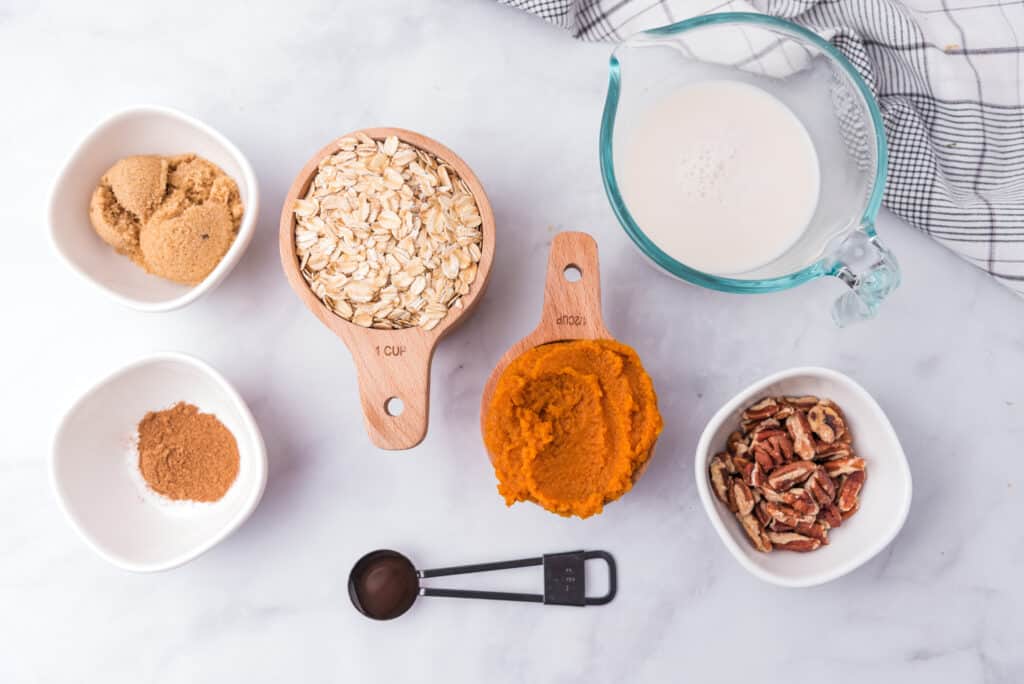 Stir together overnight oats, milk, pumpkin purée, pumpkin pie spice, vanilla bean paste, brown sugar, and pecans. Assemble in a mixing bowl and transfer to mason jars with lids for refrigerating. Alternately, if my mason jars aren't clean, I sometimes make this in a one-quart glass bowl with a lid and pop it into the fridge just like that.

Place oats in the refrigerator for a minimum of four hours up to overnight. They need this time to soak up the liquid. I make mine and eat them for 3-4 days after. They keep as long as they're in an airtight container in the refrigerator.

Remove oats from the fridge and heat in microwave for one minute. Stir well before serving.

For a little crunch, you can add crushed graham crackers or Nilla wafers and additional pecans. For a little extra sweetness and that authentic pumpkin pie flavor, add a spoonful of Cool Whip or whipped cream.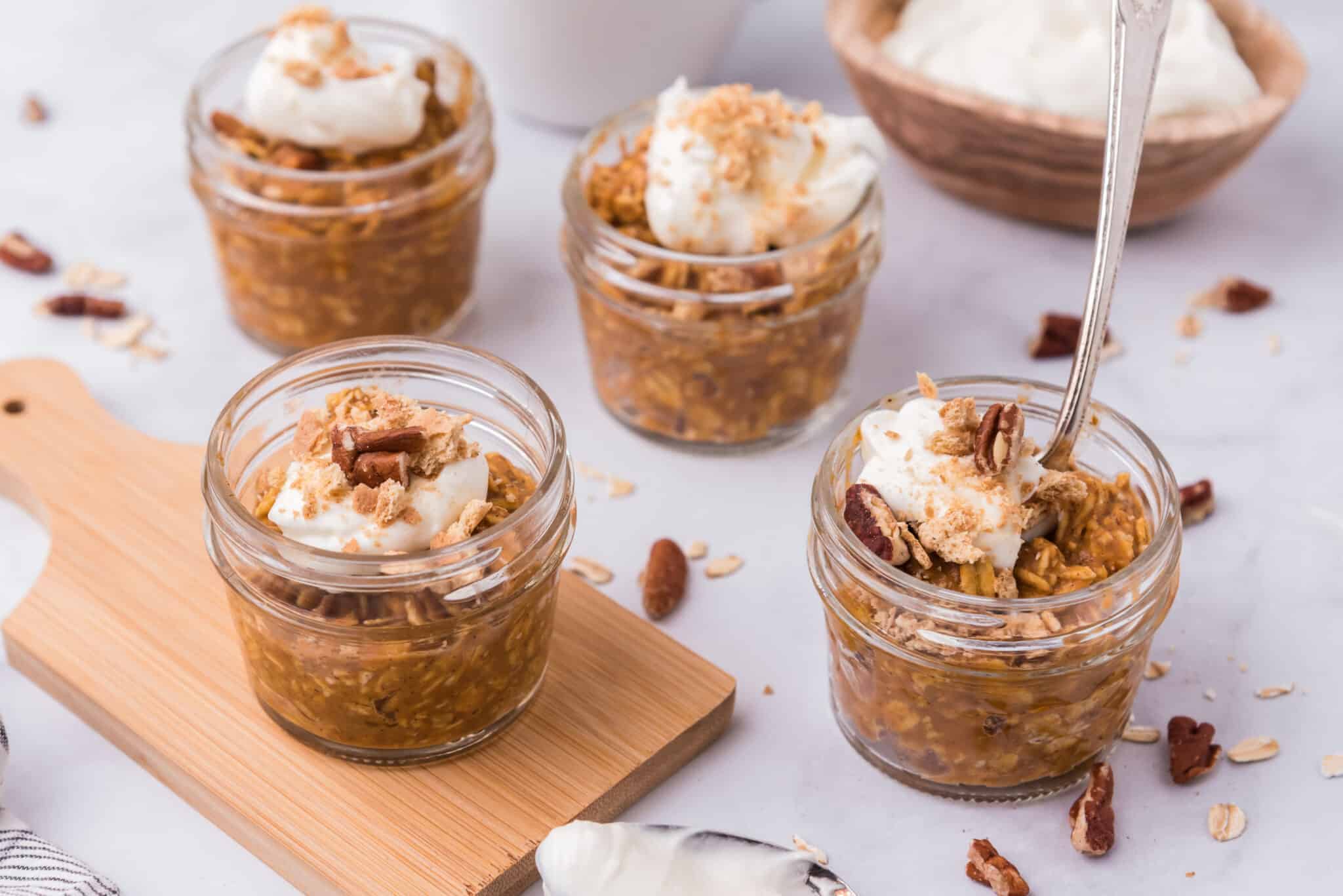 Try these other easy breakfast recipes while you're here:
Recipe