How to make the best easy homemade breakfast pizzas on English muffins - This simple and quick recipe is based on an old Taste of Home recipe that made a large pizza, but this one makes individual servings. With lots of bacon, scrambled eggs, and cheese, these mini pizzas are always a big hit!
PIN IT FOR LATER!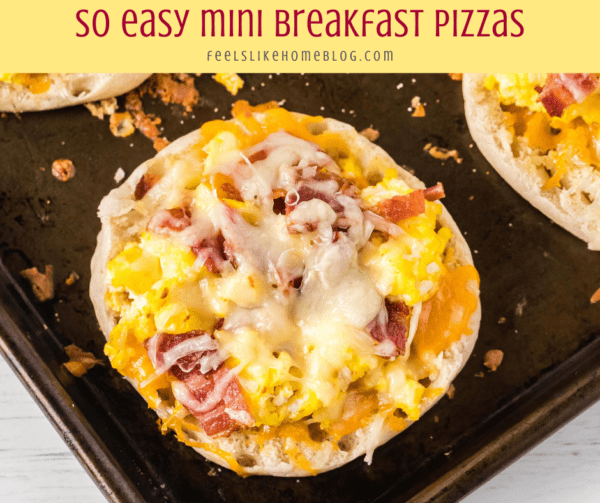 My kids are on a huge English muffin pizza kick right now. Their favorite way is to use a king-sized English muffin and top it with pizza sauce, cheese, and pepperoni and bake for 10 minutes at 400º. They come out perfectly every single time, and my kids (especially 9-year-old Allie) have gotten this pizza making down to a science.
Because they are so in love with their English muffin pizzas, I thought we would try a breakfast pizza. We eat a lot of breakfast foods at our house because eggs are so high in protein, and a breakfast pizza was a natural choice.
There is a really good breakfast pizza recipe from Taste of Home that we like, so I thought I would turn those flavors into a mini pizza that each person could grab and go. No more cutting into squares, just assemble, bake, and eat!
How to make mini breakfast pizzas
Preheat the oven to 400º.

Line a baking sheet with edges with aluminum foil and arrange the bacon on the foil in a single layer. Cook bacon in preheated oven for 15 minutes or until crispy but not brittle. Remove bacon to paper towels and pat dry, then crumble or chop into ½-inch pieces.


While bacon is cooking, melt butter in a medium skillet over medium heat. Whisk eggs together with milk and pour into hot skillet.

Scramble the eggs to a soft set stage (just barely set with no liquid egg remaining).

Open 4 king-size English muffins and place on a baking sheet. Brush each with olive oil and sprinkle with onion powder and garlic powder to taste.

Spread cheddar cheese evenly over the 8 pizza halves.

Top cheese with scrambled eggs, crumbled bacon, and Monterey jack cheese, dividing each as evenly as possible among the 8 mini pizzas.

Bake pizzas for 10 minutes or until cheese is melted.

Allow to cool significantly before handing pizzas over to kids. The toppings stay hot a really long time.

While you're here, check out these other awesome breakfast recipes!
Recipe