How to Make the Best Simple and Easy Bacon Omelet - This recipe uses sun-dried tomatoes, bacon, basil, and feta cheese to make a mouthwatering omelette that is sure to delight breakfast, brunch, lunch, and dinner crowds! It is healthy and low carb.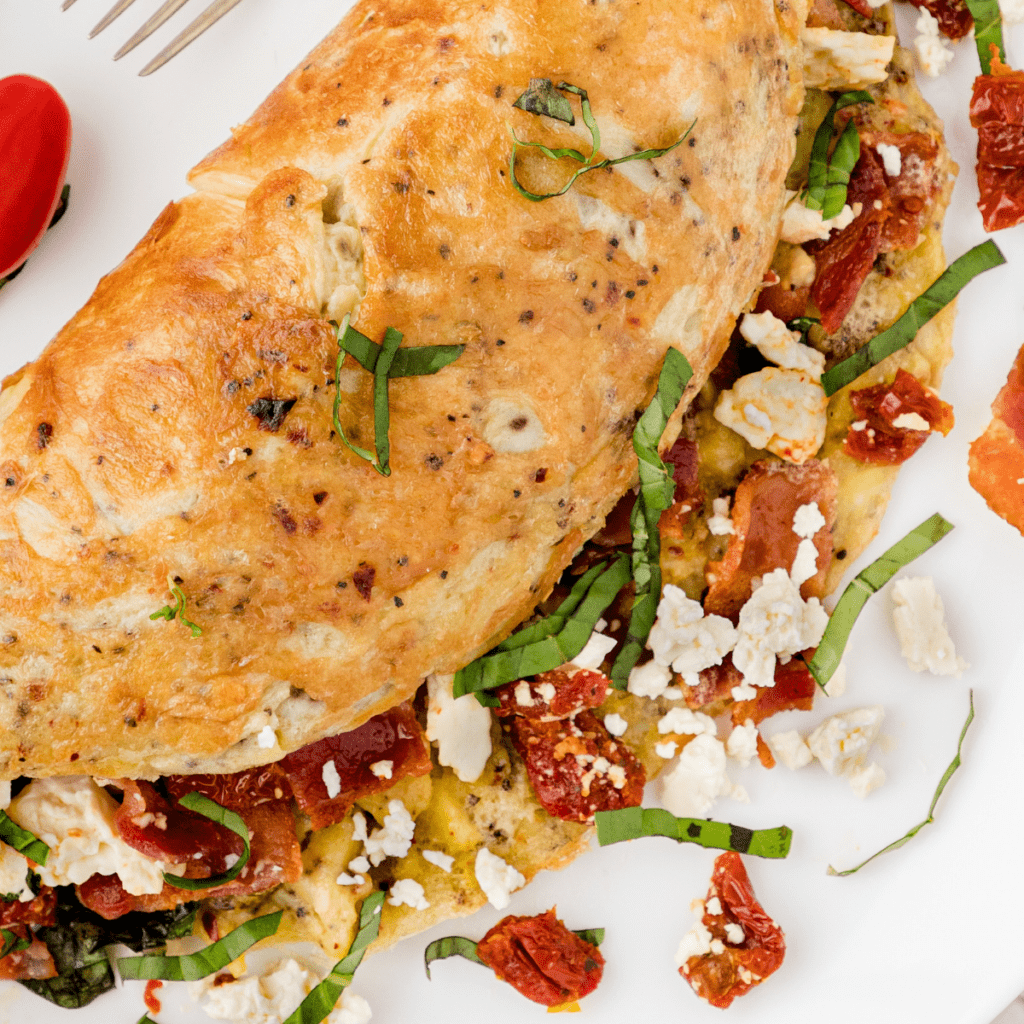 A few weeks ago, I attended a blog conference called Blogalicious, and it was awesome. The people were fabulous, and the hotel was palatial. Every event was brilliantly planned, and the food was sumptuous, better than any conference food I've ever eaten.
Oh, the food.
On Saturday night, Aunt Jemima sponsored a late night breakfast for dinner meal that featured Chef Aaron McCargo, Jr, better known as Big Daddy, winner of Food Network Star and host of Big Daddy's House on The Food Network.
I don't watch much food tv, so I didn't have a clue who he was. I was not star struck. I did not bother to have a photo taken with him.
But then he started cooking. He's funny and charming, a perfect combination for the man cooking in front of some 300 women.
Incidentally, I ended up speaking with him at a party later on, debating what kind of cheese he should have used in the omelet. He really is a character.
Did I mention that our entire meal was based on the foods Big Daddy prepared? We were eating the dishes he was showing us how to make.
I told you, the whole thing was perfectly planned.
Anyway.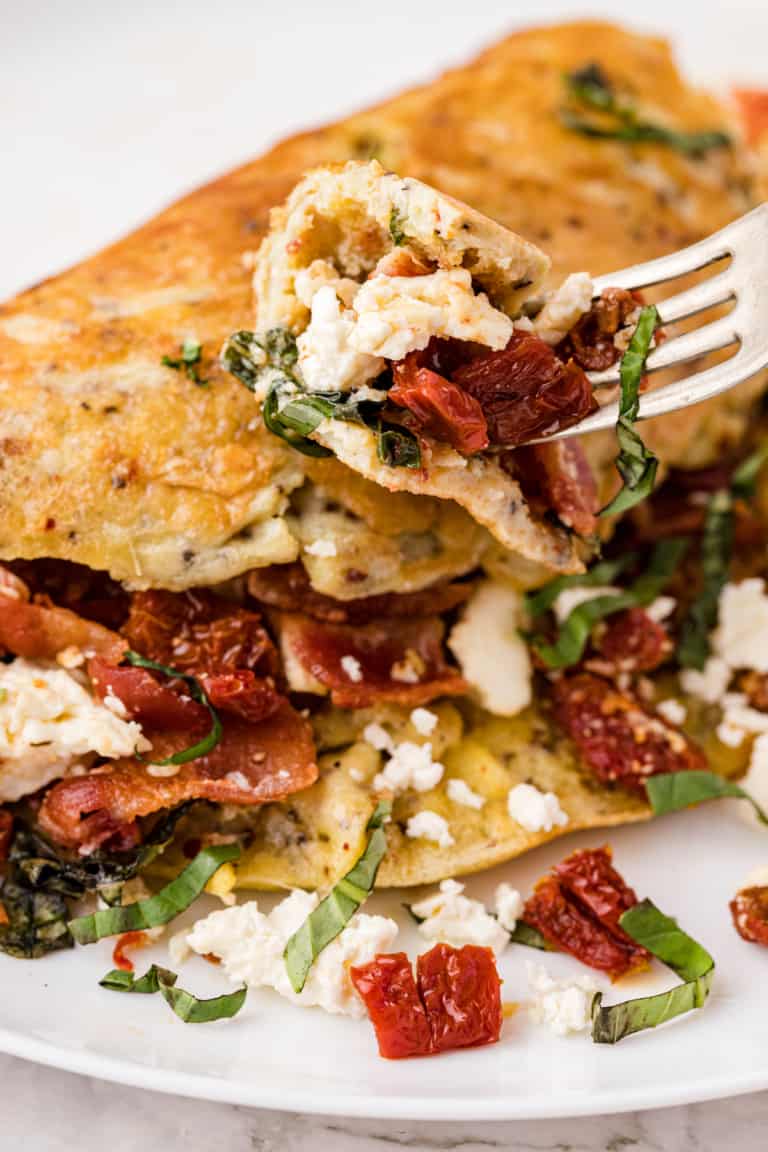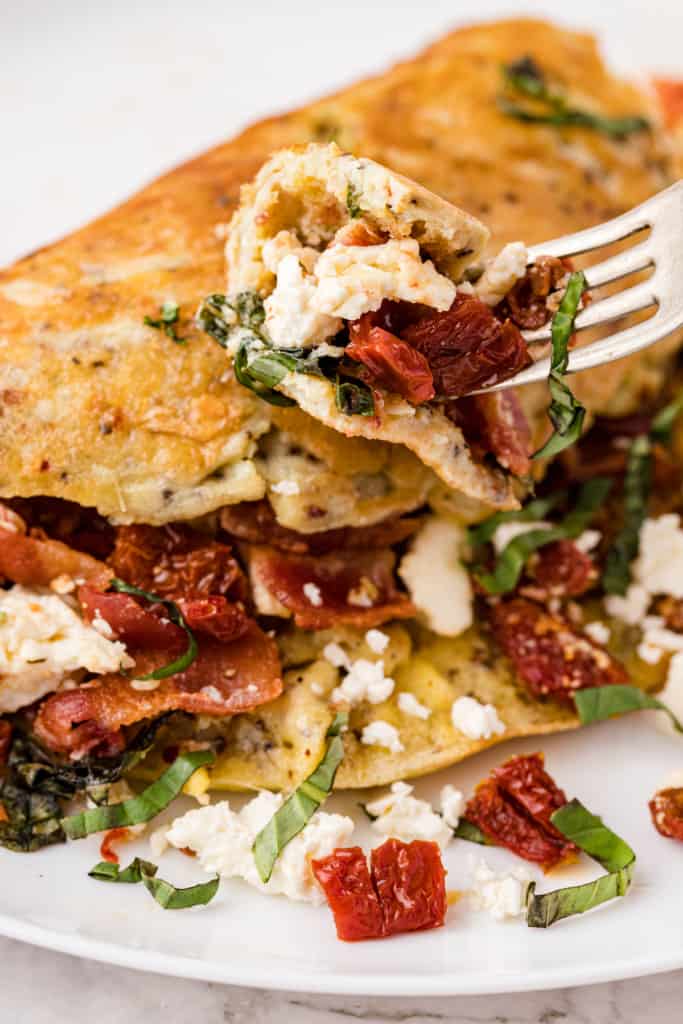 The recipes he prepared were Bananas Foster Pancakes, Sun-dried Tomato and Bacon Omelet, and something else that I do not recall because I was captured by the sun-dried tomatoes and a conversation with my friends, Safire and Kim, sitting next to me.
Here's the recipe, doctored according to my love of feta cheese and general disdain for Gruyere, the Chef's cheese of choice.
What's the difference between an omelet and an omelette?
Some people say it's two different spellings of the same word, like color and colour. Omelette is the French spelling that is also used in the UK.
Traditional French omelettes are often rolled or double folded and have no filling. They're just eggs and butter.
American omelets are folded just once and filled with goodies like bacon, ham, sautéed onions, and fresh herbs.
What you'll need to make a bacon omelet with feta cheese and sun-dried tomatoes
Equipment
12-inch skillet
Spatula or turner
Ingredients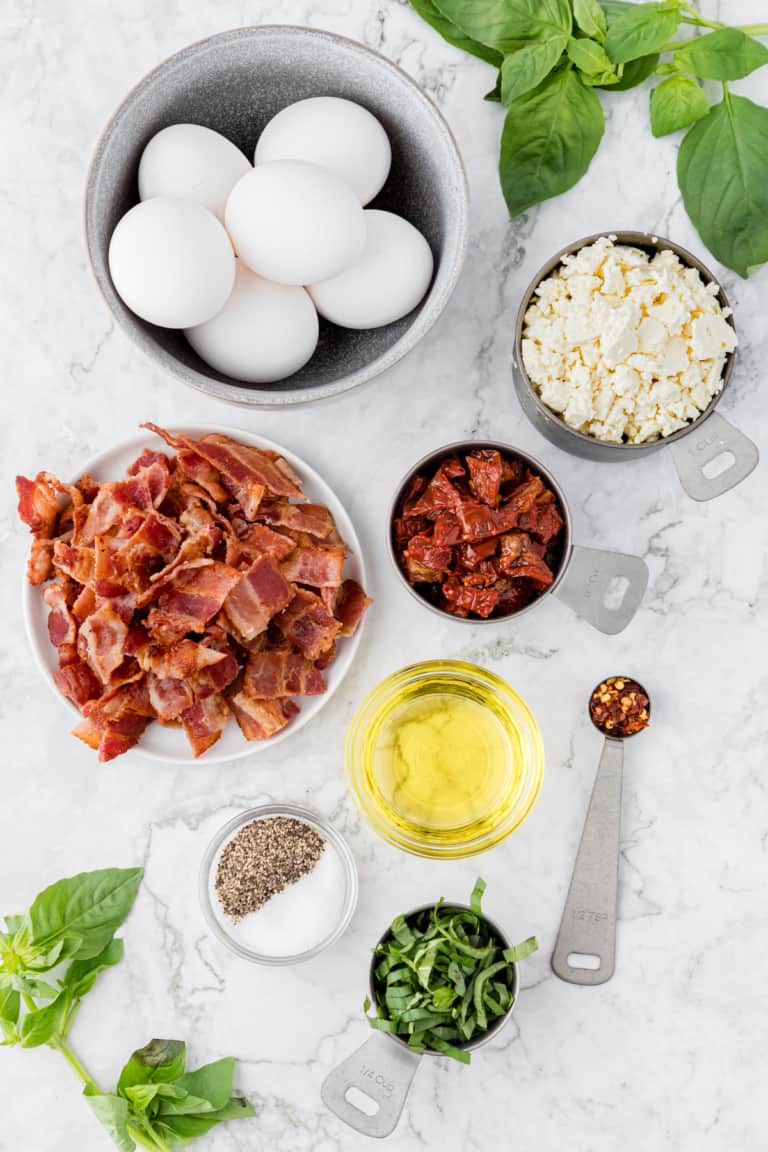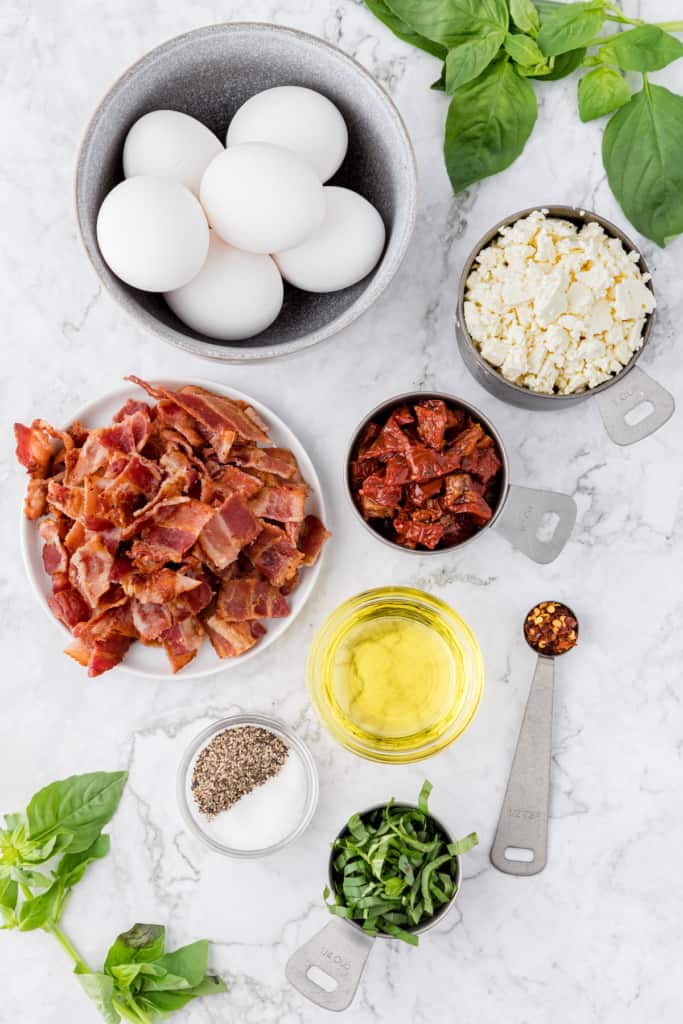 Large eggs
Salt & ground pepper
Crushed red pepper flakes
Crumbled Feta cheese
Sun-dried tomatoes, drained and chopped
Crispy cooked bacon, crumbled or chopped
Fresh basil leaves, shredded or torn into pieces
Olive oil
What are the steps to making a perfect omelet?
Preheat oven to 400ºF. It's not absolutely necessary to bake an omelet, but I think putting it in the oven for 3-4 minutes right at the end makes the cheese nice and melty without overcooking the eggs.

In a medium bowl, vigorously beat the eggs, salt, pepper, and red pepper flakes with a whisk or fork. You want the egg whites and yolks to be well incorporated. The mixture should become frothy; it could take as long as 5 minutes. This step is important because it puts lots of air in the eggs and makes the finished omelet fluffy.
In a second bowl, combine the cheese, tomatoes, bacon, and basil.
Heat the olive oil in an oven-safe 12-inch non-stick skillet over medium heat. It is hot enough when a drop of water sizzles.
Pour the beaten egg mixture into the skillet and cook gently over medium or medium-low heat. Do not stir or disturb the egg AT ALL.


After 2 to 3 minutes, the eggs will begin to set. Use a spatula to lift the edges of the egg that's set and tilt the pan so that the uncooked egg slides under the more cooked parts and it all gets firm on the bottom. Move to the next step as soon as the bottom is set. Don't wait for the top to set before moving to the next step.

Sprinkle the cheese and toppings mixture evenly over the eggs and remove the pan from the heat.
Transfer the pan to the oven and cook for 3 to 4 minutes, until the cheese melts and the egg is firm.

Slide the omelet onto a serving plate and fold it over on itself as you do.
Let it rest for a couple of minutes, then cut in half and serve.
Tips for the best omelet
Cooking eggs at a medium-high or high temperature will make them rubbery. If you want nicely tender eggs, make sure to keep the heat at medium-low or just below medium at the highest.
Make sure all the fillings are cut, crumbled, and mixed before starting to cook the egg. The process happens quickly once the egg starts to cook.
This recipe makes a really super stuffed omelet. If you prefer less filling, you can cut it back by ⅓ to ½. You can always add the extra filling as a garnish on top or save it to eat as a salad.
Why isn't my omelet fluffy?
You didn't beat enough air into the eggs before you cooked them. The secret to a fluffy omelet is to beat them for several minutes, until they are light in color and frothy.
Substitutions and variations on a bacon omelet
This recipe comes together really well, but if you wanted to, you could make the following substitutions and additions:
Press fresh garlic into the egg mixture before beating it. You could also press it into the bacon mixture.
Replace the sun-dried tomatoes with cherry tomatoes, cut in half.
Replace the olive oil with an equal amount of butter or cooking spray.
Add some chopped green onions to the bacon mixture.
Squeeze some fresh lemon juice into the bacon mixture (just a tablespoon or two).
What's good to put in an omelet?
I love this particular omelet because of the sun-dried tomatoes and fresh basil ribbons, but there are a whole lot of variations you could include with the same instructions:
Cheddar cheese and diced ham
Swiss cheese and mushrooms (add spinach for a Florentine omelet)
Sautéed onion and bell pepper, diced ham, and American cheese (This is called a Western omelet.)
Sautéed onion, bell pepper, Canadian bacon, and cheddar cheese (This is called a Denver omelet.)
A variety of sautéed veggies such as carrot sticks, zucchini, mushrooms, onions, and bell peppers
Sautéed spinach and onions with Parmesan cheese
Cheddar cheese and sliced or diced avocado
Roasted potatoes and your favorite cheese
Chili and cheddar cheese
Salsa and Mexican blend cheese
Should vegetables be cooked before putting them in an omelet?
I prefer to cook my vegetables before using them in an omelet for two simple reasons: I don't like crunchy bits in my egg, and cooked vegetables are sweeter and have more flavor than raw ones.
I sauté pretty much every vegetable that I put in an omelet, from onions and bell peppers to mushrooms to spinach. You could probably put the spinach in raw, but I like to wilt it just a tiny bit before using it because sautéing gives it a better flavor.
There is science behind sautéing vegetables. When the vegetable is cooked in a tiny bit of butter, oil, or even cooking spray, and it sits against the heat of the pan, the natural sugars in the food caramelize and burst forth. If you heat the veggies indirectly (such as on top of the egg, not against the pan itself) and for a short period of time, the sugars don't caramelize and the veggies don't taste as sweet. My daughter Allie's cooking teacher, Chef Ali Caldwell, taught me that.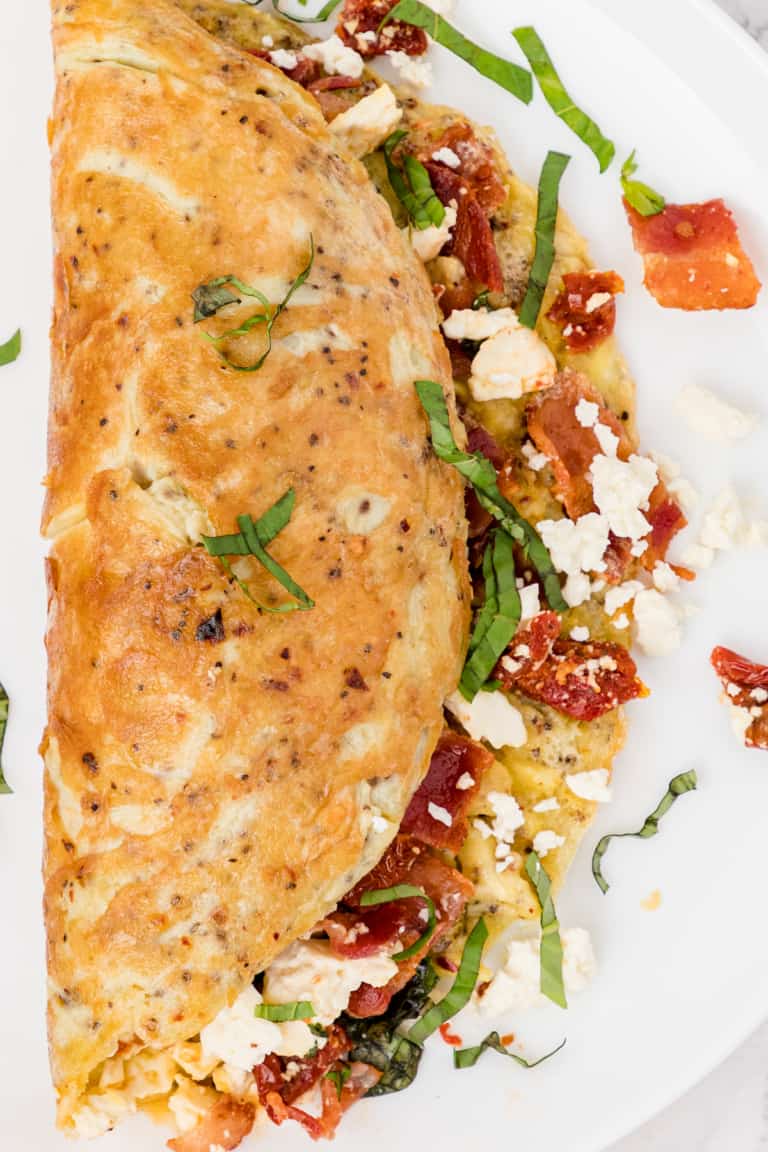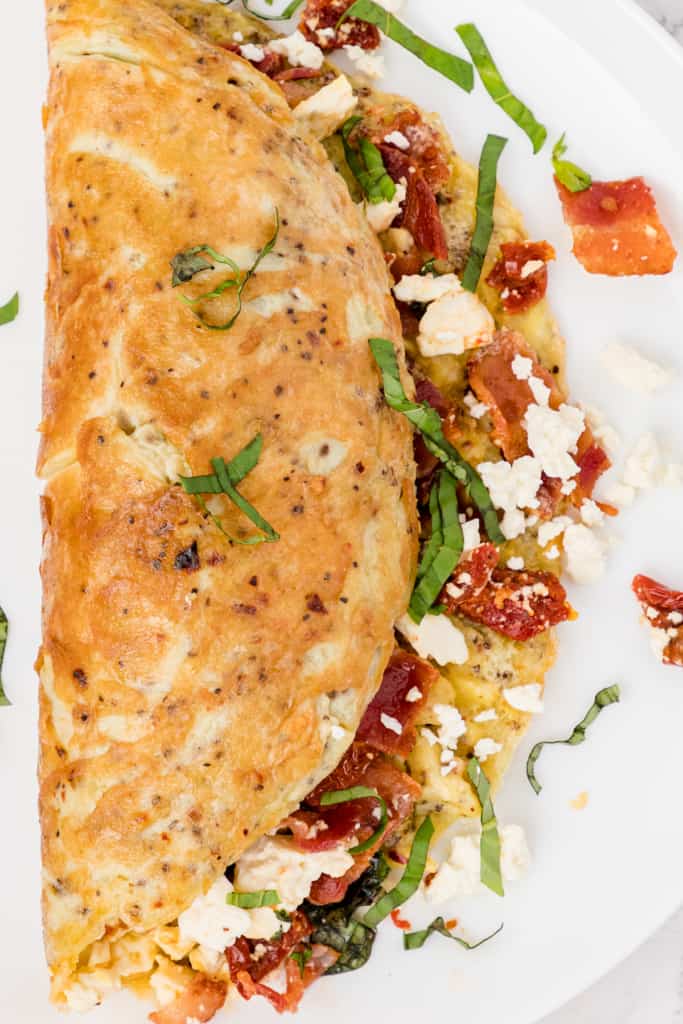 What to serve with a bacon omelet
I like to serve this recipe with tangy home fries, cheesy hash brown casserole or a healthier hash browns casserole.
If you liked this recipe, you're going to love these other breakfast favorites:
Recipe