As I mentioned two weeks ago, I had the pleasure of watching Chef Aaron McCargo, Jr, host of Big Daddy's House on The Food Network, cook in person at Blogalicious. It was really fun. One of the recipes he prepared follows, Bananas Foster Pancakes.
I adore bananas foster. I don't care if it's plain bananas foster over ice cream or if it's bananas foster donuts or bananas foster cheesecake or cookies or candy. Slightly cooked bananas served hot in a sticky sweet, rum-flavored syrup can don any dessert in my book.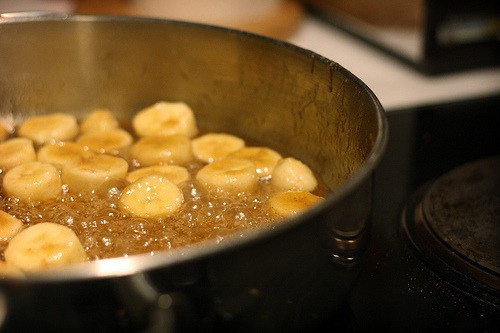 Remember from my last recipe post, sun-dried tomato, basil, bacon, and feta omelet, that we were eating Chef McCargo's recipes while he cooked them on stage? I piled the bananas high atop my pancakes, and they were amazing.