Bananas foster is usually served over ice cream but have you tried it with pancakes? These banana foster pancakes are the perfect decadent breakfast or brunch recipe. They're made with fluffy buttermilk pancakes and a rich, buttery, caramel vanilla rum sauce that's pure heaven! Ready in minutes!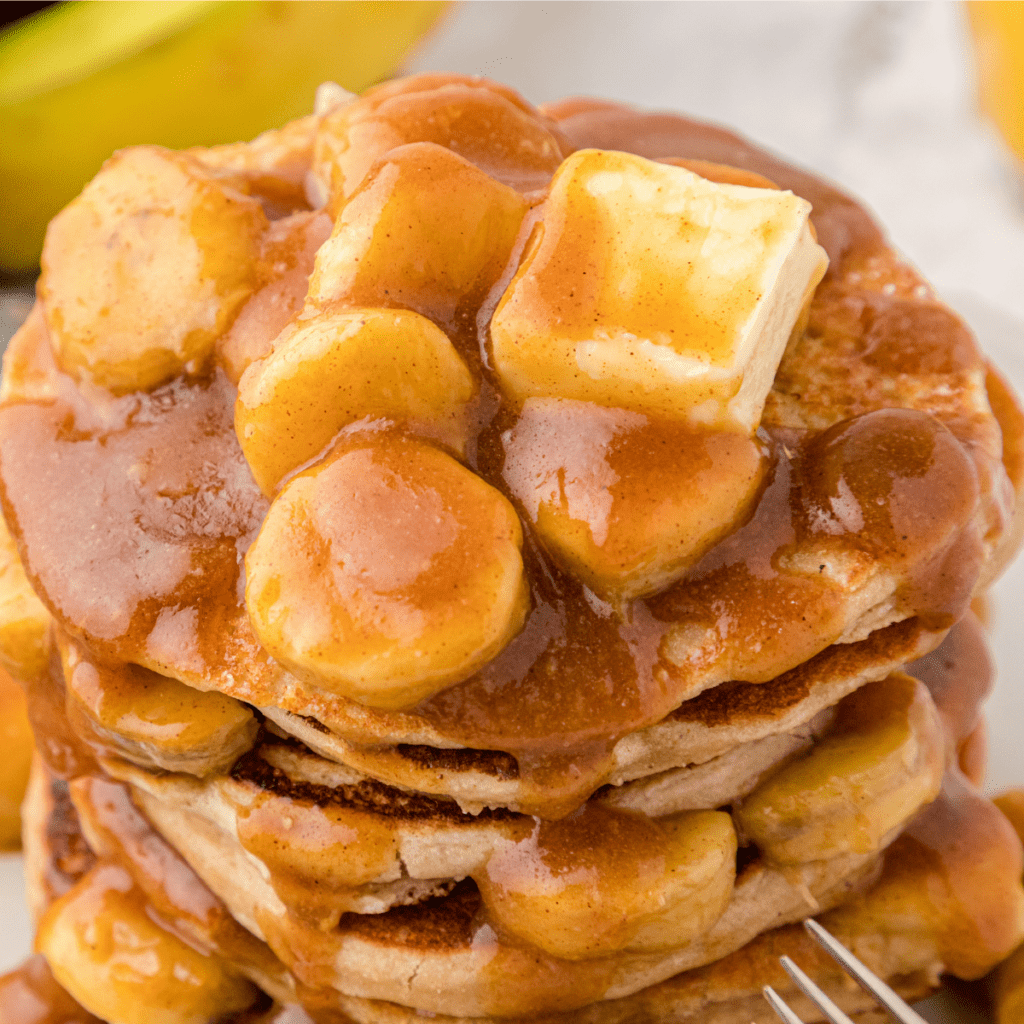 I had the pleasure of watching Chef Aaron McCargo Jr, host of Big Daddy's House on The Food Network, cook in person at the Blogalicious blog conference a couple of weeks ago. It was really fun. One of the recipes he prepared follows, Bananas Foster Pancakes, and the other one, sun-dried tomato, basil, bacon, and feta omelet, is found over here.
I adore bananas foster. I don't care if it's plain bananas foster over ice cream or if it's bananas foster donuts or bananas foster cheesecake or cookies or candy. Slightly cooked bananas served hot in a sticky sweet, rum-flavored syrup can don any dessert in my book.
The recipe below makes a perfectly rich and delicious bananas foster sauce that you can use for anything. It's traditionally served over ice cream (and soooooo good that way), but you can serve it over pancakes (or waffles) as I have below, over cheesecake, or even over unfrosted cake. It's so sweet and rich and delicious; I'm sure you'll come up with other uses for it too.
The history of bananas foster
Bananas Foster originated in New Orleans in 1951 as a dessert served over ice cream. The thick, rich, rum caramel sauce was simmered for several minutes, the bananas added, and then the whole thing was ignited to burn off the alcohol. (That process is called flambé.)
Since it was created, bananas foster sauce has been used as a crepe filling, a topping for pancakes and waffles, a garnish for cake, and of course, a sauce over a scoop of vanilla ice cream.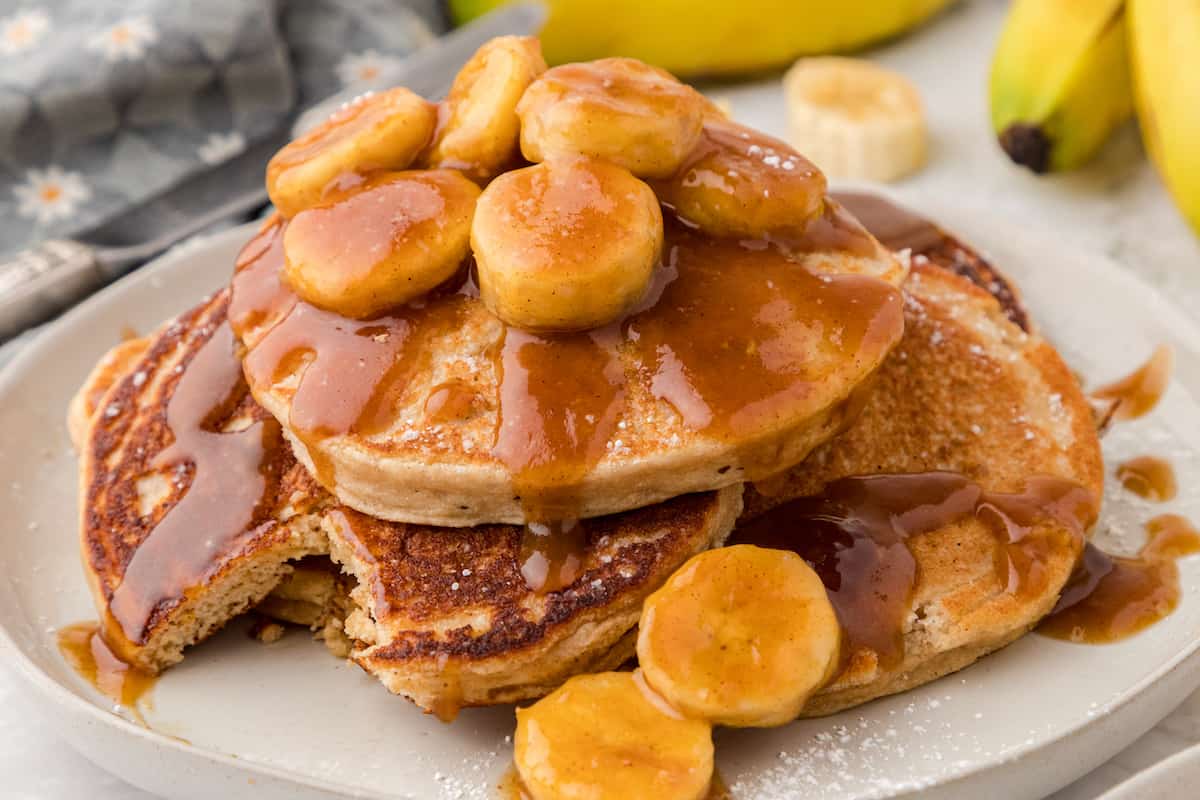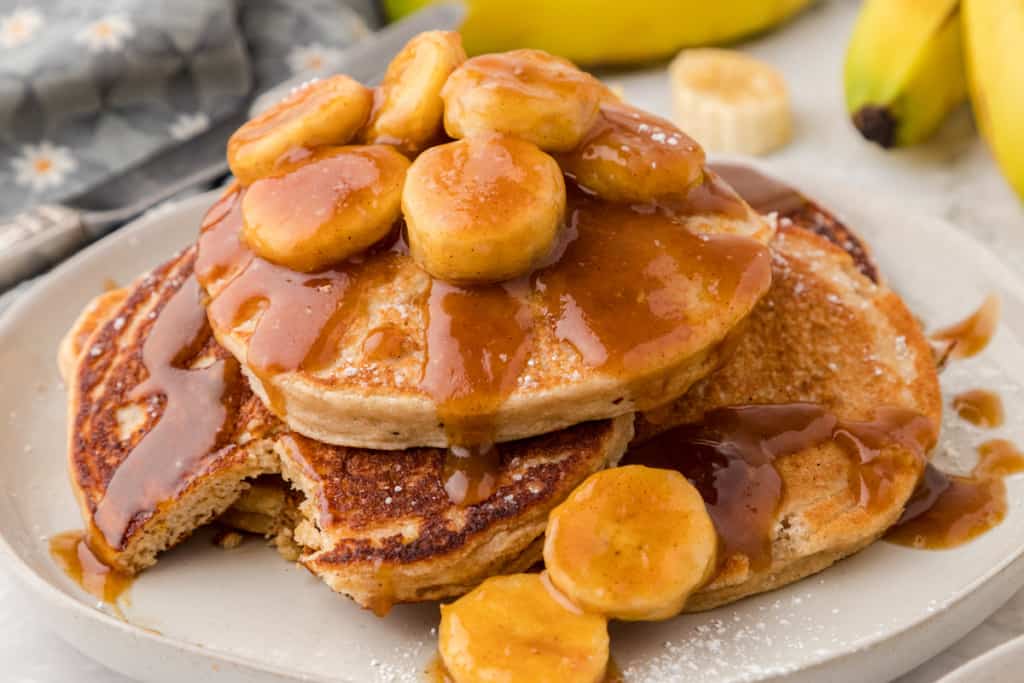 Why this is the best bananas foster recipe
You can use any pancakes you want, including pre-made frozen pancakes. That makes the prep super simple and quick! I personally prefer this recipe, but when I make them, I triple the recipe and freeze most of them. To do that, simply place them in a single layer on parchment paper on a baking sheet. Stick them in the freezer for 2 hours, then remove and dump the frozen pancakes into a freezer bag. When you're ready to use them, pop three of them in a single layer in the microwave for 30 seconds, and voilà! Warm, homemade pancakes without the fuss.
The whole recipe takes less than 15 minutes to prepare.
The banana flavor is over the top good, and when they are coated in rich caramel rum sauce, they become soft and sweet and so rich.
The sauce is incredibly versatile, making an awesome topping for ice cream, filling for crepes, or garnish for cake or cheesecake - in addition to the pancakes below.
What you'll need to make bananas foster
Equipment
The only equipment you'll need to make this recipe is a 10-inch skillet and a spatula. Of course, you'll also need measuring cups and spoons.
Ingredients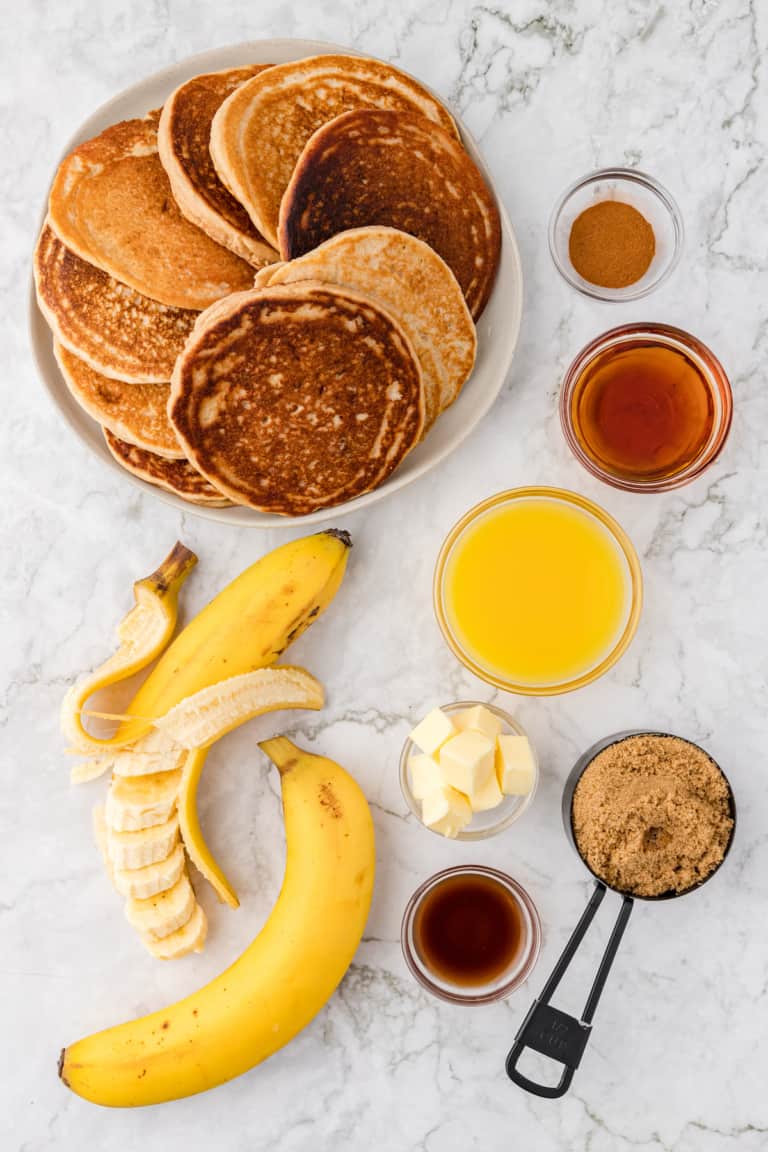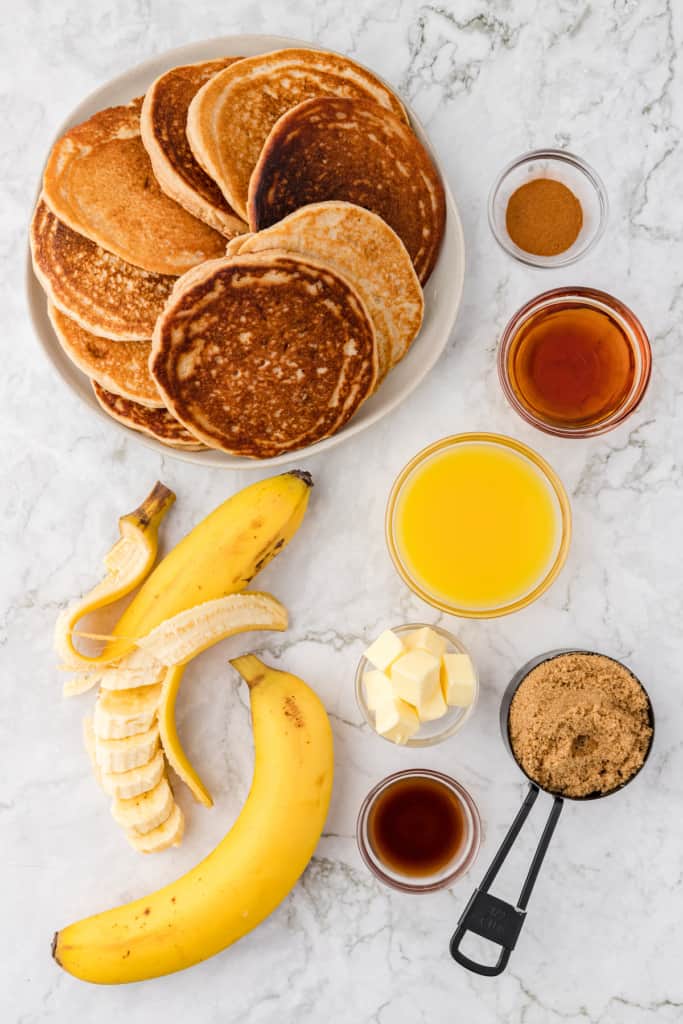 Prepared pancakes - You could make your own using the recipe linked here, use a pancake mix, or buy pre-made frozen pancakes. You'll want to have the pancakes cooked and ready to go prior to starting the bananas foster sauce.
Bananas, sliced into ½-inch pieces - You want to use yellow bananas. They can have some brown spots, but if they are overripe, they will fall apart in the sauce.
Brown sugar - You need brown sugar in this recipe. I would not recommend using white sugar or a sugar substitute.
Orange juice - This adds liquid and acidity to the finished sauce. Without the acid, the sauce would be too sweet.
½ teaspoon vanilla bean paste or an equal amount of vanilla extract - I love vanilla bean paste because it has a stronger vanilla flavor than vanilla extract. The paste is made from crushed vanilla beans, whereas vanilla extract is made by soaking vanilla beans in alcohol and then removing them. So the extract doesn't actually have any vanilla beans in it, just the flavoring. But you can use either one.
Ground cinnamon - You could substitute pumpkin pie spice or even apple pie spice if you are out of plain cinnamon.
Dark rum - This is optional but it adds so much to the finished sauce. If you don't have dark rum, you can use spiced rum or white rum or even banana liqueur. If you don't want to use rum, you could add ½ teaspoon of rum extract instead.
Butter, chilled and cubed - This adds fat to the finished sauce which is what makes it thick and rich. It doesn't matter whether you use salted or unsalted butter.
Powdered sugar - I personally don't use powdered sugar because I think the sauce is plenty sweet on its own. But if you're serving a fancy brunch, you may want to use it just to make the pancakes look pretty.
How to make easy bananas foster
Once you have your pancakes made, this recipe comes together in less than fifteen minutes. I recommend stacking your pancakes on an oven-safe dish and keeping them in the oven at 200º or so until you're ready to use them. Otherwise, you'll have to reheat them. That's not the end of the world, but it does add another step to an otherwise simple and easy recipe.
Heat a 10-inch skillet over medium heat. Gently stir the brown sugar, orange juice, vanilla, cinnamon, and rum together. Using a whisk if necessary, blend all the ingredients until thoroughly incorporated.
Simmer until reduced by a third or when the sauce appears syrupy and bubbles are just starting to form, 5 to 7 minutes.

Add the sliced bananas to the sugar mixture in the pan and stir for a minute until the bananas are well-coated.


Turn off the heat and add the chilled butter, stirring constantly until the butter is completely incorporated in the sauce.
Reheat the pancakes if necessary, stack on a dish, and pour the hot bananas foster topping over them.
Sprinkle with powdered sugar, if desired.
Variations of bananas foster
I love to add some chopped pecans or walnuts to the sauce, along with the bananas, and garnish with a sprinkle of nuts at the end.
Another wonderful variation is to use sliced peaches in place of bananas. It's a completely different dish but still so good!
If you prefer, you can make an oven or sheet pan pancake and spoon the bananas foster sauce over that, instead of individual pancakes. It's just as tasty.
You can also serve this sauce over waffles or French toast.
Can bananas foster pancakes be gluten-free?
It's easy to make this recipe gluten-free just by using gluten-free pancakes from your favorite mix or recipe.
Can bananas foster pancakes be dairy-free?
This recipe uses butter, so you'll need to use a dairy-free butter substitute. I do not recommend using coconut oil as it will change the flavor and texture of the caramel sauce.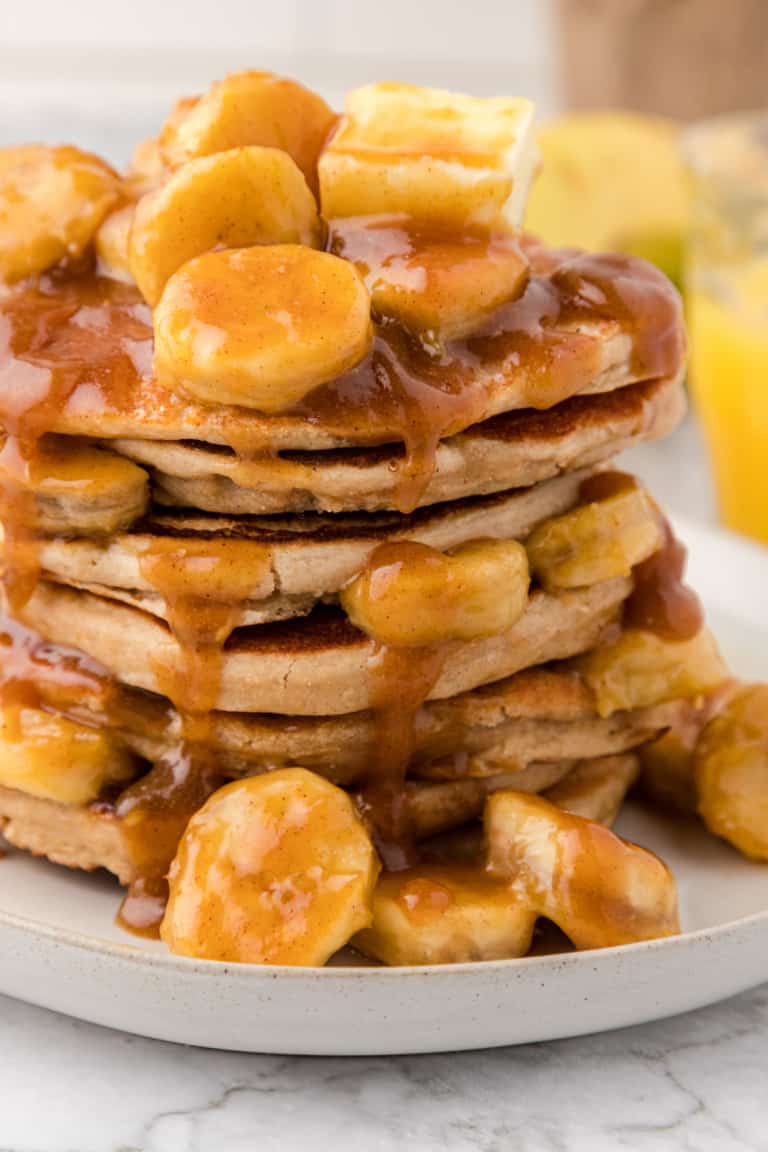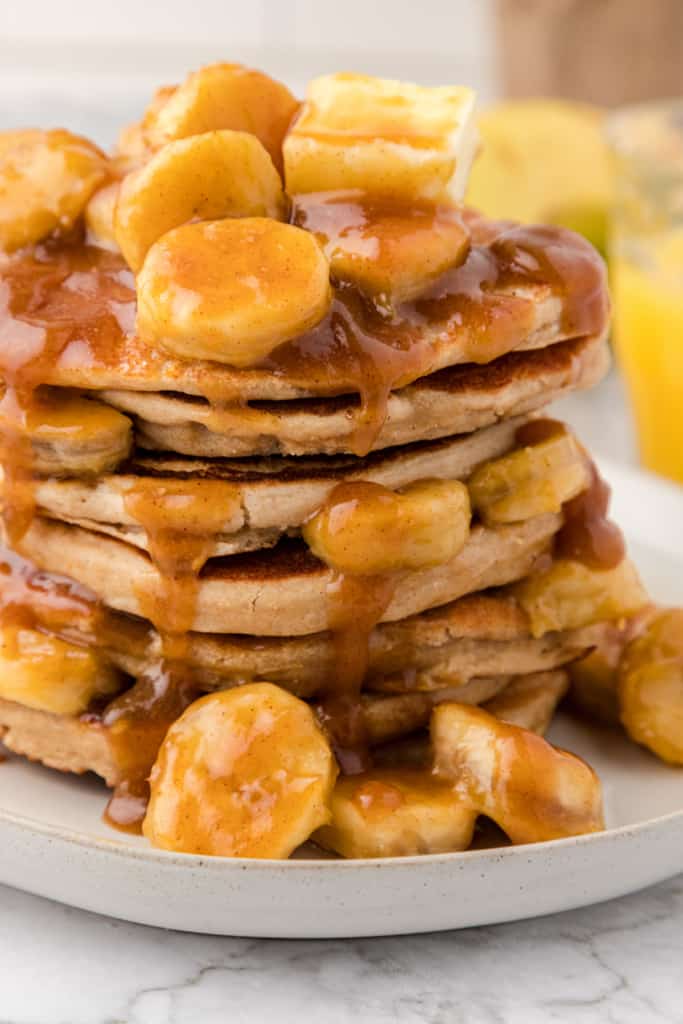 Do I have to use alcohol in bananas foster?
When you add rum to this recipe, there is going to be some alcohol in the finished sauce (even if you flambé it). It's not enough to make you tipsy, but if you are concerned and want to avoid it, you can use a small amount of rum extract (a half teaspoon) or just leave it out.
Storing bananas foster pancakes
You can't store the pancakes once you've covered them in bananas foster sauce. They'll get mushy and gross.
You can store prepared pancakes easily, without the sauce. To do that, simply place them in a single layer on parchment paper on a baking sheet. Stick them in the freezer for 2 hours, then remove and dump the frozen pancakes into a freezer bag. When you're ready to use them, pop three of them in a single layer in the microwave for 30 seconds, and voilà! Warm, homemade pancakes without the fuss.
You can store the bananas foster sauce in an airtight container in the refrigerator for up to three days.
I have never tried to freeze the sauce because I think the bananas would turn to mush when they're defrosted. I'm also concerned that the butter would separate from the sugar mixture.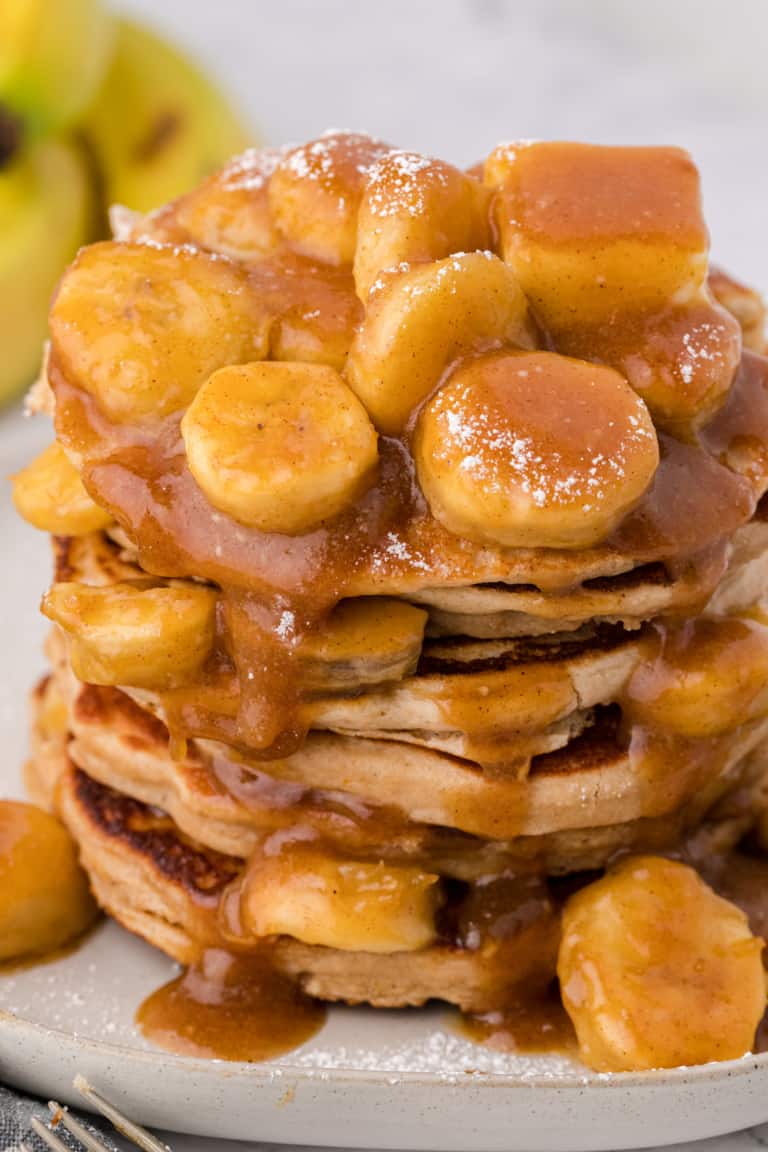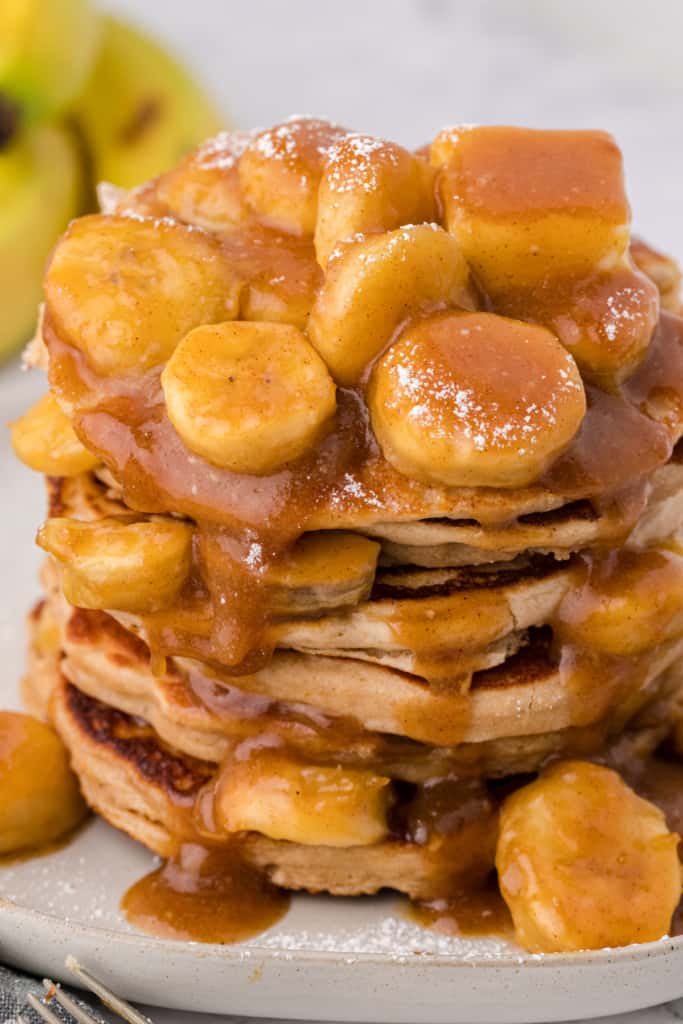 More delicious pancake recipes
Recipe