This easy homemade vanilla ice cream is made in an ice cream machine with no eggs, so it's simple and quick to put together. The traditional, old fashioned, no cook recipe makes vanilla, but I've included other flavors in the notes below.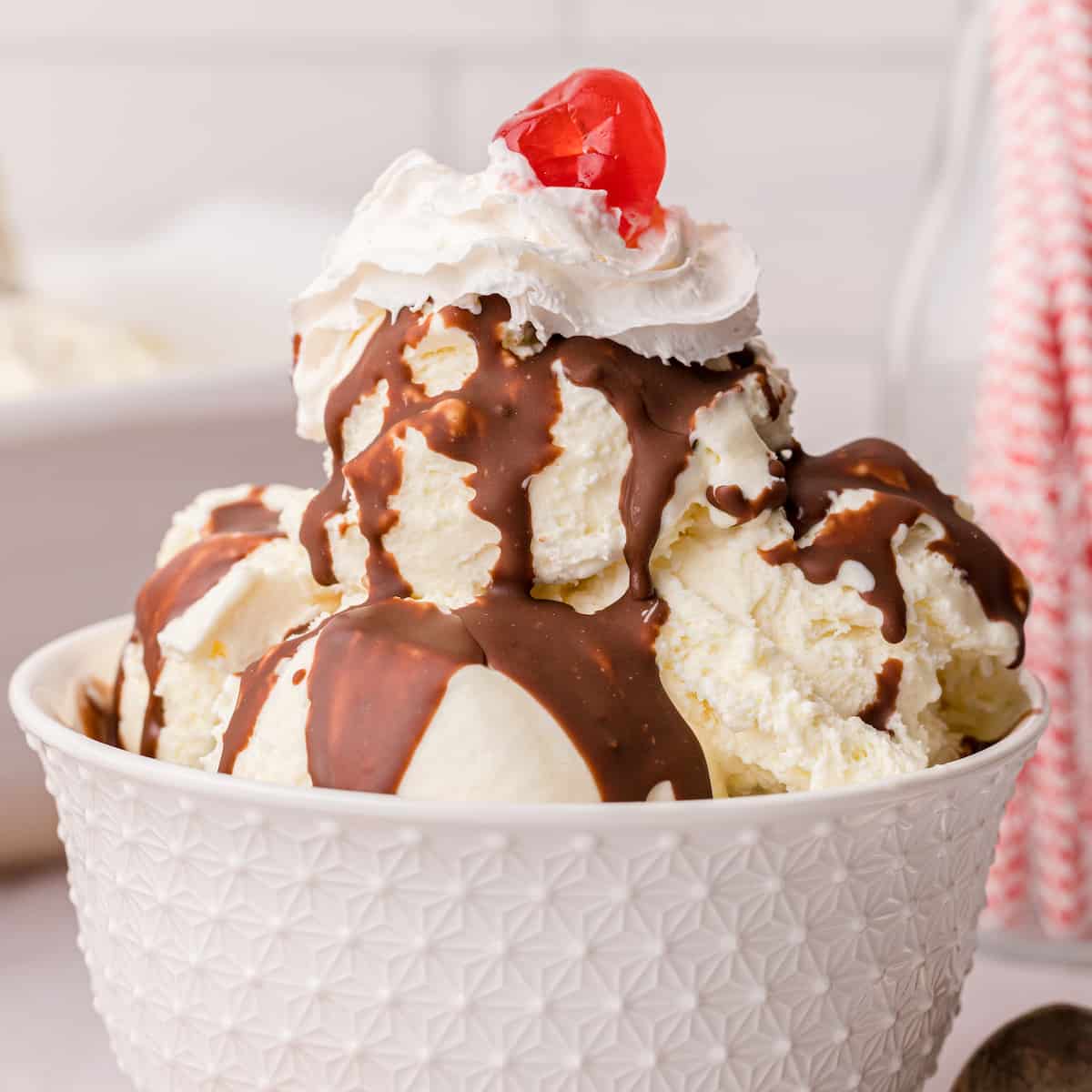 Originally published on June 12, 2009, this easy homemade ice cream recipe has delighted my family for more than ten years. Because it has no eggs, it doesn't need to be cooked at all before freezing, and I have no worries about giving my kids raw eggs.
Do you know what Philadelphia-style ice cream means? It's easy. Philadelphia style ice cream has no eggs and requires no cooking. It's most simply cream and sugar with flavorings added. This is different from custard style ice cream, which is cooked slowly and contains eggs. It's a much heartier ice cream, but requires considerably more work.
Do you have to put eggs in homemade ice cream?
No! You don't! The recipe below is super simple and is made without eggs which means no cooking at all.
Ice cream made with eggs is thicker and richer. The ice cream recipe below tastes great, but it is not a custard-style ice cream. You need eggs for that.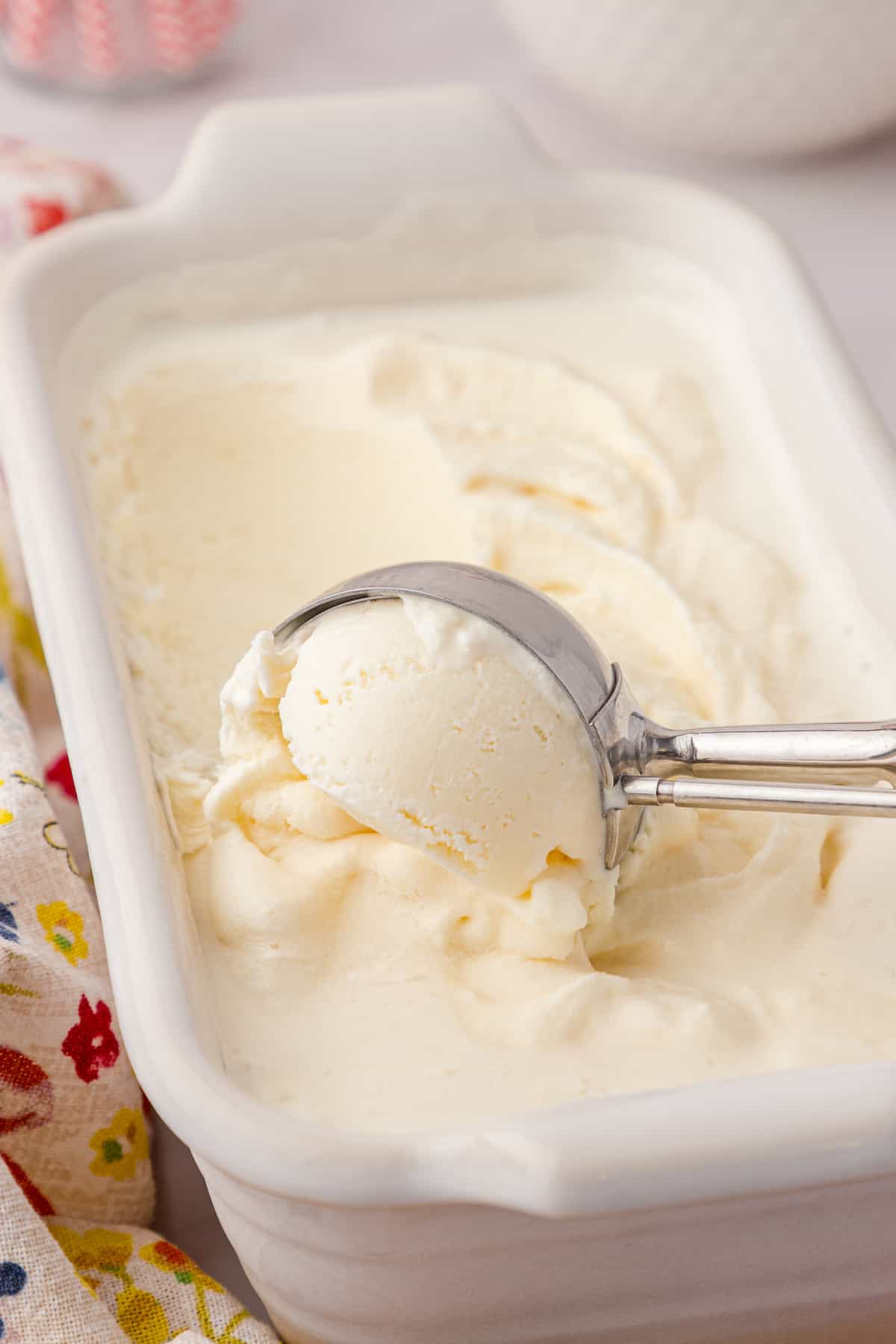 What you'll need to make homemade vanilla ice cream with no eggs
Equipment
An ice cream maker is essential in this recipe. I don't know any other way to reliably make homemade ice cream without big ice crystals. Typically, you have to freeze the tub part of the machine for at least 24 hours prior to making the ice cream, so make sure you plan for that.
Ingredients
See printable recipe card below for measurements.
Heavy cream - This is also sometimes labeled heavy whipping cream.
Whole milk - Don't try to go low fat. Ice cream needs a high fat content to set up properly. If you use lower fat milk, you will get ice crystals in your finished ice cream, and it will have a texture that is more like an ice cube than creamy ice cream.
White sugar - I prefer the taste of white sugar in my vanilla ice cream, but you could use an equal amount of your sweetener of choice.
Salt - You'll just use a pinch, but it's important to bring out the flavor of the cream.
Vanilla extract - I used to use plain old vanilla extract, but more recently, I've started using vanilla bean paste instead. Pure vanilla extract is made by soaking vanilla beans in alcohol and then removing the beans prior to bottling the extract. There are no actual vanilla beans in vanilla extract, and the extract itself tastes bitter and like alcohol (because that's what it is). Vanilla bean paste is a thicker, more paste-like liquid that is made from crushed up vanilla beans which are not removed. You can see the little bits of beans right there in the stuff. Vanilla bean paste has a more robust and rich vanilla flavor, and I have switched over the using it exclusively.
How to make easy homemade ice cream with no eggs
Freeze the tub of your ice cream machine. An ice cream machine is essential to this recipe. You could make homemade ice cream in baggies, but that is pretty labor intensive and doesn't make much at once.
Prepare the ice cream mixture. Whisk heavy cream, whole milk, sugar, salt, and vanilla extract or vanilla bean paste together in a large bowl.

Chill the mixture in the refrigerator for at least 30 minutes up to overnight (or longer, really).

Make the ice cream. Prepare your machine according to the instructions, pour in the mixture, and watch it work!

If you use the ice cream right out of the machine, it will have a soft serve consistency that is easier to spoon out than to scoop. For ice cream with a harder texture, put it into an airtight container and stick in the freezer overnight.

Make a sundae with chocolate sauce, hot fudge, or raspberry sauce, whipped cream, and a cherry (or whatever your favorite toppings are) and enjoy!
Chef's tips for the best homemade vanilla ice cream
Make sure the sugar is completely dissolved before chilling the cream mixture. If there is undissolved sugar, the ice cream will either be grainy (ew) or super hard. If you can't get all the sugar to dissolve, try heating the mixture gently (medium-low heat) in a saucepan and stirring until the sugar is completely dissolved. It's really important to then chill the cream mixture for at least an hour so that it's very cold before you put it into the ice cream machine.
Depending on your ice cream maker, you may need to churn your ice cream in batches.
Don't skimp on the vanilla. Use the very best quality you can, and use at least the amount in the recipe if not a splash more.
If you want to add chunks of anything into your ice cream (mini chocolate chips, diced fruit, crushed Oreos, brownie bits, etc), wait until your ice cream machine has 2-3 minutes left. Dump it in and let the paddle do the mixing. If you add it sooner, it will all sink to the bottom of the tub and won't churn back up.
Avoid adding regular size chocolate chips or M&Ms to your ice cream. They will freeze solid and be hard to eat.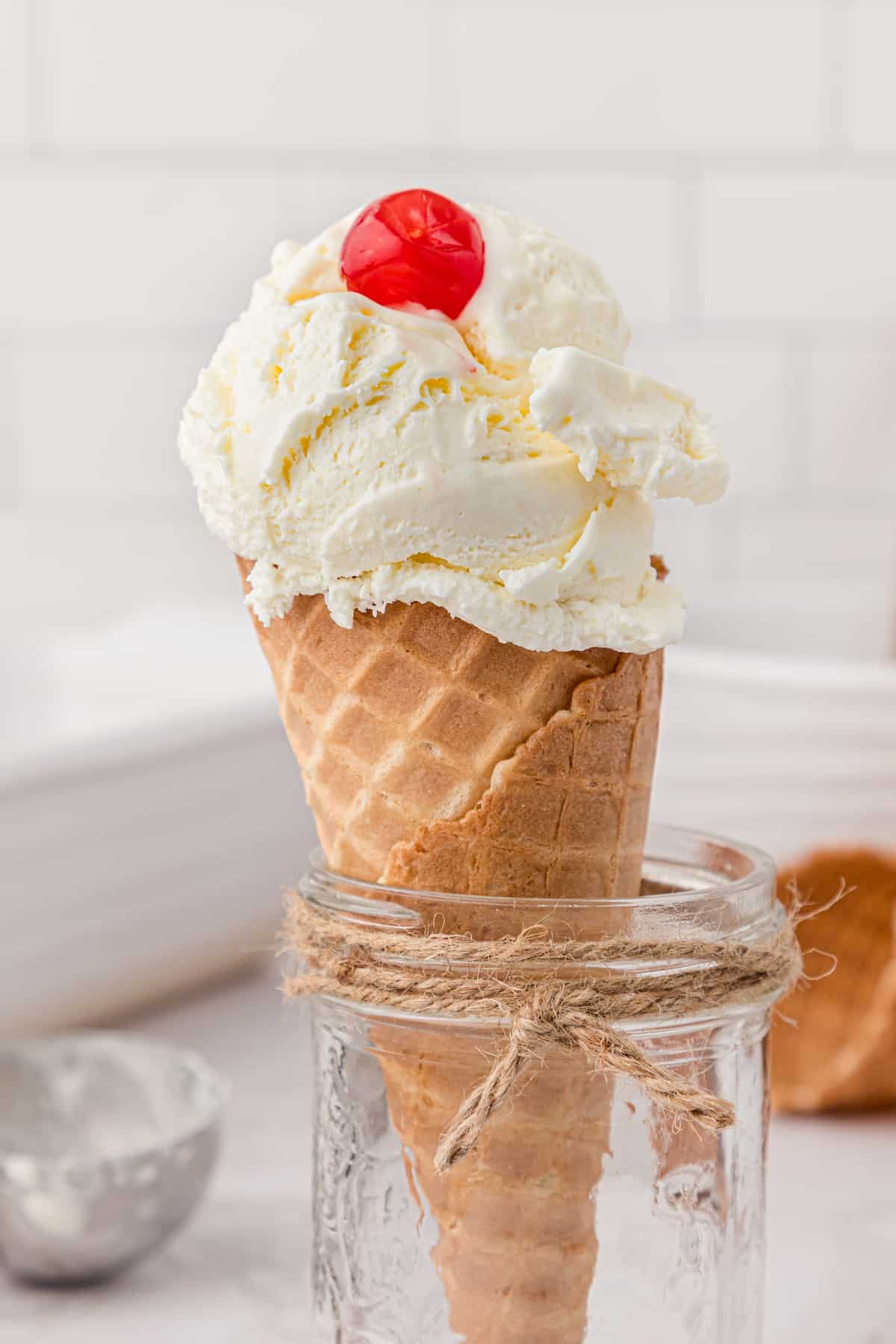 How to make other ice cream flavors
Once you have a basic recipe like this one, it's easy to make a variety of flavors.
For fruit-flavored ice cream, stir in fresh fruit. You can use strawberries, cherries, peaches, pineapple, bananas... you're really limited only by your imagination.
For a fruit and cream consistency - Mash fruit coarsely with a fork. Add 1 ½ cups of mashed fruit in step one. Proceed as directed.
For a homogeneously fruity consistency - Puree fruit in the blender. Add 1 cup of pureed fruit in step one. Proceed as directed.
For chocolate ice cream, you have a lot of options. When making chocolate ice cream, I cut the vanilla in half.
Chocolate syrup - Add ⅓ to ⅔ cup of syrup in step one
Melted chocolate - Melt a couple of handfuls of chocolate chips with a few tablespoons of heavy cream. Add in step one. In step two, refrigerate until well chilled. It may take a couple of hours.
Cocoa powder - Mix ½ cup cocoa powder in step one. Taste for sweetness, you may need to add extra sugar.
For other flavors, you can experiment with liquors or flavor extracts. Be careful to use only a tablespoon at a time, and do a lot of tasting.
More delicious ice cream machine recipes
How to make ice cream without a machine
This particular recipes requires an ice cream machine to churn the cream into ice cream. If you don't have one, try one of these no churn recipes (you don't need an ice cream machine for any of them!):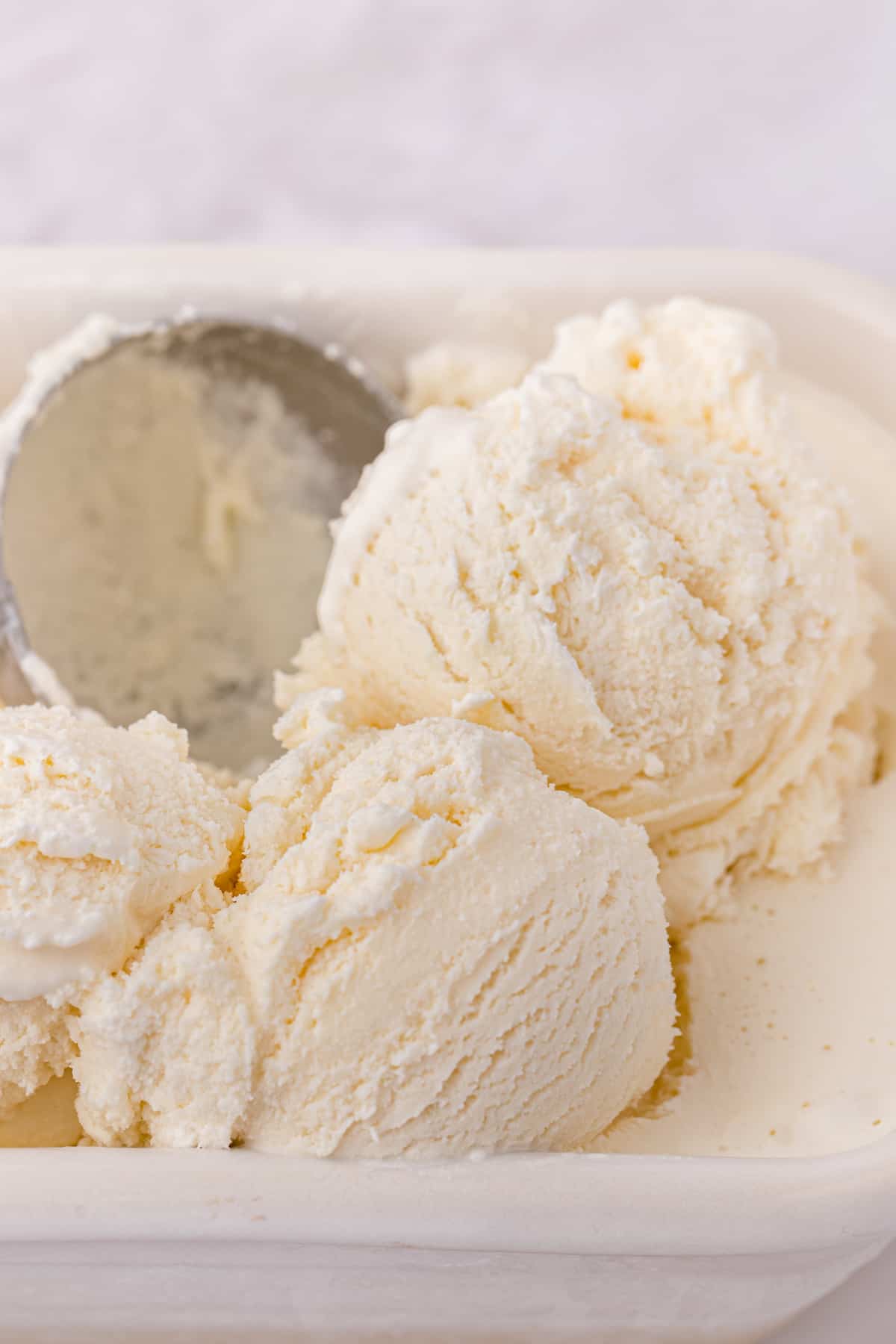 How to store leftover ice cream
You can store leftover ice cream in an airtight container in the freezer for up to a month or so. If it gets ice crystals on top, just scrape them off before serving.
I like these ice cream containers best for long term ice cream storage. I also use them to firm up the ice cream after churning.
This recipe gets pretty hard when stored in the freezer for more than a few days. When you are ready to serve it, plan on leaving the pan out on the counter for 5-10 minutes to soften it enough to scoop easily
Try these other sweet treats while you're here:
Recipe