No Churn Cookie Dough Ice Cream is a sweet, creamy treat with homemade chocolate chip cookie dough chunks and an easy vanilla ice cream base. No ice cream maker required for these step by step instructions.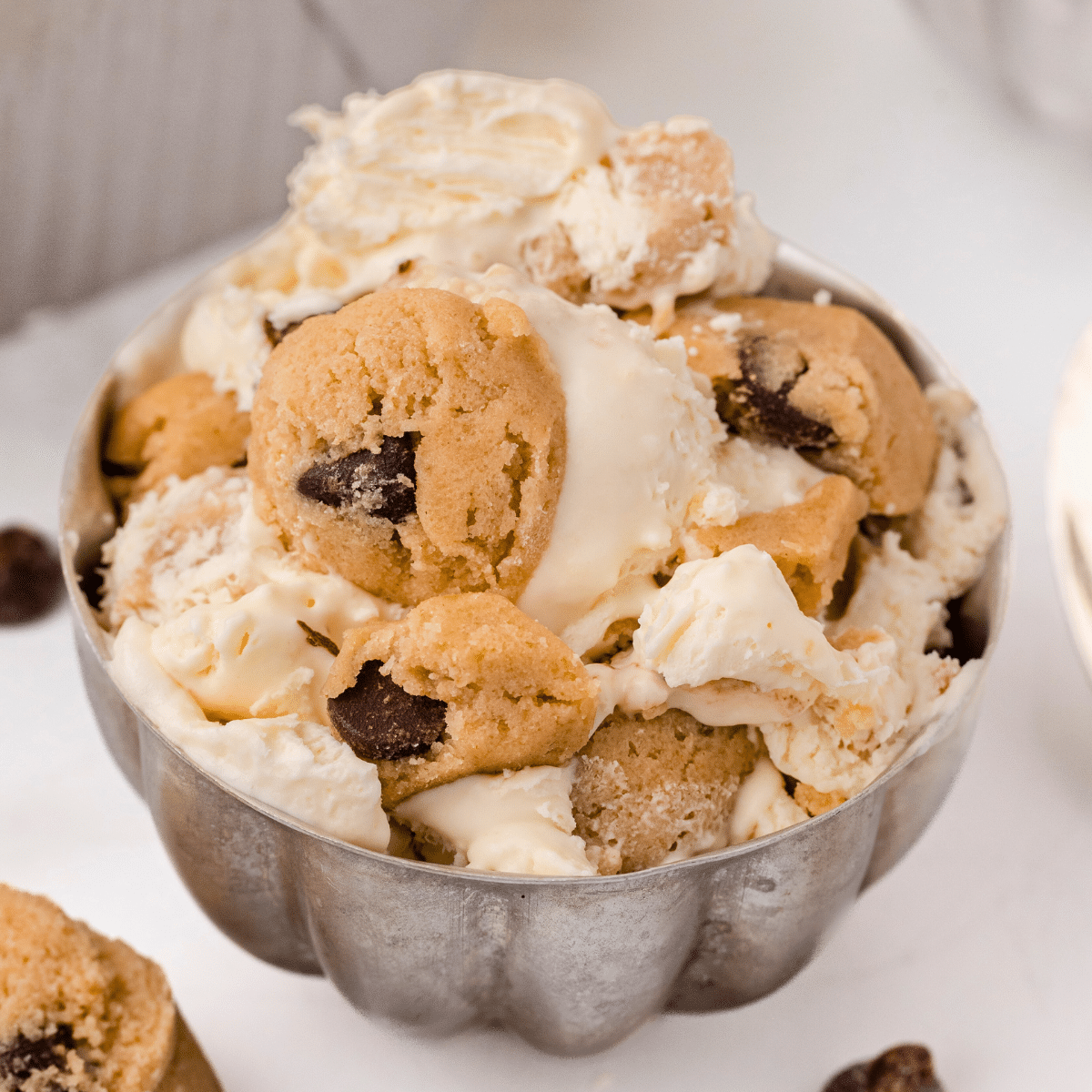 Why this is the best cookie dough ice cream recipe
This recipe is super easy to put together with only three ingredients (for the vanilla ice cream, plus six more for the chocolate chip cookie dough) and a few steps.
There are no egg yolks in the vanilla ice cream base, so it doesn't need to be cooked.
This cookie dough ice cream recipe uses homemade cookie dough. It's safe to eat because it's got no eggs, and the raw flour is heat treated in the oven for a few minutes to kill any bacteria that may be harboring there.
This ice cream recipe is made without sweetened condensed milk, so it's got a pure vanilla ice cream flavor that's similar to Ben & Jerry's cookie dough ice cream.
What you'll need to make the best cookie dough ice cream
EQUIPMENT
Stand mixer - You'll need a stand mixer or a hand mixer, not both.
Electric mixer - I tend to use my hand mixer more often than my stand mixer because it's more convenient and easier than dragging out my big KitchenAid.
Ice cream pan - This is a loaf pan with an airtight lid. You can make your no churn ice cream in a traditional loaf pan, but I like the ice cream pan because the lid keeps my ice cream fresh longer.
INGREDIENTS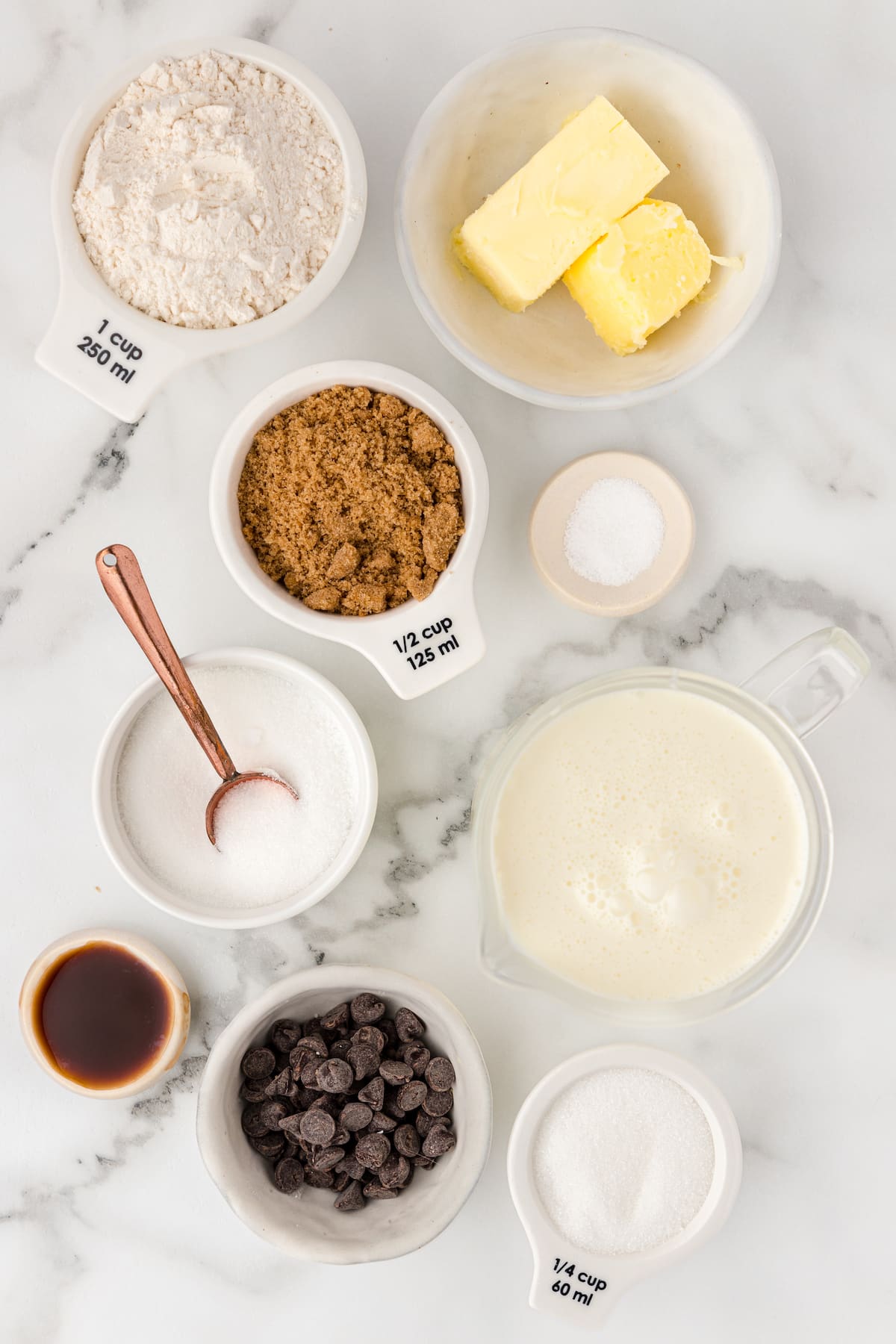 See printable recipe card at the bottom of the page for measurements and nutritional information.
Heavy cream - This is the base of your ice cream. Don't skimp on the fat. You need lots of it to make the ice cream smooth and creamy and prevent ice crystals from forming.
Granulated sugar - This is plain old white sugar. You need something to sweeten the cream or else it will be very plain.
Vanilla bean paste - I prefer vanilla bean paste to vanilla extract for several reasons. First, vanilla bean paste does not contain alcohol, so there is no bitter flavor in uncooked recipes such as this one. Second, vanilla bean paste is made by crushing up actual vanilla beans, and the crushed beans are visible in the paste. Vanilla extract is made by soaking vanilla beans in alcohol and then removing them. Last, vanilla bean paste has a much richer and stronger vanilla flavor than vanilla extract. Having said all of that, you are welcome to use an equal amount of vanilla extract if you prefer.
Cookie dough bites - Obviously, cookie dough ice cream would be plain vanilla without the cookie dough. The cookie dough recipe I linked is egg-free and safe to eat raw because you'll bake the flour on a baking sheet to kill any bacteria present. It requires all purpose flour, brown sugar, white sugar, salted butter, vanilla, and chocolate chips.
How to make no churn chocolate chip cookie dough ice cream
Before starting the ice cream, be sure to make the cookie dough bites. You'll want them to chill in the refrigerator for at least an hour prior to adding them to the ice cream.
In a large bowl, whisk the heavy cream until soft peaks form. Do not over whisk.

Once soft peaks are formed, add sugar, vanilla, and cookie dough bites. Fold in to evenly distribute the bites.

Pour mixture into an ice cream pan, cover tightly with aluminum foil and plastic wrap, and place in the freezer for 6-8 hours or overnight.

Why doesn't this recipe include egg yolks?
Many ice cream recipes call for egg yolks to make a custard base that gets frozen, often in an ice cream machine. This particular recipe does not need egg yolks to make a creamy, rich, and delicious ice cream base, and thus it is safe to eat raw without cooking in any way.
Tips for the best cookie dough ice cream
You can use mini chocolate chips in place of the regular size ones when you make your cookie dough.
When you're making the cookie dough, be sure to roll it into small balls for the best ice cream consistency. We used our smallest scoop for the photos here, but I think the ice cream would be even better if the cookie dough bites were smaller, like half to a third of the size you see here.
Keep the heavy cream as cold as possible before whipping it to make your ice cream base.
Chill your cookie dough in the fridge while you're making the rest of the recipe.
Freeze the ice cream overnight for the best results. It will be soft set in 6-8 hours but overnight is best.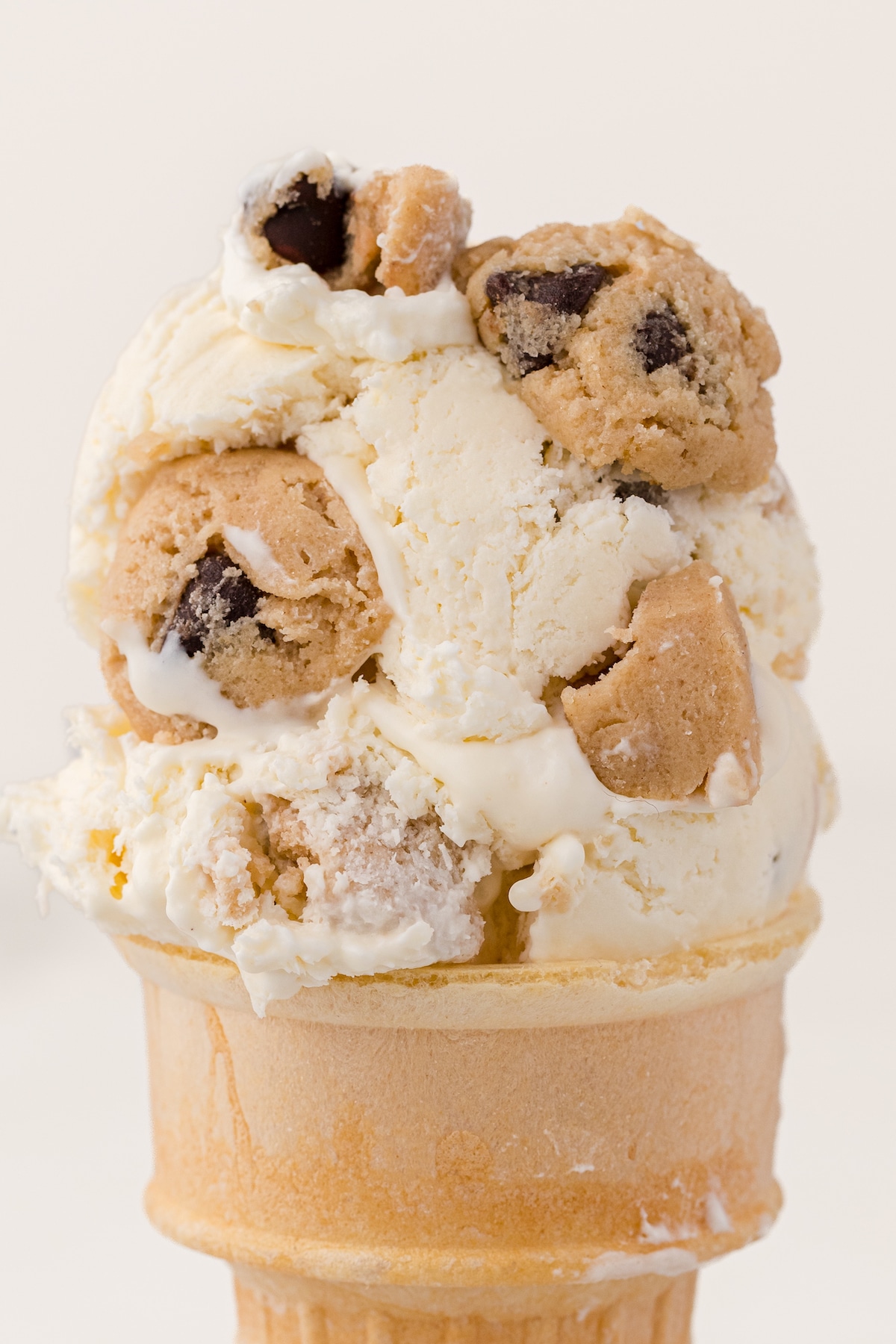 How do you serve no churn cookie dough ice cream?
It's ice cream. Scoop it and put it in a bowl or in a waffle cone. My favorite way to serve this ice cream is to top it with homemade hot fudge, whipped cream, and a cherry.
How do you store homemade ice cream?
I prefer to store my homemade ice cream in an ice cream pan in the freezer. An ice cream pan is basically a loaf pan with an airtight lid. I still add a layer of plastic wrap on top of the ice cream before I put the lid on.
If you make your ice cream in a loaf pan (you can), you'll need to seal it tightly with plastic wrap and aluminum foil. Even then, the ice cream won't last as long as it would if you had an airtight lid.
Homemade ice cream is usually good for a week or two if you don't have an airtight lid or about a month if you do.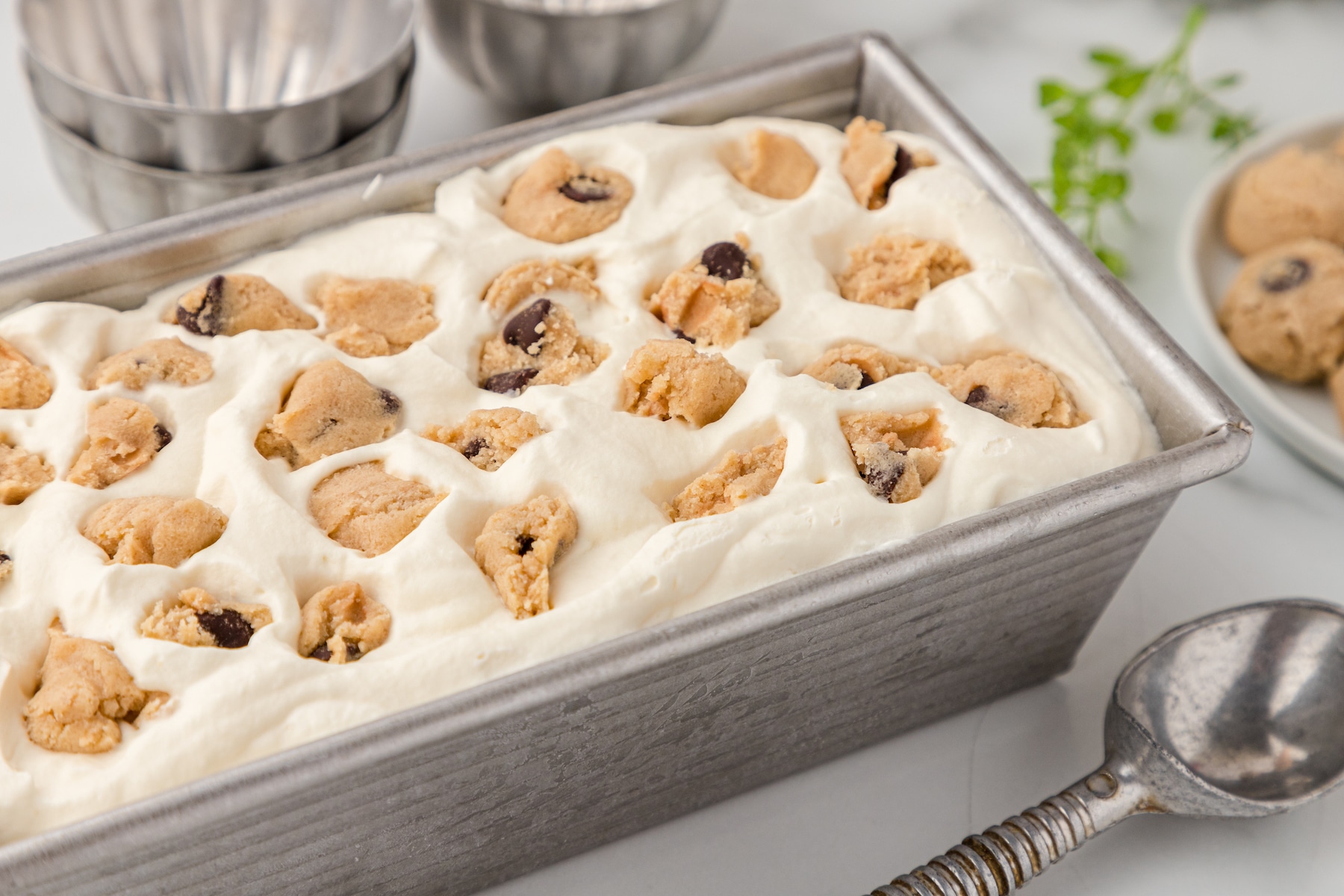 More no churn ice cream flavors
Recipe