This easy red velvet ice cream recipe is a creamy no-churn recipe! This simple recipe combines your favorite red velvet cake crumbs with smooth homemade vanilla ice cream made without an ice cream machine.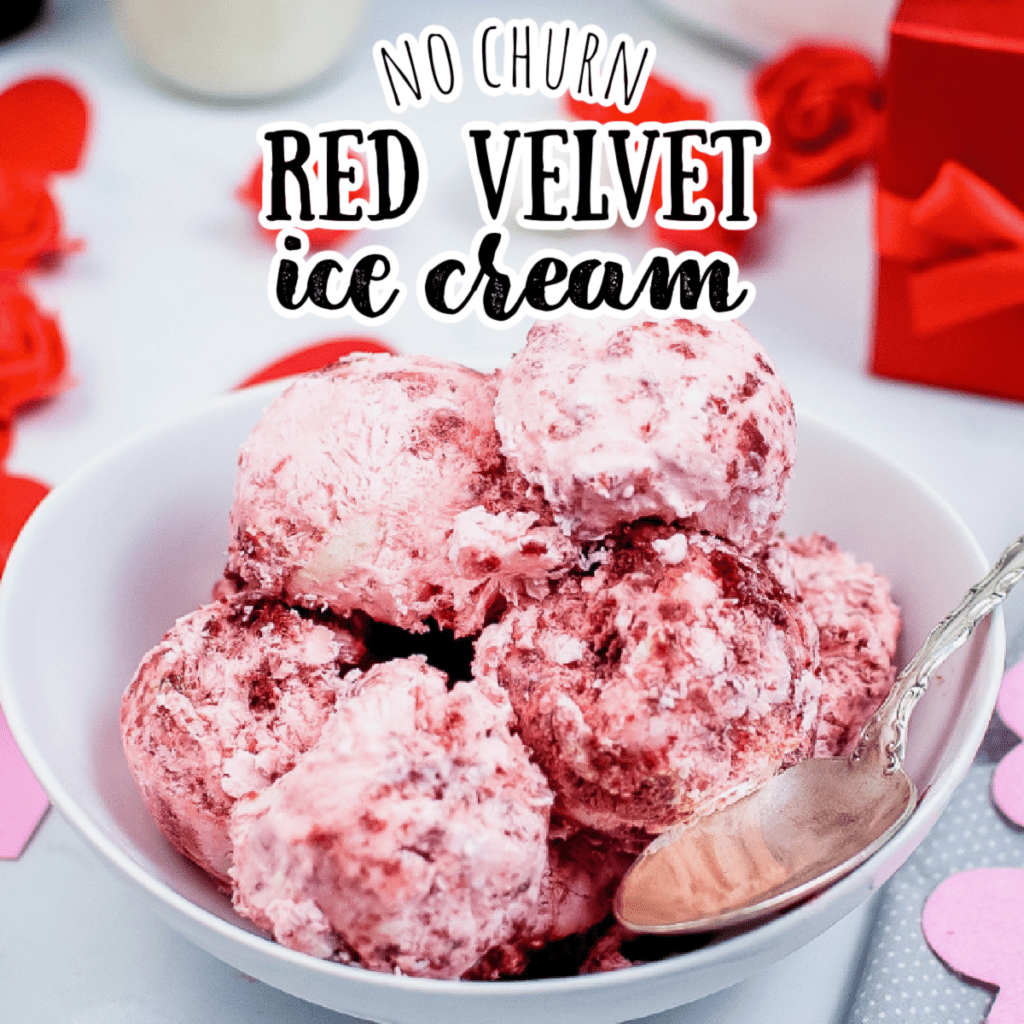 Valentine's Day is the perfect time to make all the red and heart-shaped foods, am I right? We have heart shaped pizzas and heart shaped pancakes and heart shaped omelets and heart shaped cherry pies.
It's also a great time for red velvet anything, and this red velvet ice cream is perfect.
What is red velvet?
Red velvet is a red or red brown chocolate cake, typically made with cocoa powder, buttermilk, butter, flour, and other ingredients. It's colored red with either beet juice or red food color.
In this recipe, you will use red velvet cake crumbs, so you will have to either make or buy a red velvet cake or red velvet cupcakes and then crumble them up. I think it would be easier to make a cake because you wouldn't have to deal with scraping off the frosting of a commercially baked cake.
You can get a red velvet box mix, and it will work just fine. A cake made from scratch would taste better, but no one will complain about the cake mix.
How can homemade ice cream be made without a machine?
Homemade ice cream can be made with an ice cream machine, of course. I have an excellent recipe for vanilla Philadelphia-style ice cream which is made without eggs and doesn't need to be cooked before freezing. It tastes so good and is well worth the time and effort it takes.
In recent years, I have started making no churn ice cream. It tastes just as good as the "real" stuff, and it's super easy to make. You just start with a homemade whipped cream base, and then you add in the flavorings and other stuff. It comes out perfect every time, and it tastes really really good.
We have made several different homemade ice cream flavors including Oreo ice cream, cheesecake ice cream, pumpkin pie ice cream, and root beer sherbet.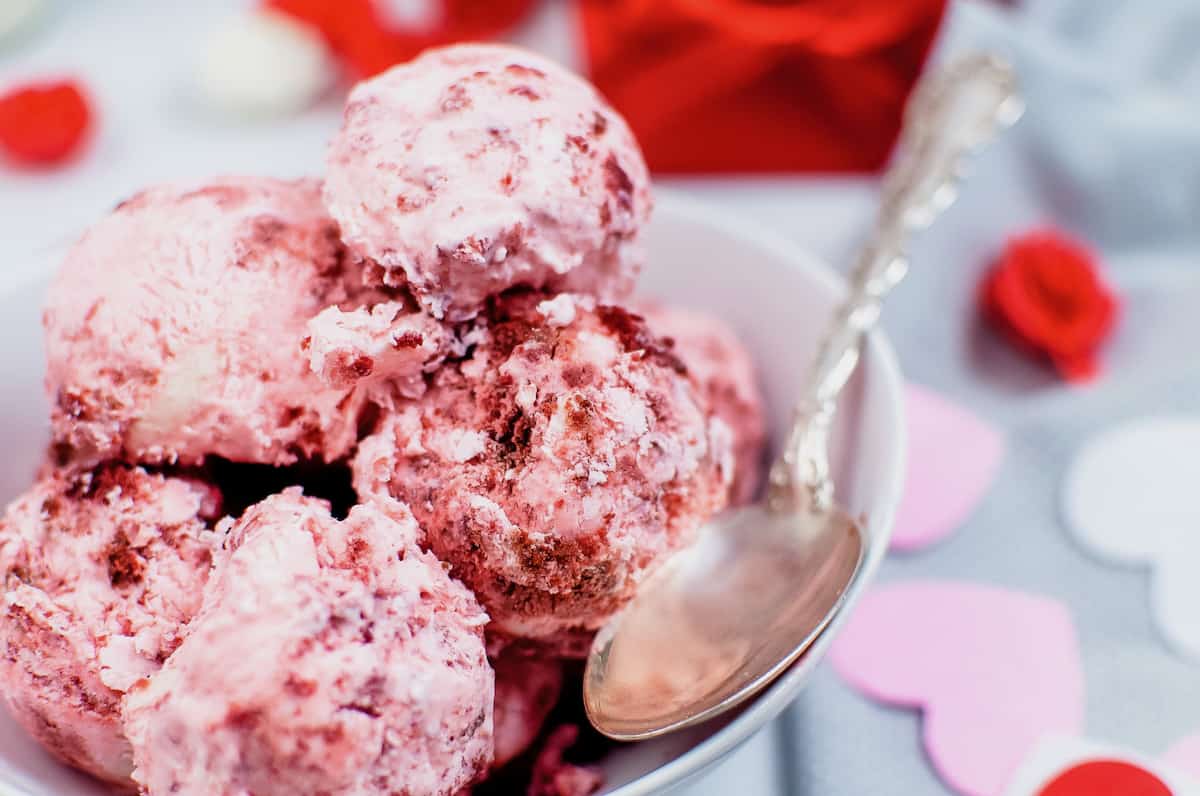 What you'll need to make no churn red velvet ice cream
Equipment
Like any no churn ice cream recipe, you'll need an electric mixer or a strong arm with a whisk because you'll have to beat the heavy cream into whipped cream before you mix the ice cream flavorings in.
After the ice cream is mixed up, you'll need an ice cream pan or a loaf pan, lined with parchment paper, to freeze the ice cream in.
Ingredients
Heavy whipping cream - This is the foundation of your ice cream, and only heavy whipping cream will suffice. You can't go light and use whole milk or low fat milk, and you can't use non-dairy milk. You need heavy cream, period.
Whole milk - This helps to thin the cream cheese and make it more like ice cream and less like sticky cream cheese.
Red gel food color - This is not entirely necessary, but it makes the red velvet ice cream seem a little more red velvety. Gel works much better than liquid in this recipe.
Vanilla bean paste - Vanilla bean paste is thick and glue-like liquid that contains ground up vanilla beans. You can substitute an equal amount of vanilla extract, but vanilla extract has an alcohol base which you can taste if you don't cook the food (which you don't in this instance).
Cream cheese - This needs to be very soft, almost melted, and it needs to be full fat. Most of the time, red velvet ice cream has cream cheese frosting, and the addition of a small amount of cream cheese gives the ice cream that same cream cheese, almost cheesecake, flavor.
White sugar - You need sugar to make ice cream, but if you don't like white sugar you could substitute maple syrup, honey, or your favorite sweetener. The other sweeteners will change the flavor though, and you may not achieve the red velvet flavor you're going for.
2 cups red velvet cake crumbs - You'll need small pieces of red velvet cake, wether from a big red velvet cake or red velvet cupcakes. I don't care whether you bake them from scratch, bake them from a box mix, or buy them. You just need the cake, and then you'll need to crumble it into crumbs. I used a food processor and hit the pulse button a few times. You could also use your hands.
How to make luscious red velvet cake ice cream
In a large bowl, beat the heavy cream with an electric mixer or stand mixer until soft peaks form. Do not over beat.
Once soft peaks are formed, add milk, sugar, and cream cheese. Mix slowly with a spoon or spatula to avoid splashing over.

Add ¼ teaspoon of red food coloring. Fold in gently. Add more if you desire more pink.
Add red velvet cake crumbs, reserving a small handful to sprinkle on top. Fold in gently so that you don't deflate the mixture.

Pour mixture in an ice cream pan or other shallow airtight container.

Sprinkle ice cream with remaining red velvet crumbs. Cover and place in the freezer for 8 hour or overnight.

How long does red velvet ice cream last?
Not long at my house! But if you have leftovers, you can keep them in an airtight container in the freezer. They will taste the best for about two weeks but can be stored for up to 3-6 months. As long as you keep the air out, the ice cream will last a long time.
Variations
We have used sweetened condensed milk in place of the milk and sugar, and the results were great.
You can add a handful of marshmallows or chocolate chips to this recipe with the cake crumbs.
More delicious desserts for Valentine's Day
And here are more delicious frozen dessert recipes
Recipe