Make these heart-shaped mini pizzas in a few minutes and delight your sweetheart or kids this Valentine's Day! Great for lunch, dinner, or an after school snack! Easy step by step instructions with photos. This recipe uses dough, pizza sauce, cheese, and pepperoni for classic mini pizzas.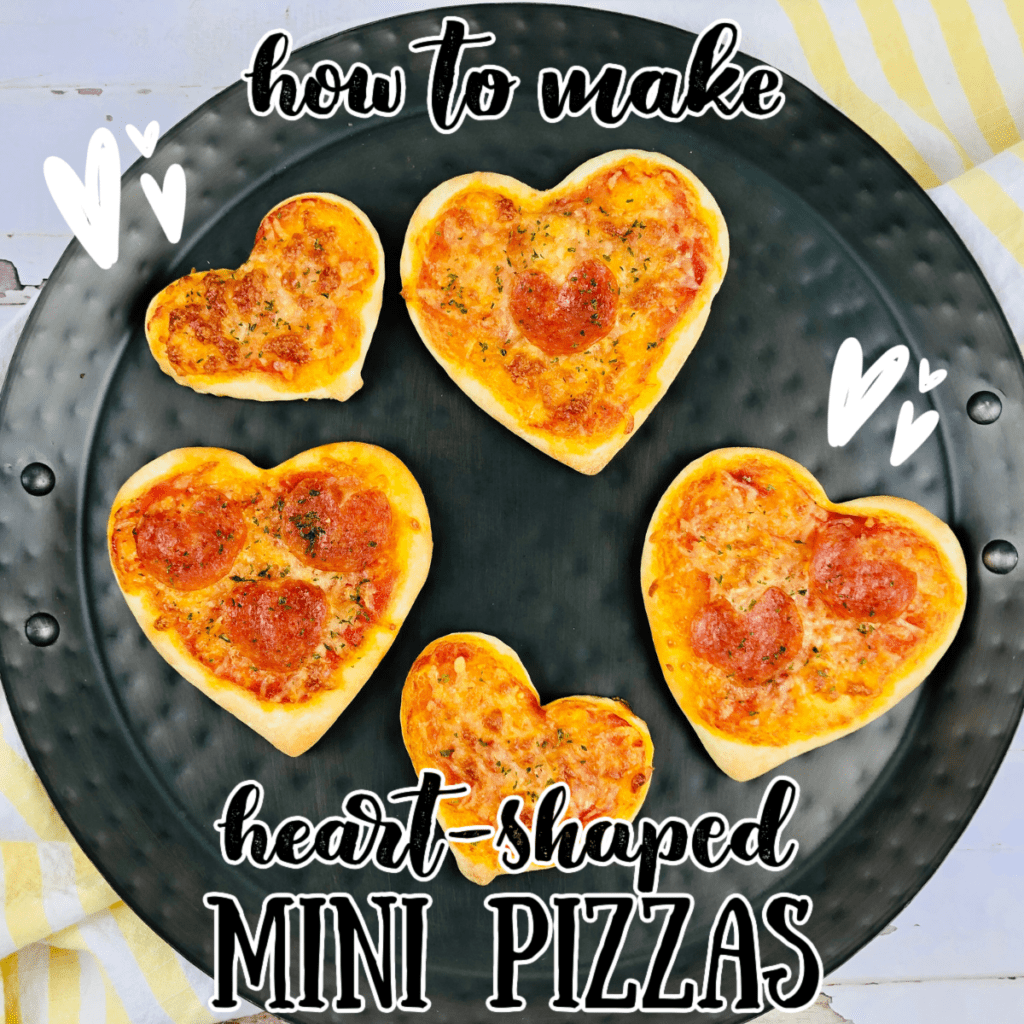 I have always done holidays sort of big, especially Valentine's Day.
Oh, who am I kidding? I do all the holidays pretty big.
In the past, we've had heart-shaped omelets and heart-shaped pancakes. We also made heart-shaped pizzas one time using tortillas. Those pizzas were super cute, but we each ate like 4 of them to make one meal because - pizza sauce and cheese on a tortilla is still pretty much just a tortilla. They were fun but not filling.
So this year, I wanted to make Valentine's Day heart shaped pizzas that were a little more substantial but still had the super fun heart factor.
What I did was to take a simple pizza dough and use small heart cookie cutters to make heart shapes. That's it! It couldn't be easier.
I included photos below of a refrigerated pizza dough just for the quick and easy factor. Homemade pizza dough tastes amazing, but you have to wait for the yeast to activate and the dough to rise, and if you're throwing together a quick lunch or snack, you probably don't want to wait for all that. A tube of pizza dough from the grocery store will work just fine.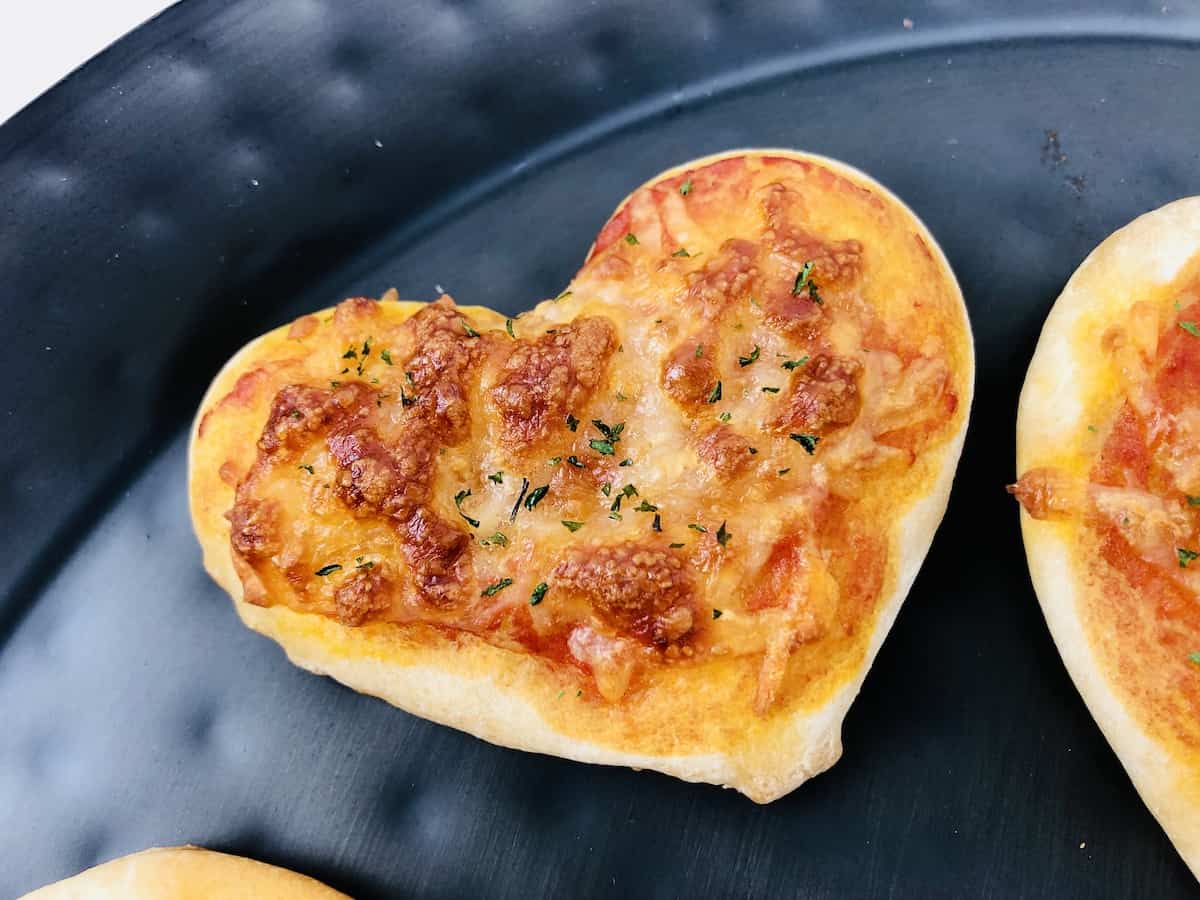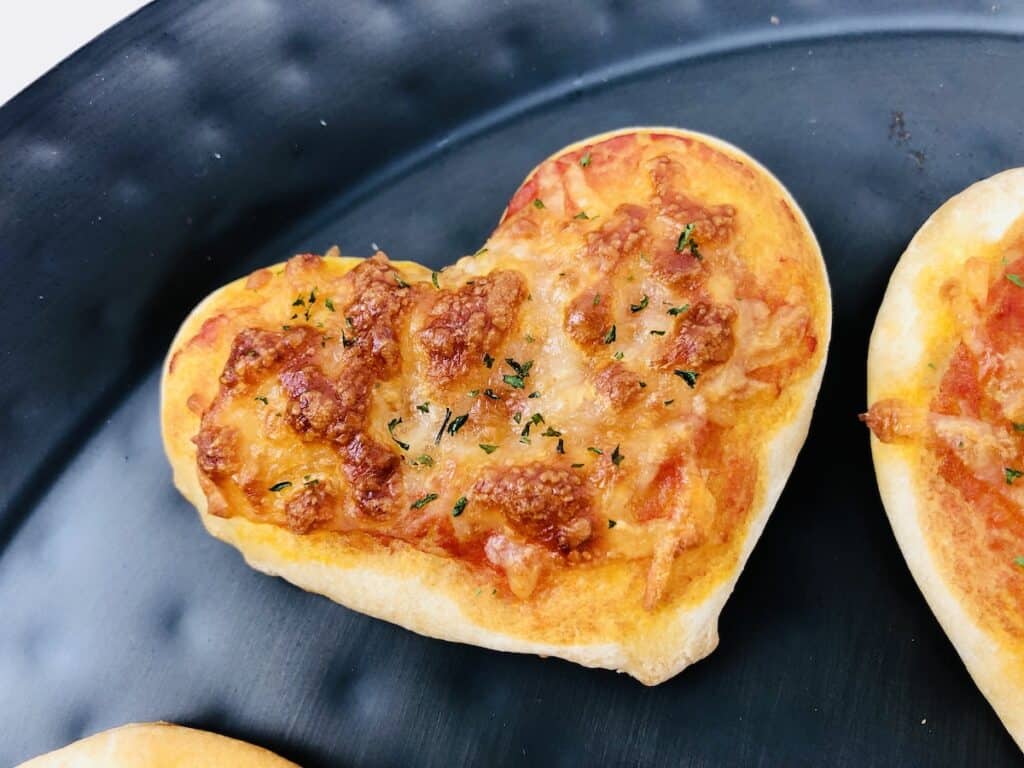 What you'll need to make easy heart-shaped mini pizzas
I'm a little embarrassed to call this a recipe because it's so simple and easy. But here goes:
Equipment
You'll need a rolling pin to roll the dough out to your preferred thickness (or thinness, I suppose). You'll also need a set of heart-shaped cookie cutters in various sizes.
Finally, I like to cook my pizza on a pizza stone lined with parchment paper. I think pizza crust cooked on a stone is worlds better than pizza cooked on a metal baking sheet, but you could use that or a cookie sheet. Be careful about cook times as metal cookware generally cooks faster than a stone.
The only reason that I use parchment paper because it makes cleaning the stone easier. That is optional.
Ingredients
Unbaked pizza crust dough - As I said above, you can buy refrigerated dough or use this link to my favorite homemade crust recipe.
A sprinkle of flour - This is just to dust the surface when you roll out the dough.
A pinch of garlic powder - This is optional, but I think it really enhances the flavor of the pizzas. In fact, most of the time, I spread some freshly pressed garlic over my pizza dough. But garlic powder is easier if you don't have a press or want to avoid overusing the garlic.
A pinch of Italian seasoning - Also optional, but adds something really nice to the cooked pizza.
Pizza sauce - I prefer Walmart's Great Value brand of pizza sauce because it has the lowest sugar content of any tomato sauce brand I've seen. But use whatever you like and have on hand.
Shredded mozzarella cheese - If you want to get really fancy, use an Italian blend or a pizza blend. Or sprinkle some shaved Parmesan over the top before adding your pepperoni.
15 pepperoni or a handful of mini pepperoni - These are fun, especially if you cut them into heart shapes too. But if your sweethearts don't like them, it's okay to leave them off and use your favorite toppings instead.
How to make homemade heart pizzas
Preheat oven to 375ºF. Line a pizza stone or baking pan with parchment paper.
Roll the pizza dough out on a lightly floured surface into an even layer about ¼" thick (or your preferred thickness). Use cookie cutters of various sizes to make heart-shaped mini pizzas.

Place the dough hearts on the prepared pizza stone. Sprinkle with garlic powder and/or Italian seasoning if desired.

Spread sauce on the dough hearts, then sprinkle generously with shredded mozzarella.

If your set of cookie cutters has a heart small enough, make the pepperoni into heart shapes. Alternately, you can cut them with a knife or kitchen scissors. If not, use them whole. Place 2-3 pepperoni slices on each pizza, depending on size.

Bake pizzas 10-15 minutes at 375ºF until the cheese is melted and crusts are golden brown.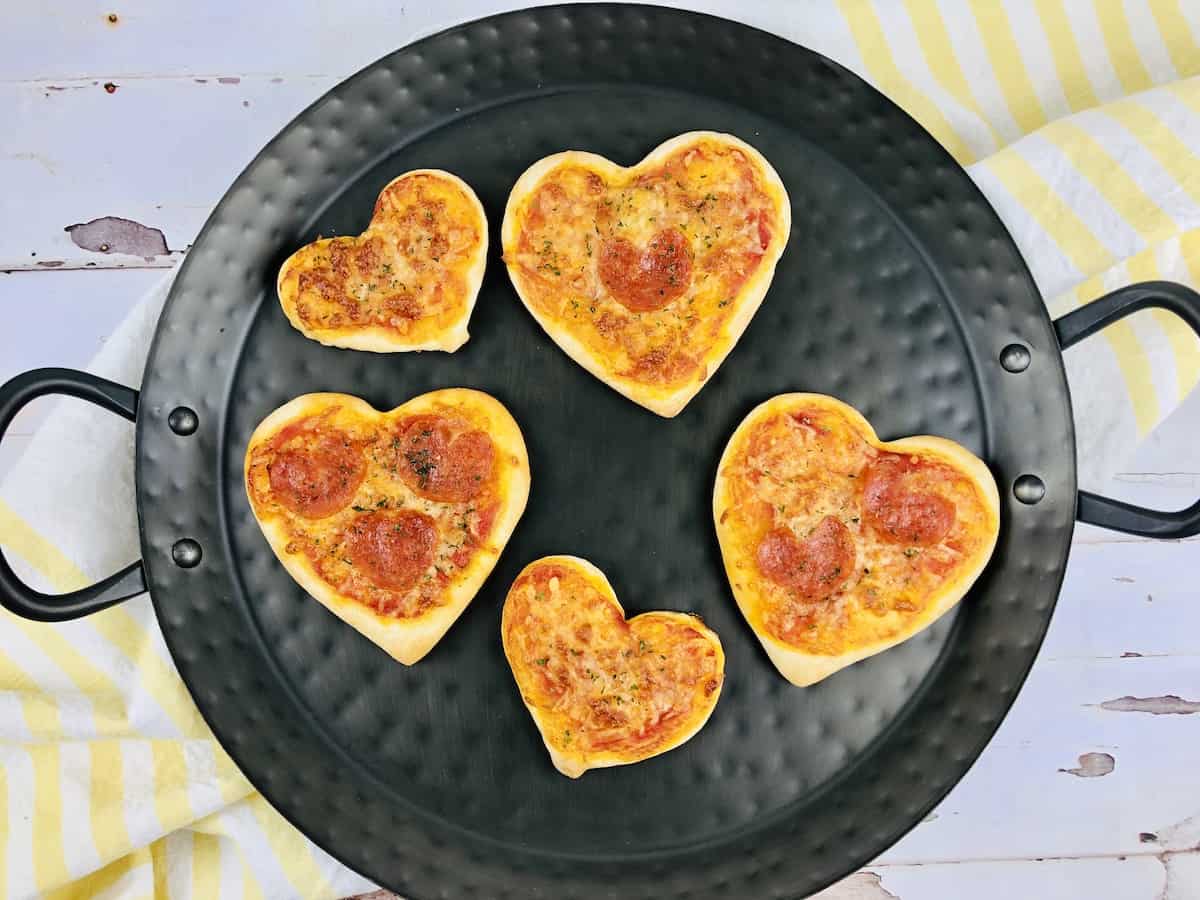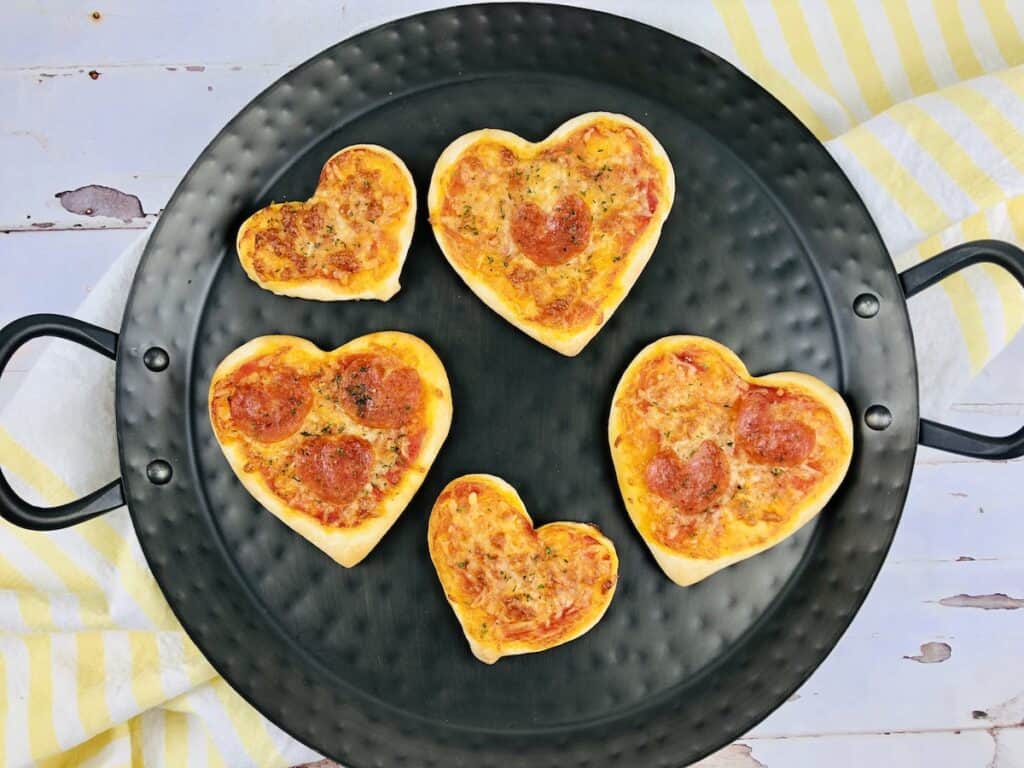 Tips for the best mini heart shape pizza
Prebaking
If your dough is on the thick side, and you're so inclined, you can pre-bake the pizzas for 5-7 minutes before adding the sauce and toppings. This helps the dough to cook properly all the way through.
Decrease the final cooking time to 7-10 minutes and check often to make sure the edges of the crust don't burn. When you pre-bake, you're essentially just melting the cheese in the last step.
I would not recommend prebaking if you roll your dough out to make a thin crust. It will likely burn.
Brush the crust
You can brush the exposed crusts with olive oil or egg wash (that's an egg, beaten with a splash of water) to help it to brown. It's entirely optional, but the baked crust will stay mostly white if you don't do it.
Large heart pizza
You can use these same instructions to make large pizzas. Simply trim the crust into a heart shape, roll up the edges a bit, and prebake. You always need to prebake a large pizza to prevent the center from being doughy.
Cutting out pepperoni hearts
If you don't have a cookie cutter small enough, you can use a knife or clean kitchen scissors to cut the pepperoni into heart shapes. Simply fold the pepperoni in half (gently so that it doesn't break down the center) and cut a teardrop shape around the fold. You'll see what I mean when you do it. It's just like cutting paper hearts in elementary school.
More toppings for your Valentine's Day pizza
You can put anything on this pizza that you would normally put on a pizza, but you might have to cut the pieces a little smaller.
Sliced red onion
Diced bell peppers
Cooked and crumbled sausage
Cooked and crumbled bacon
Finely sliced fresh basil
Sliced mushrooms
Sliced or chopped tomatoes
Sliced black olives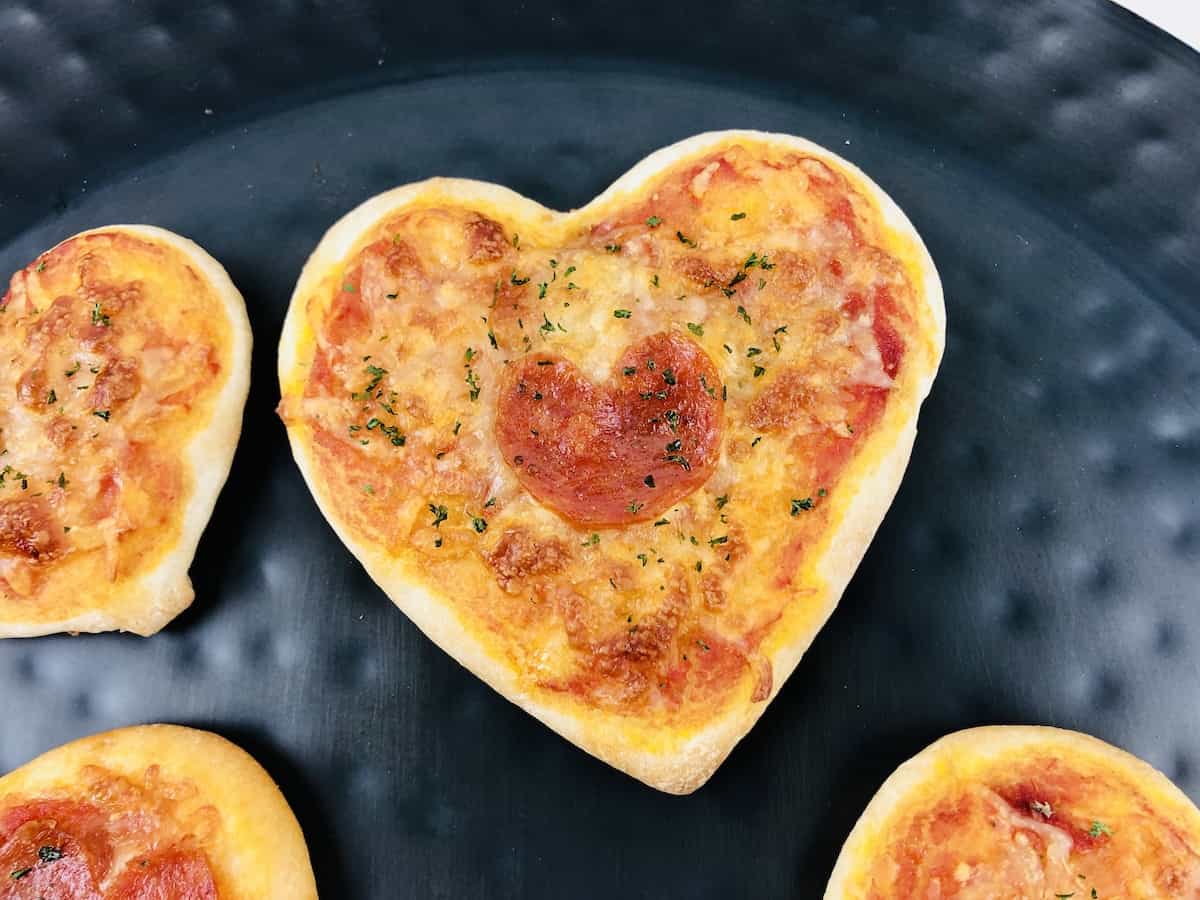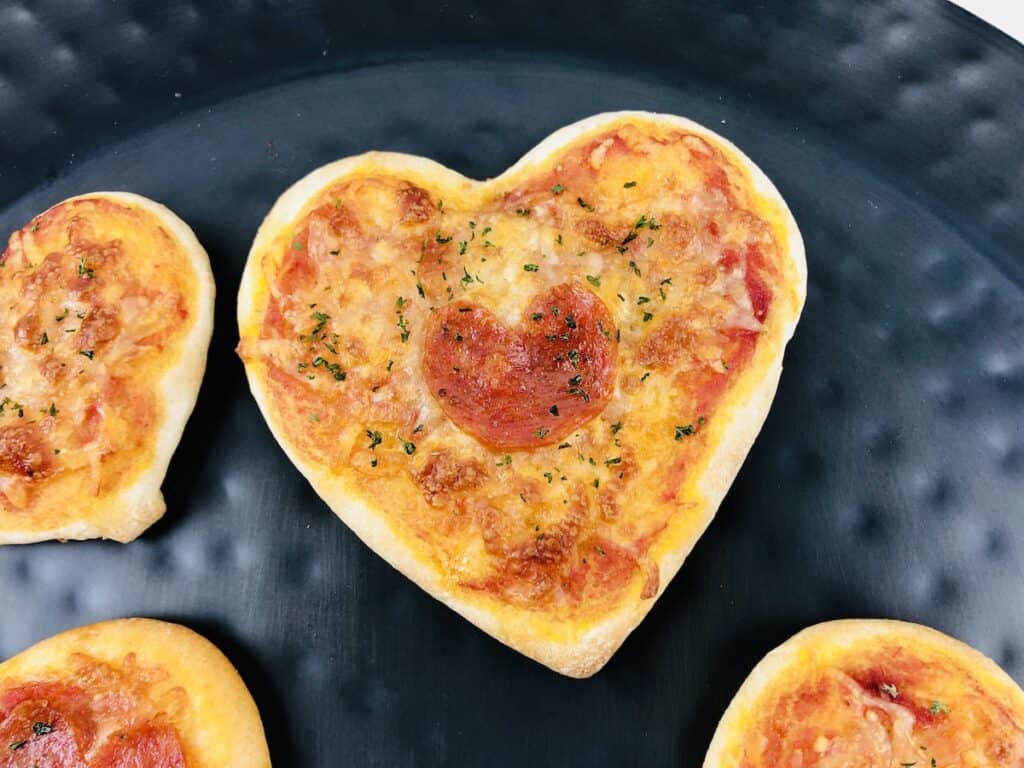 Storing leftover pizza
To keep these mini pizzas, simply pop them into an airtight container or plastic freezer bag and store them in the fridge for up to 3 days.
When you want to eat the cold pizza, you can either eat it as is (my favorite) or reheat it on a parchment lined pizza stone or baking sheet. Don't go for the microwave if you can avoid it because it will make the crust soggy.
Check out these other delicious pizza recipes
Recipe