This popover pizza recipe is a twist on an upside down pizza with a golden popover crust hiding a flavorful filling of meat, sauce, vegetables and cheese.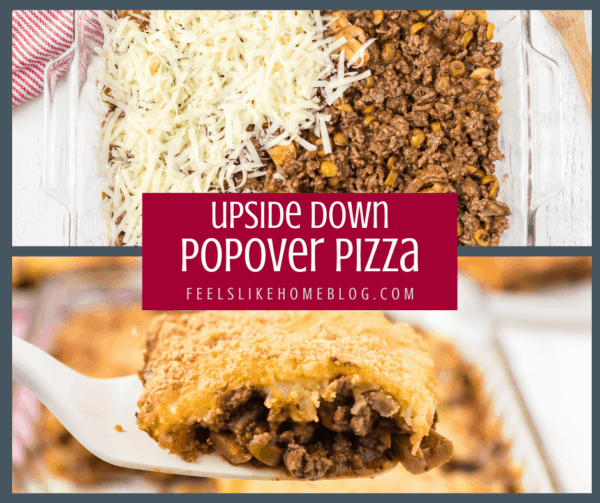 When I was a little girl, my mom made popover pizza all the time. It was one of her favorite recipes, along with chicken & corn mini pies.
When I was in sixth or seventh grade, the local newspaper sent a reporter and a photographer over to talk to her about her popover pizza. I don't remember what prompted the visit (I think I may have written a letter, but the details are fuzzy.), but I do remember that the photo was her in her garden, smiling.
My mom died in 2013, and I still miss her. That grief gets better over a very long time, but it never goes away. One thing I have, and will always have, of my mom is her favorite recipes.
That's where popover pizza comes in.
When you make popover pizza, you can use whatever toppings you normally put on your pizza. My mom liked to put sliced green olives in hers, which is weird because we don't usually eat green olives on our pizza, but she did, so that's what I use in ours. You can use chopped onion and green pepper, mushrooms, diced ham, really there is no limit to the possibilities.
How to make popover pizza
Preheat oven to 400º.
Sauté ground beef and onion over medium heat until ground beef is no longer pink and onion is soft and translucent. Drain.

Stir tomato sauce, olives, and mushrooms into meat. Add oregano, garlic powder, and salt.


Pour meat mixture into an ungreased 9x13 pan. Top with shredded pizza cheese.


Combine eggs, milk, and oil. Whisk in flour and salt and beat until smooth and well blended.

Gently pour batter over cheese and meat mixture. Sprinkle Parmesan cheese on top.

Bake for 35-40 minutes, until top is puffed up and golden brown.

While you're here, check out these other delicious comfort foods: