How to grill the best homemade pizza dough - This easy recipe uses yeast and all purpose flour to make a simple, fast, and healthy thick crust. You can use Instant Yeast or active dry yeast and this recipe has no baking powder. We use our KitchenAid mixer and the dough hook to form the dough. Includes instructions for how to grill the pizza.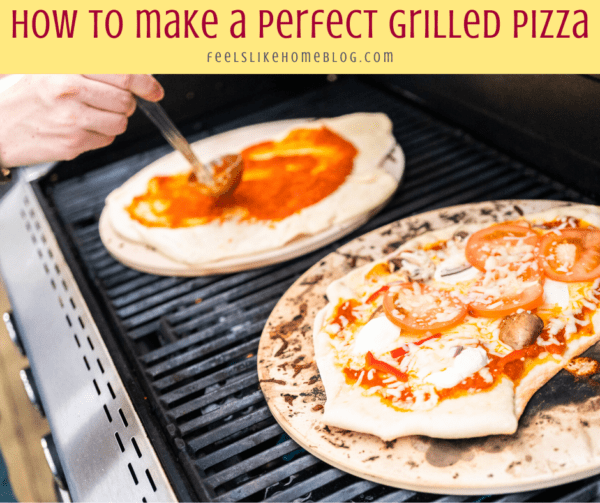 As I have mentioned a time or two, Joe does the grilling at my house. I don't even know how to turn our grill on.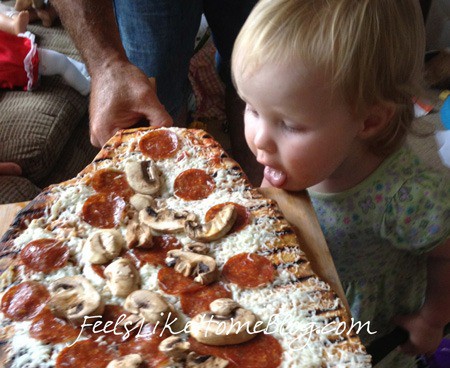 Since I wrote that post, Joe has branched out and discovered the brilliance of grilled pizza dough. Seriously.
Have you ever heard of grilled pizza before? I hadn't, and I was skeptical when Joe first mentioned it.
As you may already know, our two-year-old oven croaked about six weeks ago. We have spent the summer using the microwave, George Foreman grill, and our gas grill to cook.
I would be remiss if I didn't also admit we've run a few things over to my mom's house to bake. She was not at all happy about that. She's also vocal about her unhappiness, so we kept the oven borrowing to very limited occasions.
Prior to our broken oven, we had homemade pizza every Sunday night for dinner. It's our family's tradition, and I'm too uptight to deviate from our planned menu.
Every Sunday, I feel like we're committing adultery by eating the wrong food. I can't help myself.
A couple of weeks ago, Joe told me he'd read up on grilled pizza dough, and he was going to try it.
"Grill a pizza?!" I scoffed. "You can't do that." He was undeterred, and he tried it anyway. I'm so glad!
Joe's grilled pizza dough was awesome. The first time he grilled it, he had the grill a little too hot and left the pizza on a little too long, but the pizza was otherwise amazing. The second time, the grilled pizza was perfect.
I don't understand the difference between grilled pizza and baked pizza. If you understand it, please enlighten me. The crust was much lighter and airier than any pizza we've ever had. It was perfectly crisp on the outside, nicely browned and crunchy, and on the inside, it had the lightest and softest texture.
I can't gush enough about our grilled pizza crust. It was just delicious.
Joe used our old standard favorite pizza dough recipe. I've typed it out for you below.
If you're not sure what to put on your pizza, try one of these 24 unique pizza recipes.
How to make the perfect grilled pizza crust
In a small bowl, dissolve 1 teaspoon of sugar and the yeast packet in warm water. Let yeast stand for 15 to 20 minutes, until the mixture is frothy.
In a large bowl, combine the remaining sugar, flour, oil, salt, and the yeast mixture. Stir well, until the dough is thoroughly combined and beginning to stiffen. We use the dough hook and our big KitchenAid mixer for this step.
Cover the dough with a clean dish towel and allow it to rise for 30 minutes, until it has doubled in volume.
While the dough is rising, make sure the grates on your grill are very clean. Oil the grates by soaking a paper towel in olive oil and rubbing it on them. Alternately, you could brush the oil on the grates using a basting brush and a small dish of oil.
Preheat the grill on high. You want the grill to be so hot that you can't keep your hand over the grates for more than two seconds.
Also prepare the toppings while the dough rises. You won't want to lose any time prepping ingredients while you're trying to count minutes later.
Dump the dough onto a well floured pizza stone. Roll it into your preferred shape (rectangle or circle) and put the pizza only (NOT the pizza stone - it may break at this high temperature) on the now very hot grill grates. Wait one minute and then check to make sure that the crust is browning. Wait one more minute and remove the pizza to a heat safe surface like a pizza board and close the grill lid.
Turn the grill down to medium.
Brush the cooked side of the pizza with olive oil. Cover the pizza with a little sauce (less than you would normally use), toppings, and cheese.
Grill pizza for another 2 to 3 minutes, until the bottom is browned and the cheese is melted.
Recipe