Grilled zucchini is a simple, quick, & easy side dish with the spice of fresh garlic and the sweetness of zucchini or yellow squash that is cooked to perfection on the grill.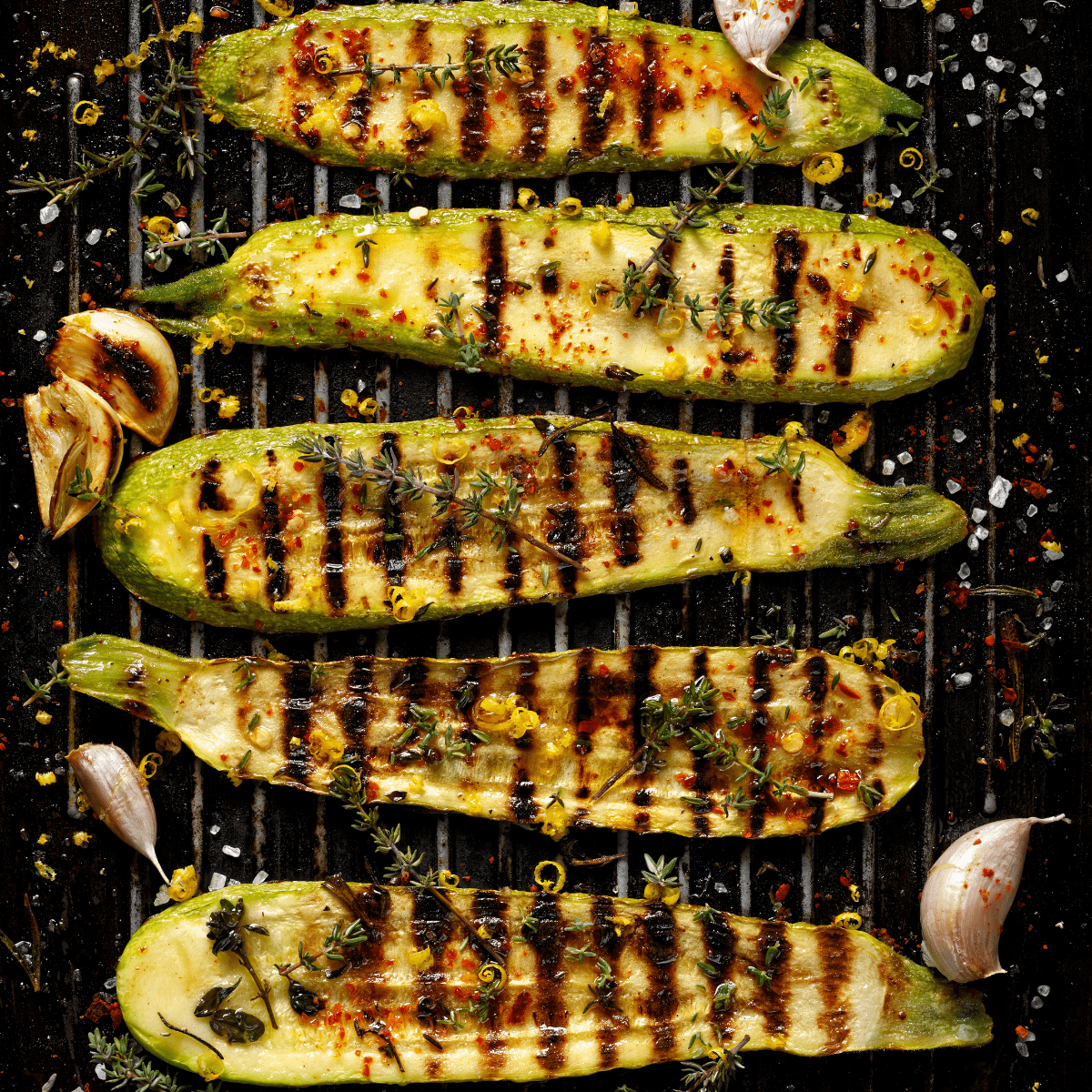 Joe and I bought our gas grill the day we created our wedding registry. It was early spring, and the grills had just come out and were on sale.
We knew we should wait for my bridal shower, but we just couldn't be patient. We had visions of burgers and hot dogs and grilled zucchini and chicken breasts. We wanted to enjoy grilled food out on our deck as soon as the weather warmed up.
These days, we primarily grill hamburgers, chili burgers, hot dogs, chicken breasts, and veggies.
Oh, and kielbasa. I can't forget kielbasa; Joe's dad has worked at a world famous kielbasa shop on and off throughout his retirement. We grill a lot of kielbasa (which is pronounced kuh-BOSS-ee by the way).
My mom grills all kinds of adventurous things - pineapple, peaches, corn, and stuff I'd never even think to put on the grill.
Who am I kidding? The only thing I've ever grilled was a pan full of pony beads for a craft.
I leave the food grilling to Joe 100% of the time.
Anyway, I love cookouts when everyone comes over and sits on the porch while Joe cooks yummy food over propane flames. It doesn't really matter to me who's doing the cooking or hosting the shindig, but cookouts are a good time all summer long.
When I was a little kid, living in a trailer in the boonies, my family had cookouts at Old Grandma's or at one of my uncles' houses. Endless food was grilled in half of a 55-gallon metal drum with grates across the top. A buffet of potato salad and macaroni salad and olives was set up on red wooden picnic tables, while other tables were set up across the front yard. We played horseshoes and lawn darts (the horrors!) and badminton and the kids ran around like nuts while the adults sat and visited in the sunshine.
Oh, to do that again. Maybe it wasn't as amazing as I remember; I was only little. But still, I remember it fondly.
The thought of another one of those cookouts makes me a little teary-eyed. It would be wonderful. We've all grown up and spread out across the state and country, and so many of the relatives have passed away, including my mom and one of her brothers.
When we cook out at our house, Joe usually makes grilled veggies - his favorites are grilled zucchini and squash from his garden - and some kind of meat, but we've also made grilled pizza that turned out really well.
Here are a few recipes to pair with grilled zucchini:
Recipe