Zesty island spices give this easy Jamaican jerk chicken lots of bold flavor. These grilled chicken skewers are topped with simple yet flavorful cilantro lime ranch dressing and cooked to perfection on a traditional grill, in a grill pan on the stove, or in the oven.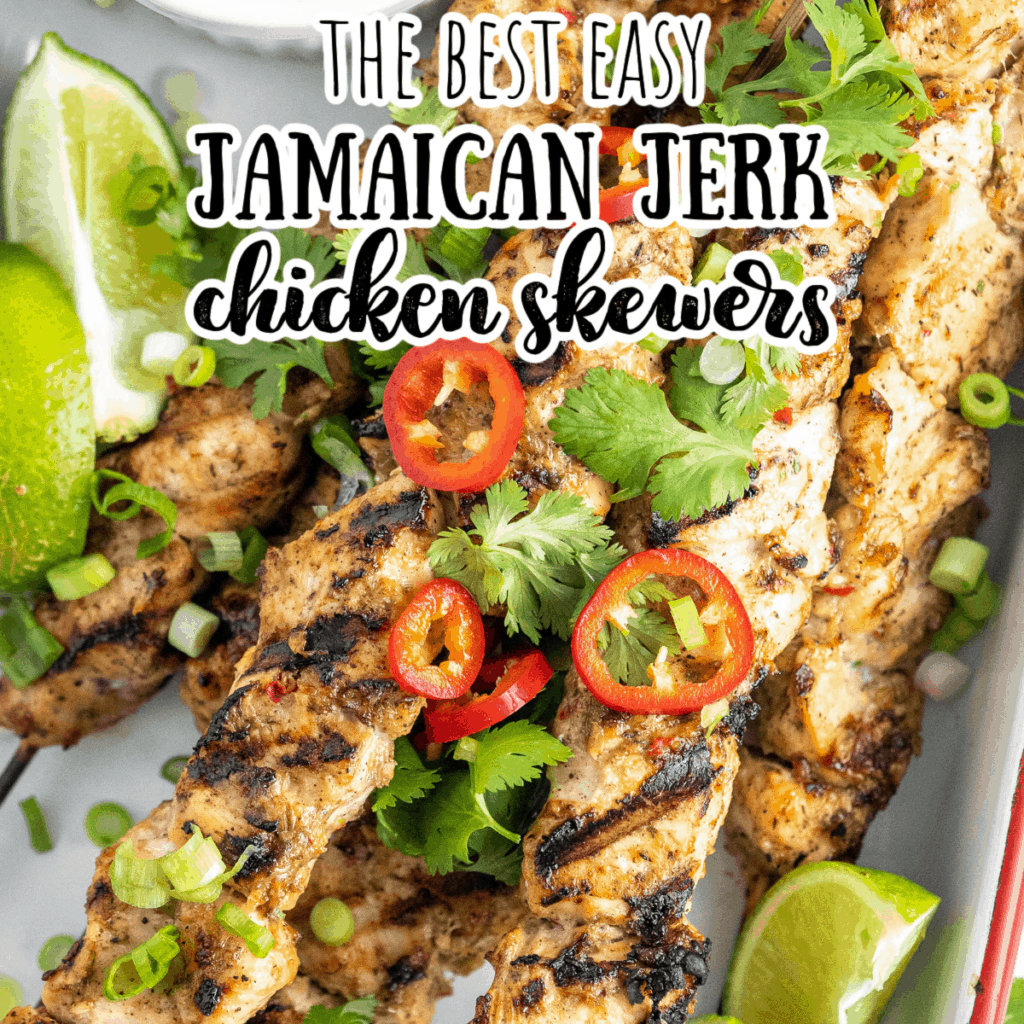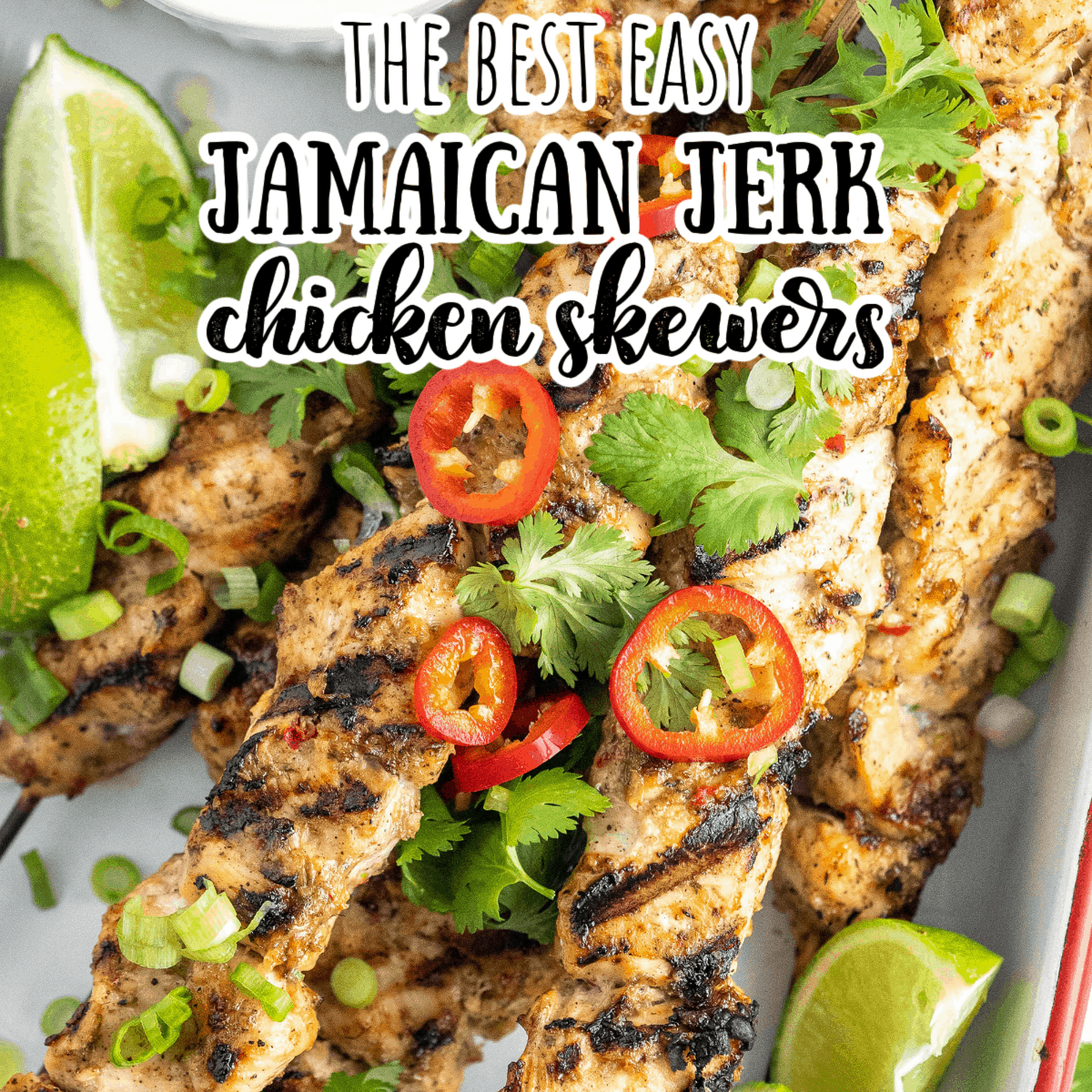 What is jerk chicken?
Jerk chicken is a Caribbean dish featuring chicken marinated in jerk sauce. The term "jerk" comes from "jerky" which is a type of dried meat that goes back hundreds of years as it was a means of preserving cuts of meat before refrigeration was a thing.
Jerk marinade started out as an extremely spicy dry rub that featured scotch bonnet peppers (those are the hottest peppers in the world) and allspice, along with sugar to add sweetness. The rub was applied to meat, allowed to sit overnight, and then the meat was grilled over an open flame the next day. It would form a hard crust on the outside, and the meat was very hot and spicy.
Today's jerk marinade includes those components and adds scallions, garlic, ginger, lime juice, thyme, and nutmeg for a more robust flavor profile. A lot of home cooks, especially those of Jamaican origin, develop their own version of the jerk marinade based on the ingredients they have and enjoy.
With the wet marinade, the meat is soaked overnight and then grilled over an open flame. This results in a more tender and juicy meat with a bit more sweetness than the dry rub allows. It's still hot and spicy, but there is a sweet note as well.
Although the preferred method of cooking jerk chicken (or pork or beef) is still a grill with an open flame, you can get good results with a grill pan on the stove, an electric grill/griddle, or by roasting it in the oven.
What you'll need to make Jamaican jerk chicken kabobs
Equipment
This chicken require a marinade that is prepared in a food processor or blender. The food processor works a lot better because it doesn't puree quite as quickly.
You'll also need 6 disposable bamboo or reusable metal skewers to grill the chicken.
Ingredients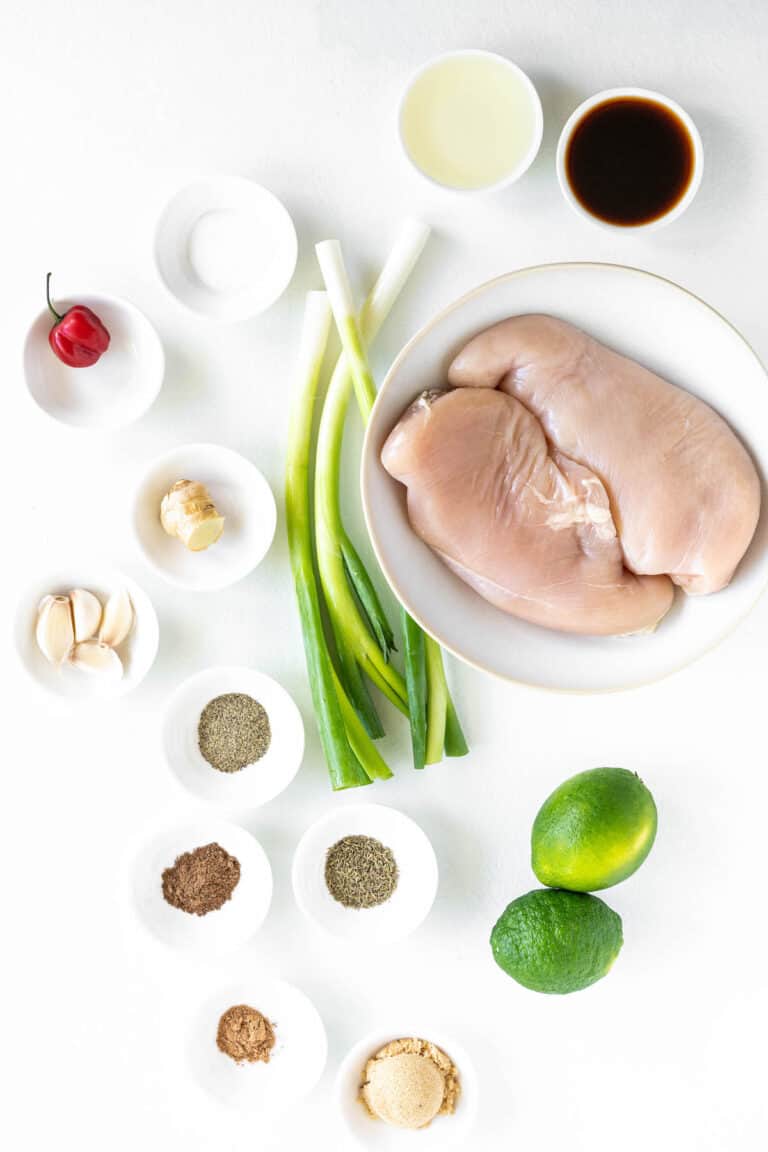 Everything except the chicken goes into the marinade which you will pulse in the food processor.
3 scallions, ends trimmed and cut into pieces
4 cloves garlic, peeled or pressed - I prefer to always press my garlic as it releases the oils which make garlic taste so good. But if you don't have a garlic press, you could just peel the cloves and toss them into the food processor whole.
1 small hot pepper, preferred scotch bonnet or habanero, stem and seeds removed - This pepper adds heat to the marinade, but when you remove the stem, seeds, and membranes from the inside of the pepper, you reduce the heat some. If you prefer not to have the heat at all, leave the pepper out all together. It won't be authentic jerk, but it will still be really tasty.
1 inch fresh ginger, peeled and sliced - You don't have to be perfect about the slices as they will be going into the food processor.
3 tbsp lime juice, freshly squeezed - For the love of all that is holy, please buy 2-3 limes and squeeze your own juice. That "juice" you can buy in a bottle is an abomination and will not make your marinade taste good.
2 tbsp soy sauce or tamari sauce - This adds a salty note to the marinade.
2 tbsp vegetable oil
1½ tbsp brown sugar, lightly packed - This adds sweetness to the marinade, and it is a pretty small amount so please don't skip it.
½ tbsp fresh thyme minced, or ½ teaspoon dried thyme
¾ tsp salt
½ tsp black pepper
½ tsp ground allspice
¼ tsp ground nutmeg
1½ pounds boneless skinless chicken breast, trimmed of fat and cut into ¾-inch cubes
If you are really short on time, you could buy a jerk seasoning blend, but be aware that it will be very hot and spicy, and you won't be able to customize it to your personal preference. All that said, it's an option.
How to make jerk chicken kabobs
INSTRUCTIONS
Measure out ½ cup of marinade and put it in the fridge in an airtight container for cooking later. Add the scallion, garlic, hot pepper, ginger, lime juice, soy sauce, vegetable oil, brown sugar, thyme, salt, black pepper, allspice, and nutmeg to the bowl of a food processor.

Pulse a few times to chop everything up a bit, and then process until it turns into a chunky sauce with a consistency similar to runny salsa.

Measure out ½ cup of marinade and put it in the fridge in an airtight container for cooking later. Add the chicken and remaining sauce to a large bowl and toss well to coat. Cover the bowl with plastic wrap and refrigerate at least 2 hours or up to 24 hours.

20 minutes before you want to cook the chicken, soak 6 wooden skewers in water (to help prevent them from catching on fire). Preheat grill to medium-high.
Spray the skewers with cooking spray, then thread the chicken onto them.

Grill the chicken until the meat is fully cooked, about 5 to 7 minutes per side, brushing with the reserved marinade if they look dry. When the chicken is done, there should be no pink in the center, and it should reach an internal temperature of 165F.

Serve the chicken kabobs topped with any garnishes you like, along with Creamy Cilantro Lime Ranch for dipping.
Alternate cooking methods
As I said above, jerk chicken is intended to be cooked over an open fire. However, if you don't have a grill or don't want to fuss with it, you can easily make these skewers in a grill pan or in the oven.
Grill pan - Heat the pan over medium-high heat until a drop of oil sizzles in the pan. Spray the pan with cooking spray and place the kabobs in the pan in a single layer. Cook for about 5 minutes per side or until the internal temperature of the largest pieces is 165º.
Oven - Preheat the oven to 450º. Line a sheet pan with aluminum foil (for easier cleanup later), and spray the foil with cooking spray. Cook the kabobs for 10-15 minutes, flipping once halfway through, or until the internal temperature of the largest pieces is 165º. If you want them really nice and charred on the outside, put them under the broiler for 1 minute, but not longer or they will burn.
Cooking tips for grilled Jamaican jerk chicken
If you're using the grill, be sure to spray the grates with cooking spray before starting. If you don't the chicken will probably stick to the grates. The cooking spray will also make clean up easier later.
If you are going to use reusable metal skewers, try to find square, flat, or swirly ones. The meat will spin on the round ones because they're so slippery.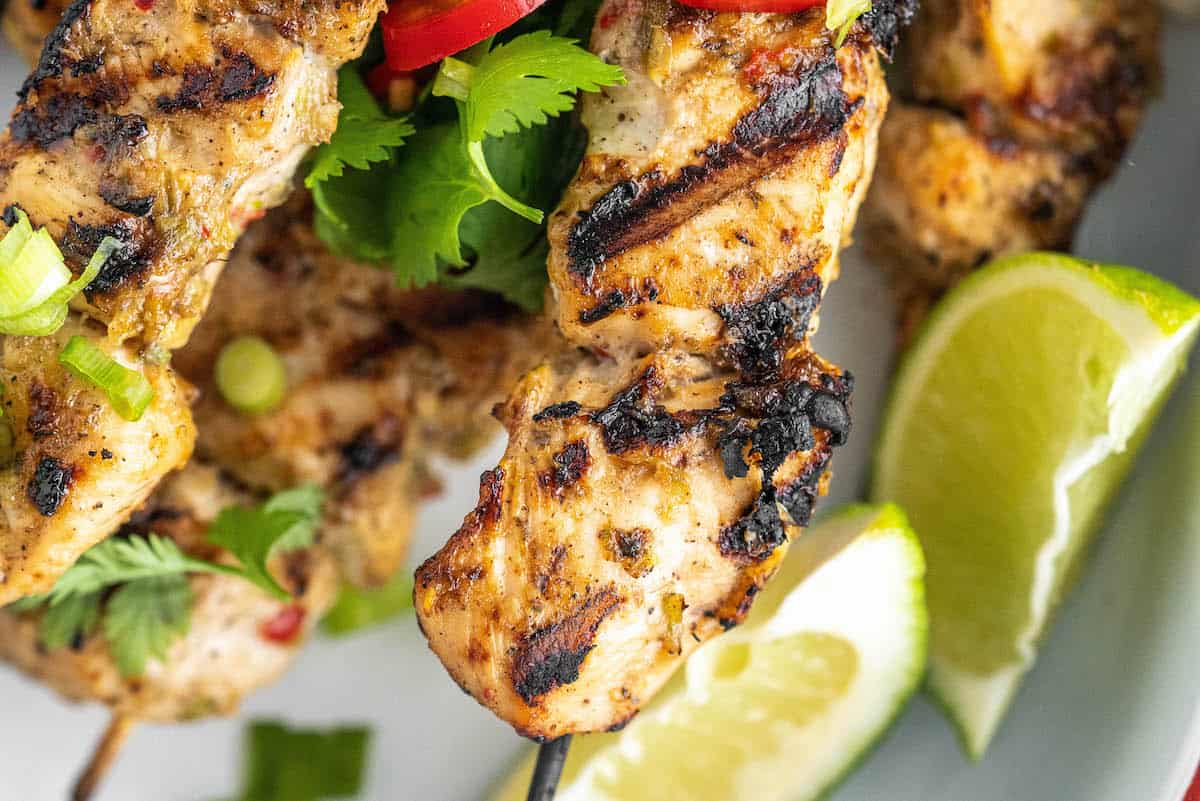 Variations on grilled jerk chicken
Add fruits and veggies - If you wanted to stick with the skewer theme, wouldn't it be amazing to add some chunks of fresh pineapple and maybe some chunks of red onion and red bell pepper to the skewers, in between the chicken chunks?
If you do use fruits and/or veggies, be sure to cut them larger than the meat. The meat will cook more slowly, and if the fruits and veggies are too small, they will burn long before the meat will be ready. If you go this route, you may want to cut your meat cubes smaller than I suggest in the recipe.
Use different chicken for the kabobs - I tend to use boneless skinless chicken breasts for almost everything, but chicken thighs are more authentic and will be more moist as well. The reason I didn't use them in this recipe is that I think they are a hassle to cut and use, so I don't.
Don't do kabobs at all - If you don't care about the kabob part, you could use this same marinade on chicken wings or legs, whole breasts or thighs, or even a whole chicken. Simply marinate the same way and adjust the cooking time according to the pieces you are using.
Change out the protein - Jerk chicken is the thing obviously, but I think the marinade would work equally well with turkey, pork, or even beef. My mouth is watering thinking about using this marinade with some nice pork. So good. Obviously, you would have to change the cooking time depending on what kind of meat you use and pay attention to the internal temperature required.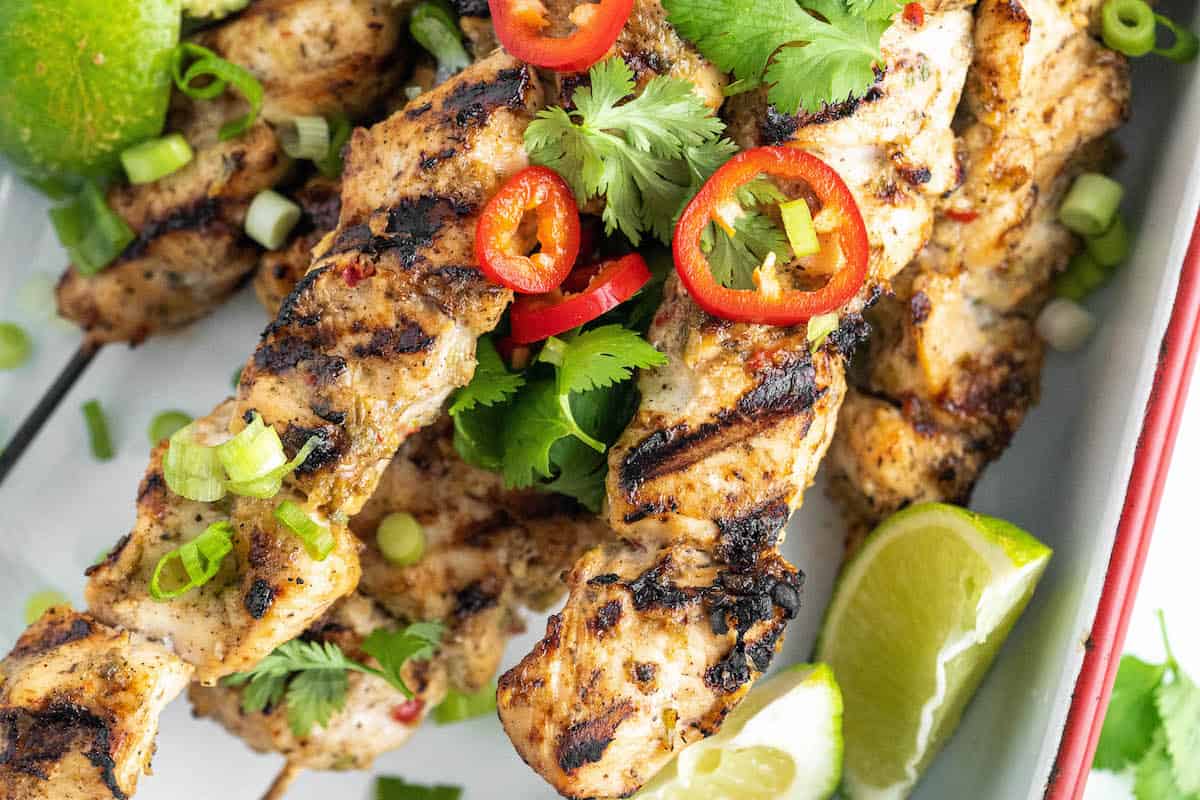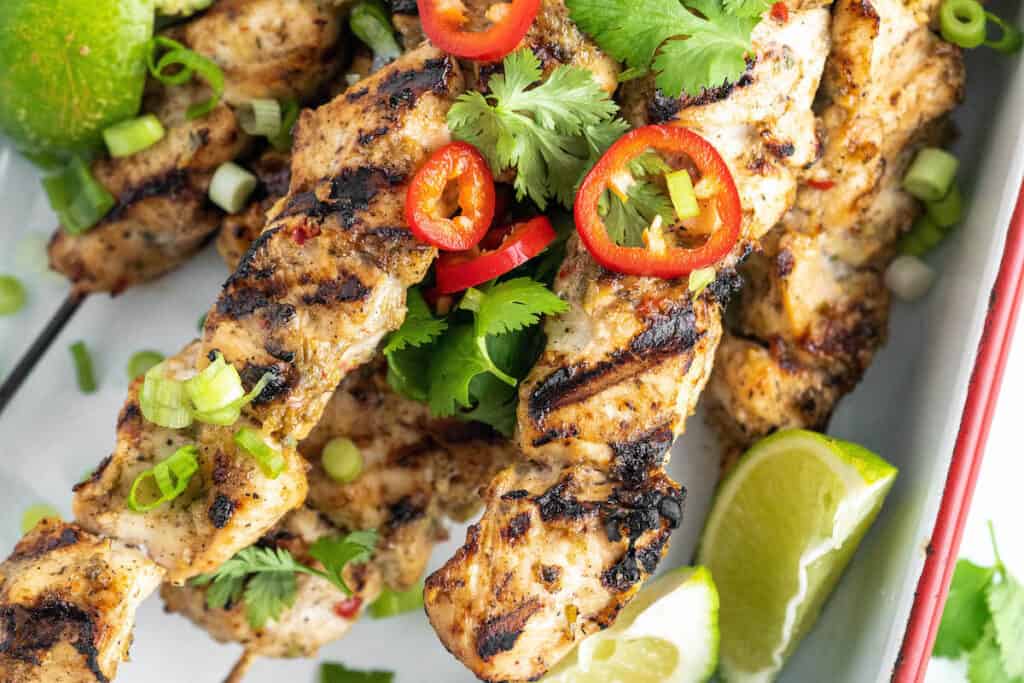 What to serve with Jamaican jerk grilled chicken
Because this chicken is a little on the spicy side, I like to cool it off by dipping in this creamy cilantro lime ranch dressing.
As for side dishes, I think this goes really well with oven roasted sweet potato fries because they're both finger foods. Or go for a cold salad like broccoli salad (creamy or mayo-free), BLT salad, or macaroni salad.
Storing jerk chicken
As I mentioned in the recipe, you can marinate these kabobs as long as 24 hours.
After cooking, the kabobs taste the best right off the grill, so I wouldn't recommend storing them for leftovers.
However, if you do have leftovers, I would recommend removing the meat from the stick and storing it in an airtight container in the refrigerator for up to 4 days. To serve the leftovers, preheat the oven to 250º, spray a sheet pan with cooking spray, and heat the chicken in a single layer for 15 minutes. You could microwave them I guess, but the oven will make them taste more like they did when they were fresh.
Try these other low carb recipes while you're here:
Recipe