These quick and easy sausage egg muffins are gluten free, low carb, and keto. Perfect healthy make ahead meal for for breakfast on the go!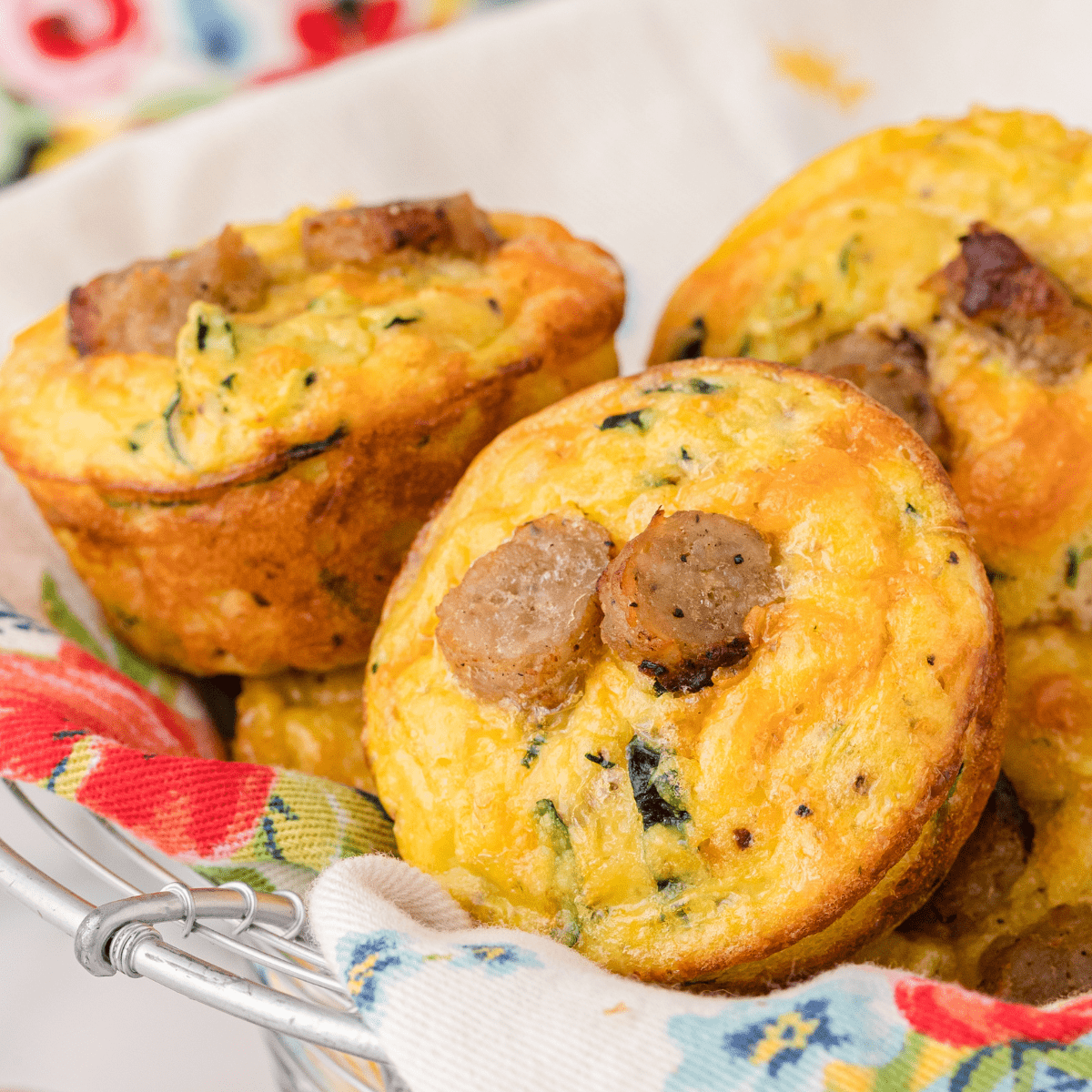 One of the things I have consistently eaten since my bariatric surgery in April 2017 is egg muffins. We've made sausage egg muffins, ham egg muffins, and bacon egg muffins. They're always delicious, and they are super simple to put together in a muffin tin.
At first, after my surgery, I could only eat one mini egg muffin and that was it. Now, I usually eat two or three minis or one larger muffin along with some veggies, and it's a perfect high protein meal for any meal or even a snack.
The thing I love most about egg muffins is that they're quick and easy - both to make and to eat. They make a great on-the-go meal for rushed mornings or for packed lunches or for times when I want to avoid the fast food meal that the rest of my family is planning to eat. I have some little Tupperware soup bowls that allow me to take my egg muffins on the road in a really easy container, and I take them everywhere.
The recipe below calls for cheddar cheese. You wouldn't have to put cheddar cheese in these muffins, but its addition makes the finished muffins a lot richer and more flavorful than the muffins without the cheese. It's up to you; the recipe will work just as well without as with.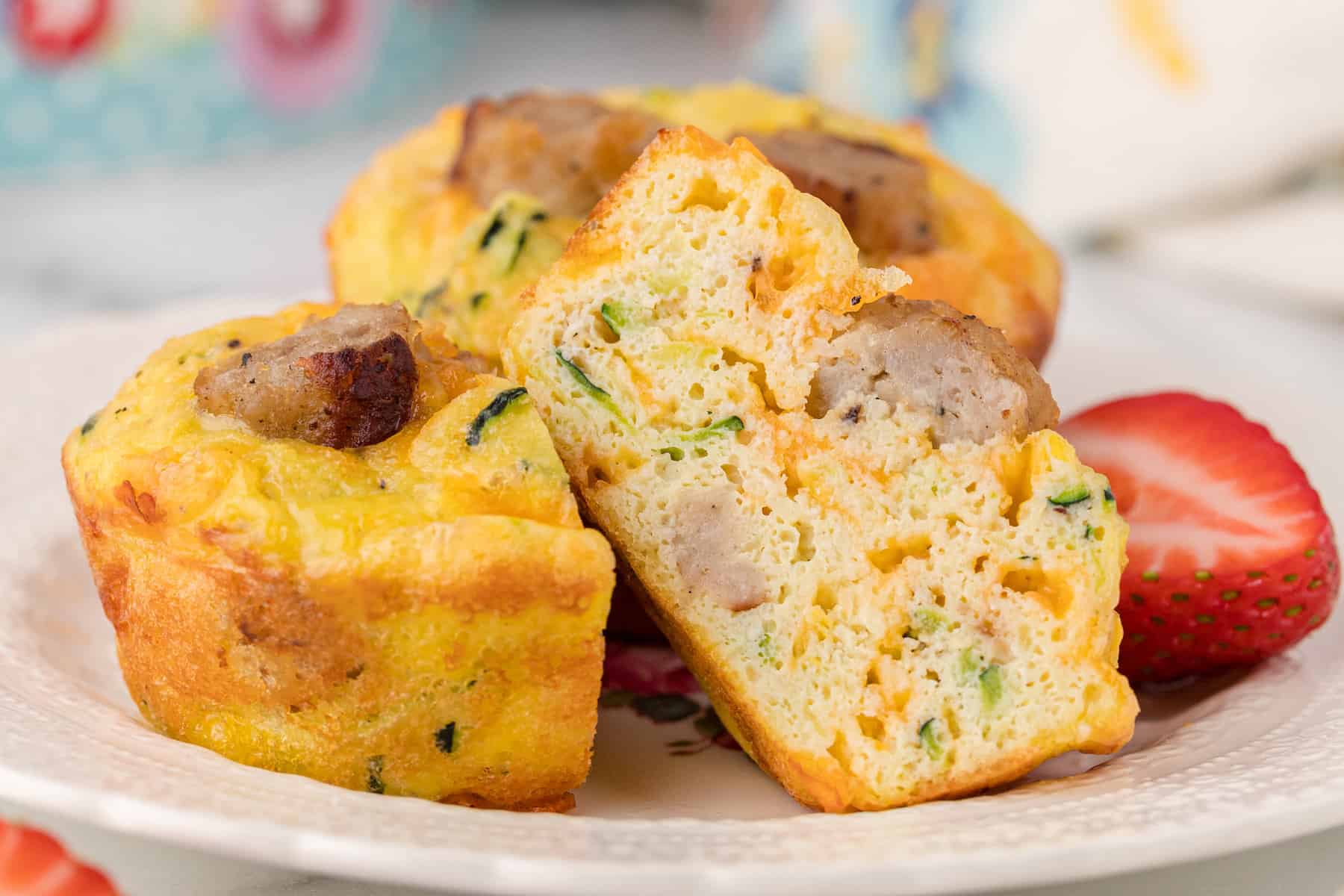 What are sausage muffins?
These breakfast muffins with sausage and eggs are hand-held little omelets that are high in protein and low in carbs. They're loaded with sausage, eggs, zucchini, and cheese.
What you'll need to make the best sausage egg muffins
EQUIPMENT
This recipe uses fresh garlic, so you will need a garlic press or a sharp knife. A garlic press is nice because it minces the garlic into microscopic pieces that disperse through the food more easily. If you cut the clove with a sharp knife, your pieces of garlic will be larger, and someone will probably end up with a bite full of garlic.
Being that this is a sausage egg muffin recipe, you will need a muffin tin. It would be next to impossible to make egg muffins without one.
I also recommend that you have a 2-3 tablespoon scoop as that will make it much easier to fill the wells of the muffin tin evenly. 3 tablespoons is slightly less than a ¼ cup, so if you can't get a scoop, you could use a ¼ cup measuring cup and just don't fill it the whole way.
INGREDIENTS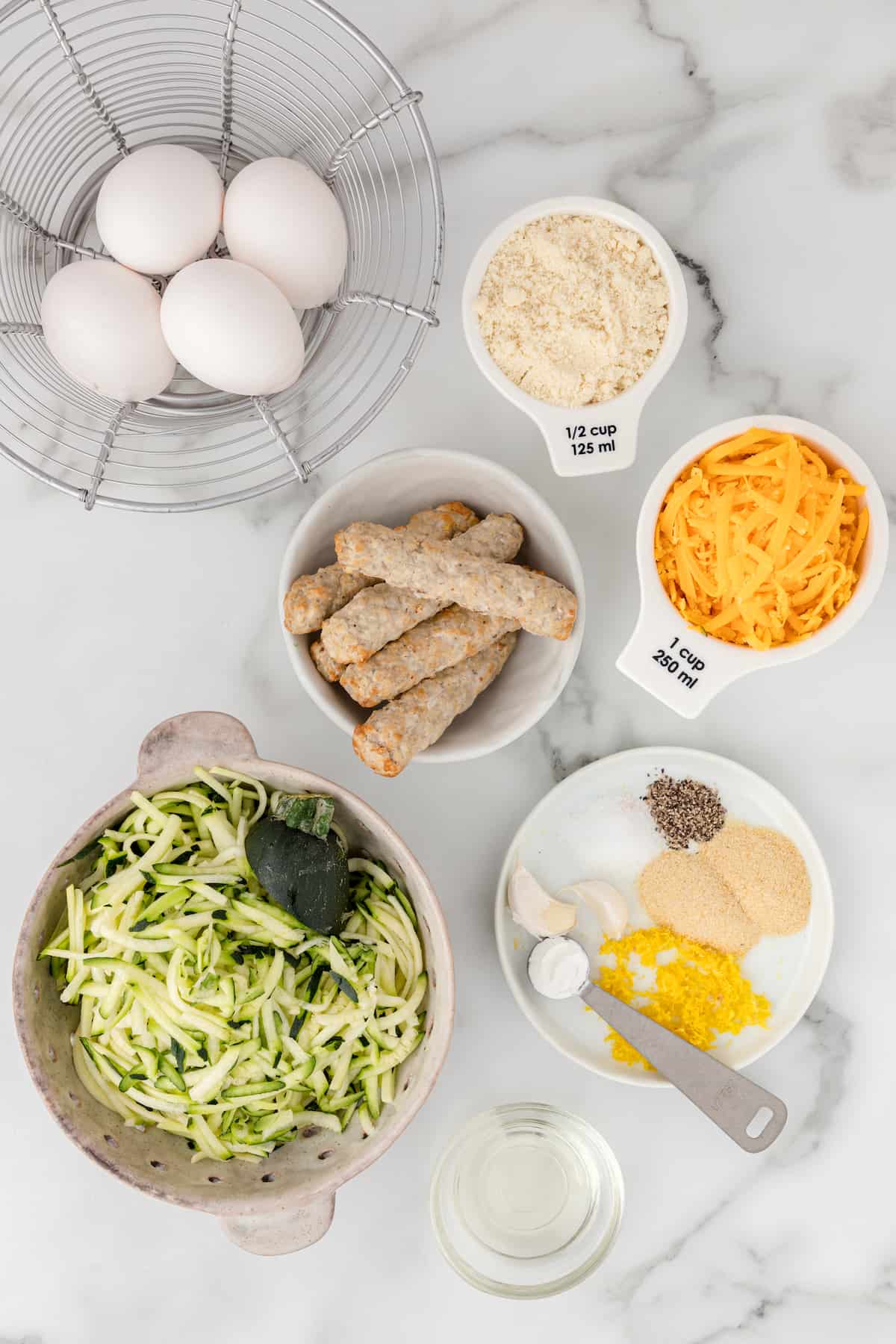 See the printable recipe card at the bottom of the page for measurements and nutritional details.
Olive oil - This is to grease the muffin tin. I prefer not to use cooking spray on my muffin pans because it makes the pan in between the wells sticky, and that goo is hard to get off. But if you want to use spray, you can.
Zucchini - I like putting some veggies into these muffins, but if you don't like zucchini or want to skip it, you can. Or you can substitute chopped spinach, broccoli, cauliflower, carrots, mushrooms, bell pepper, or another veggie. Your muffins will be smaller if you leave the veggies out altogether. Also, your veggies will be mostly raw even after you cook the muffins, so if you want your carrots to be soft, you'll need to pre-cook them.
Salt - You'll use a pinch of salt to "sweat" the zucchini. This means to pull some of the water out. Salt absorbs water, and sprinkling the zucchini with a bit of salt and then allowing it to sit removes the excess moisture and prevents your muffins from being soggy.
Sausage - I recommend gluten-free chicken or pork sausage, but you can also use turkey sausage or whatever sausage you like. The muffins are going to taste a lot like the sausage you choose.
Eggs - Egg muffins, right? You need eggs.
Shredded cheddar cheese - I use shredded cheddar because I like it, but you could also use shredded pepper jack, fiesta blend, or whatever cheese you want.
Salt - I know this is listed twice. This time, you're putting a little bit of salt into the eggs to make them taste better.
Lemon zest - This is 100% optional. I try to have a fresh lemon on hand, but if I don't, I don't worry about running to the store to buy one just for this recipe. It adds something nice and fresh, but the muffins are still good without it.
Onion powder - Alternately, you could sauté up ¼ of an onion in some butter and use that. Now that I'm thinking about it, that would be really really good. I think I'm going to try that next time I make these.
Fresh garlic - Fresh garlic is amazing. You can substitute garlic powder if you have to, but you'll miss out on some of the flavor.
Black pepper
Almond meal - This binds the egg and makes it hold its shape a bit better than it would without. If you have a nut allergy, you can use all purpose flour.
Baking powder - This makes the muffins puff up a bit.
Cayenne pepper or crushed red pepper flakes - I don't use these myself, but I've had readers ask how to make the egg muffins a little spicier. You can add a pinch of cayenne or crushed red pepper flakes to your egg mixture to give the muffins an extra bite of heat. Or add a few dashes of Frank's RedHot or something similar.
How to Make Sausage Egg Cups with Zucchini
Preheat the oven to 345º.
Prepare the muffin pan. Brush the bottoms and sides of a muffin pan with olive oil. Set aside.

Prepare the zucchini. Grate the zucchini into a bowl and sprinkle with a little salt. Mix and set aside for at least 5 minutes, until the water has started to come out.
Prepare the sausage. Heat a tablespoon of olive oil in a large skillet and add the sausages. Cook for 6-7 minutes, over medium-high heat, turning over a few times, until they are browned and cooked through.

Transfer to a cutting board and chop into small pieces.

Prepare the batter. Using your hands, scoop up batches of zucchini and squeeze the juice out. Don't squeeze it so much that you mash it, but remove as much of the fluid as you can.

Add the zucchini flesh (drain the fluid - don't use it) to a mixing bowl. Add the rest of the muffin ingredients, including MOST (but not all) of the chopped sausage to the same bowl. There is no need to whisk the eggs separately because they'll get mixed up when you stir the ingredients together.

Mix thoroughly.

Bake the muffins. Divide the egg mixture between the muffin cups - about 2 tablespoons each - making sure the sausage gets distributed evenly.

Add 2 pieces of sausage to the top of each muffin.

Bake for 22 minutes or until the egg is set.

Do these sausage egg muffins need cupcake liners?
I do not recommend using cupcake liners with these muffins. You could use reusable silicone liners if you felt liners were necessary, but paper liners will stick to the egg and make a big mess.
Storing leftover egg and sausage muffins
These egg muffins are easy to store. You can keep them in an airtight container or zippered plastic bag in the refrigerator for up to 3-5 days.
You can also freeze the muffins. To do that, place room temperature muffins on a cookie sheet in the freezer for 2 hours. Then transfer to a plastic freezer bag and store in the freezer up to 3 months.
To reheat muffins, pop them in the microwave for 30 seconds (fridge) or 1 minute (frozen), or until hot, depending on the wattage of your microwave.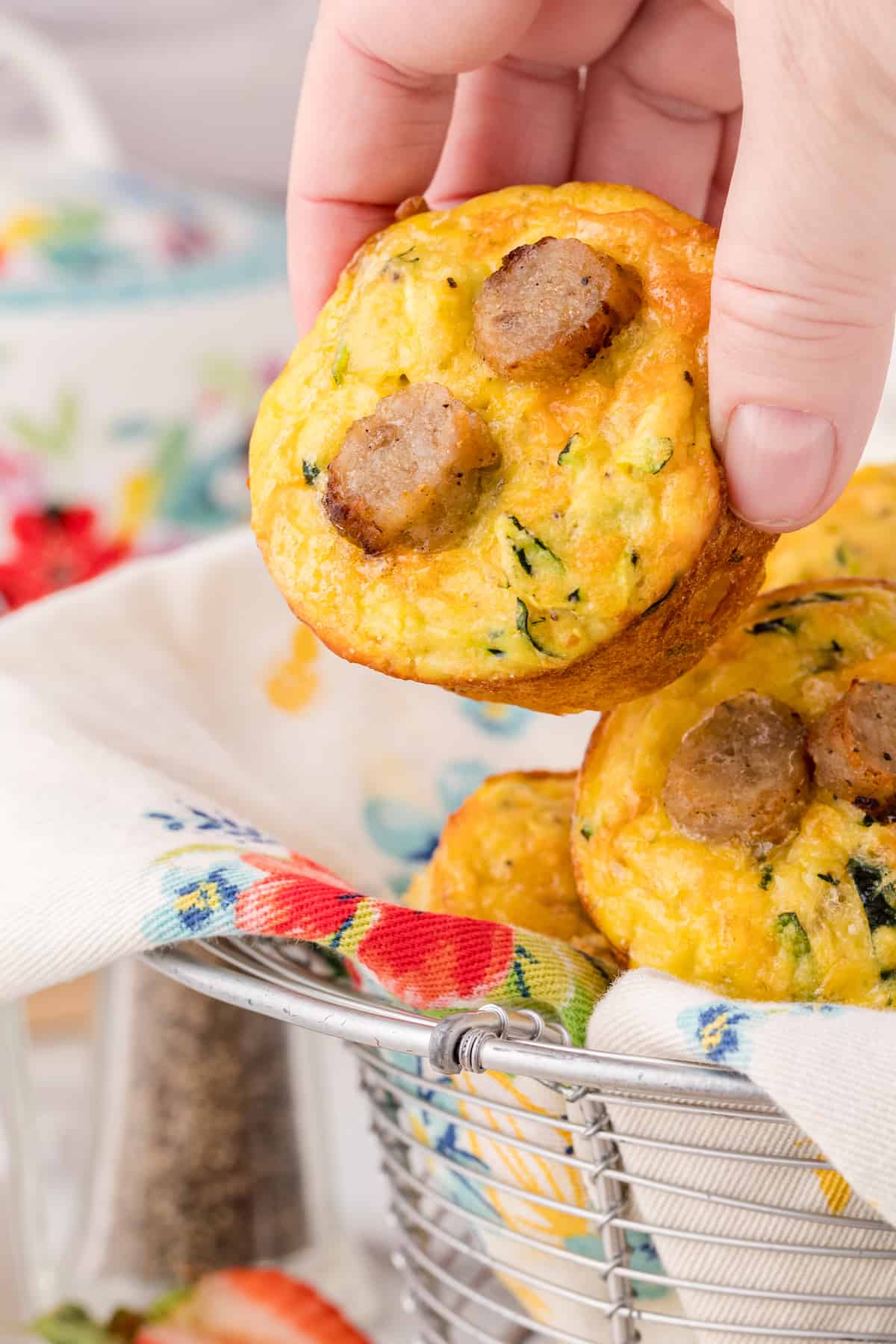 Check out these other easy breakfast recipes while you're here:
Try these other low carb recipes while you're here:
Recipe