How to make the best frittata or oven omelet with tips and tricks. Frittata is quick and easy to make, make ahead friendly, versatile and restaurant delicious. Also included - my favorite frittata recipe with onions, green chiles, and lots of cheese.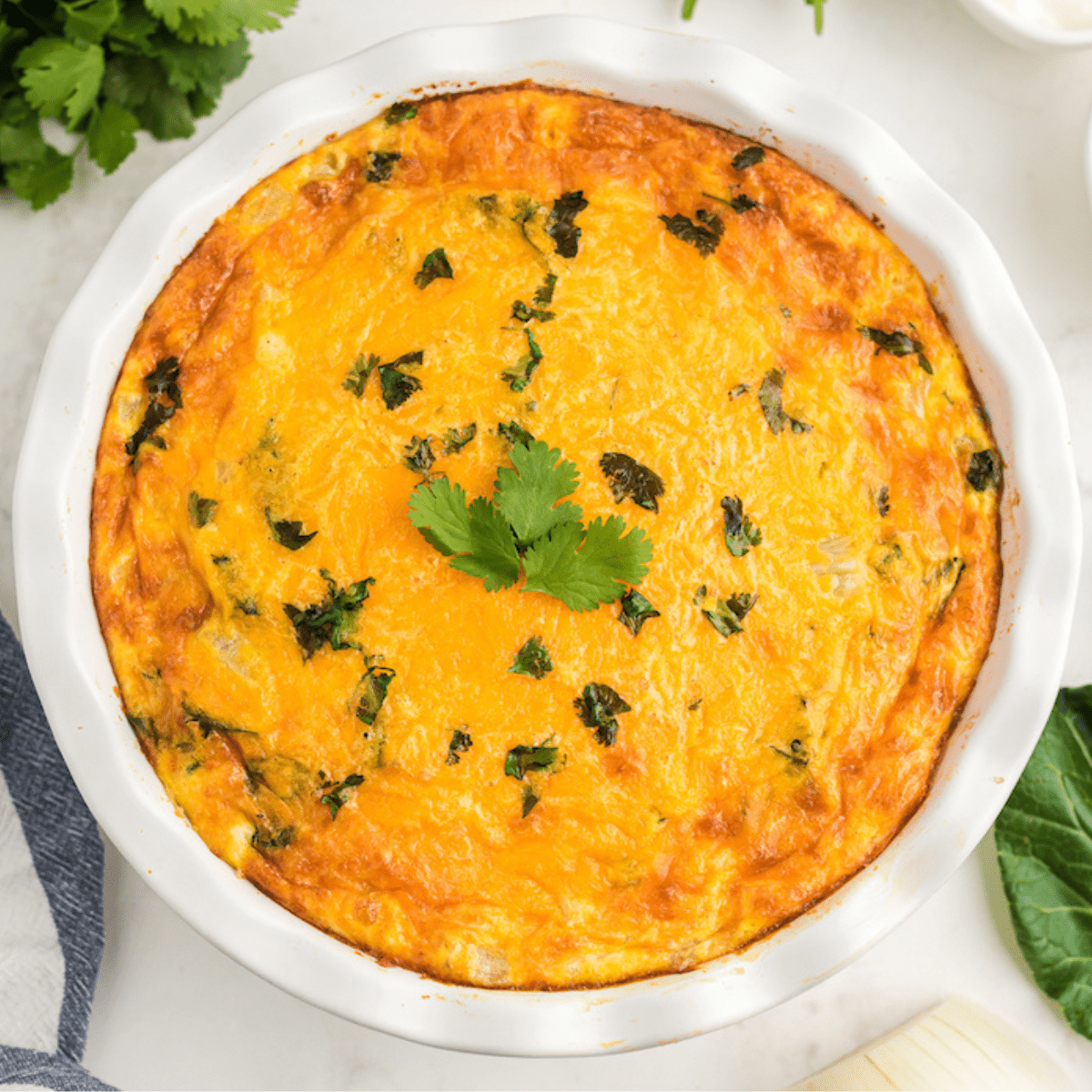 I have always eaten a lot of eggs. Starting when I was a little girl, my sister and I would walk to Old Grandma's house (just down the dirt road a stretch or over the hill and across the field) and eat 2 fried eggs - yolks broken and hard - for breakfast with Grandpa.
Later, I ate fried eggs in a restaurant when my dad took my little sister and I for breakfast.
Then, when I became a vegetarian in college, I ate a whole lot of eggs as they were a reliable source of protein.
When I moved out on my own, decent eggs were one of the few things I could cook, and I was still a vegetarian for a number of years after that, so eggs were often on the menu.
Anyway, I have a long standing love affair with eggs. (Someone from some Egg Council somewhere should be sponsoring this post; alas, they are not.)
Many, many moons ago, I had an old Pampered Chef recipe that used sautéed onions and green chiles to make the spicy filling for an oven omelette, otherwise known as a frittata, and I loved that recipe, right up until I lost it.
The only things I can remember from that old recipe are onions, green chiles, and eggs, so I threw those things together with some cheeses and thickeners to make this oven omelette that I simply love to eat.
When I haven't had too many calories for the day, I will eat 1 ½ pieces of this for supper. If I am on the border, I'll eat just one piece and pair it with some roasted veggies which is probably the healthier way to do it regardless.
How to make the best cheese frittata
Preheat the oven to 325º.
Prepare the filling. The first step in this recipe is to cook the onions and green chile peppers. Melt a tablespoon of butter in a small skillet and sauté the onions and peppers. You can to cook them until the onions are transparent and fragrant. They will take on the flavor of the peppers which is really nice in the finished frittata.
Prepare the egg mixture. Beat 16 eggs in a very large bowl until they are evenly yellow. Then add the flour, baking powder, salt, and pepper and whisk until smooth.
Mix it all together. Fold the onion filling, cottage cheese, and cheddar cheese into the egg mixture and stir until it's all evenly distributed.
Prepare the baking dish. Spritz a 9x13 pan with cooking spray and pour the egg mixture in.
Bake at 325 for 45 minutes. When the frittata is done, the edges will be puffed and set but the center will still be a little jiggly. DO NOT OVERBAKE - for a moist cheesy texture, remove the frittata from the oven while it's still slightly undercooked. It will continue to cook as it cools, and you don't want gummy eggs which you will have if you overcook it.
Cool the frittata. Allow the frittata to cool in the pan for 10 minutes or so, and then cut and serve. My husband likes this topped with salsa and sour cream, but I prefer it without toppings.
Check out these other brunch recipes while you're here:
Recipe