This cheesy chicken hashbrown casserole is creamy and gluten-free and can be a breakfast, brunch, lunch, or dinner recipe because it is so versatile and delicious. The addition of shredded chicken or diced ham makes it a full meal all by itself, though you could also add a small salad as a side dish. Your guests are going to love it as much as my family did!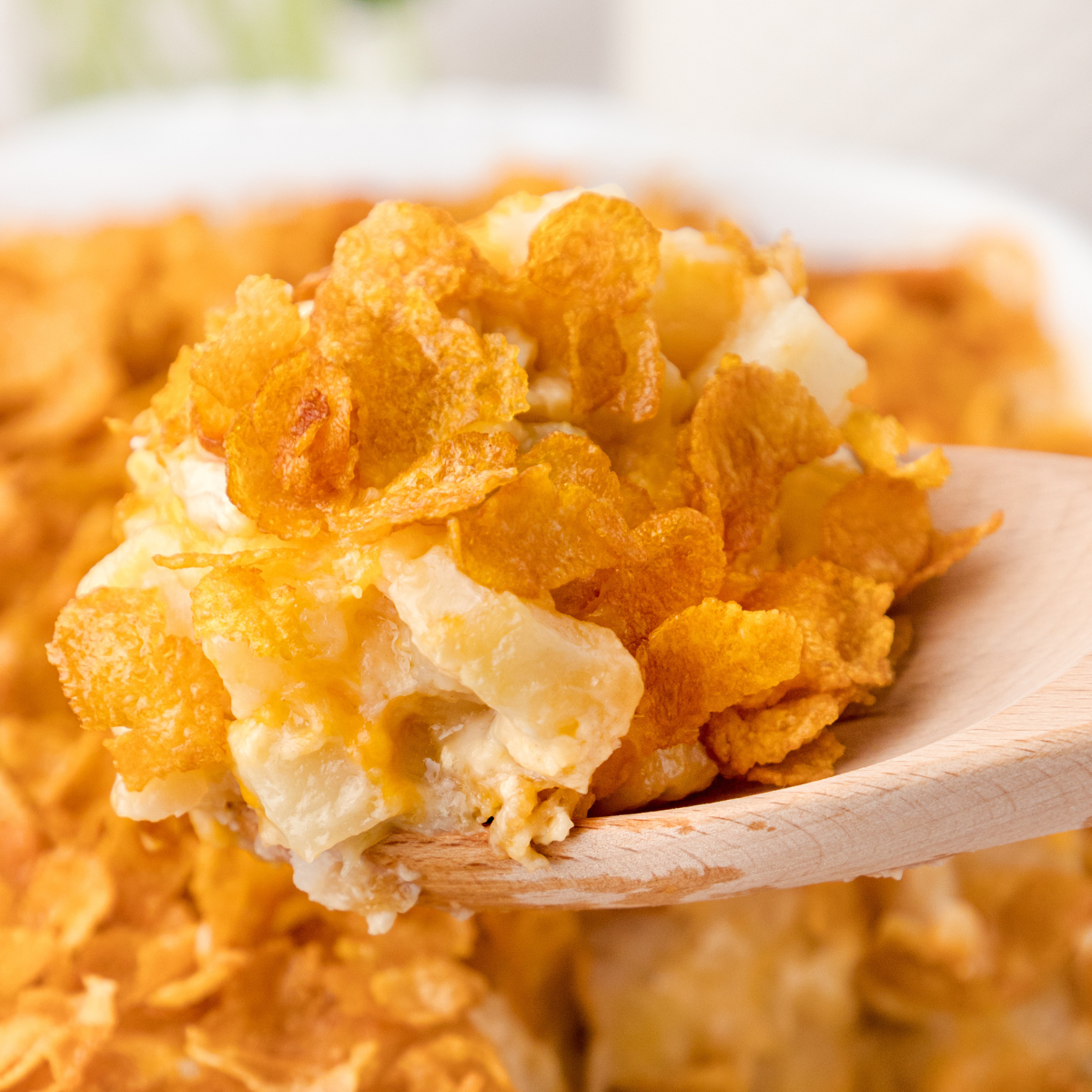 We made this casserole for dinner last week, and it was very fine. I ate the leftovers for every meal until they were gone. It really was that good.
Cheese, potatoes, crunchy. How can you go wrong?
You can't.
Why this is the best cheesy hash brown chicken casserole
This is the best of the easy casseroles because it is made from simple pantry staples and comes together in about five minutes, and then you bake.
This cheesy chicken hash brown casserole can be a breakfast, brunch, lunch, or dinner recipe because it is so versatile and delicious. It is a full meal in one dish, and it's awesome for potlucks. Your friends are going to love it!
The flavor of this meal is similar to the Cracker Barrel hash brown casserole that so many of us love. It's rich and creamy and cheesy, and the crunchy topping (that isn't on the Cracker Barrel version but I added) gives it a nice texture.
If you have leftover rotisserie chicken breast or BBQ chicken, this easy casserole recipe is a great way to use it up. The tender chicken will blend with the rest of the ingredients to make a creamy but hearty meal.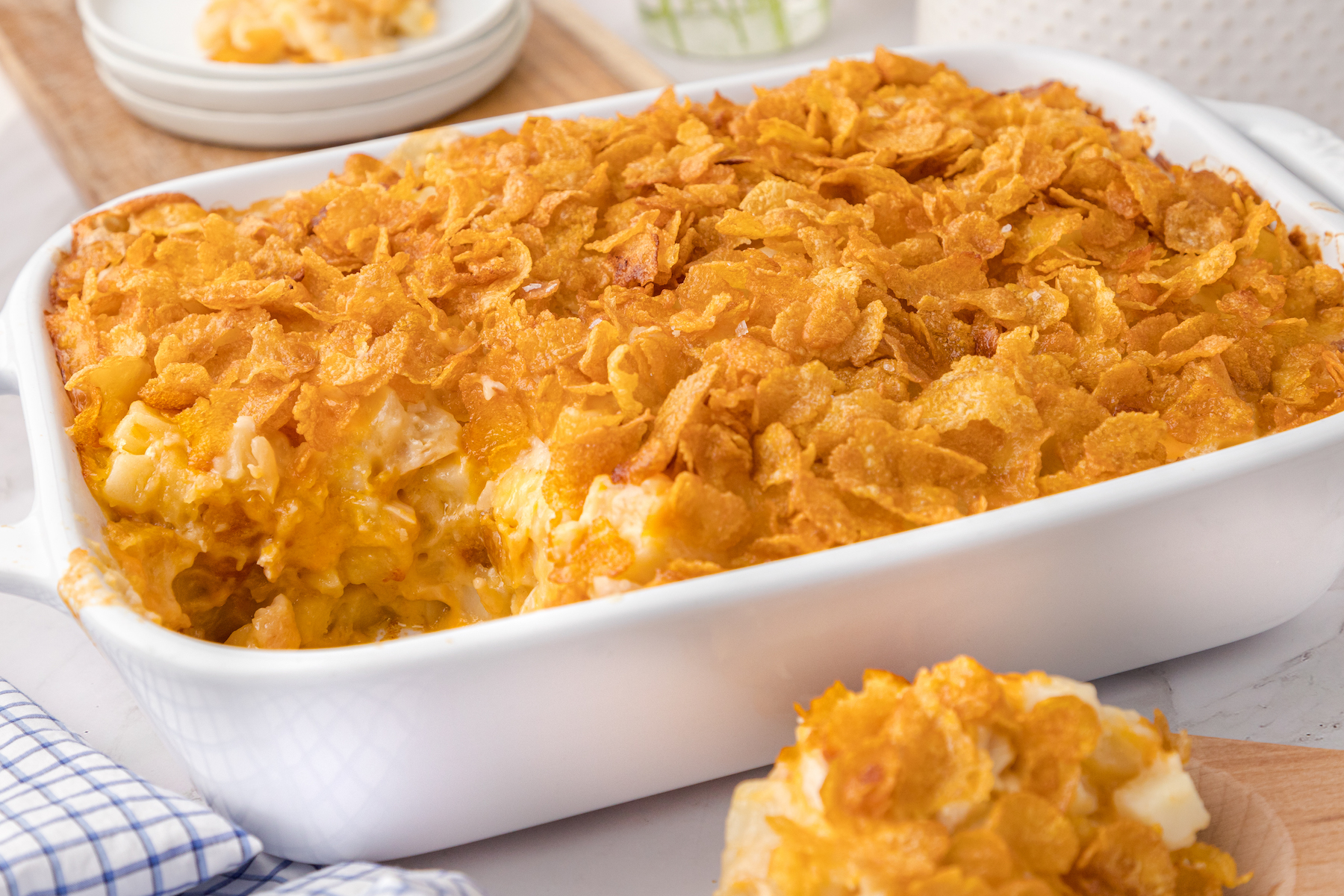 What you'll need to make easy chicken hash brown potato casserole without cream of chicken soup
Equipment
To make this recipe, you'll need a garlic press. If you don't have one, you can mince the garlic as fine as possible with a sharp knife, but it's really so much easier if you press it. I use my garlic press daily and have for 25+ years.
You'll sauté the chicken and onion mixture, so you'll need a large skillet, and you'll cook the whole casserole in a 9x13 baking pan.
You'll also need a large mixing bowl and standard measuring cups and spoons, along with a heat safe rubber or silicone spatula.
Ingredients
See printable recipe card at the bottom for measurements.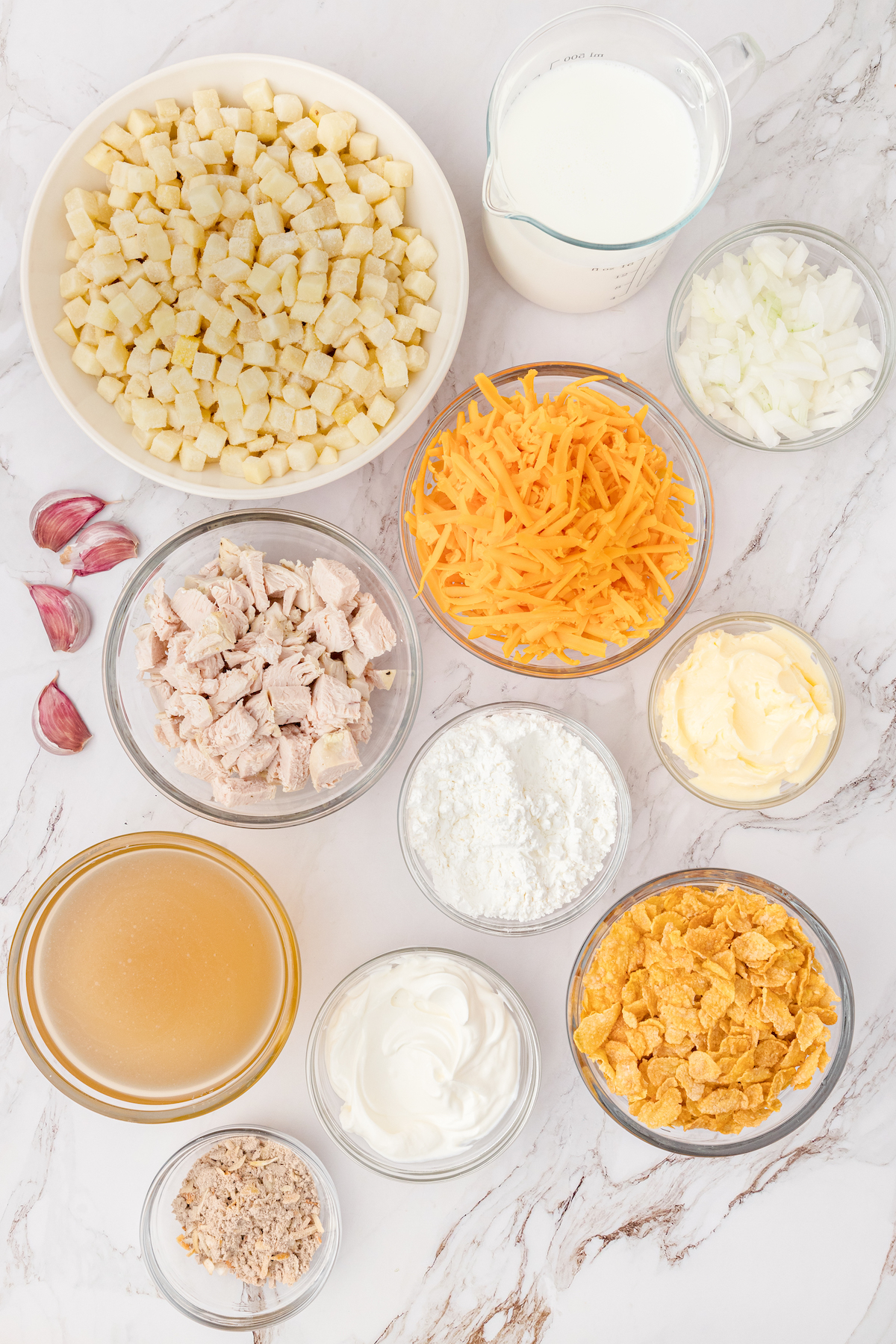 Frozen hash brown potatoes - Remove from the freezer and thaw prior to using them in the recipe.
Fresh garlic
Onion
Cooked chicken, shredded or diced - You can also use ham. I love to use a rotisserie chicken that we didn't finish the night before, but any leftover chicken or even canned chicken will work beautifully.
Butter
Cornstarch - If you're not gluten-free, feel free to use flour or even cup 4 cup gluten-free flour.
1% milk - Don't try to use skim milk in this recipe. It will turn out bland.
Chicken broth
Onion soup mix - If you don't want to use this, you could substitute an equal amount of ranch seasoning (click the link for my homemade ranch seasoning recipe).
Greek yogurt or sour cream - Greek yogurt and sour cream taste almost identical and are interchangeable in almost every recipe.
Cheddar cheese
Corn flakes - I have heard that not all corn flakes are gluten-free. Make sure to check the ingredients and use your best judgement. If you're not gluten-free, French fried onions or crushed Ritz crackers would be good, too.
Salt & black pepper - I don't generally use these because the onion soup mix has enough seasoning, but I know some people like a little extra.
How to make this cheesy chicken hashbrown casserole recipe
Preheat oven to 350ºF.
In a large skillet, melt 2 tablespoons of butter. Sauté garlic, onion, and chicken in the melted butter until the onions are clear and softened. Set aside.

Melt remaining butter in a medium saucepan over medium heat. Whisk in cornstarch and cook for two minutes.

Add 2 cups milk, broth, soup mix, and sautéed garlic, onion, and chicken. Bring to a boil, reduce heat, and simmer (that means to cook just below the boiling point) until it's thickened. Stir frequently to prevent it from sticking and burning.

Add sour cream to the saucepan. Mix well.

If your saucepan is big enough, add the hashbrown potatoes and shredded cheese and stir until it's well blended. If the saucepan isn't big enough, either dump them in a large bowl or mix them in your baking dish.
If you haven't already, pour the whole mess into a 9x13 baking dish. Pour some milk in (that's the remaining ½ cup, but you may use a little more or a little less) so that all the potatoes are covered.

Sprinkle cornflakes over the top of the potato mixture.

Cover with foil and bake for 90 minutes or until it's bubbly. Remove the foil and cook the last 10 minutes to toast the corn flakes.

How to thaw frozen hash browns
I usually just toss the bag into the fridge overnight. They thaw slowly and are ready to use in the morning.
Another way to thaw frozen potatoes is to spread them on a baking sheet at room temperature for an hour or so.
If you're in a hurry, you can pop that baking sheet into a preheated 175ºF oven for 15 minutes.
Cook's tips for the best hash brown casserole
When you make this, don't skip the step where you sauté the onions. The sweet onion flavor really make the potatoes in this dish sing, but if you don't sauté them first, you will have raw onions in your finished casserole. Any nobody likes raw onions in their cooked potatoes.
Ask me how I know. Better yet, don't. I don't want to relive that experience.
Just trust me. Cook the onions first.
Be sure your hashbrowns have thawed. If they go into the casserole frozen, it will take ten years to bake.
Variations
If you're not gluten-free, I think this would be really good with some of those french fried onions on top rather than corn flakes. Corn flakes are good and do give it a nice crispy top, but I used to love those onions and think they would really elevate the casserole to a whole new level.
Rotisserie chicken makes this super quick and super easy. Rotisserie chicken has a great flavor that really adds to the flavor of this casserole. But if you don't have a rotisserie chicken, you could use leftover BBQ chicken or even a can of chicken. Or use some leftover roast turkey which would also be great.
If you don't want to use onion soup mix, you could use a couple of tablespoons of BBQ seasoning, taco seasoning, cajun seasoning, or ranch dressing powder.
You can add green or red bell peppers, corn kernels, jalapeños, or diced green chiles (drained) to the onions when you sauté them in the first step.
You can use crumbled, pre-cooked sausage (fat drained) or diced ham in place of the chicken.
You can garnish this with some chopped green onions or fresh parsley just before serving.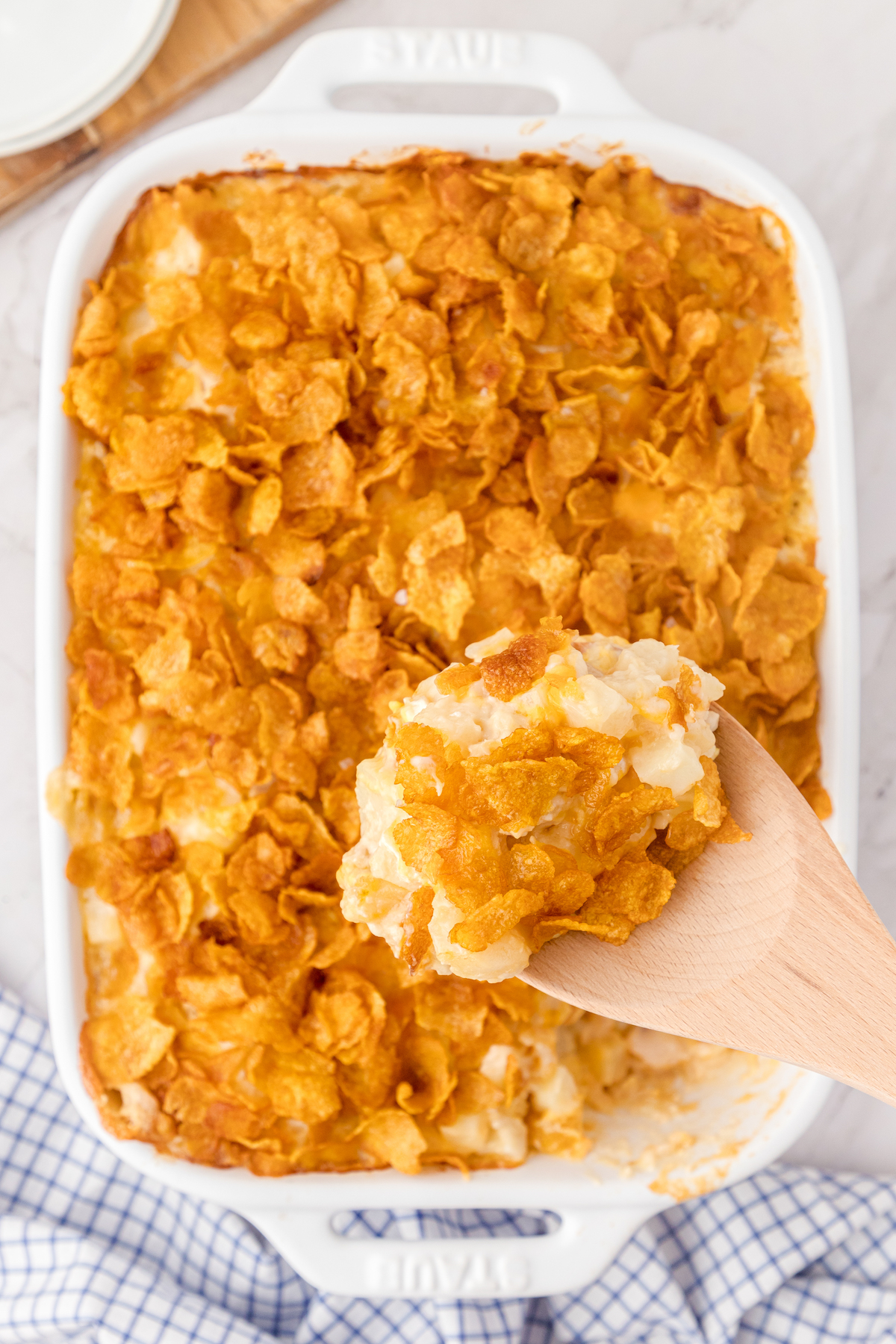 Storing leftover chicken hashbrown casserole
You can store your leftover casserole in an airtight container in the fridge for up to 5 days. The crunchy topping will get soggy in the refrigerator, but it's not a huge deal.
I've never tried to freeze this, but if you left off the crunchy topping, I think it would freeze pretty well. Bake it in a disposable baking pan first, then cool it completely. Then wrap it tightly in plastic wrap, then aluminum foil, and it should be okay for up to 2-3 months.
To bake, thaw in the fridge overnight and then bake at 350º for 45 minutes or until hot and bubbly. Put the topping on and bake for an additional 10 minutes.
While you're here, take a look at these delicious brunch recipes:
Recipe