Homemade taco seasoning is easy to make with spices you already have in the pantry. Mix it up with chili powder, cumin, garlic powder, onion powder, paprika, black pepper, and red pepper flakes. It's the best for tacos, burritos, dips, and more!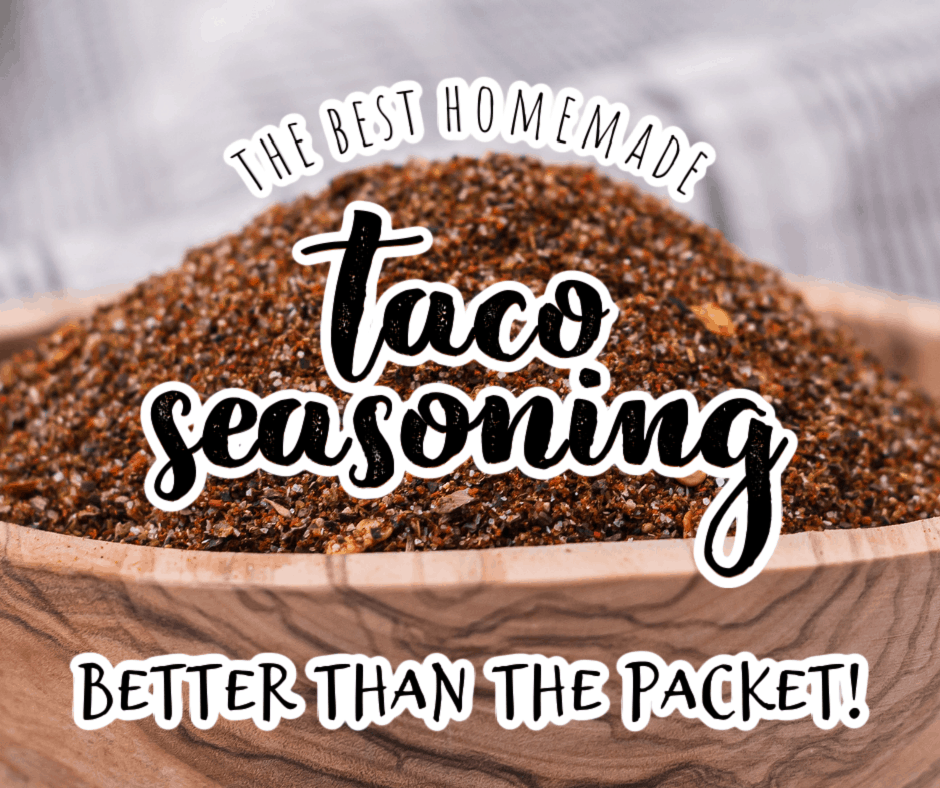 I think taco seasoning is straight from heaven. I love the stuff.
We eat a lot of tacos, taco dips, enchiladas, chilis, and other dishes that use taco seasoning, so we go through a lot of it.
The trouble is that pre-made taco seasoning is insanely high in salt and contains preservatives that probably aren't the healthiest.
I'm the first person to reach for convenience foods when necessary - pre-made pie crust, frozen whipped topping, and ketchup are high on my list - but we also make a lot of things from scratch. In almost every case, cooking from scratch is healthier and better-tasting – and almost always cheaper, too.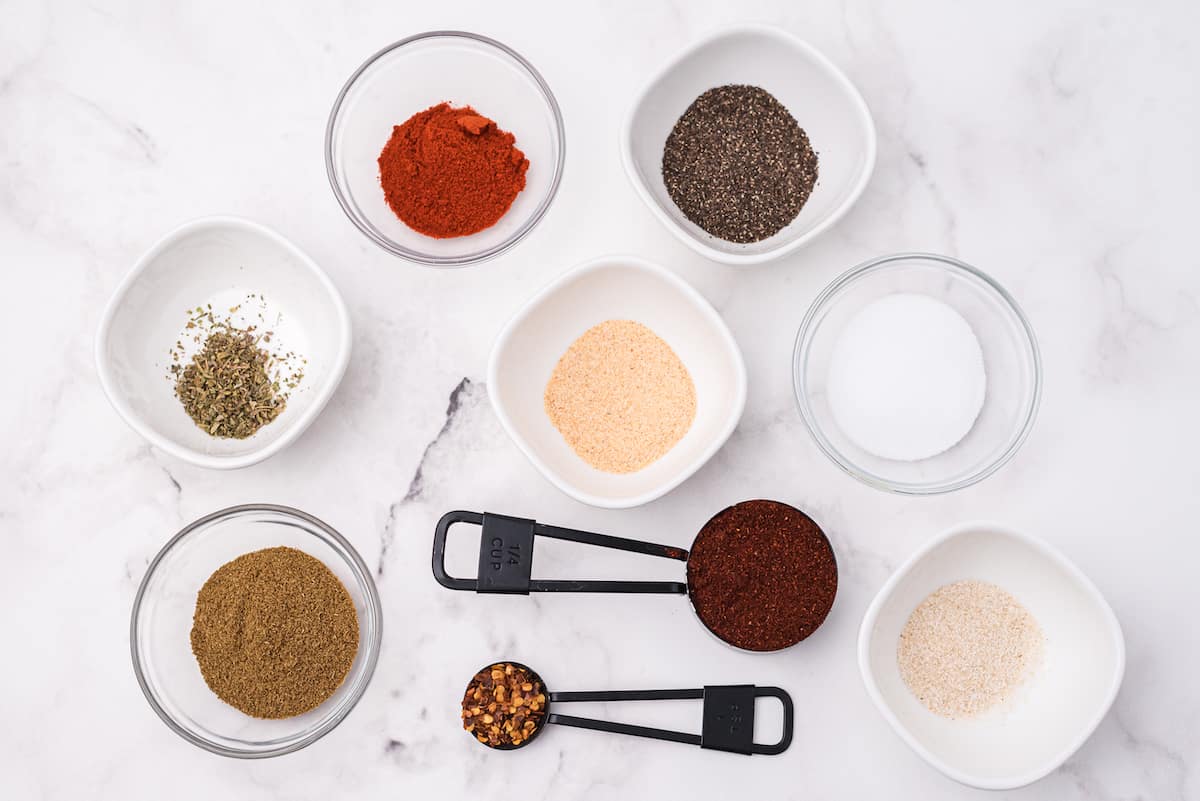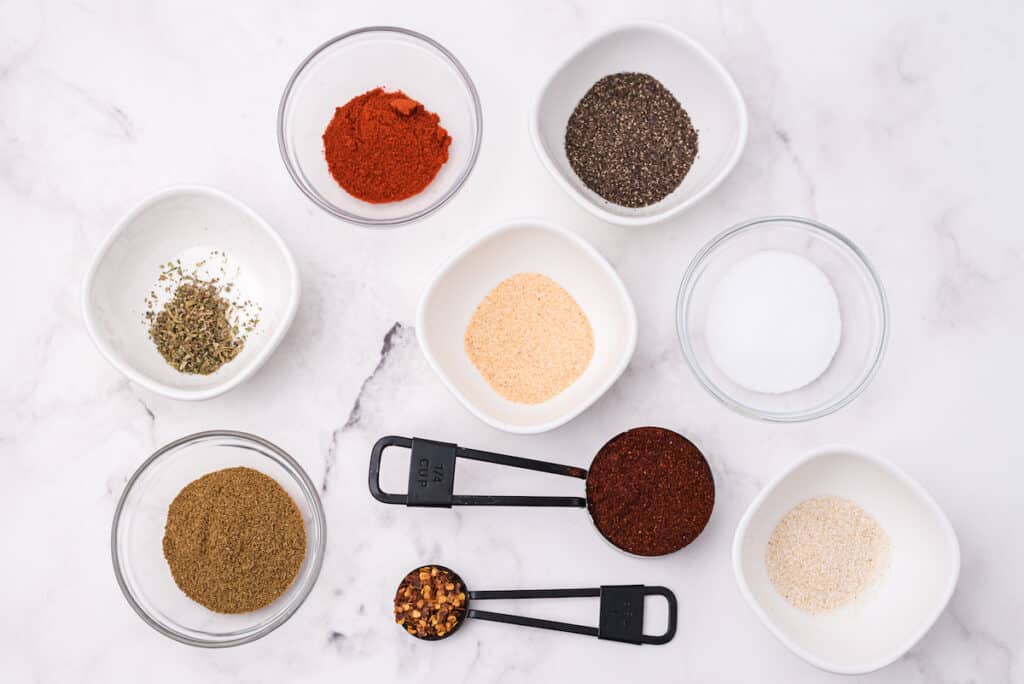 What is in homemade taco seasoning?
The beauty of making your own spice blends is that you get to control the ingredients. You decide how spicy it should be. You decide how much chili powder if if you put in any sugar. It's all up to you.
I recommend that you start with my base recipe, but taste it before you put it on your meat and adjust the spices as you think will suit your taste. Don't put the stuff on a pound of ground beef before you taste it!
Chili powder - This is the base of pretty much every taco and fajita seasoning blend. It's typically made from ground chile peppers, cumin, garlic, and other spices.
Cumin - This adds a smoky nuttiness to the seasoning.
Sea salt
Ground black pepper
Paprika - Sweet paprika (the normal kind) has a slightly smoky flavor. If you prefer a more smoky flavor, you can use smoked paprika instead.
Garlic powder - If you prefer, you can use dehydrated garlic.
Onion powder - Don't skip this even if you don't like onions! You need it to balance out the flavors!
Red pepper flakes - These add heat, so if you want a very mild seasoning, add less of red pepper. You could also substitute cayenne pepper here, but use half the amount.
Oregano - This adds freshness and balances out the smoky and spicy flavors.
Is there sugar in taco seasoning?
There is sugar in commercial taco seasoning, but there is no sugar in my recipe. I prefer not to add extra sugar if it's not necessary (and it isn't in this recipe).
Do you add water to taco seasoning?
I do not unless I am making taco sauce. You can find the recipe for that below in the What to Use Taco Seasoning for section.
Some people mix their taco seasoning with ¼ cup of water before mixing it in with their ground meat, especially if the meat is very lean and got a little dry. This is always an option, but it is not required.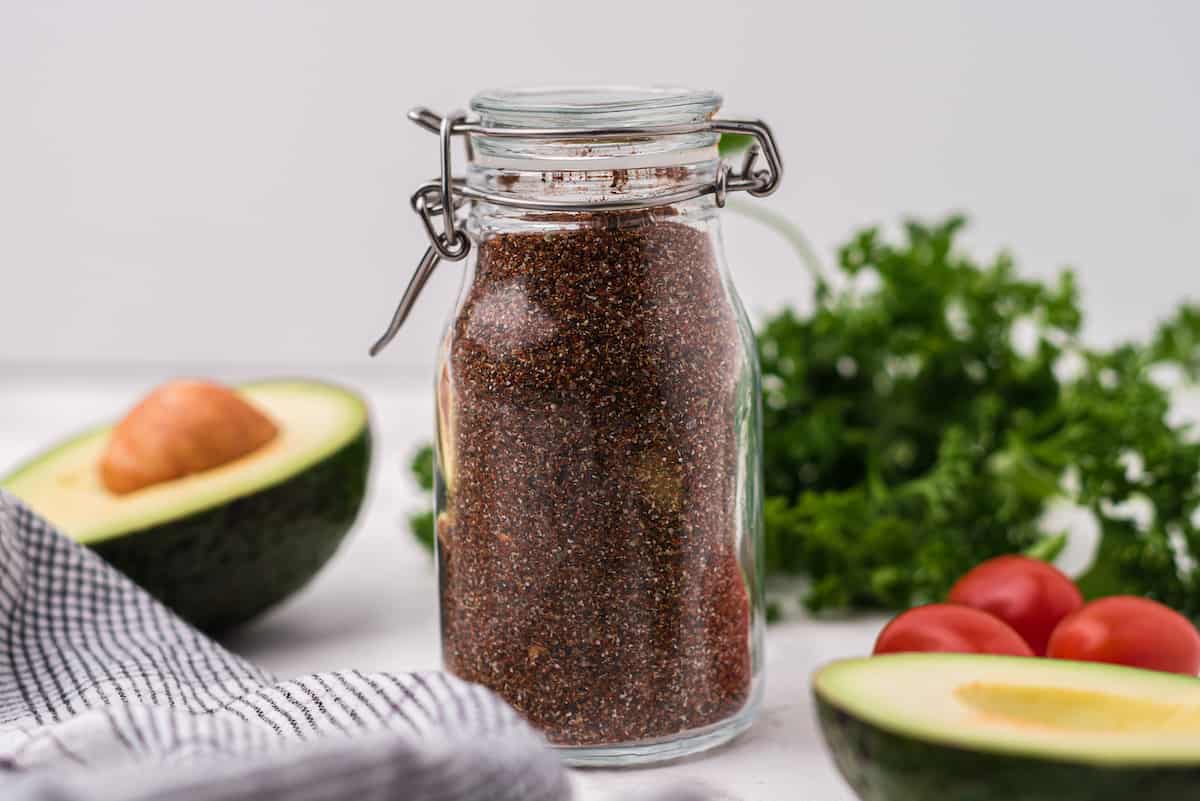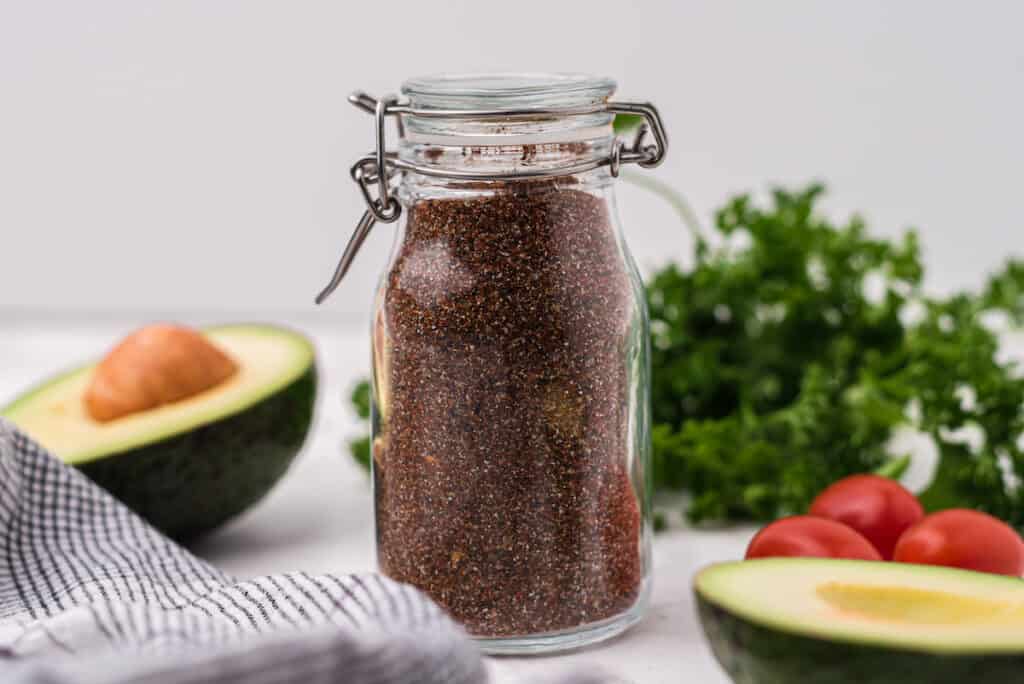 How long does your own taco seasoning last?
Does anyone go by the guidelines on how long to keep spices? I still have chives that I bought in 2001.
Kidding aside (was I kidding?), spices do have a shelf life because they lose their potency over time, even when stored in an airtight container (like a half pint mason jar) in a cool, dry, dark place.
A batch of homemade taco seasoning will be its at its best for 3-6 months, assuming your spices were new when you made it, but you can use it for longer than that. Just know that you might have to use a little more to get the same flavor if it sits longer.
This recipe makes a little over a half cup of taco seasoning mix, or enough to make about 4 pounds of ground beef or ground turkey.
How much taco seasoning to use
A pre-made taco seasoning packet is good for one pound of meat and contains about 2.5 tablespoons of spices.
When I am making taco meat, I sprinkle 2.5 tablespoons of my homemade taco seasoning over ground meat or shredded chicken and add about ½ cup of water to help the meat stay moist.
It's best to start with a little less than you think you need, taste often, and add small amounts until you reach the amount of seasoning you want.
What to use taco seasoning mix for
Ground eat & poultry - As I stated above, you should use about 2.5 tablespoons of taco seasoning for one pound of ground meat (beef, pork, turkey, or chicken) or shredded poultry (chicken or turkey).
As a rub - You can use taco seasoning as a rub for grilled, roasted, or pan-fried chicken, steak, pork, seafood, fish, or tofu.
Fish - I would use slightly less seasoning for fish, about 1.5 tablespoons per pound.
Seafood - This is a great seasoning for shrimp, crab, or scallops. Just sprinkle it on or use in place of Old Bay in a steamed shrimp recipe.
Vegetables - Give your roasted veggies a flavor boost by tossing in a tiny bit of olive oil and then sprinkling with taco seasoning before putting in the oven.
Home fries - I love to toss diced potatoes with olive oil and sprinkle them with taco seasoning. Roast in the oven until crispy and you have delicious home fries. Top them with a fried egg and call it breakfast!
Baked potatoes - Mix a bit of taco seasoning with sour cream to top your baked potato.
Tortilla chips - You can sprinkle cut tortillas with taco seasoning and then bake to make homemade tortilla chips.
Potato chips - Use this air fryer potato chip recipe and sprinkle the chips with taco seasoning just before air frying.
Popcorn - You can sprinkle popped popcorn with taco seasoning for a savory snack.
Add it to baked tortilla chips, popcorn, or mix it into Greek yogurt for a quick dip for chips and veggies.
Tomatoes - Mix a tablespoon of taco seasoning with a jar of diced tomatoes for a zippy base for soup or salsa.
Beans - Mix 2 tablespoons of seasoning with a can of black beans or refried beans. This mixture can be added to tacos or burritos or just served as a side dish.
As a dip - You can mix taco seasoning with Greek yogurt or sour cream to make a yummy dip for veggies or chips.
Taco sauce - Mix 3 tablespoons of taco seasoning with 16 ounces tomato sauce, ⅔ cup water, 2 tablespoons white vinegar, and a teaspoon sugar. Store in an airtight container in the refrigerator.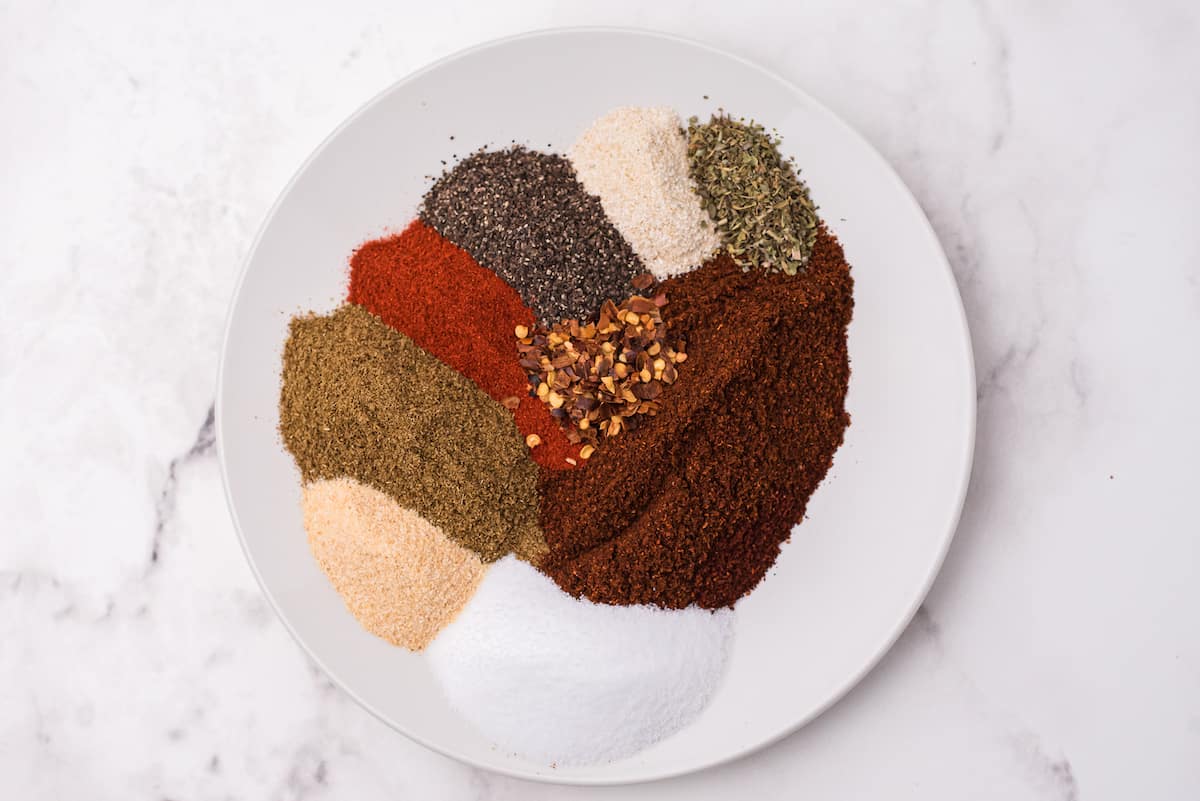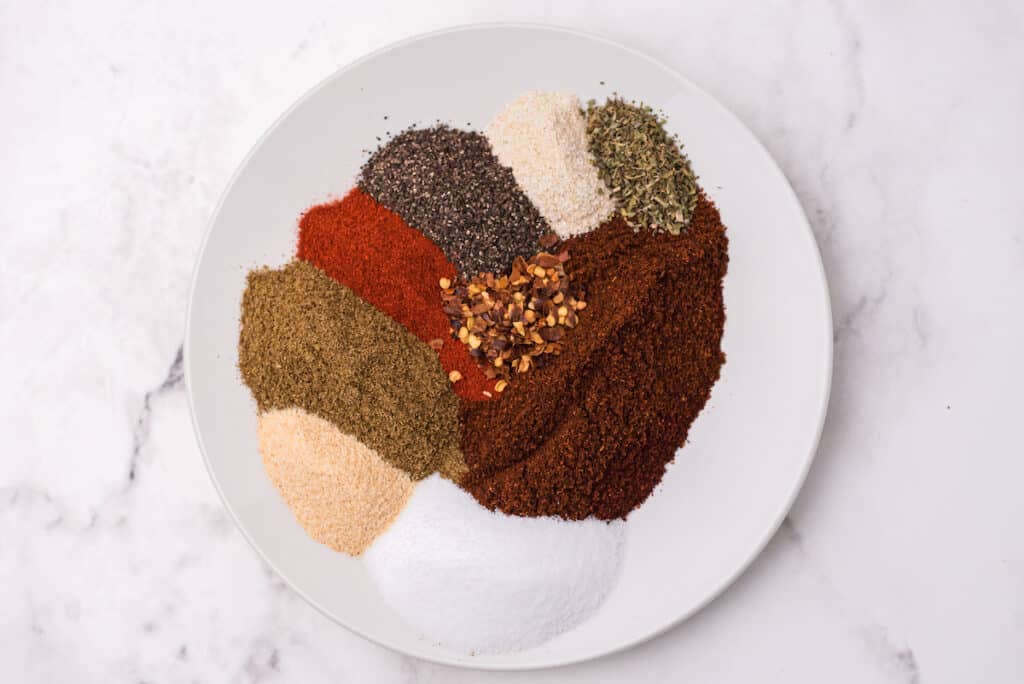 Recipe variations
As it is written, this recipe is fairly mild. You can control the amount of spice in by adjusting the amount of red pepper flakes and/or adding some cayenne pepper.
For a smokier spice blend, use smoked paprika in place of the regular sweet paprika.
Adjust the amount of garlic powder and onion powder to change up the flavor. If you really love garlic, try doubling it.
Try these other spice blend recipes
Recipe