These vegetarian cheese and onion enchiladas are rich and decadent with a blend of cheeses, beans, and caramelized onions. Easy to put together for a weeknight meal and impressive enough for a potluck.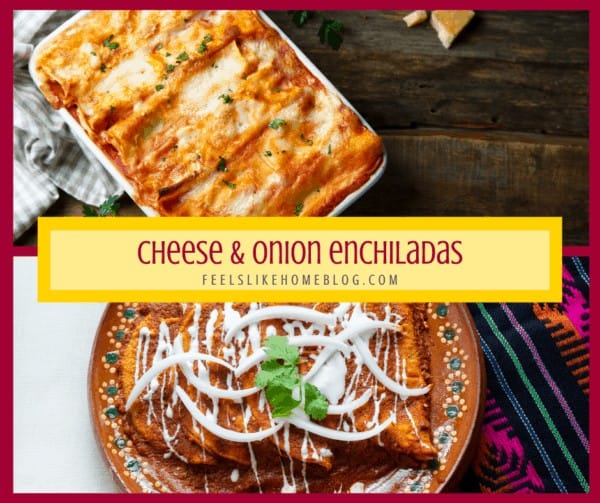 Many years ago, my mom and I went to a Mexican restaurant called Chichi's. Do you remember it? My favorite meal at Chichi's was their cheese and onion enchiladas. They were rich and gooey and full of flavor.
With those enchiladas in mind, Joe and I messed around until we found the perfect blend of vegetarian ingredients, enough beans to pack a protein punch, enough caramelized onions to add a sweet note, and enough cheese to fill the tortillas with a mess of stringy goodness.
Caramelizing onions takes a bit of time, about 15 minutes. I suppose you could use raw onions, finely minced, if you're in a crunch, but the enchiladas won't taste as good. Caramelizing the onions gives them a sweet and rich flavor that you really can't beat in the finished dish. Take the time for this step. You won't regret it.
How to make cheese and onion enchiladas
Make the enchilada sauce. That's a link to my homemade enchilada sauce recipe - it's amazing, very quick and easy to prepare, and beats canned sauce hands down! It only takes about 10 minutes to prepare, so you really have no excuse not to make it. It can cook while the onions cook in step two.
Prepare the onions. Slice them and caramelize by sautéing in two tablespoons of melted butter over very low heat for 20 to 30 minutes. It's easy to burn caramelized onions, so make sure your heat is low, the skillet is covered, and you stir them frequently. When they are fully soft and turning brown with a sweet syrupy look, remove from the heat, move to a bowl, and set aside.
Prepare the beans. Melt 1 tablespoon of butter in a medium skillet. In the same skillet, unwashed, melt 1 tablespoon of butter. Drain and rinse the beans and then pour them into the skillet. Mash with a fork or potato masher right in the skillet and then add the taco seasoning and half of the tomato sauce. Cook over medium heat until warmed through.
Prepare the baking dish. Mix the enchilada sauce with the remaining tomato sauce and pour about ½ cup into the bottom of a 9x13 baking dish. Spread it around to cover the bottom.
Roll the enchiladas. Mix together the mashed beans, caramelized onions, 2 cups of shredded cheese, and feta. Spoon about two heaping tablespoons of this mixture into the center of each tortilla. Roll and place the enchiladas seam side down in the prepared baking dish. Top the finished enchiladas with the remaining enchilada sauce and remaining cheese.
Bake at 350 for 30 minutes, until the edges of the tortillas are brown and crispy and the sauce and cheese are bubbly.
Oh. my. goodness. These enchiladas are so very good, and they are very filling. I can't imagine that anyone would be able to eat more than two of them, so the recipe will serve five people.
Recipe