This authentic Mexican enchilada sauce packs a powerful punch with lots of chili powder, cumin, and garlic. It's so quick and easy that it's ready in 20 minutes!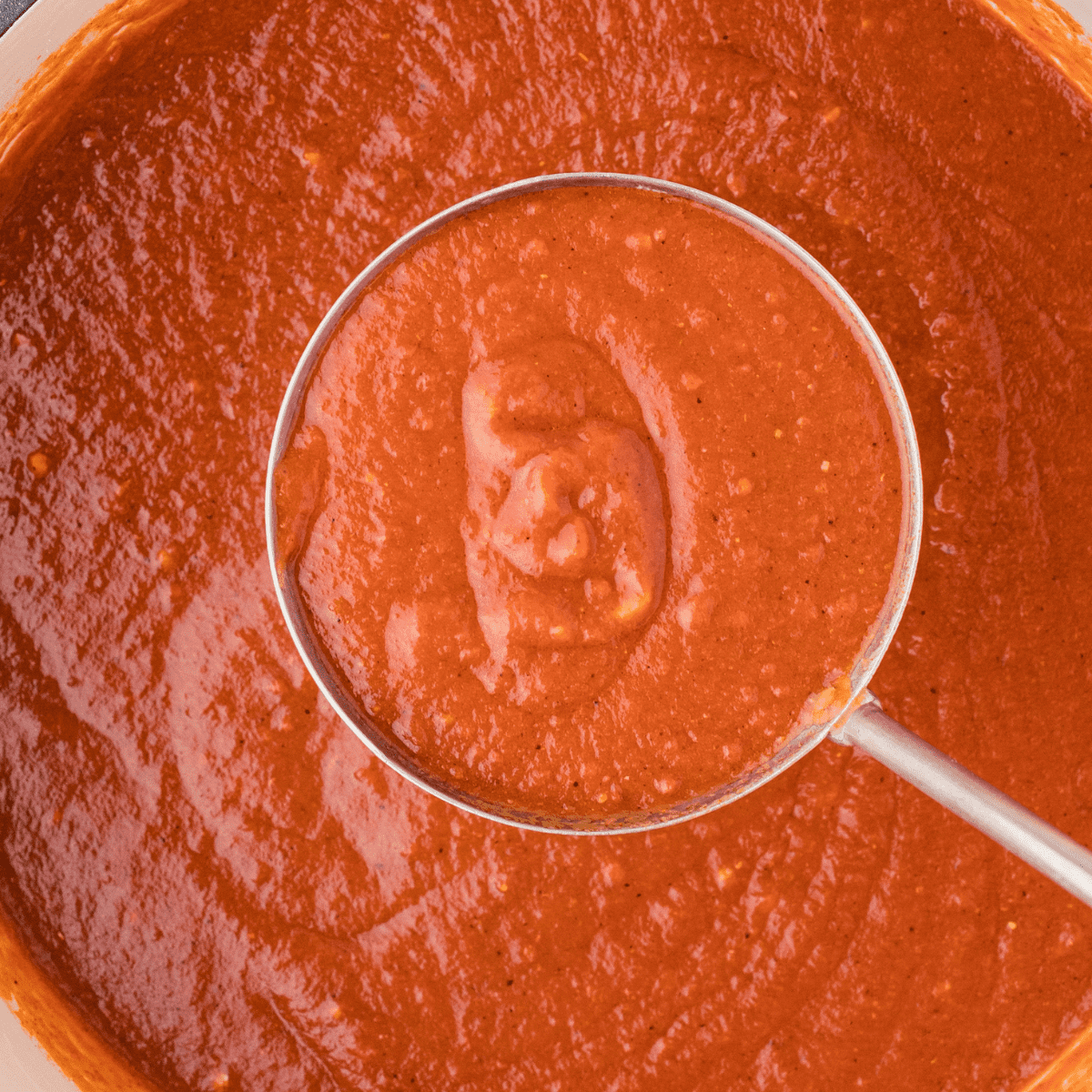 We first created this recipe for quick enchilada sauce when we were making BBQ chicken enchiladas - now one of my all-time favorite foods - but at the time, just a dream of something good. Halfway through the recipe, we realized that we had no enchilada sauce.
The Walmart by our house hadn't opened yet, and the nearest grocery store was a solid 30 minute drive away, so it was either abandon the promise of BBQ chicken enchiladas or figure out how to make enchilada sauce. Obviously, we opted for the latter.
Fortunately for us, enchilada sauce is really simple to make: it's basically just a few simple pantry ingredients: blending of oil, flour, a few spices, and chicken broth (or vegetable broth for a vegetarian version). Easy peasy.
While it sounds (and is) easy, you can't take your eyes off of this sauce while it's cooking. It will burn and set off your smoke alarms, and then you will have to start all over. Ask me how I know.
This homemade red enchilada sauce is spicy.
Over the years, I've had readers comment that this enchilada sauce was too spicy for them, and I will admit that it does have a lot of flavor. If your family doesn't like strong flavors and a little heat, you should definitely cut back on the chili powder and possibly on the garlic.
The finished enchilada sauce is not blazing hot like eating jalapeños, but it is very flavorful. I just wanted to warn you up front.
We love this sauce, and I hope you love it too.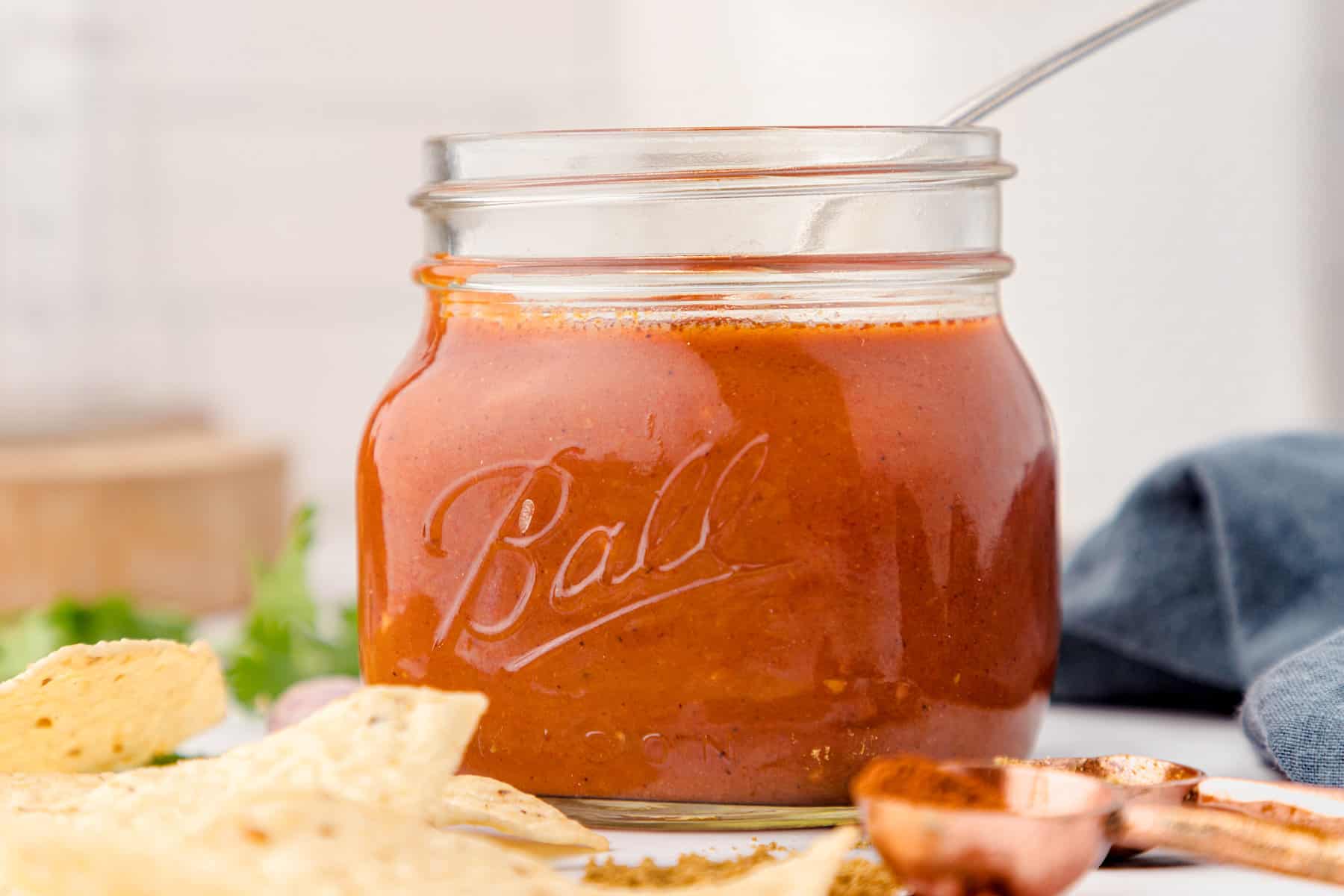 Why this is the best homemade red enchilada sauce
It's super easy. You make a quick roux with oil and flour, then you whisk in the chili powder, liquids, and other spices, and then simmer until it's the consistency you want. It takes about 20 minutes.
(I have seen recipes that start with fresh whole chili peppers or dried chiles, roasting and and pureeing them with onions and garlic to make a thick paste. Enchilada sauce made that way is amazing. It also takes about four HOURS to prepare. I don't have that kind of time, so I use flour and tomato sauce and make this recipe, which is excellent, in about 20 minutes.)
This enchilada sauce is way better than the sauce you can buy in a can for two main reasons:
You control the spice. You can add as much or as little as you want, based on your family's preference.
This enchilada sauce is natural, with no artificial ingredients or preservatives. Often, canned enchilada sauce contains MSG which gives a lot of people migraines.
You can double this recipe and stick half of it in the freezer for another time. It freezes and reheats beautifully!
What you'll need to make authentic Mexican enchilada sauce
Equipment
Ingredients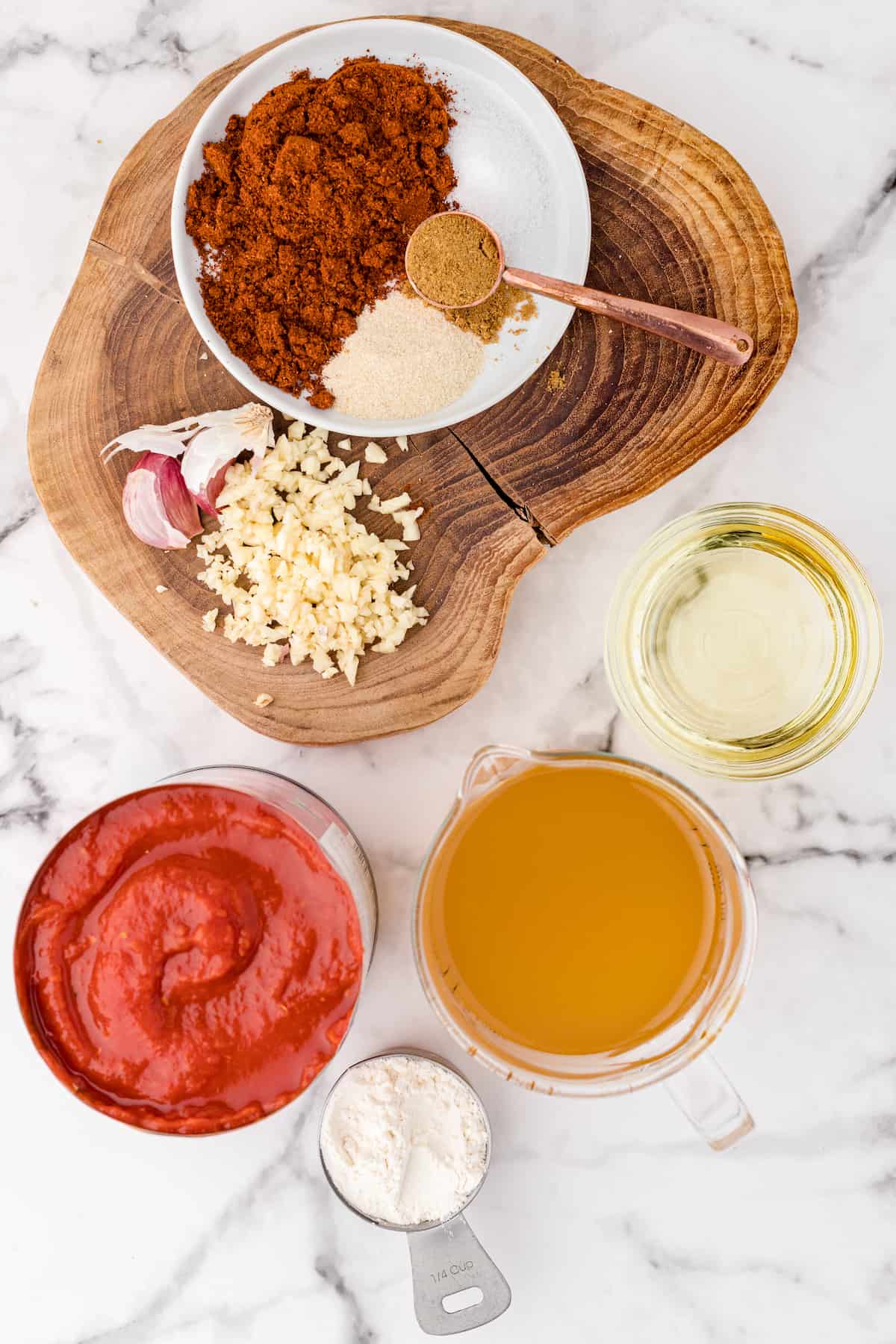 Check the recipe card at the bottom of the post for all the measurements and specifics.
Vegetable oil
All purpose flour - You can use a cup4cup gluten-free flour in place of wheat flour, and the sauce will work just perfectly.a
Dark chili powder - This recipes calls for a lot of chili powder, and that will make the enchilada sauce spicy. If you prefer a more mild flavor, cut back on this.
Tomato sauce - This is the base of the enchilada sauce. You can't make red enchilada sauce without it.
Chicken broth - Feel free to use vegetable broth if you want a vegetarian enchilada sauce.
Cumin - This is an earthy spice that gives the sauce a really deep, rich flavor.
Fresh garlic cloves - These is no substitute on earth for freshly pressed garlic. You don't want to use garlic powder if you can avoid it, and you don't want to use that "minced garlic" that comes packed in oil in a jar. Get a bulb of garlic (which contains 8-10 individual cloves) and press or finely mince the cloves with a sharp knife.
Onion powder
Salt to taste
Cayenne pepper - I don't add cayenne because I think this enchilada sauce has plenty of flavor all on its own. But if you prefer your enchilada sauce to have heat, you could add between ⅛ and ¼ teaspoon of cayenne pepper. (More if you're really daring!)
How to make homemade enchilada sauce
Note: This enchilada sauce comes together very quickly. I recommend measuring all the ingredients out and putting them in prep bowls before you get started. Keep the flour in one prep bowl, the chili powder in a second bowl, and then all the other spices in a third bowl. You can add the chicken or vegetable broth to the same bowl because you'll be adding them to the sauce at the same time.
Heat the oil in a sauce pan over medium-high heat.
Reduce to medium heat and stir the flour into the oil to make a kind of roux.

Stir the chili powder into the flour and oil mixture.

Simmer until lightly browned, stirring constantly to prevent burning.

Pour in the tomato sauce and chicken broth (or water) and gradually whisk in the rest of the ingredients, continuing to stir to prevent the sauce from sticking and burning.

Cook for approximately 10 minutes, stirring frequently, or until sauce begins to thicken.
Storing homemade red chile sauce
You can keep this enchilada sauce in the refrigerator for up to 5 days or in the freezer for up to 3 months. If you freeze it, I would recommend thawing overnight in the fridge to make it easier to use the next day.
Variations
You can add a splash (up to ½ cup) of heavy cream to your sauce to lighten it and make it creamy.
You can make it vegetarian by replacing the chicken broth with vegetable broth.
You can make it gluten-free by replacing the all-purpose flour with gluten-free flour.
You can make it spicy by adding a bit of cayenne pepper.
You can alter the flavor by using ancho chili powder in place of traditional chili powder for a smokier flavor.
You can make the sauce more mild by decreasing the amount of chili powder by a third or even half.
You can add a few ounces of tomato paste for a richer tomato flavor.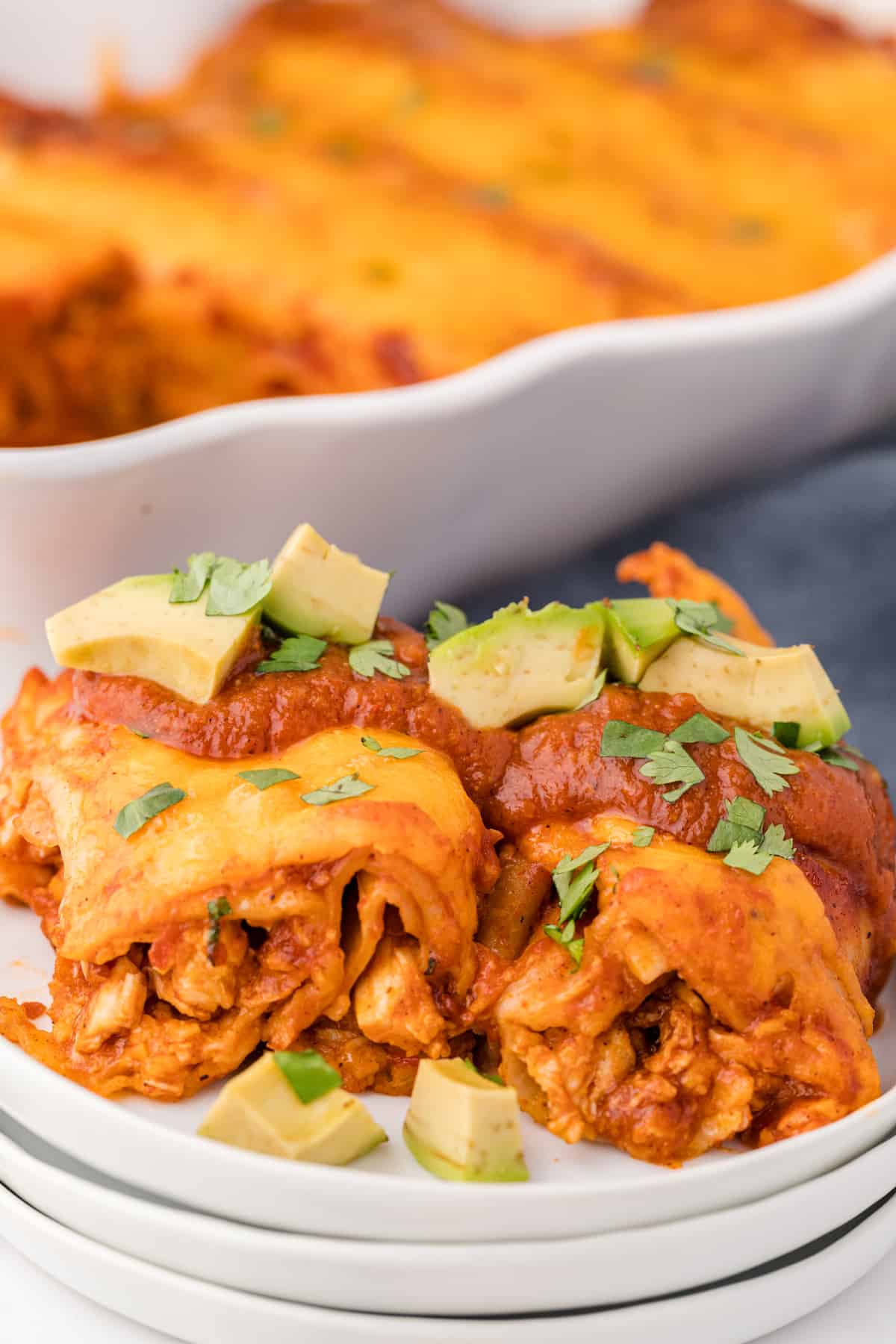 Try these other Mexican-inspired dishes while you're here
Recipe