How to make the best healthy Instant Pot chicken burrito bowls at home - This simple, quick, and easy recipe in the Instapot uses shredded chicken with rice, beans, salsa, cilantro, avocado, and cheddar cheese. Easy meal prep for one pot taco bowls too. Low carb option.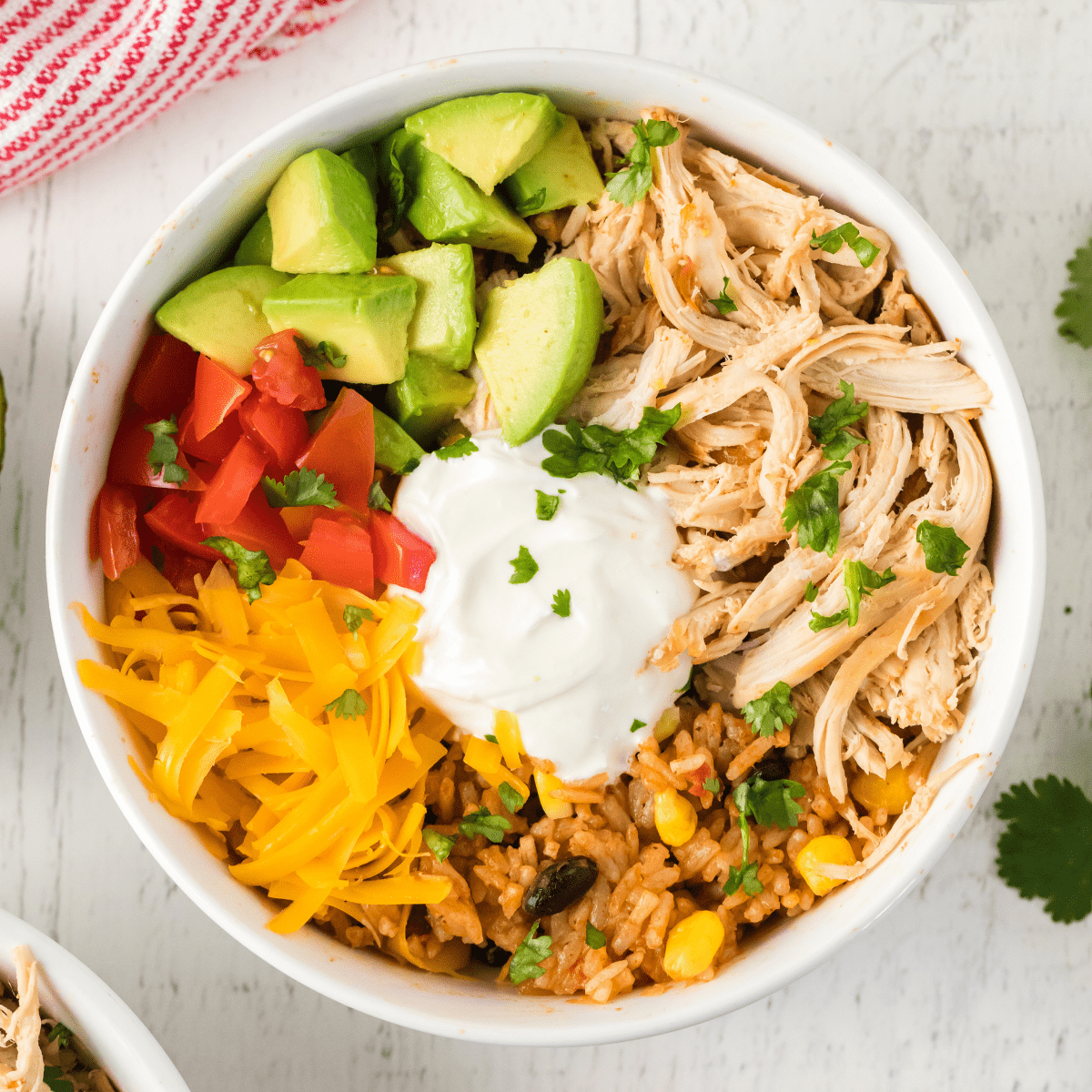 Can I just tell you how much I love avocados? I think they are one of the finest foods on the planet, along with asparagus, beets, feta, and sharp cheddar cheese.
I look for reasons to buy avocados. They have a lot of calories, it's true, but they're made of a lot of healthy fats and so having a half of one every day or every couple of days is quite good for you.
The problem I have with avocados is that my local grocery store only sells them when they're hard as marbles. Then I have to bring them home and wait a few days to a week before they're soft enough to be edible. That is annoying. I want to come home from the grocery store, cut open the avocado, and eat it. I don't want to wait a week.
But anyway, this post is not about avocados; it's about this chicken burrito bowl recipe. I made up this recipe for the bowls because I had some really nice avocados that I wanted to use up and I was hungry for a Neato Burrito bowl. (Neato Burrito is a local restaurant here in the Harrisburg, PA area, and they are amazing, and if you ever get the chance to eat there, you will never again be satisfied with Chipotle. Just saying.) We made at home Neato Burrito burritos once, and those are still amazing, but we didn't have any feta, and they just aren't the same without the feta.
So we used the Instant Pot to pressure cook some chicken with garlic, salsa, beans, corn, and rice, and Joe and I had burrito bowls made with the chicken and bean mixture, avocado, cheese, cilantro (grown by me), and Greek yogurt. Joe put extra tomatoes on his because he likes raw tomatoes, but I hate raw tomatoes and didn't.
Our kids are super picky, and they wouldn't eat the burrito bowls. Instead, Joe put some of the shredded chicken from the bowls into hard taco shells, topped it with shredded cheddar cheese, and the kids were as happy as cats in the sunshine. We ate a family meal at home and saved $50 (what we would have spent at Neato Burrito, if it had not been the time of the quarantine, and they had not been closed).
This is such a quick, easy, and simple recipe that it has earned a place in our regular meal rotation. It's nice to not have to babysit the stove; the Instant Pot takes care of all the cooking and babysitting, and the whole meal is done in less than a half hour which makes it an amazing after a long day of working dinner.
It's rare that we find something that Joe and I enjoy and the kids will also readily eat.
What you'll need to make chicken burrito bowls in the Instant Pot
Equipment
The only equipment you really need for this recipe is a 6-quart Instant Pot or other electronic pressure cooker. A garlic press is also very helpful, although you could mince the garlic with a sharp knife if you're so inclined.
Ingredients
This is a very forgiving recipe that adjusts for taste preferences and dietary needs very easily.
1-½ pounds boneless skinless chicken breast
2-4 tablespoons taco seasoning - This is the equivalent of 1-2 packages. I prefer to make my own at home so that I can adjust the flavors to my family's preferences and also to avoid the fillers and preservatives that are found in the packets you can buy at the store.
3 cloves garlic - I know there's garlic in the taco seasoning, but adding fresh really kicks the burrito bowls up a notch.
1 can of black beans - You could prepare your own dried black beans if you're into that. I go homemade on a lot of things, but I prefer to buy canned beans.
One small bag of frozen corn kernels - I prefer frozen or fresh corn, but by all means, use whatever you like. There's no reason not to use canned corn if you like that.
One jar of salsa - My current favorite is Newman's Own pineapple salsa, but you can of course use whatever salsa you like. The finished burrito bowls will taste a lot like your salsa, so make sure it's a variety that you really enjoy.
Jasmine rice - Leave this out for a low carb meal. Cooking instructions below for making it separately.
3 cups low sodium chicken broth - This is enough to make the rice in the Instant Pot while the chicken cooks. Use only 1 cup if you are not adding rice into the IP.
The following ingredients are only used in making the bowls and not in the actual cooking.
Shredded cheddar cheese
Lime wedges - To squeeze over the finished bowl
Fresh cilantro
Greek yogurt or sour cream
Sliced avocado
Diced tomato
How to Make Instant Pot Chicken Burrito Bowls
Add the ingredients to the Instant Pot. Add the chicken broth to the Instant Pot. Place the chicken in the broth and sprinkle with taco seasoning, using 1 packet for a mild flavor and 2 packets for more spice.

Press garlic into the pot and top with beans, corn, and salsa. Add rice to the pot, if using, and stir together.

Cook the chicken and beans. Lock the lid and cook on high pressure for 12 minutes. Natural release the pressure for 10 minutes, then use manual quick release and carefully unlock the lid.
Shred the chicken. Remove the chicken only from the Instant Pot and shred with two forks.

Assemble the taco bowls and serve. To serve, top the shredded chicken with the rice and beans mixture from the Instant Pot, shredded cheddar or Mexican blend cheese, diced tomatoes, and sliced avocado. Add a dollop of Greek yogurt or sour cream in the center.

Instant Pot burrito bowl variations:
Vegetarian - Burrito bowls don't have to have chicken as beans and rice together make a complete protein. To make this a vegetarian meal, simply omit the chicken and use vegetable broth or vegetable stock in place of the chicken broth.
Fajita-style - Add chopped or sliced onions and sliced red, orange, or yellow peppers to the Instant Pot before cooking for a more fajita-like flavor.
Use different chicken - Boneless skinless chicken breasts are my personal preference in this recipe, but skinless chicken thighs also come out really well. They taste different of course, but they tend to be juicier and a bit more flavorful, so give them a try and see what you think.
Use leftover turkey - This recipe would be a perfect way to use up leftover Thanksgiving or Christmas turkey. Omit the chicken before cooking, using the Instant Pot for just the rice and veggies. Shred the already cooked turkey and use it as the base of the bowls before topping with the cooked veggies and rice.
Low carb - For a lower carb or bariatric meal, cook the rice separately or leave it out altogether. If cooking separately, prepare it with ½ cup salsa and 2 ½ cups chicken broth instead of water. This will give it a nice flavor, as if it were cooked with the chicken in the Instant Pot.
Low carb, continued - Also for a lower carb meal, you can serve the chicken mixture overtop of shredded lettuce, as the base of a nice salad, or over cauliflower rice.
Notes for better Instant Pot burrito bowls:
This recipe is equally good in taco shells, wrapped up in tortillas, or served over tortilla chips like nachos. My kids love it all three ways.
I prefer to use my homemade taco seasoning in place of packets because doing so allows me to adjust the amount of chili powder and cumin to my family's preferences. Each commercial packet equals approximately 2 tablespoons of seasoning.
Check out these other amazing Instant Pot recipes while you're here:
Recipe