Copycat P.F. Chang's Mongolian chicken is a quick and easy Instant Pot recipe with a sweet and savory sauce that is best served over rice or cauliflower rice. The finished dish can be as spicy or as mild as you like, and it is suitable for paleo, keto, gluten-free, and low carb diets.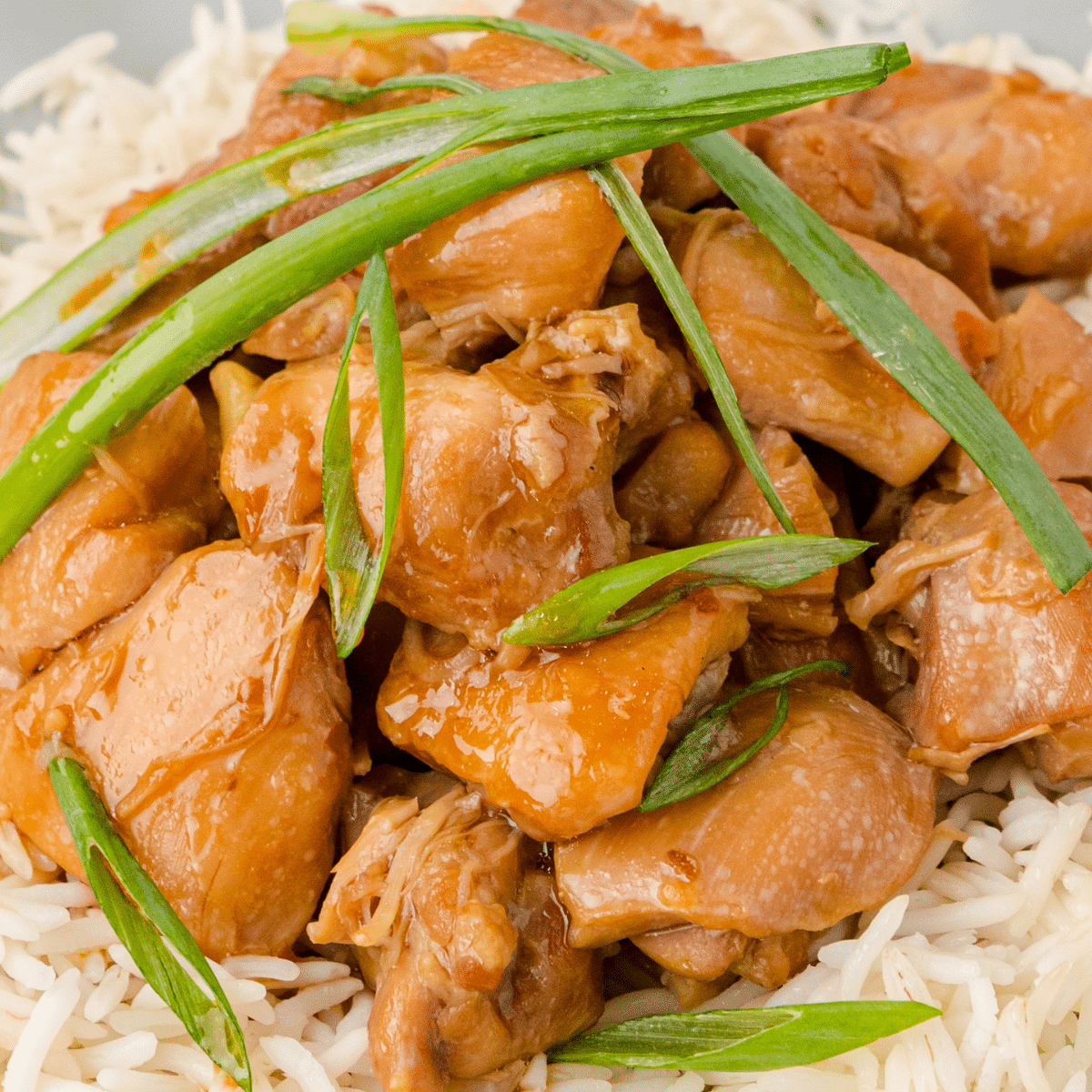 Mongolian chicken is a quick and easy Instant Pot recipe with a sweet and savory sauce that is best served over rice or cauliflower rice. The finished dish can be as spicy or as mild as you like, and it is suitable for paleo, keto, gluten-free, and low carb diets.
What is Mongolian chicken?
First of all, Mongolian chicken has nothing to do with Mongolia. It's a Chinese- American dish that may have been created in Taiwan but more than likely was the brainchild of the Americanized Chinese food restaurant chain, P.F. Chang's.
PF Chang's sells a famous Mongolian beef recipe that tastes sweet, salty, spicy, and is smothered in a delicious Mongolian sauce that's amazing over rice. I don't eat much beef these days, and the closest PF Chang's is an hour from me, so I recreated the recipe with chicken and made it at home.
The original dish is a stir-fry which is fried to crispy. Obviously, it's hard to fry the meat crispy and simultaneously make it a quick and easy and healthy weeknight meal, so I recreated the sauce with a sugar substitute and sautéed the chicken right in the Instant Pot to crisp it up a bit (although it's not going to be as crispy as the original which is fried in oil).
What is Mongolian sauce?
The sauce tastes very similar to P.F. Chang's Mongolian sauce but with a lot less sugar and salt. It is made from soy sauce, garlic, ginger, sugar or sugar substitute, and red pepper flakes. I've seen some recipes that also use sesame oil, and I think that would make it really good but I've never used it in mine. (Sesame oil is very pungent, so if you want to give it a try, start with 1 teaspoon of sesame oil and taste the sauce to see how you like it.)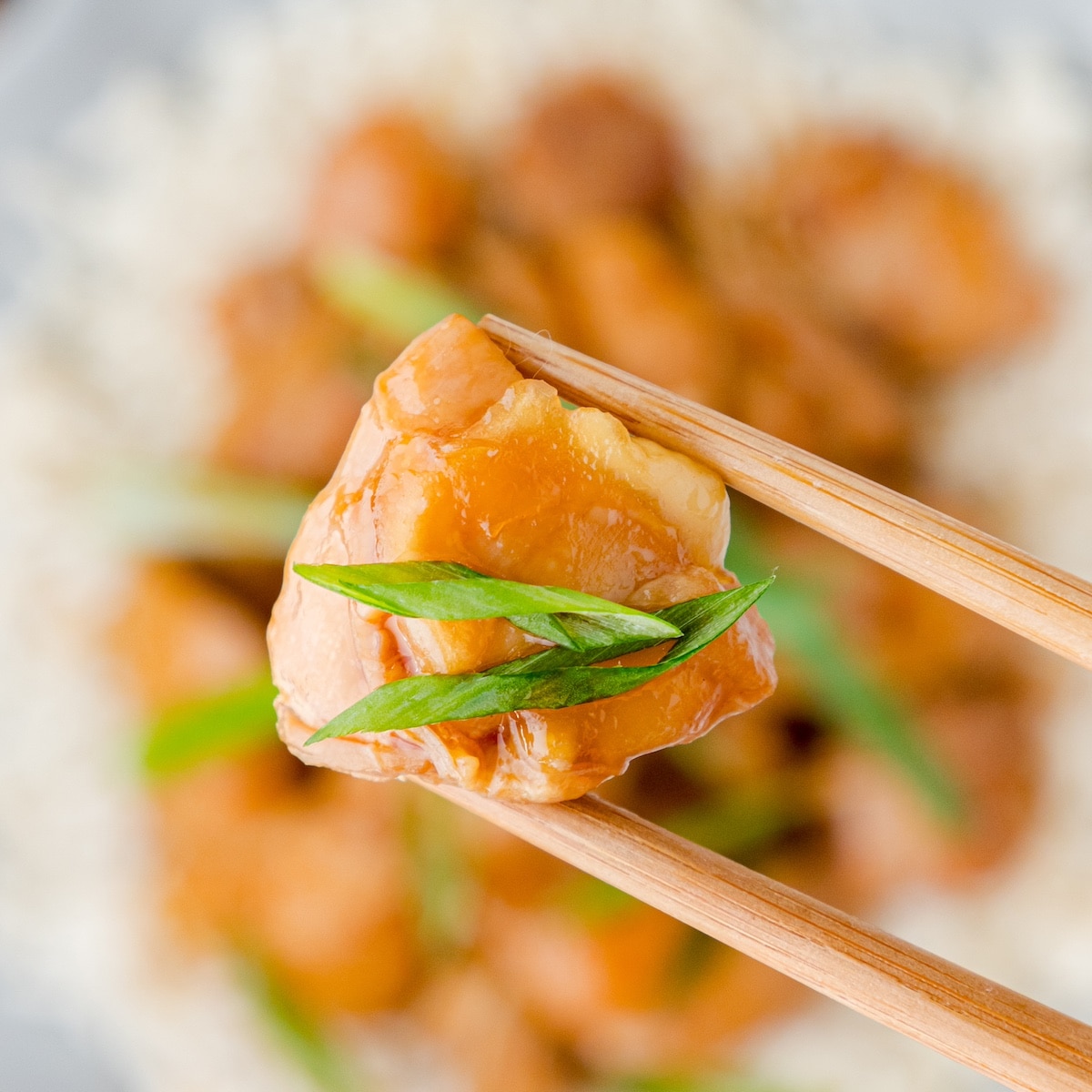 What is the Instant Pot?
I don't think you could be a living, breathing, internet-browsing human and not know what the Instant Pot is, but just in case you've somehow missed it, let me explain it to you.
The Instant Pot is an electronic pressure cooker that allows home cooks to prepare meals in a fraction of the time it would take to bake or broil the same foods. The chicken for this curry, for example, is done in less than 10 minutes plus an additional 10 to thicken the sauce. The whole thing is done right in the Instant Pot, so it's a simple and easy one-pot meal.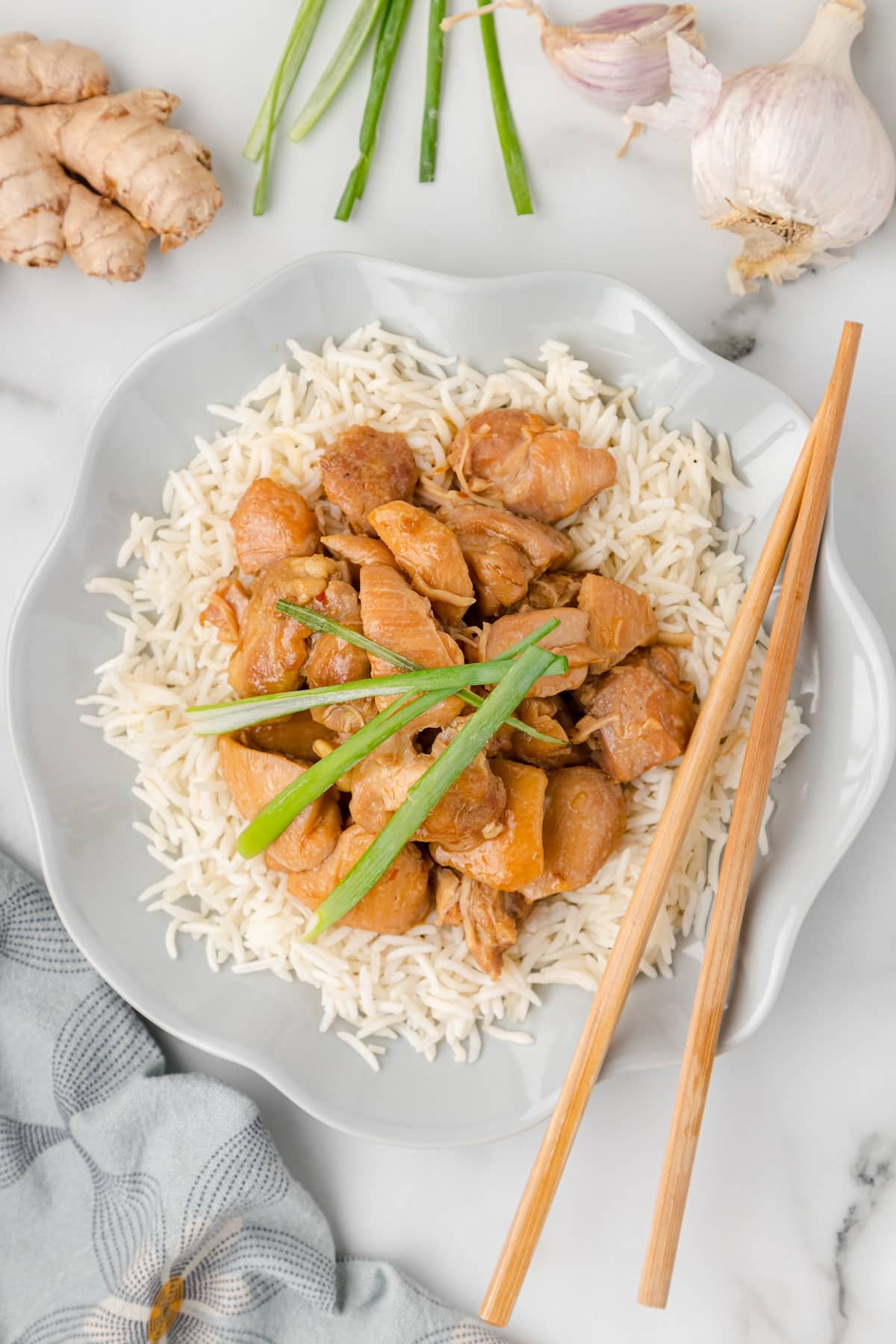 In addition to being a pressure cooker, the Instant Pot has other functions, like sauté, slow cooker, yogurt, chili, and rice. Some, like the one I linked above, can also bake cakes and keep foods warm. Instant Pots are pretty much the fairy godmothers of the kitchen.
What you'll need to make Instant Pot PF Chang's Mongolian Chicken
EQUIPMENT
Instant Pot - I have an 8-quart and a 6-quart Instant Pot. The 6-quart model is perfect for this recipe.
Garlic press - A garlic press minces fresh garlic into tiny tiny pieces that are evenly minute. You can use a sharp knife to mince the garlic, but you will need to take care to cut the pieces small enough that no one gets a big bite of fresh garlic.
Microplane grater - I don't know if any way to grate fresh ginger without a microplane grater. They have really tiny holes that make the ginger very small, similar to what the garlic press does for the garlic.
INGREDIENTS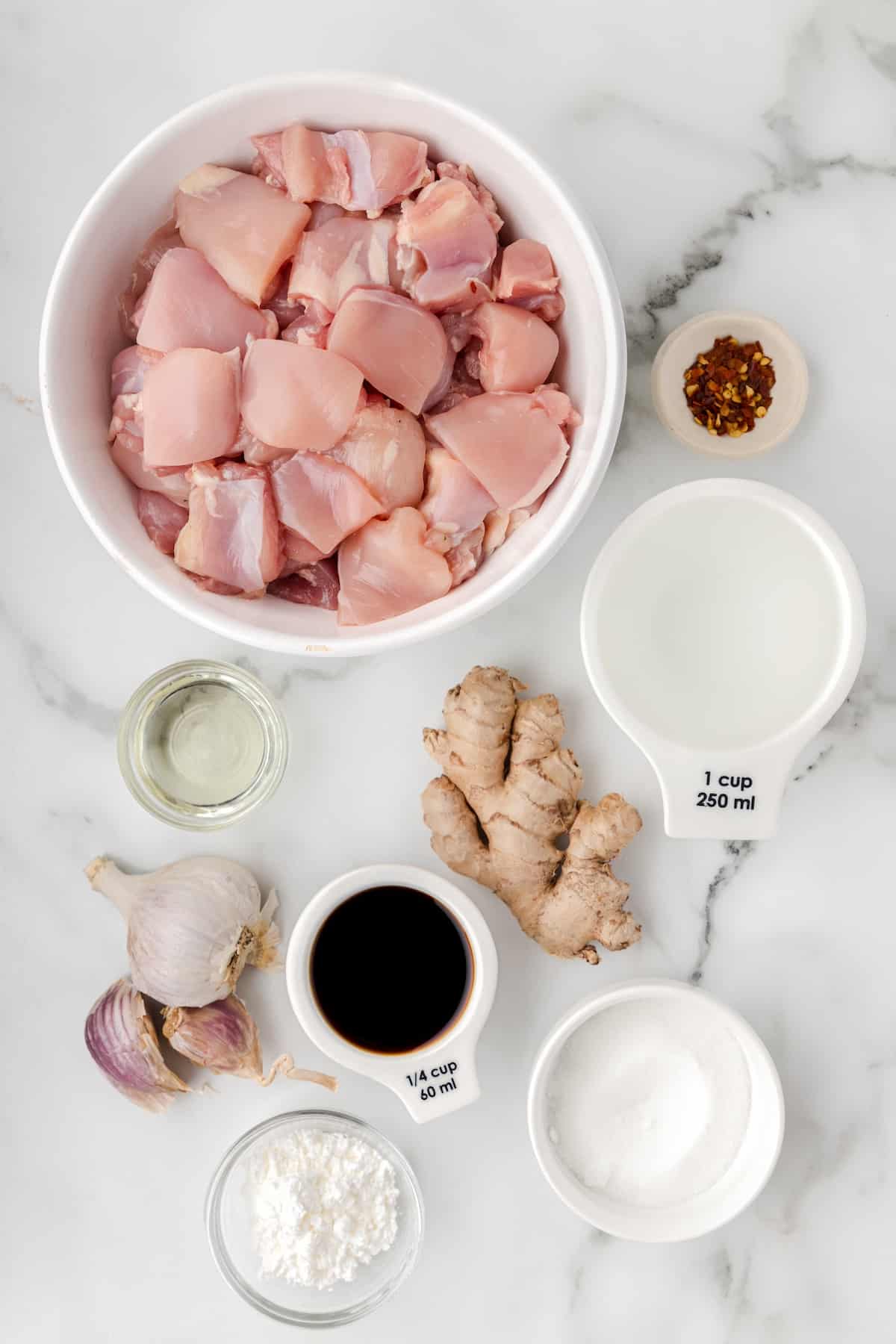 See printable recipe card at the bottom of the page for all measurements and nutritional information.
Boneless skinless chicken breasts or thighs - If often buy raw chicken strips or tenders and then cut those into bite-sized pieces. The tenders are a little more expensive, but they make prep a lot easier. I do not recommend seasoning the chicken with salt because you're going to put soy sauce in the Mongolian sauce, but you can use pepper if you want to.
Olive oil - You can substitute avocado or vegetable oil, or really any oil you like.
Splenda or Stevia - Or you can use an equal amount of white or brown sugar. Nutritional information was calculated with splenda. The sugar or sugar substitute balances the saltiness of the soy sauce. If you adjust the amount of sugar, you will probably also need to adjust the soy sauce similarly to avoid one or the other flavor from becoming overwhelming.
Soy sauce - We use La Choy brand Low Sodium Soy Sauce because it's gluten-free and cuts down on the saltiness factor. I don't like very salty foods.
Water - This is to deglaze the Instant Pot after sautéing the chicken. You can use chicken broth if you prefer.
Cornstarch - You'll use this to make a cornstarch slurry to thicken the sauce. If you prefer to use flour for this purpose, you can.
Water
Veggies - You'll want to steam some snow peas, asparagus, carrots, or mushrooms to serve alongside the chichken.
How to make the best Instant Pot Mongolian Chicken recipe
Add oil to Instant Pot. Use the sauté function to brown the chicken until golden.

Deglaze the pan by adding 1 cup water or chicken broth and scraping the bottom with a wooden spoon to dislodge all the flavorful brown bits.

Add the remaining ingredients except thickener and toss until well combined.

Cook at high pressure for 10 to 15 minutes then do a natural release for 10 minutes. (Chicken breasts need a little less time, and chicken thighs need a little more time.)

Select the sauté function on low.
In a small bowl, combine cornstarch with ¼ cup of water. Add this to the pot and gently stir to combine.

Cook a few minutes until the sauce thickens.

Can you cook the rice with the chicken in the pressure cooker?
Yes! If you have a tall trivet and a pot for inside the Instant Pot, you can put the rice in above the chicken. The cooking time remains the same.
What is a natural pressure release?
In this recipe, I tell you to do a natural pressure release for 10 minutes. This means that when the Instant Pot turns off after the initial cook time (10 minutes for chicken breasts or 15 minutes for chicken thighs), you let it sit with the seal still closed for 10 minutes. This allows the pressure to naturally dissipate without opening the seal.
After the 10 minutes natural release has passed, you can open the seal and quick release any remaining pressure. Once all the pressure has stopped escaping, it is safe to open the lid of the IP.
How do you avoid the burn notice on the Instant Pot?
When you sauté in the Instant Pot, you sometimes get a burn notice when the pressure builds up inside. This happens because you didn't get all the browned bits off of the pot when you deglazed the pan. To avoid the burn notice, you will need to be careful to scrape up all the brown bits and pieces on the bottom and sides of the pot after you've sautéed the chicken.
Can you make Instant Pot Mongolian Chicken in the Crock Pot?
Yes. You will need to brown the chicken ahead of time, then put all the ingredients except for the cornstarch slurry into the slow cooker. Cook on low for 6 hours or on high for 3 hours. When the chicken has reached an internal temperature of 165ºF, add the cornstarch slurry and cook on high for 20 to 30 minutes to thicken the sauce. It should come out just like if you cooked it in the Instant Pot for 10 to 15 minutes.
How to serve P.F. Chang's Mongolian Chicken
I serve Mongolian chicken with steamed or sautéed snow peas or other vegetables like broccoli, zucchini noodles, or asparagus. I've also served it with carrots, mushrooms, and bell peppers. PF Chang's serves the original with long slices of green onion tops as well.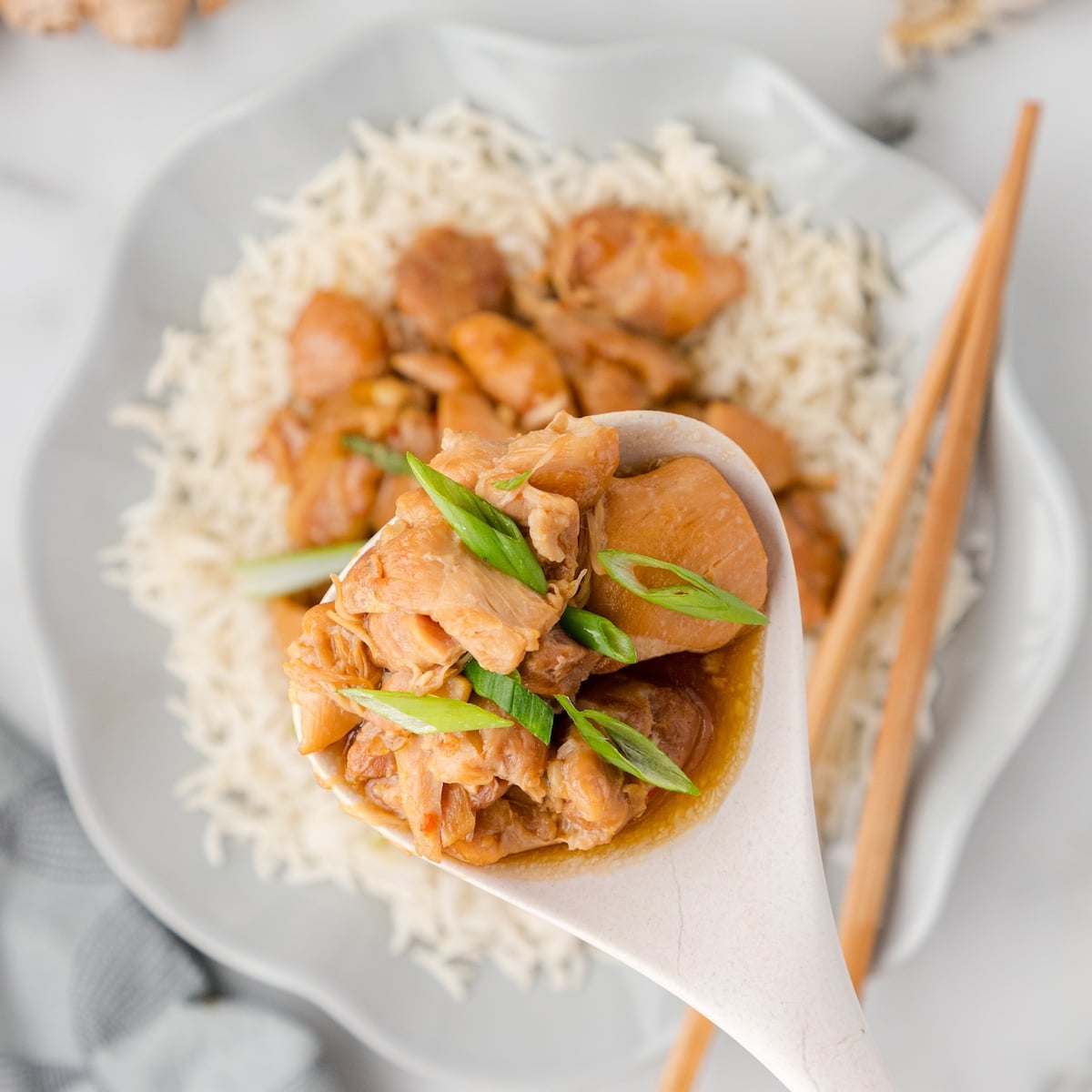 Variations of Mongolian chicken
As I said above, you can use either chicken breasts or chicken thighs in this recipe. Some restaurants cut their chicken into thin strips and some use bite-sized chunks as I have here. You can do either one.
You can also replace the chicken with shrimp or another shellfish. I especially love shrimp when it's tossed in the Mongolian sauce. I don't cook that in the Instant Pot. I cook it in a wok or a large skillet.
I like to serve Mongolian chicken over jasmine rice or cauliflower rice but some people enjoy it served over noodles or zucchini noodles. It's a personal preference so use what you like.
Most restaurants make Mongolian chicken as a chicken-only dish and serve the veggies on the side. That's how I make mine as well because I like using the Instant Pot. Because you're going to cook the meat for 10 to 15 minutes in the IP, it's easier to steam or sauté the vegetables in a skillet or wok while the chicken cooks. If you throw your veggies in the IP with the chicken and cook them at high pressure for 10 minutes, they're going to be mush when you open the lid. So please don't do that.
If you want to cook the veggies with the chicken, you're going to need to find a different recipe that is cooked entirely in a wok or skillet.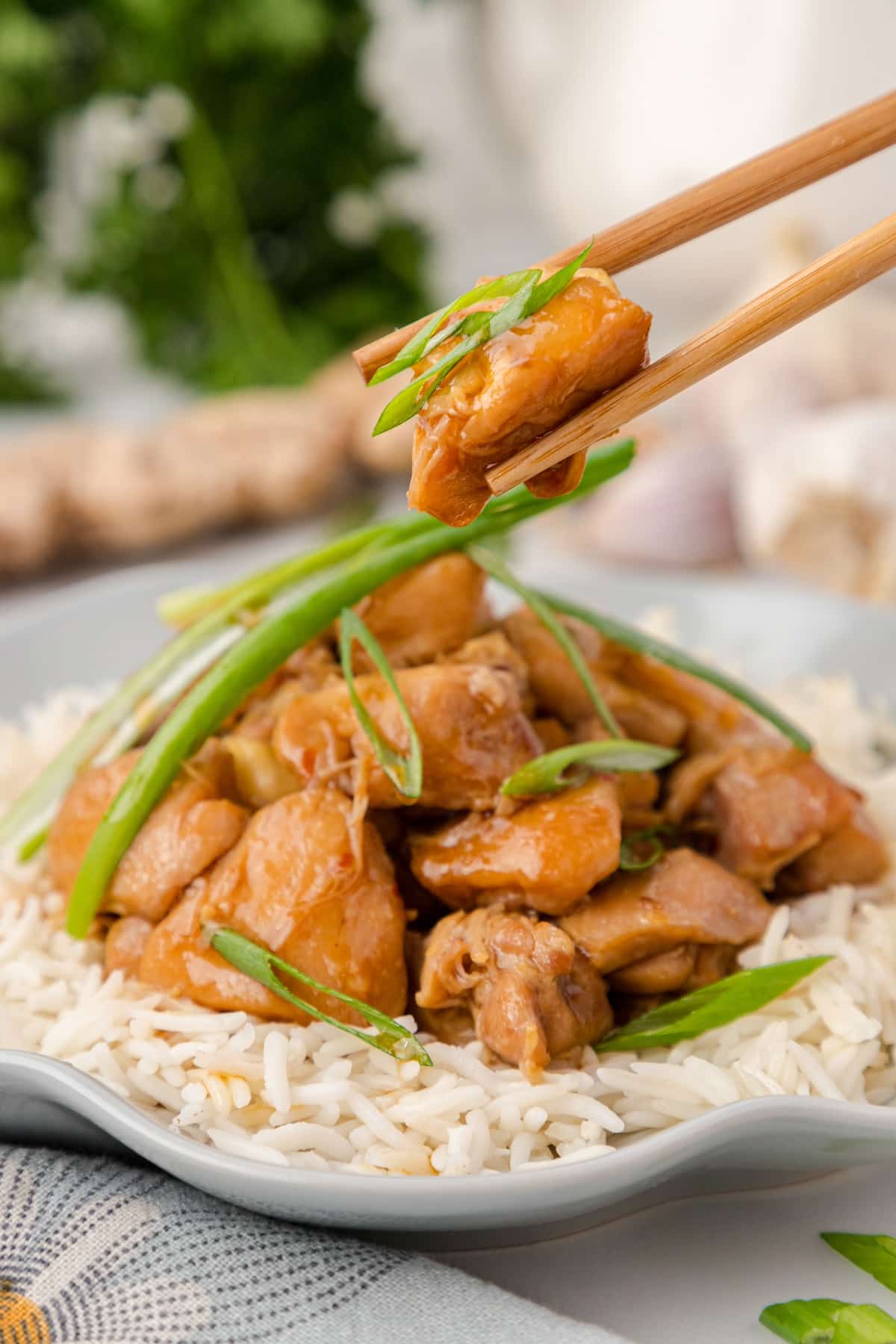 How to store leftovers
You can store Mongolian chicken leftovers in an airtight container in the refrigerator for up to 3-4 days. Reheat in the microwave.
Can you freeze Mongolian chicken?
Yes, you can. When the chicken is completely cooled to room temperature, transfer it to a plastic freezer bag or freezer container. You can keep it in the freezer for up to 2 months. To serve, transfer the chicken to the refrigerator over night and then reheat in the microwave or in a wok or large skillet over medium high heat.
Check out these other delicious Instant Pot recipes:
Recipe