This tender and juicy chicken recipe is ready in the Instant Pot in 15 minutes. It's quick & easy and uses only a few simple ingredients to make a healthy meal.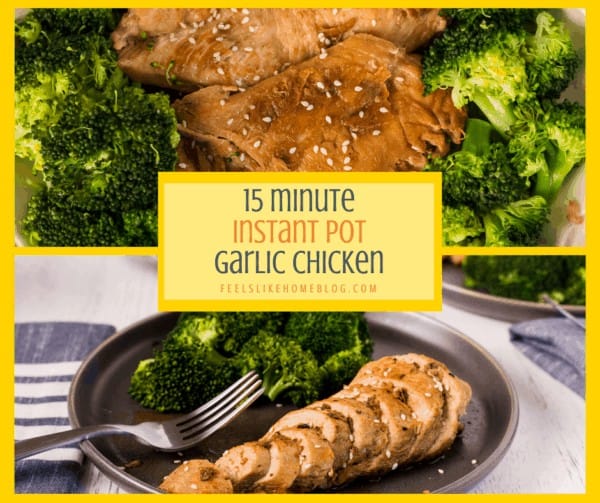 I don't have a lot to say about this particular recipe. It tastes great, and it's simple and quick to make, and we usually end up eating it a few times a month. The end.
This recipe can be really low carb thanks to Splenda in the sauce, but even with sugar, it's such a small amount that it's unlikely to offend anyone's diet. We typically just use sugar because it tastes the best.
Another thing I really like about this recipe is that it can be dressed up a wide variety of ways. The soy sauce sauce just sort of fades into the background, allowing you to dress it up with Sriracha, sambal oelek, hot sauce, or whatever else you might like. (Can you tell I'm on a spicy kick right now?) You can of course serve it plain (and that's what Joe does), but it's even better if you sauté some onions and mushrooms while the Instant Pot is going and top the chicken with those and a slice of colby jack cheese. It's just like the fancy $15 smothered chicken breast dinner you can get in many restaurants.
All this to say this is a very easy, very versatile chicken recipe that is likely to be a heavy player in your meal rotation.
How to Make Instant Pot Garlic Chicken
Prepare the sauce. Whisk together the sugar (or Splenda), soy sauce, chicken broth, and cayenne pepper in a very small bowl. Set aside.

Prepare the chicken. Season the chicken on both sides with salt and pepper.

Sauté the chicken. Add olive oil and garlic to the Instant Pot and cook for several minutes on the sauté setting. When the garlic is fragrant, add the chicken and lightly brown both sides, just a couple of minutes.


Cook the garlic chicken in the Instant Pot. Add the sauce to the pot and set the timer for 10 minutes on the manual setting. When the 10 minutes has elapsed, allow the pressure to release naturally and then remove from the pot.


Serve. You can slice the chicken as in the photos, shred it, or serve it in whole breasts.

Here are a few more easy Instant Pot meals I bet you'll love:
Recipe