This Instant Pot chuck roast recipe makes a juicy and incredibly tender beef roast that is perfectly paired with potatoes, carrots, and a flavorful brown gravy. Combining classic pot roast flavor with the quick and easy preparation of the Instant Pot, this recipe is a hit with the whole family and will delight even the pickiest eaters.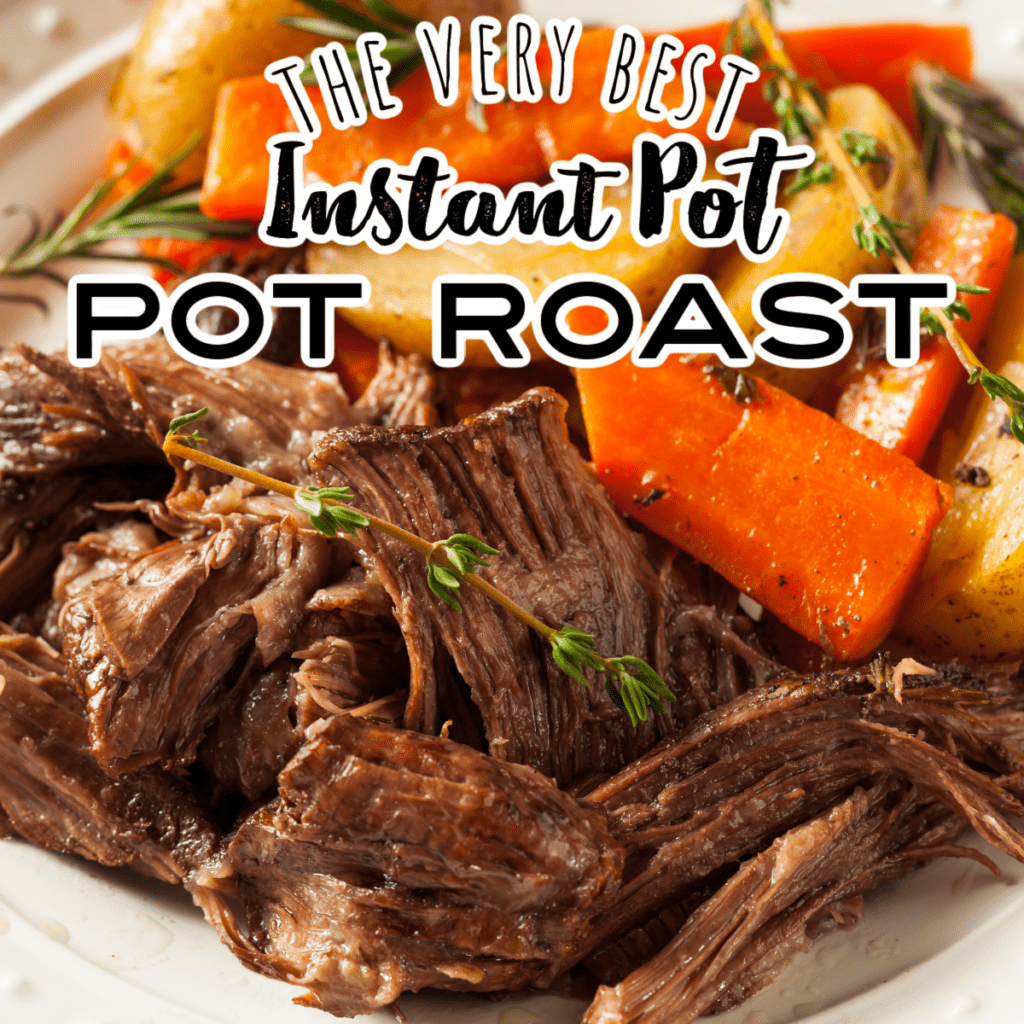 Pot roast, which used to be an all day affair in the oven, gets an update in this one-hour Instant Pot recipe, but you'll never know because it tastes so good!
Before I was married, I used to go with my mom and sister to a local private club. It was pretty shady in a lot of ways, but their food was super cheap and really, really good. One of my favorite meals there was pot roast.
Their pot roast reminded me of my mom's from my childhood. (She had pretty much stopped cooking by that time.) It was tender and fell apart with a fork. It was also flavorful, but without anything weird. It just tasted like beef. The best part was that it was accompanied by a huge helping of mashed potatoes with copious amounts of homemade brown gravy.
The recipe below makes an amazing, tender, and flavorful pot roast, too, though it suggests making potatoes and carrots alongside it in the Instant Pot. This is more like the way my mom made pot roast when I was a kid, always with the potatoes and carrots right in the pot, and it doesn't make gravy, so you will have to whisk some up afterward.
I don't generally eat potatoes, but my family does and I'm sure would prefer them mashed like the club made them. It's totally up to you.
A quick side note: We once made this into a slow cooker pot roast, and IT WAS NOT THE SAME. So do yourself a favor and make it in the Instant Pot.
Why this is the best Instant Pot pot roast recipe
Chuck roast (often called pot roast) is the ultimate Sunday dinner comfort food. It used to be relegated to weekends only because it had to cook in the oven forever, but this easy, flavorful, and delicious update is done in just over an hour. It's so easy and quick that you can even serve it for a weeknight dinner!
There are few meals more warm and comforting than tender, juicy roast beef. Instant Pot roast beef is an improvement on the original because it cooks in a fraction of the time.
This is a one-pot meal. You mix and cook everything right in the Instant Pot, so there's virtually no clean up after cooking.
This recipe only takes a handful of simple pantry ingredients, which means you probably have everything you need to make it already on hand!
Nothing beats a homemade beef roast with potatoes and carrots, smothered in a rich homemade gravy. You don't even need to make another side dish because it's all done in the pressure cooker.
What you'll need to make Instant Pot chuck roast
EQUIPMENT
Obviously, you will need an Instant Pot or another brand of electronic pressure cooker. Mine is 8 quarts, and I find that to be sufficient for my family.
You'll also need a garlic press or a very sharp knife to mince the garlic before adding to the roast.
INGREDIENTS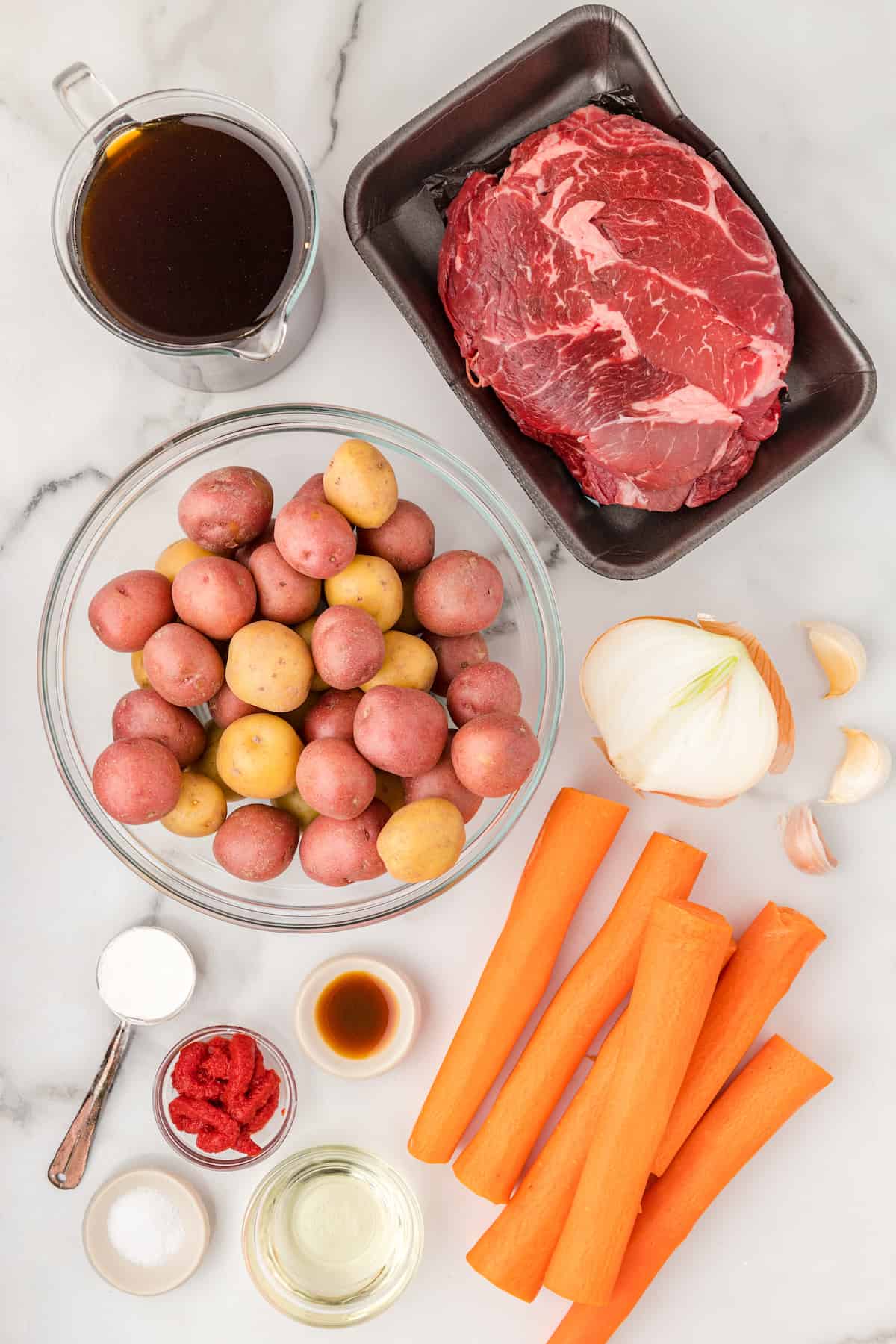 See printable recipe card at the bottom of the page for all measurements and nutritional information.
Olive oil - You'll need a little bit of olive oil to brown the roast. I suppose that browning isn't absolutely necessary, but you will miss the flavor it gives if you don't do it. All those charred bits give the roast a deep, rich flavor that you don't want to miss.
Boneless chuck roast - I use a two-pound roast and trim the big pieces of fat off before browning it in the Instant Pot.
Medium onion - Onion, garlic, carrots, and celery make the broth (and subsequently, the gravy) have a rich, complex flavor that is sooooo good.
Fresh garlic
Low sodium beef broth - You need a good bit of liquid for the Instant Pot to work its pressure cooking magic. I try to limit my salt intake, so I always use low sodium broth. But beyond the health factor, I think low sodium broth just tastes better.
Tomato paste - The recipe as written calls for about half of a small can of tomato paste, but I usually throw the whole can in rather than waste half of it.
Carrots - You're going to put two carrots into the broth when you cook the roast, and then you'll put the rest in after the roast is already done. If you put them all in at first, they will be mushy and unpleasant and will fall apart.
Celery - You'll add the celery with the two carrots above.
Baby potatoes - Leave the skins on for best results. As with the carrots, you're going to reserve these until the roast is almost finished.
Sea salt & black pepper - I prefer to add my own salt so that I can adjust for my family's taste preferences.
Corn starch or thickener of your choice - This is to make the gravy at the end.
Worcestershire sauce - This is optional, but I like the flavor it gives the roast.
How to Make Instant Pot beef chuck roast
Trim all the fat from a 2 pound chuck roast steak, pat it dry with paper towels, then sprinkle salt and pepper on each side. Set your Instant Pot to saute and and wait until the screen reads "hot." Add 2 teaspoon of the olive oil and sear meat on both sides. Remove roast from pot.

Add remaining 2 teaspoon of olive oil to the Instant Pot and add the onions and garlic.

Sauté for a few minutes until fragrant.

Deglaze with broth, tomato paste, and Worcestershire sauce and stir well.

Get all those brown bits up from the bottom of the pot to flavor your meat and veggies and make a killer gravy!

Add the roast back to Instant Pot.

Add 2 carrots and 2 stalks of celery, cut in thirds, to the Instant Pot.

Lock the lid and set on high pressure for 60 minutes.

After the cook time, do a natural pressure release. It took my pot about 15 minutes to release all the pressure. If you are hangry or impatient, you could switch it over to quick release anytime after this point and you should be good.
Remove veggies from the Instant Pot. Add potatoes and remaining carrots, cut in large chunks, to the Instant Pot.

Cook on high for 5 minutes.

Carefully remove roast and vegetables from the Instant Pot.

To make gravy, make a cornstarch slurry by combining a ½ cup of cold water (or of the hot stock) and mix it with 1 tablespoon of your choice of thickener (we use corn starch but flour would also work if you prefer).

Add this slurry back to the IP and place pot on sauté. Simmer until the gravy thickens to your liking, stirring frequently.

Serve roast hot with carrots and potatoes and a drizzle of your homemade beef gravy.

Do I have to pressure cook the carrots and potatoes separately?
Yes, you do. I know it adds an extra step and some extra time, but if you put the carrots and potatoes in the Instant Pot for an hour, they will turn to mush.
For the best most tender Instant Pot chuck roast:
Meats work best and gets most tender in the Instant Pot if you let them warm up to room temperature prior to cooking. When you take it out of the fridge, pat dry with paper towels, trim the excess fat, season with plenty of salt and pepper, and let it rest on the counter for one hour before browning.
Can I use frozen beef to make Instant Pot chuck roast?
Technically, yes, you can. You'll need to add 20-30 minutes to the cook time.
However, I think pot roast comes out much better when it's been thawed first. I recommend defrosting the roast overnight before you want to cook it.
A benefit of thawing the roast first is that you can sear it, and searing or browning the meat adds considerable flavor that you will miss if you throw a hunk of frozen beef into your Instant Pot.
How to fix tough pot roast
I have good news! This is a super easy fix.
To fix tough pot roast, you just need to cook it longer. If you've followed my instructions for a 2-pound roast, it should be falling apart tender. But if for some reason it's not, seal the lid back on your Instant Pot and cook it on high pressure for another 10-15 minutes.
How long does it take to cook chuck roast in the Instant Pot?
In the recipe below, I have suggested 30 minutes per pound. If your roast is warm (i.e. has been sitting out on the counter for an hour and is not cold to the touch), you can probably get away with 20-25 minutes per pound. If it's frozen, you will need at least 45 minutes per pound.
However, remember that your total cooking time will be longer than the Instant Pot time. The pressure cooker needs time to build up pressure and also time to release pressure. Both add considerable time to the process.
What's the difference between pot roast and chuck roast?
"Pot roast" is a cooking method that means you've cooked the meat at a low temperature for a long period of time, and "chuck roast" is a fatty cut of beef that comes from the cow's shoulder or neck. Chuck brisket and beef round are two other cuts that are commonly used to make pot roast.
How to store leftover pot roast
This recipe makes a good bit of pot roast. Store any leftovers in an airtight container in the fridge for 3-5 days. You can store the meat and veggies together in the same container, but I recommend keeping the gravy separate.
To freeze leftover pot roast, wrap the meat only in aluminum foil and then drop it into a plastic freezer bag. It will be good for about 3 months.
How to reheat leftover pot roast
You can zap chilled pot roast in the microwave for 30-60 seconds or until hot.
To thaw frozen chuck roast, move to the refrigerator overnight to defrost. Place leftover roast beef in a baking dish with a ½ to 1 cup of beef broth. Reheat in the oven at 375ºF for 10-12 minutes.
Here are a few other Instant Pot recipes you might enjoy:
Recipe