Copycat PF Chang's Mongolian Beef in the Instant Pot - This is the best quick and easy recipe for simple, healthy, and spicy Mongolian beef. Low carb, Keto Chinese food. How to make paleo gluten free takeout in the Instapot.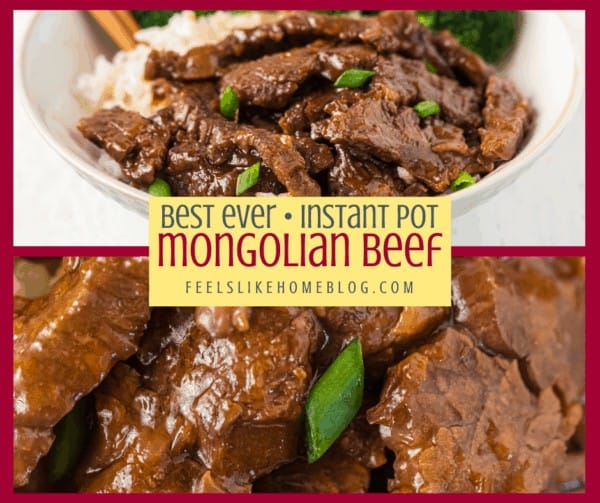 I got Joe an Instant Pot several years ago for his birthday. I worried at the time that it would be like the proverbial birthday vacuum cleaner, but he was really excited about it. He cooks most of our meals, and he hated the amount of time he had to spend standing over food on the stove.
He almost instantly began researching Instant Pot recipes, and we came up with quite a few on our own. Currently in his rotation are family favorites like:
Among a whole bunch of other Instant Pot recipes which you can see here.
This particular recipe came from a love of PF Chang's Mongolian Beef entrée as well as a desire to eat at home and have a healthier meal. So while the original is deep fried and crispy, ours is tender, having been cooked in the Instant Pot.
This recipe is so easy and quick that you will be making it on weeknights after work. There's very little hands-on time, and you will be eating dinner early for a change.
How to Make the Best Mongolian Beef in the Instant Pot
Prepare the beef. Start with a flank steak and slice it in thin strips.

Prepare the sauce. In a small bowl, combine soy sauce, water, oil, sugar, ginger, and garlic. Pour into Instant Pot.

Add beef to Instant Pot. Add beef strips and shredded carrot to the pot and mix until well coated.

Cook the beef. Set Instant Pot to high pressure for 8 minutes. After that time, let the beef cool for 10 minutes before releasing pressure.
Thicken the sauce. In a small bowl, whisk water and cornstarch until the mixture is smooth. Turn on the IP sauté button and pour the cornstarch mixture into the sauce. Boil until the sauce thickens, about 2 minutes.


Serve. To serve, top with sliced green onions.

While you're here, check out these other delicious beef recipes:
Recipe