These Jamaican Meat Pies are also known as Jamaican Beef Patties. Start with a flaky buttery dough and fill it with perfectly seasoned ground beef. These meat pies come together in a few minutes and will be a big hit at any meal!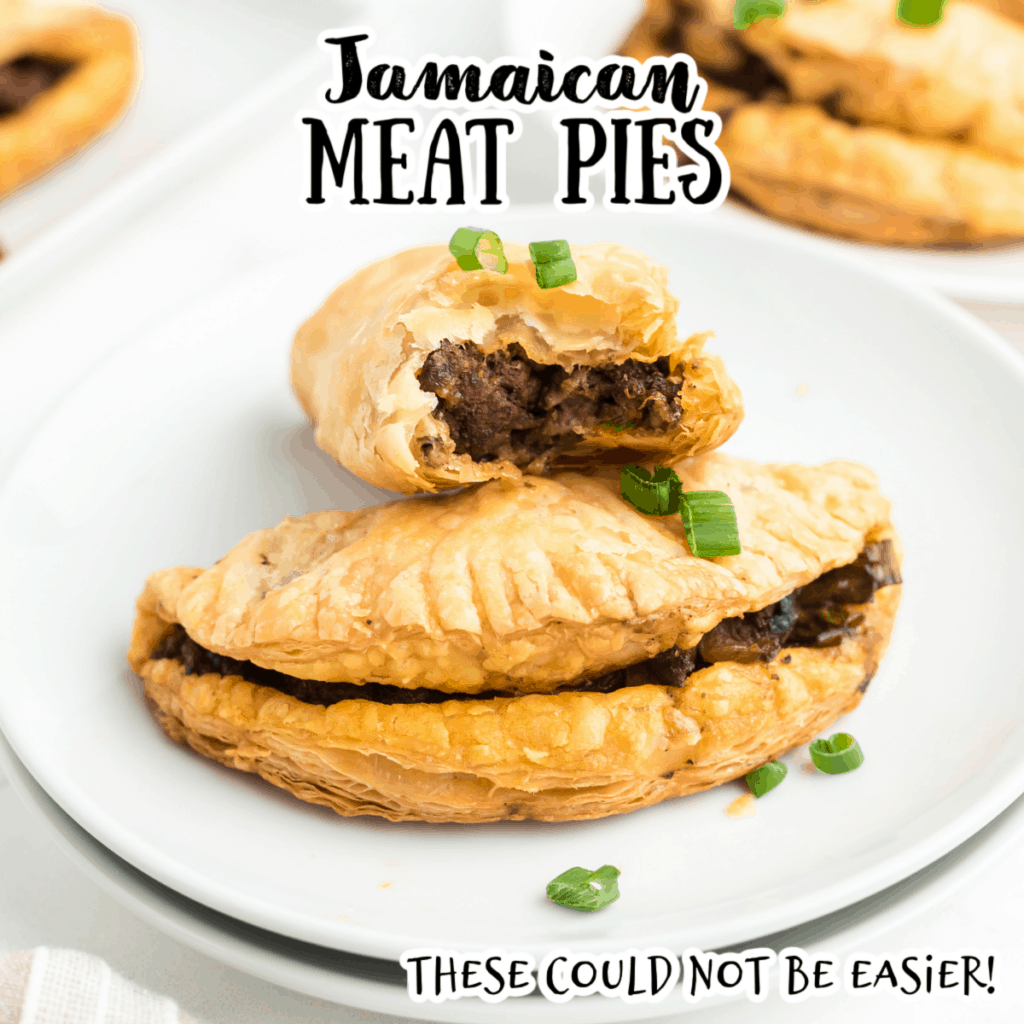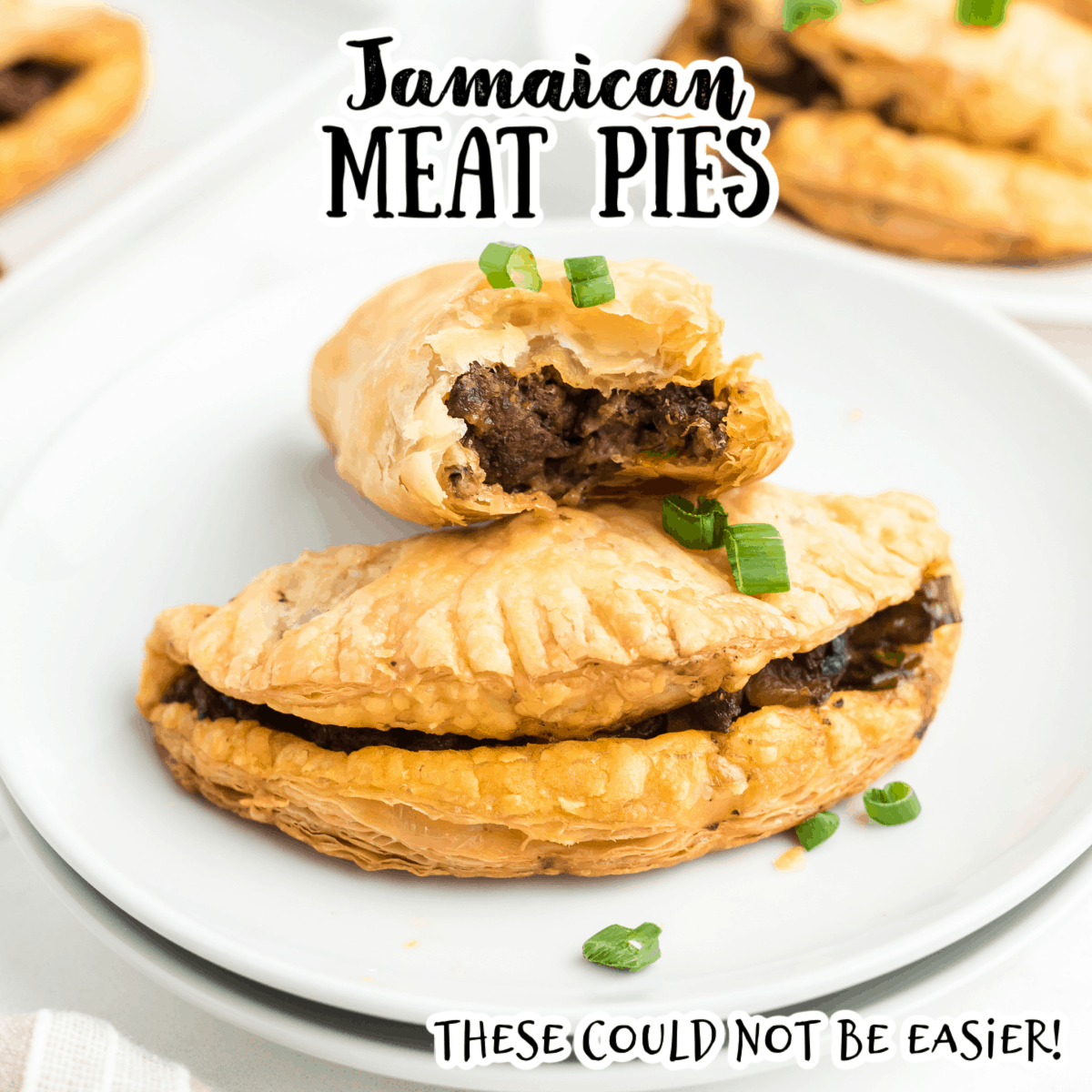 I've mentioned a few times before that Allie and I take all kinds of cooking classes online. At one point, we were doing 4-6 cooking classes a week, although we've cut back quite a bit since the spring.
One class we took was a Jamaican cooking class, and our favorite food from that class was this Jamaican Meat Pie or Beef Patty recipe.
Because the class was only an hour long, we didn't really have time to make a pastry crust from scratch, prepare the filling, and bake the pies. The teacher had to cut out something.
She chose to cut out the homemade pastry, instead using frozen (and thawed) puff pastry sheets. Puff pastry, rolled a little thinner than normal, made an awesomely flaky and buttery crust for the meat pies.
I've made pumpkin and sausage pasties using refrigerated pie crust, and that is also very good. So if you don't have puff pastry, consider pie crust as a good second choice.
Jamaican Beef Patties
I don't know why they're called beef patties since they're really more like hand pies, but there it is.
The beef filling in these meat pies is heavily seasoned with paprika, thyme, curry powder, chili powder, allspice, and black pepper. The filling isn't spicy hot, but it is very flavorful.
If you want to make your filling spicy, you could add crushed red pepper to your taste. Just add a little bit at a time and taste frequently.
What you'll need to make Jamaican Meat Pies
Equipment
Ingredients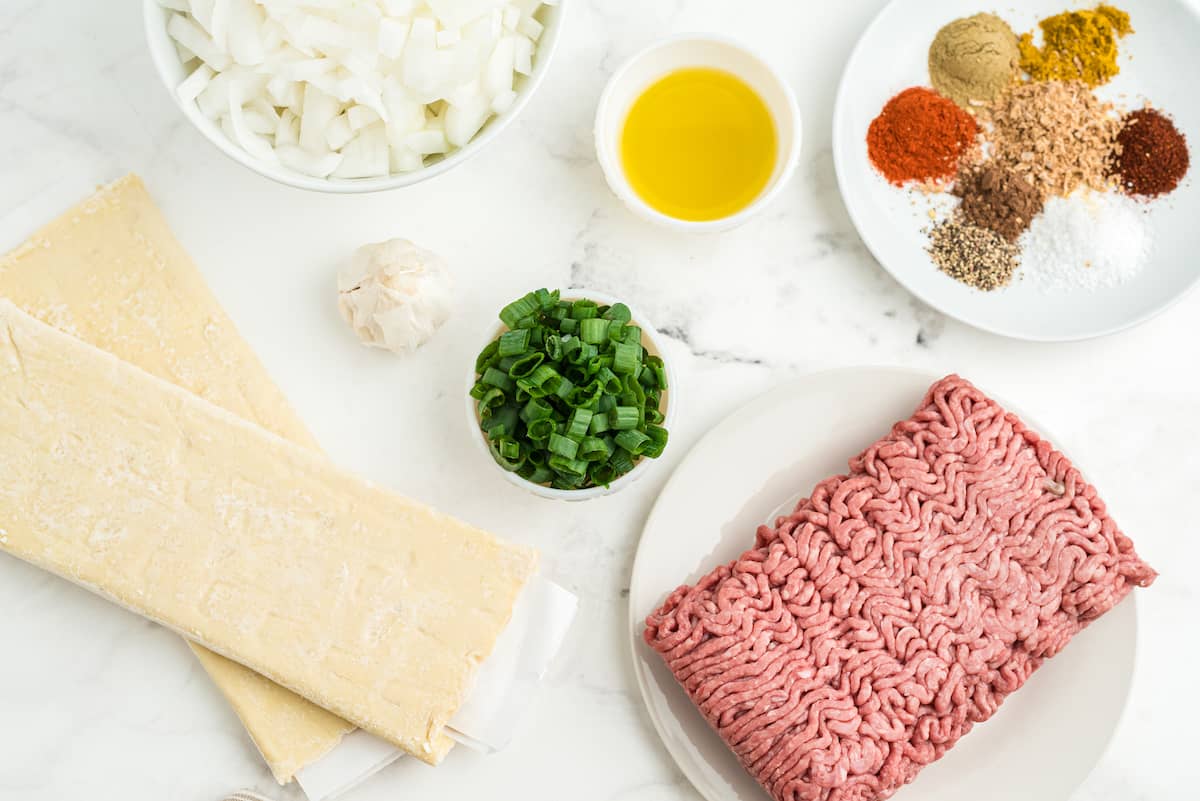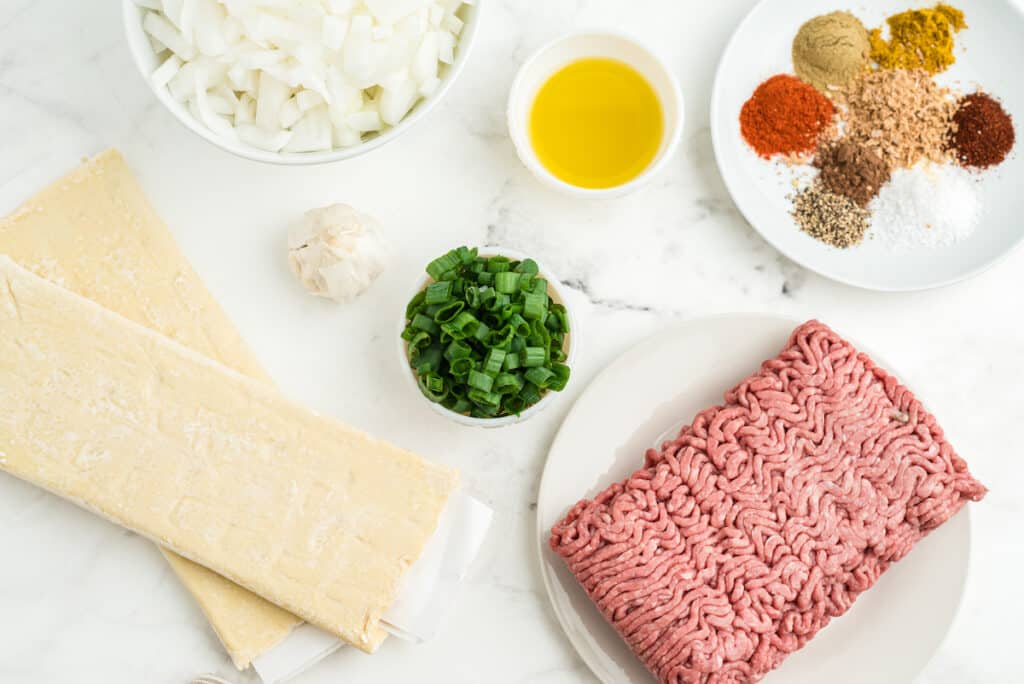 Puff pastry - Can you make these meat pies with made from scratch dough? Of course you can. But frozen puff pastry is easy and tastes great, so it's a shortcut I'm willing to get behind.
Olive oil - This is needed to sauté the onions.
2 medium onions
Sweet Paprika - This may be labeled simply "paprika" or "sweet paprika." It is important that you NOT use smoked paprika.
Thyme, dried and ground
Curry powder - Be careful what curry powder you use. You want the yellowish curry powder that contains turmeric, not Thai curry or curry paste.
Chili powder
Kosher salt
Black pepper, freshly ground if possible
Allspice, ground
Beef bouillon cubes, crushed
Ground beef - I only buy 93% lean ground beef, but by all means, use whatever you have.
Garlic, freshly pressed or minced
Green onions, chopped
How to make Jamaican Meat Pies
Preheat oven to 375ºF.
Roll the puff pastry to about half its beginning thickness and cut as many 5-inch circles as possible, trying not to leave any dough in between the circles. After cutting as many circles as possible, roll the remaining dough into a ball and then roll it back out to the same thickness and cut more circles. Continue rolling and cutting until you have used all of the dough. Dust the circles very lightly with flour if needed, then stack and set aside.

Heat 2 tablespoons of olive oil in a 10-inch skillet. Test the oil to see if it's hot enough by dropping a small piece of onion into it. If the oil sizzles, it is hot.

Add onions, then sprinkle the following one at a time, stirring thoroughly in between each spice: paprika, thyme, curry powder, chili powder, black pepper, ground allspice, beef bouillon. Let the onions simmer for about 5 minutes or until translucent.

Crumble the ground beef into the skillet and continue cooking for 5 minutes, stirring and turning the meat frequently.
Press the garlic into the skillet and cook another 5-7 minutes, stirring and turning frequently, until all of the beef is browned.
Add the chopped green onions and adjust salt and pepper to taste. Remove from heat and allow to cool.

Assembling the meat pies
Spoon a heaping tablespoonful of meat filling onto one side of each circle. Fold the circle in half and use a fork or your fingers to press the edges together. Do this completely or the pies will pop open in the oven (as some did in the photos). If you're concerned about the edges sticking together, you can brush some plain water on the inside edge before pressing with the fork.

Make 2-3 slashes in the top of each pie to allow steam to vent during baking.
Place pies on a baking sheet lined with parchment paper.

Bake for 25-30 minutes or until dough is crispy and beginning to turn golden. Allow to cool for a few minutes and serve warm.

How to store leftover meat pies
I cannot imagine that you will have any leftovers because these beef patties are amazing. But, if you somehow do, you can store them in an airtight container in the refrigerator for 5-7 days or in the freezer for 3 months.
To freeze them, place them in the freezer in a single layer on a cold baking sheet for 2-3 hours, then transfer them to a zippered freezer bag or container.
Try these other delicious beef recipes while you're here:
Recipe