How to make BBQ beef biscuit cups. A sweet and savory BBQ beef mixture is tucked inside flaky biscuits. This simple and easy ground beef recipe for lunch or dinner is healthy and quick with just a few fast ingredients. Cheap and great for the budget and can be made with or without cheese.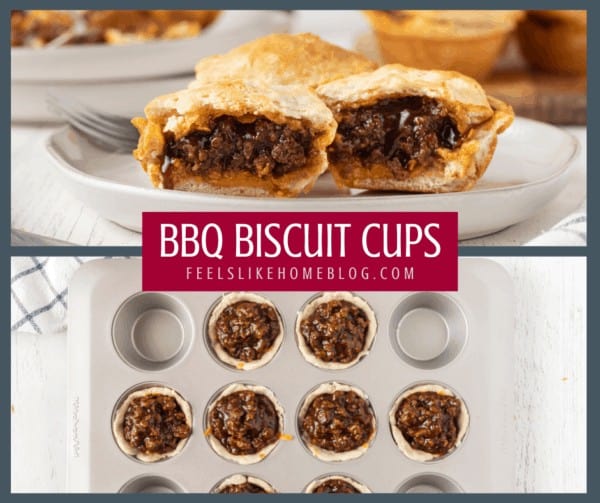 Before she died, one of my mom's favorite recipes was chicken & corn mini pies. They are made with a delicious filling of cream cheese, corn, and chicken, stuffed inside layers of refrigerated biscuits and baked.
My mom made them all the time, and we have carried on this tradition. Grace and Allie both love them, too.
Except for the onions. They don't love the onions, so we mostly substitute onion powder these days.
Despite that, we like the concept of chicken & corn mini pies so much that we've branched out to other fillings.
Our next favorite is BBQ beef.
These biscuit cups are quick and easy to put together, making them perfect for dinners after a long day of working, shopping, museum perusing, gift wrapping, gardening, or whatever.
We love them and eat them during the cold winter months and the warm summer months.
Yesterday, we stopped by Walmart on the way home, grabbed all the ingredients, and had dinner on the table less than 30 minutes later.
This recipe is a keeper!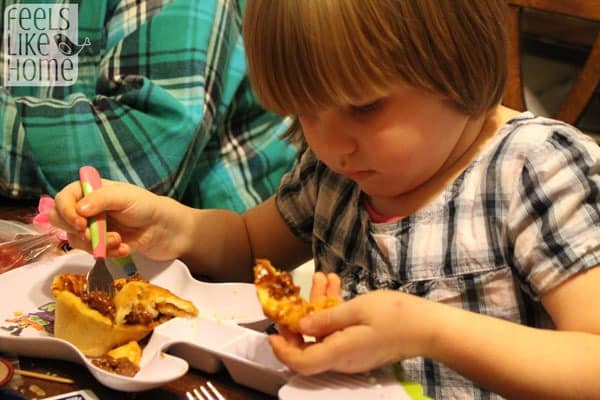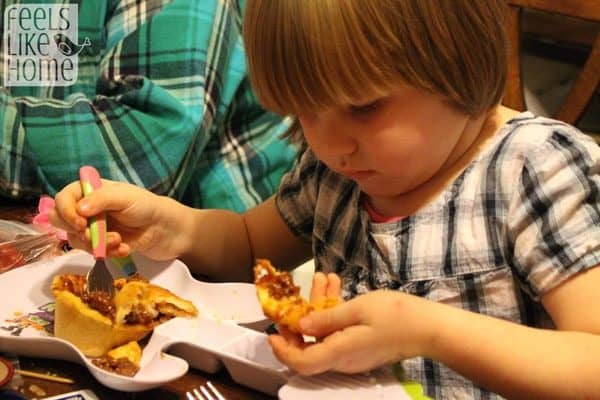 Grace and Allie eat these by taking the biscuits apart into bite-sized pieces and then topping each piece with a few crumbles of BBQ beef. It's a messy, whole body way of eating an otherwise neat and tidy food.
Joe and I prefer to cut our biscuit cups in half and eat each half by hand.
How to Make Beef BBQ Biscuit Cups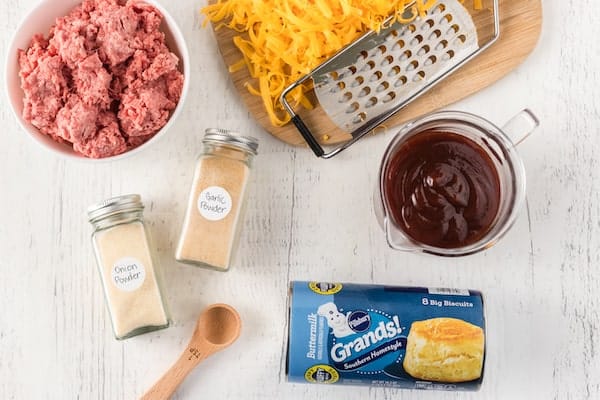 Preheat the oven to 400º.
Cook the ground beef, onion powder*, and garlic powder in a large skillet over medium heat.

Drain off the grease. Stir BBQ sauce into the beef and simmer for 3-4 minutes.

Pull one of the Grands! biscuits in half so that some of the layers are in each hand. Put half in the well of a muffin pan, stretching it as needed to conform to the well shape. Sprinkle with cheddar cheese. Top with a generous scoop of the BBQ beef mixture. Sprinkle with more cheddar cheese and cover with the other half of the biscuit.

Bake until tops are golden brown, about 15-18 minutes.

*If your kids aren't as onion averse as mine are, you could chop ½ of a large onion and sauté it in a tablespoon of butter prior to putting the ground beef into the skillet and omit the onion powder. This would give the finished biscuit cups a really nice flavor.
More hand-held meal goodness:
And more delicious beefy recipes:
Recipe