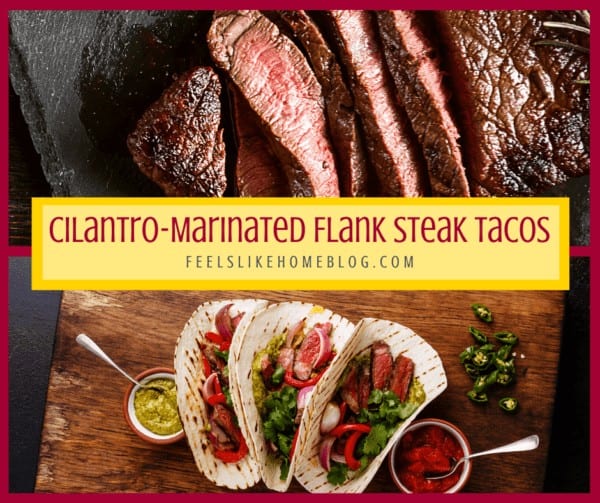 This recipe is the best cilantro marinade for steak! It's healthy, low carb, gluten-free, keto, & paleo and makes the best steak tacos or carne asada. You're going to love it!
Cilantro is one of those things that people either love or hate. I've read before that it's genetic, and that would explain its polarizing nature.
I personally love cilantro, and one of my kids loves it too. The other one absolutely hates it which I cannot understand even one little bit.
Every year, I try in vain to grow cilantro, but I have found it to be a terrible windowsill and even garden plant. I rarely have any luck with it; I plant it constantly but never get any harvest. It always goes to seed before I can cut any leaves, and then I am left with a bumper crop of coriander seeds and no tender cilantro. Boo.
If there is a trick that you know of to growing and using cilantro, please let me know in the comments.
Fortunately for me, the grocery store sells bunches of cilantro for cheap, and they taste great.
This amazing recipe satisfies my love of cilantro in a big way. It is perfect for winter suppers to remind you of summer flavors, and it's also perfect for grilling out poolside in warmer weather.
How to make the best steak tacos
Combine the cilantro, olive oil, garlic, lime juice, and salt in a food processor. Grind until almost smooth.
Place the flank steak in a plastic bag and rub the cilantro mixture all over both sides. Refrigerate the meat for at least an hour and up to 24 hours. The longer it sits, the stronger the cilantro flavor will be.
When you're ready to cook the steak, place it (with the cilantro paste still on) onto a broiler pan. Place the broiler pan about 6 inches from the heat and broil under high heat. For medium-rare, broil about 5 minutes, then flip and broil another 5 minutes. Remove from the broiler and let the meat rest 10 minutes before slicing.
Serve with corn or flour tortillas, cheese, sour cream or Greek yogurt, lettuce, tomatoes, and onions for an easy taco buffet.
While you're here, check out these other great taco recipes:
Recipe