How to make the best cilantro lime rice with black beans, corn, and tomatoes - This simple and easy homemade recipe makes a full meal in one skillet! Quick when you use minute rice and a healthy meatless meal with white or brown rice.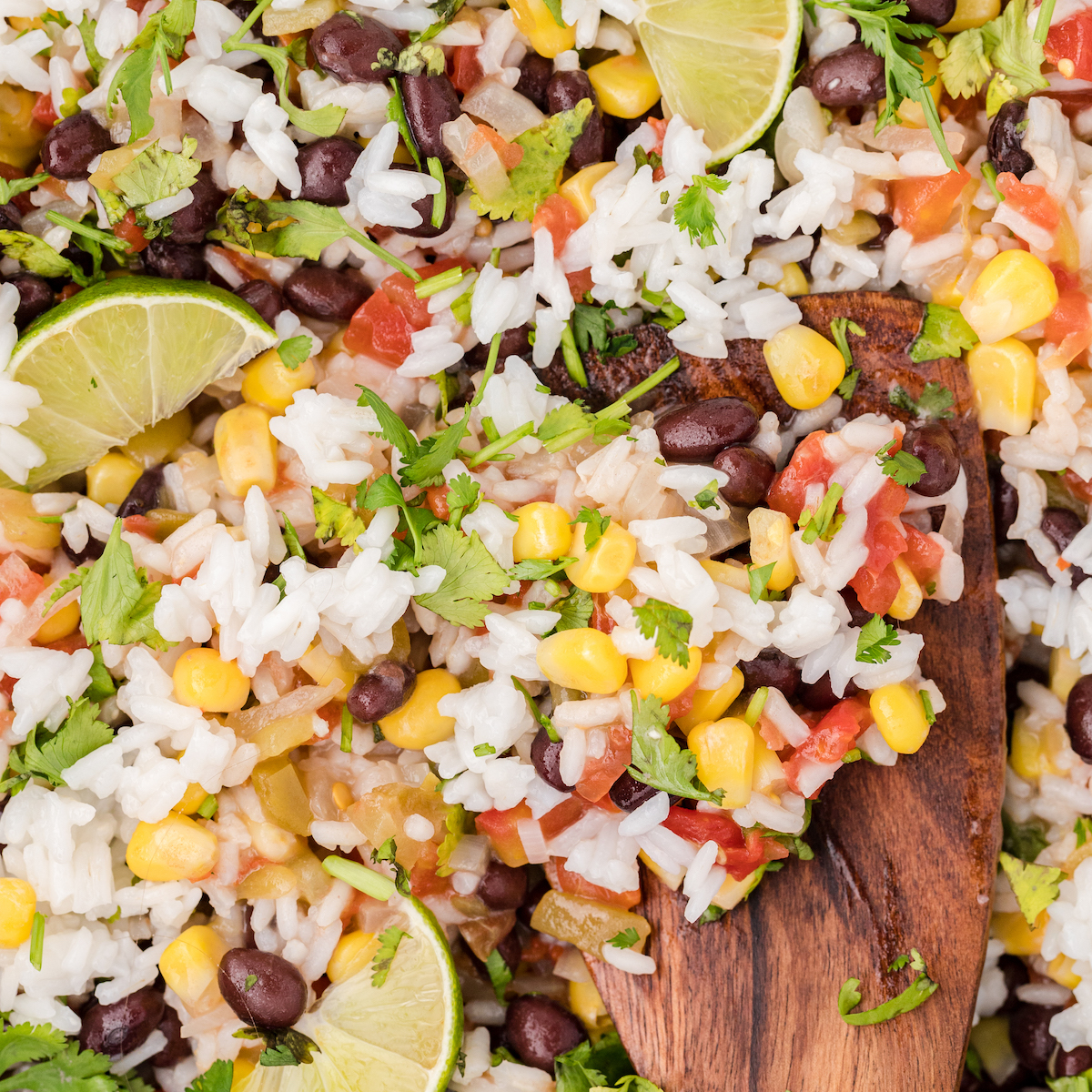 Cilantro is one of my favorite flavors. I know some people hate it (sorry, but I can't understand that), and my daughter is one of those people, but I am solidly in the LOVE IT camp and use it for cooking whenever possible.
I love cilantro so much that I've experimented with growing it many times. I don't seem to have much luck, but I keep trying every spring.
This rice and beans recipe came out really well. Delicious, even!
What you'll need to make cilantro lime rice with black beans
EQUIPMENT
INGREDIENTS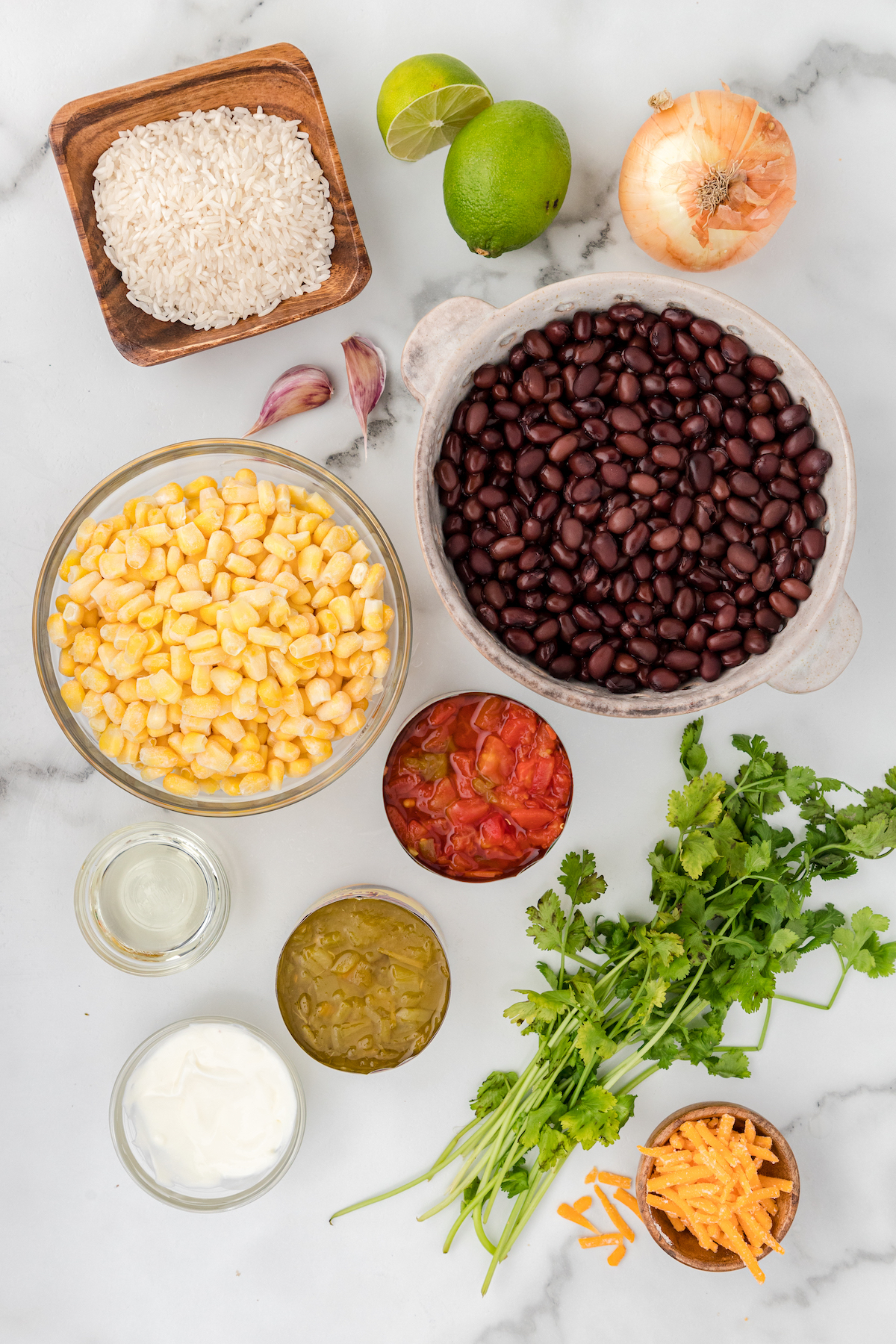 See the printable recipe card at the bottom of the post for all the measurements.
How to make the best cilantro lime rice with black beans, corn, & tomatoes
Prepare your chosen rice according to its package directions EXCEPT substitute part of the water with fresh lime juice. To do this, juice half of a lime, pour into a measuring cup, and then fill the cup with water to the amount required by your package. (If you're not vegetarian or vegan, you can use chicken broth or half broth half water instead of plain water for even more flavor.) We use basmati rice at my house, but this recipe will work just as well with instant or Minute Rice, brown, jasmine, or plain white rice. Cooking times will vary, so consult your package. Salt the water if you prefer. The instructions on the package will tell you to boil the water and rice in a medium saucepan then reduce the heat, cover, and simmer for something like 15-20 minutes. Typically, you also leave the rice off of the heat for a certain amount of time, then fluff with a fork to separate the grains and move on to the next step. (Alternately, you could use a rice cooker or Instant Pot.)

Heat olive oil in a medium skillet over medium heat. Sauté the onions and garlic until fragrant.

Add the lime juice, black beans, corn, green chiles, and tomatoes.

Heat until hot throughout.

Remove the skillet from heat and stir in cooked rice.

Stir in the cilantro. You should not cook cilantro because it quickly loses its flavor when exposed to high temperatures.

Serve with shredded cheddar cheese and Greek yogurt.

Chef's tips
It's best to rinse your rice at least once (preferably two or three times) to remove excess starch. This makes the finished rice less sticky and better tasting.
Never allow rice to sit at room temperature for longer than two hours as it can breed bacteria and make you sick. Promptly move the rice to an airtight container and refrigerate.
The easiest way to use cilantro is to separate the leaves from the stems with your fingers, and then snip the leaves with kitchen shears. Chopping cilantro leaves with a knife is an exercise in futility.
Never cook fresh cilantro! It will quickly lose its flavor and turn a sickly green color. Only stir it in after the rice and beans have cooled a bit.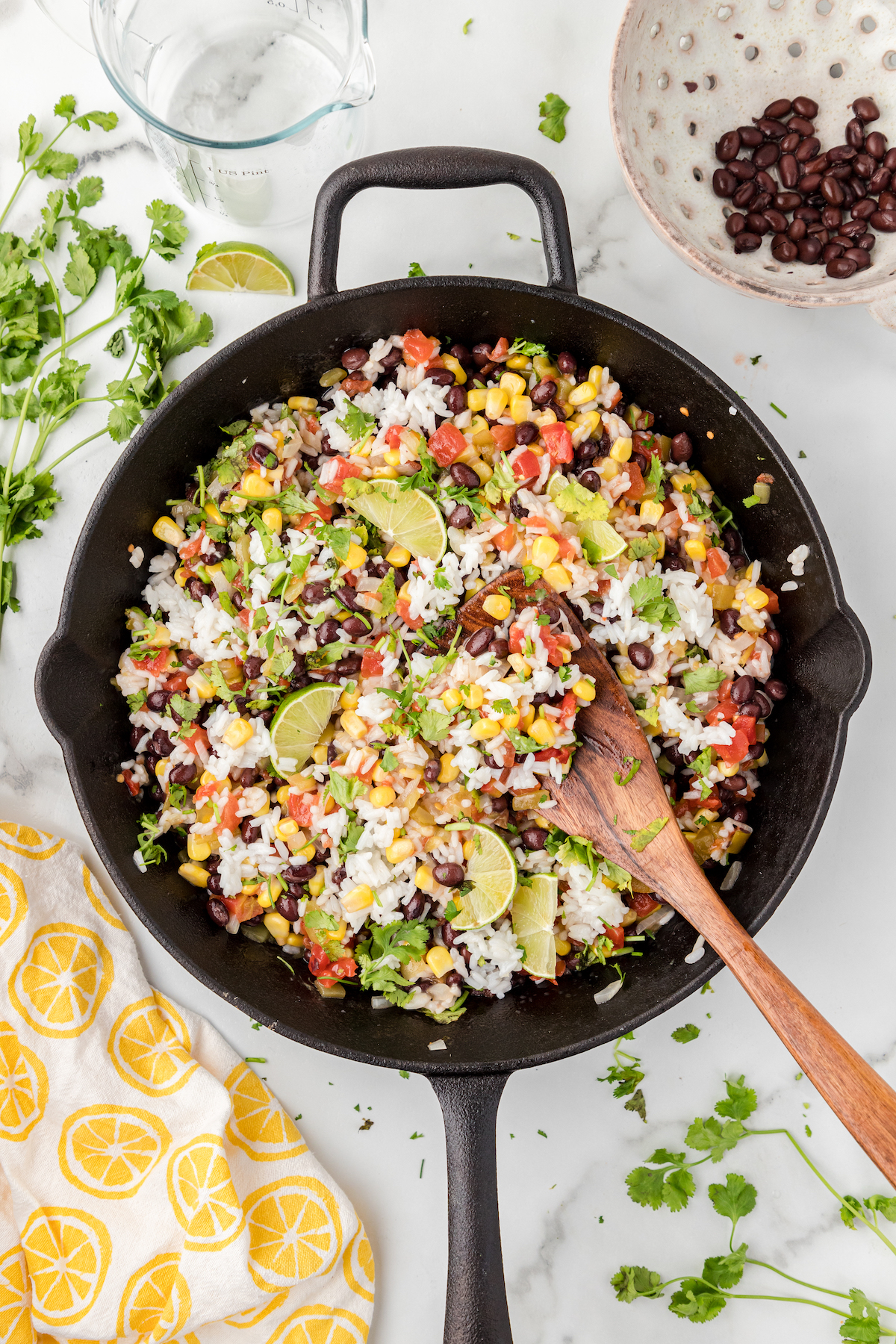 Variations
Zest the lime before squeezing and use lime zest to garnish the finished dish. It looks pretty and adds a nice punch of lime flavor.
You can sauté (or "brown") the rice before cooking for additional flavor. Heat some oil in a skillet, then toast the rice in the hot oil until it is just beginning to brown. Then add your water/lime juice and bring to a oil as directed above.
If you like butter in your rice, stir in a tablespoon (or two at the very most) before adding the rice to the beans mixture. I don't think it's necessary, but I know that some people prefer butter in their rice.
This is an awesome vegan meal, but if you are a meat eater, you could add a cup or so of pre-cooked and shredded chicken, beef, or pork with the beans and other veggies. It would make a hearty meal even heartier and add some additional flavor.
You can make this dish with cauliflower rice. Just add the lime juice after it's cooked, then proceed with the recipe.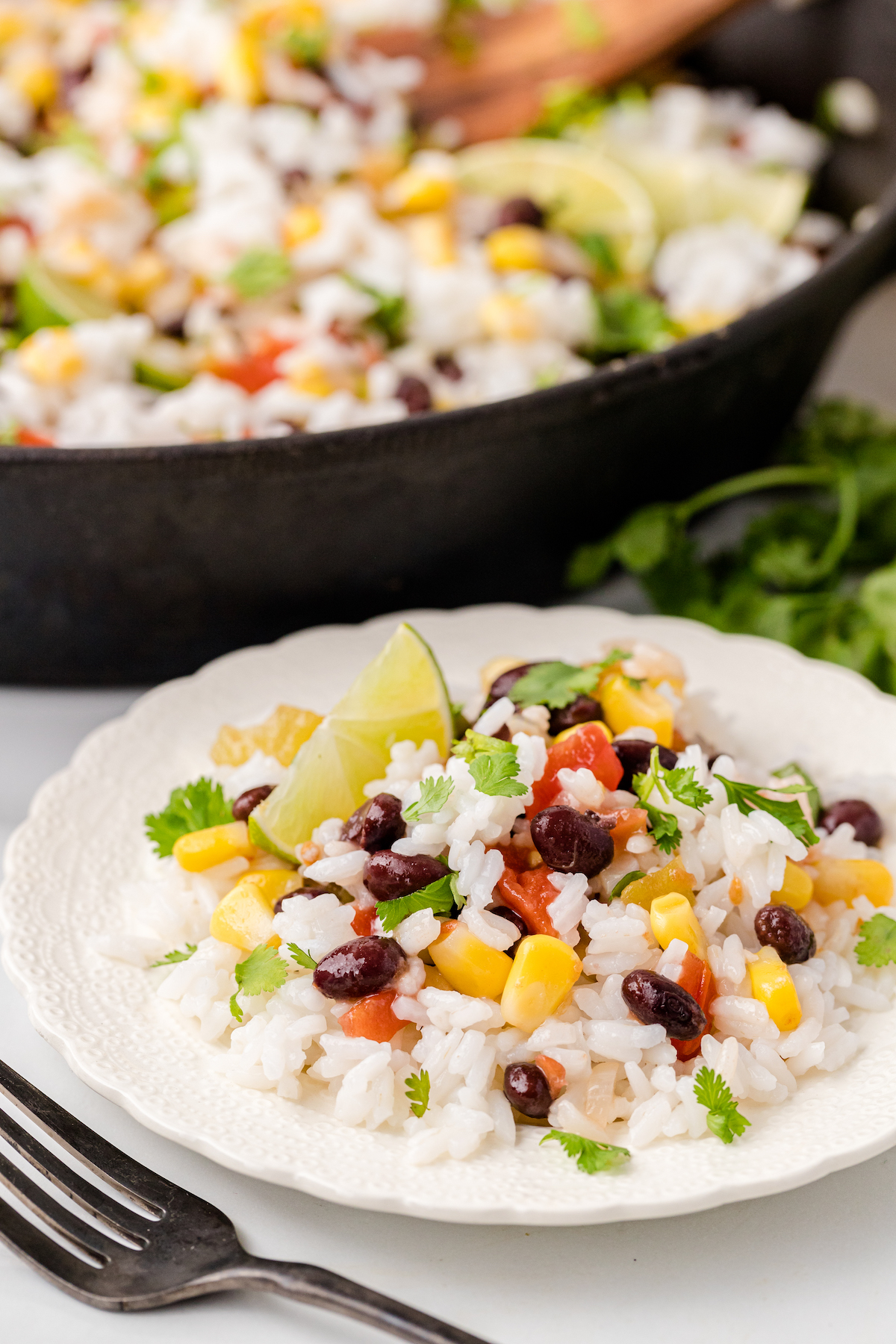 What to do with leftover rice
Store leftovers in an airtight container in the refrigerator for up to 5 days. You can reheat in the microwave or on the stove top.
You can also freeze cilantro lime rice for up to 2-3 months. Let the rice cool completely, then transfer to plastic freezer bags. Squeeze out any excess air and use a marker to add the date to the bag.
To use frozen rice, simply allow it to thaw in the fridge for a few hours or overnight. Then reheat in the microwave or on the stovetop.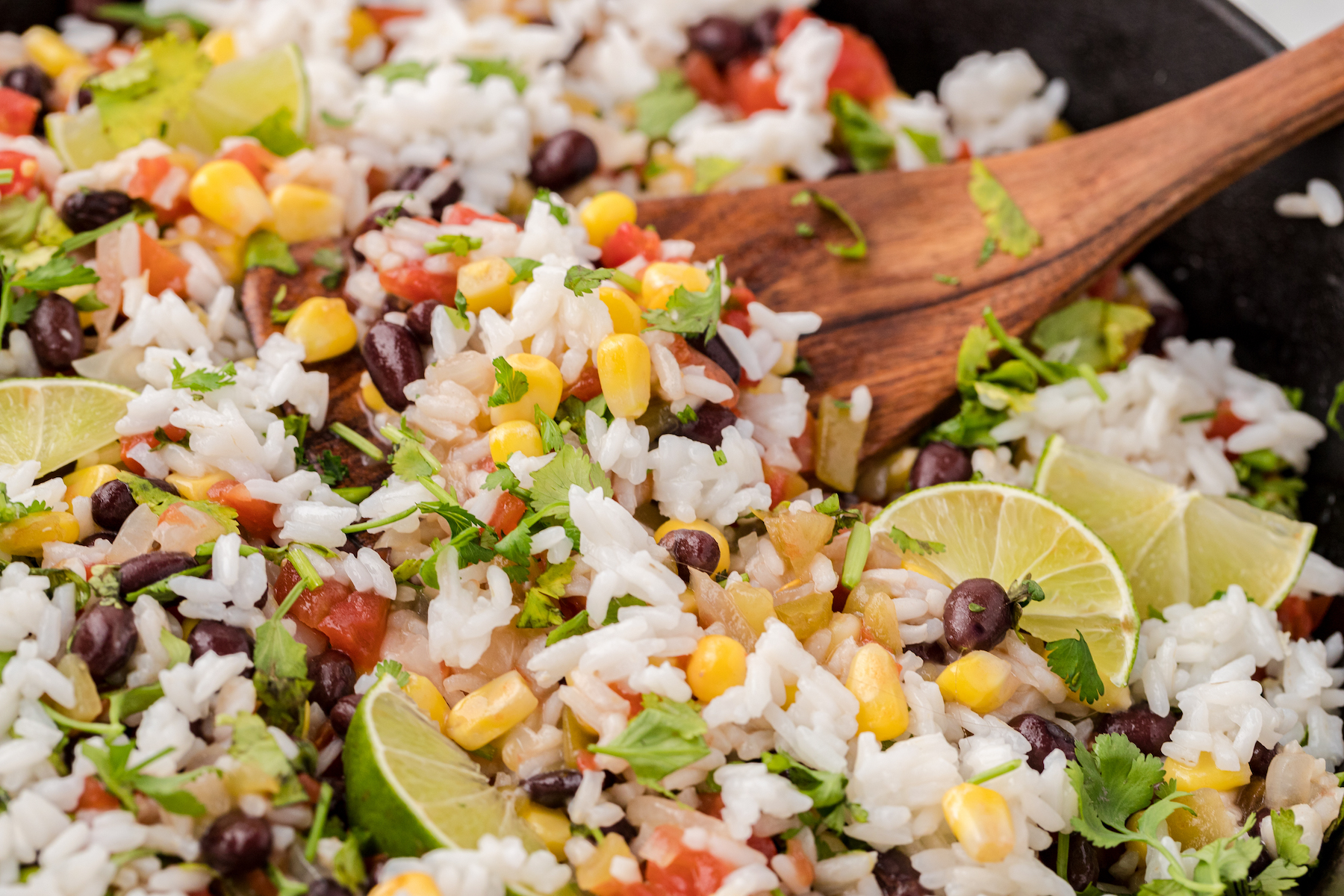 Try Cilantro Lime Rice & Black Beans in these recipes:
This recipe is an awesome filling for burritos, burrito bowls, tacos, and fajitas. Here are two of my favorite recipes in which you can sub cilantro lime rice:
If you like this cilantro lime rice recipe, try these other Mexican-inspired meals:
Recipe