The best slow cooker recipe: Crockpot Mexican Cubed Steak and Beans is a quick, easy, and healthy recipe for weeknight meals. This low carb and keto recipe can be used for fajitas, served over rice, or with a side of veggies. 5 minute prep and toss in the slow cooker.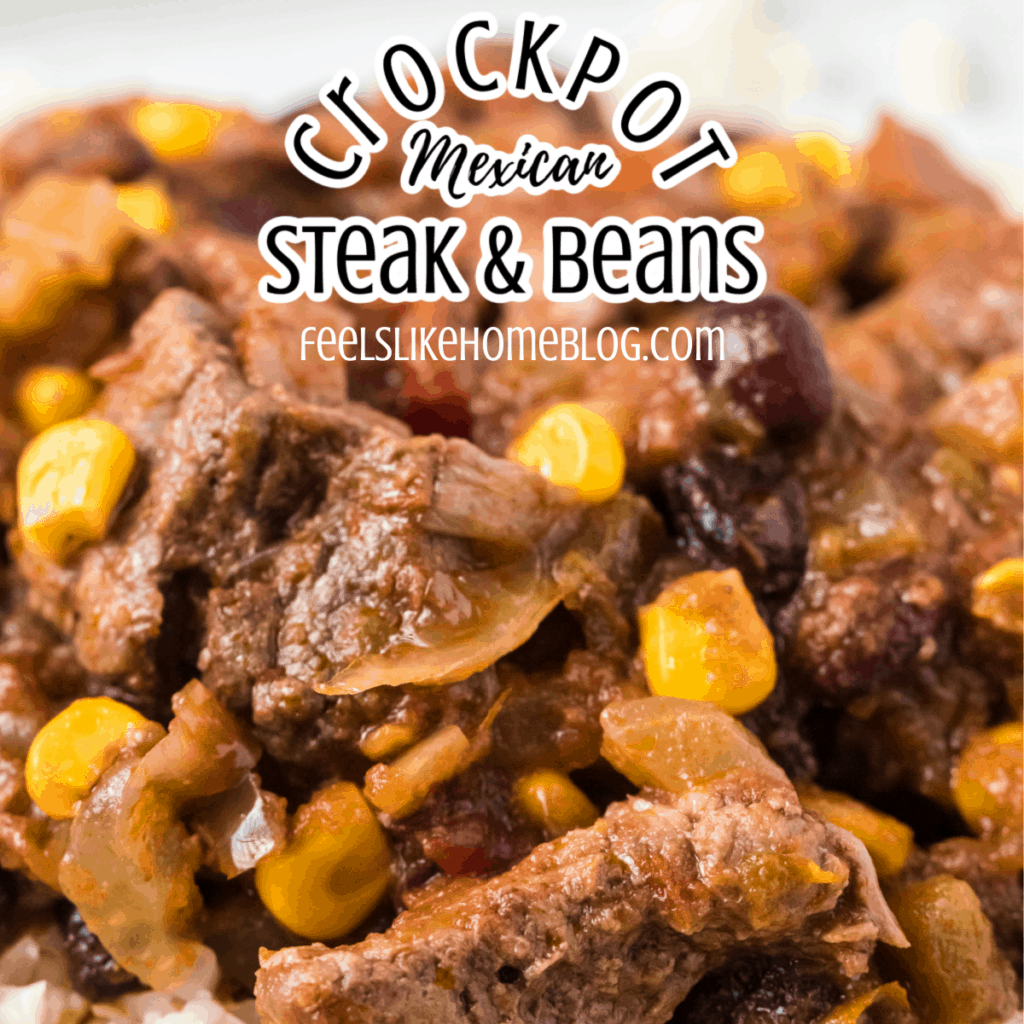 Joe and I both work full time jobs, and we often fall into the trap of not feeling like cooking at the end of a long day. Joe, who does most of the cooking in our family, is a construction site inspector who is on his feet all day in the heat of the summer and the cold of the winter. When he gets home, often he does not want to stand in front of the stove for an hour.
Enter the Crockpot and Instant Pot. We have tons of recipes for both. One or the other of us dumps the ingredients into the slow cooker, turns it on, and goes about our day. It couldn't be easier. Joe is our Instant Pot chef and often dumps some stuff in it when he gets home from work, goes off to shower and change, and comes back to a completed meal.
We especially like meals where there is salsa and cheese. Give us those two things, throw in some chocolate beans (Allie's term, black beans to the rest of us) and corn, and you have a meal that we are all sure to gobble up.
This recipe, because it is made in the CrockPot, is even better than the average salsa, cheese, bean, and corn concoction. Joe tossed it into the crock of the slow cooker the night before, left it in the refrigerator overnight, and put it into the CrockPot in the morning. By suppertime, we had tender steak tips with a spicy tomato sauce reminiscent of Mexican food.
It was so good. We ate our steak and beans over rice, but you could make it low carb by using cauliflower rice. You could even eat it over couscous or noodles or potatoes or even just plain with a vegetable side.
How to make Crockpot steak & beans
Cut the steak into cubes and place in the Crockpot.

Mix together the onion, corn, beans, chiles, salsa, and broth. Pour over beef in slow cooker.

Cover and cook on low for 8 hours.

Serve steak in sauce over rice or cauliflower rice.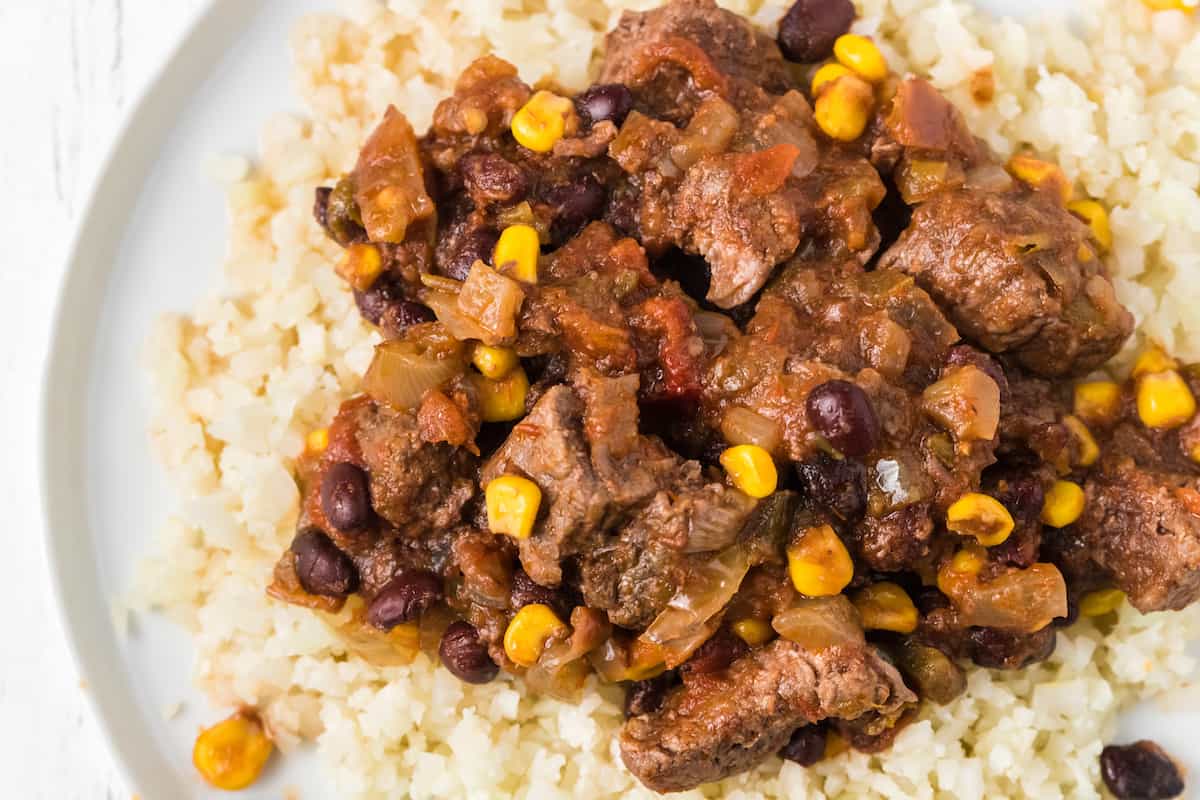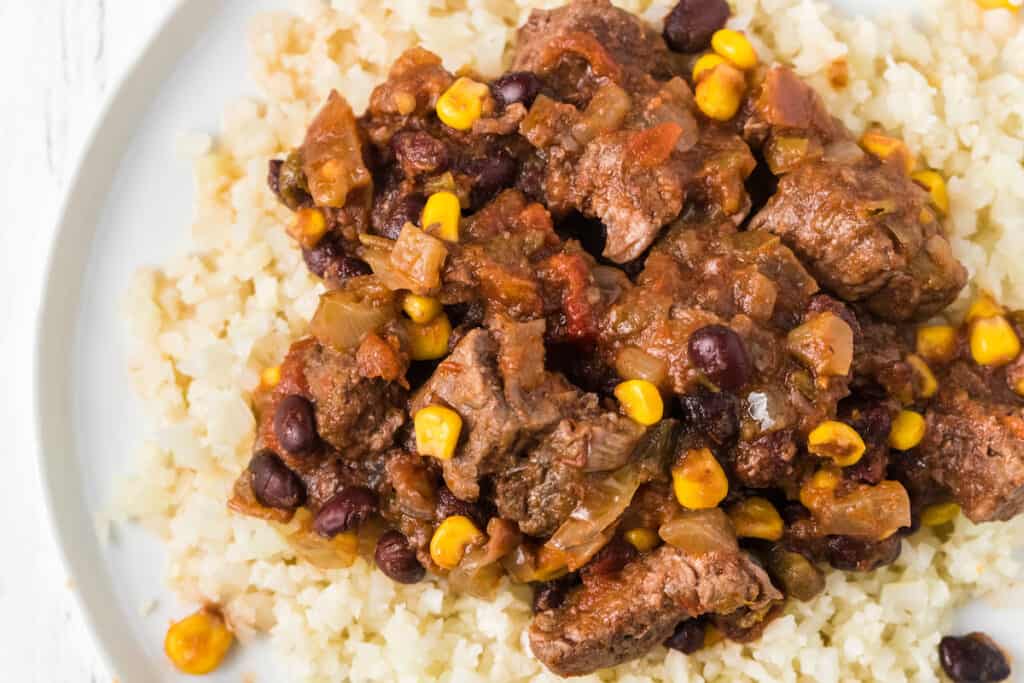 Recipe