How to make the best homemade copycat Taco Bell Mexican pizza - This quick and easy recipe is a healthy DIY version of the double decker tortilla pie you love. Baked in the oven with ground beef and tortillas, but can be made with chicken or vegetarian with simple modifications.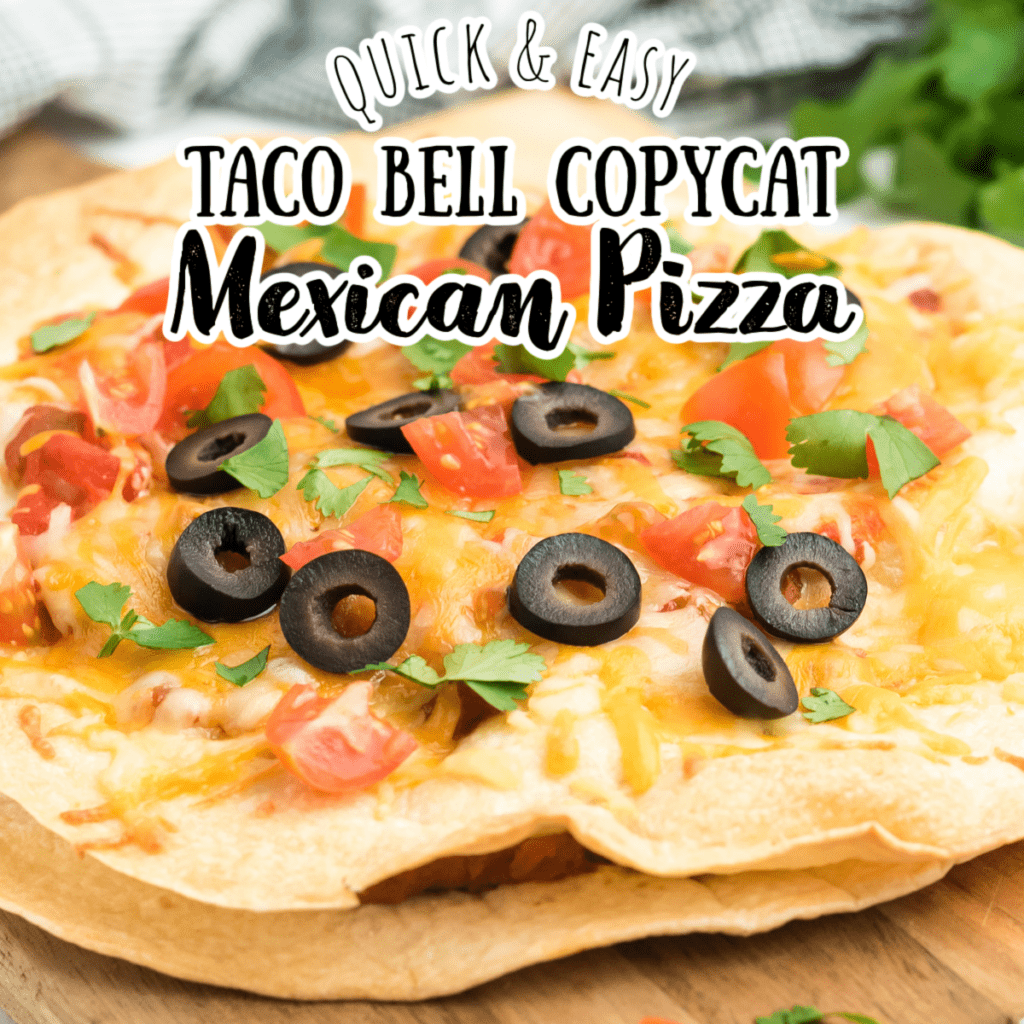 When we've been working out in the garden for too long, and we come inside, covered with dirt and hungry, we have painfully few options.
Joe put together these Mexican pizzas one day when exactly that happened.
The sun was shining, and we gardened and played outside late into the evening. By the time we came in, it was after 6 o'clock, and we threw these pizzas together instead of going to the drive thru.
They didn't take much longer than it would have taken to pack everyone into the car and drive to Taco Bell. Plus, they were not at all greasy, and they tasted amazing.
You will probably want a nice big salad or fruit cup to round out your meal.
What you'll need to make this copycat Taco Bell Mexican Pizza recipe
Equipment
This recipe needs some basic kitchen tools, including sharp knives, mixing bowls, a medium skillet, a baking sheet, and a garlic press.
Ingredients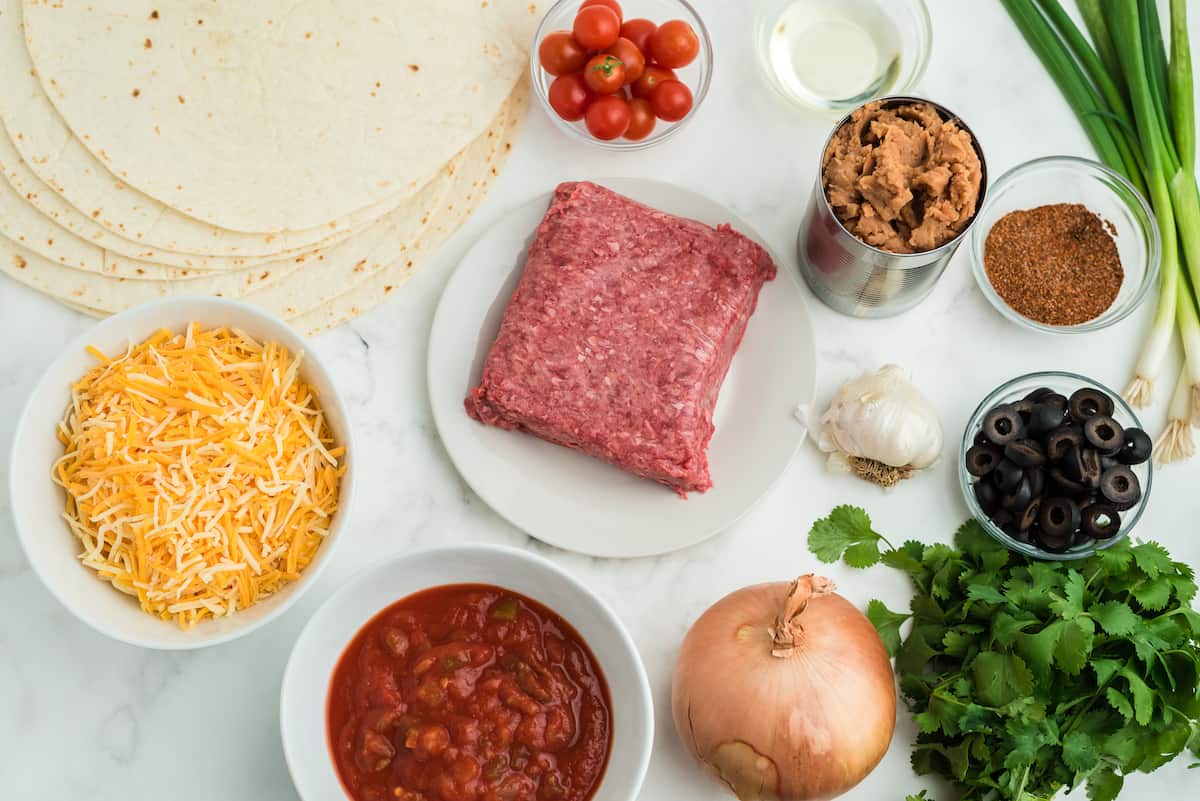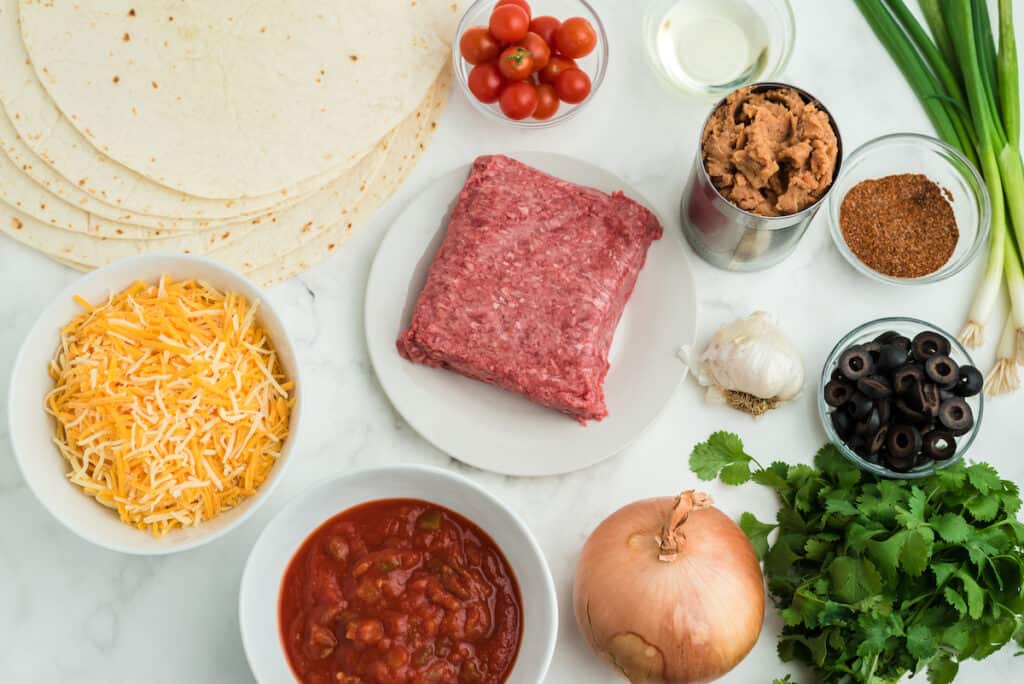 Olive oil - If you want to lighten the recipe, you could substitute cooking spray for the oil. Also, you can substitute any cooking oil you prefer, including canola or avocado oil.
8 burrito-size flour tortillas - These are larger 10-inch tortillas, and I cut them into wedges and serve half of a pizza to each person. If you prefer, you can use 8-inch taco-size tortillas or 6-inch fajita tortillas to make individual servings.
Ground beef - I prefer to use 93% lean ground beef. It's more expensive that fattier meat, but it is also significantly healthier and lower in calories.
Diced onion - This gives the meat a really nice flavor, but you could leave it out if you needed to.
Pressed garlic - I love my garlic press and use it daily. If you don't have one, you could try to mince the garlic with a sharp knife.
Taco seasoning - I prefer to make my own taco seasoning because it's easy, tastes better than store bought, and has no filler or preservatives.
Fat free refried beans - You can use any refried beans, but I prefer the fat free.
Salsa - My favorite salsa is Newman's Own pineapple salsa, but you can use any salsa you have, including homemade which would be wonderful.
Shredded Cheddar or Mexican blend cheese - Again, you can use any cheese. Pepper jack would be really good too, or even a combination of sharp cheddar and pepper jack.
Sliced black olives - These are a garnish.
Diced tomatoes - Also garnish.
Green onion - Also garnish.
Cilantro - Also garnish.
How to make the best copycat Taco Bell Mexican pizza
Preheat oven to 350ºF.
Brush each tortilla with a small amount of olive oil on both sides. Place on a baking sheet and toast for 5 minutes or until crispy.
Brown ground beef and onion over medium heat. Stir and cook for a few minutes, until the onions are soft and the meat is no longer pink. Press the garlic into the skillet and cook for 30 seconds or until fragrant. Remove from heat, sprinkle taco seasoning over the meat mixture, and stir to coat.

In a medium bowl, mix refried beans with 1 cup of salsa.

Spread bean mixture over 4 of the tortillas.

Sprinkle beef and onions over the beans.

Add a second tortilla on top of each pizza and spread with remaining salsa.

Top with shredded cheese.

Bake for 10 minutes or until the cheese is melted.

Top pizzas with diced tomatoes, sliced black olives, and chopped cilantro.

Slice and serve hot.


Should you use flour tortillas or corn tortillas?
I use flour tortillas because I prefer the flavor over corn. But there's no real reason to use one over the other. If you like corn tortillas better, use them instead.
Mexican pizza variations
Use more cheese - If you love cheese like I do, feel free to use more, and you can also throw some inside the pizza, between the layers. That will help it stay together better when you cut it, too. The extra cheese acts like a glue.
I didn't put the extra cheese in my recipe because it's not in the Taco Bell version. But I prefer mine with that extra stuffed in there.
Make it vegetarian - This is easy to make vegetarian - just leave out the beef! Also, make sure you buy vegetarian refried beans. The regular ones have beef fat in them.
Add rice - Especially if you're doing a vegetarian version, rice is an awesome addition. Add a layer with the beans and ground meat.
Change up the protein - My kids love Mexican pizza with ground beef, but I actually prefer with with shredded chicken or turkey instead. Sauté the onions first, then when they are completely soft, add 2 cups of shredded chicken to the skillet and sprinkle with the taco seasoning. You could also use ground pork, chicken, or turkey in the same way you used the ground beef.
Increase the spice - If you prefer more spice, you can use hot salsa, and you can also chop a jalapeño pepper and cook that with the onions and ground beef.
Replace the salsa - I like these Mexican pizzas with salsa on top of the top tortilla, but I have heard some people say that Taco Bell used enchilada sauce. You should still mix the beans with salsa, but then you could spread enchilada sauce on top of the pizza, right before the cheese. Here's my recipe for homemade enchilada sauce. If you try it, you'll never buy store bought sauce again!
Change the toppings - You can top the pizza with whatever you want. Try black beans, shredded lettuce, guacamole, or sour cream.
Deep fry the tortillas - Tortillas do get crispy in the oven, but if you wanted to, you could fry them in oil for the ultimate crunchiness.
How to store Mexican pizza
These don't store well at all. You're going to need to be cognizant of how many people are eating and only make enough for them.
If you try to put these in the fridge, the tortillas will get soggy and weird, the cilantro will wilt and turn dark, and you will be generally unhappy with the result.
Instead, store the leftover ingredients separately in the refrigerator and make the pizzas as you need them. The refried beans mixture and the ground beef mixture will keep for 3-5 days if you keep them in airtight containers in the refrigerator.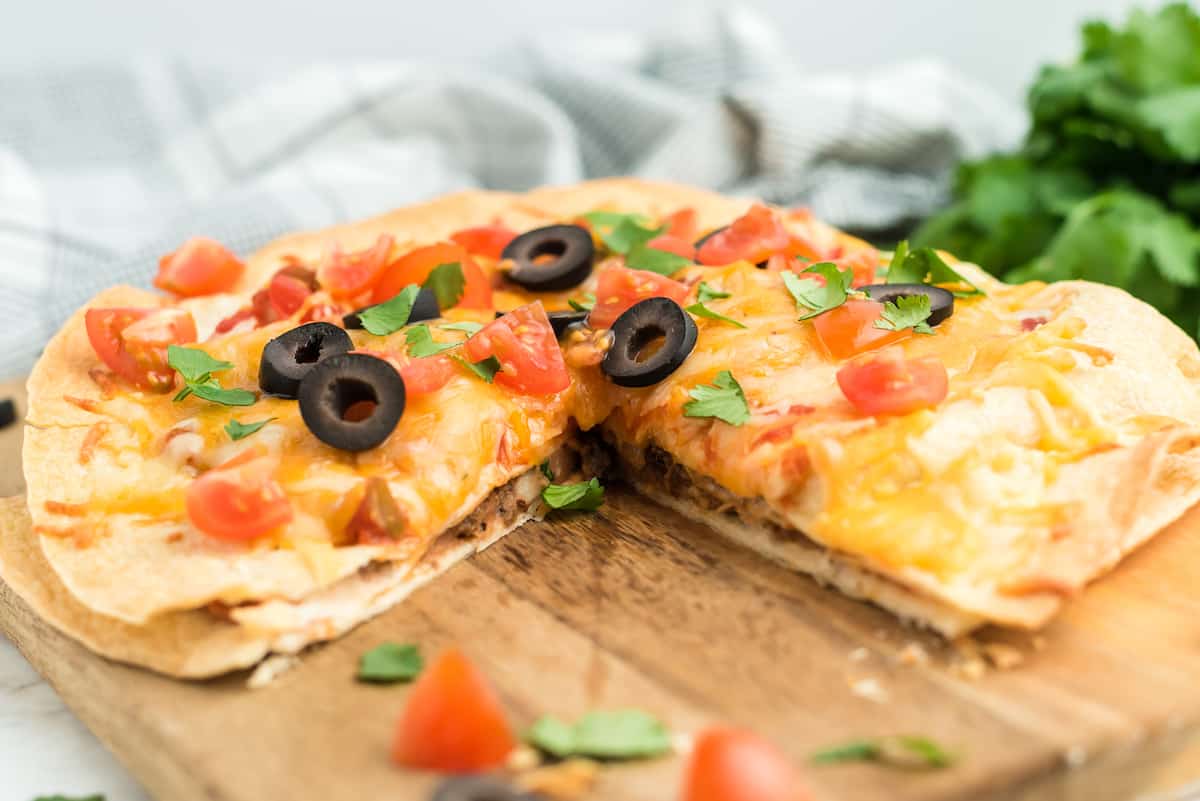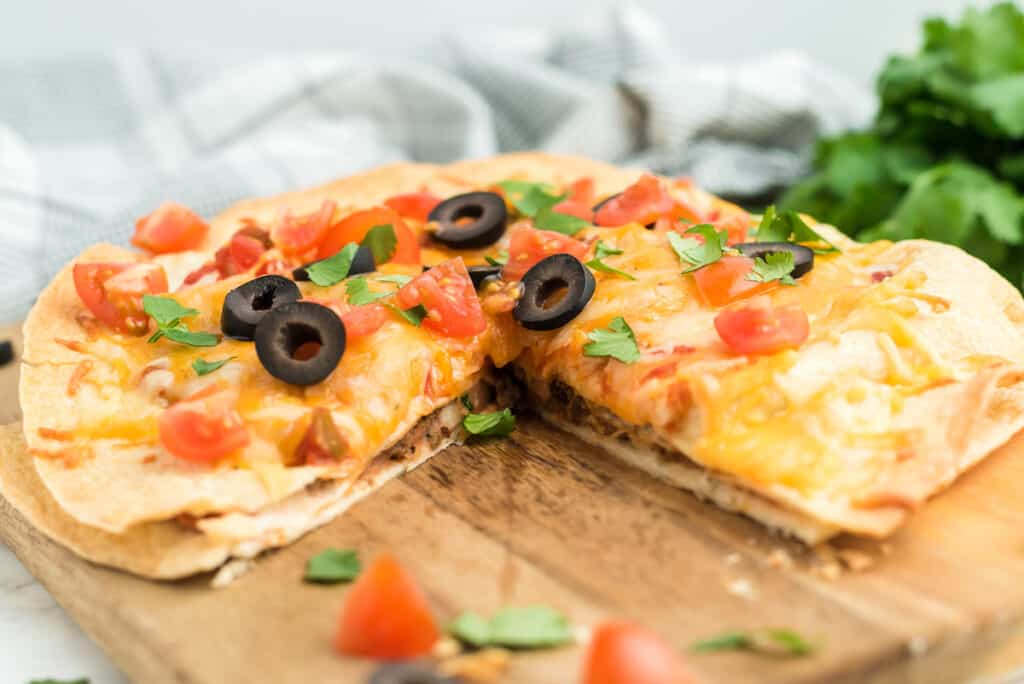 Recipe