How to make the best Mexican layered chicken casserole from Weight Watchers WW - This quick and easy recipe makes a healthy but filling dinner with corn tortillas, shredded cheese, black beans and salsa. Main dish that is creamy, cheesy, and baked in the oven.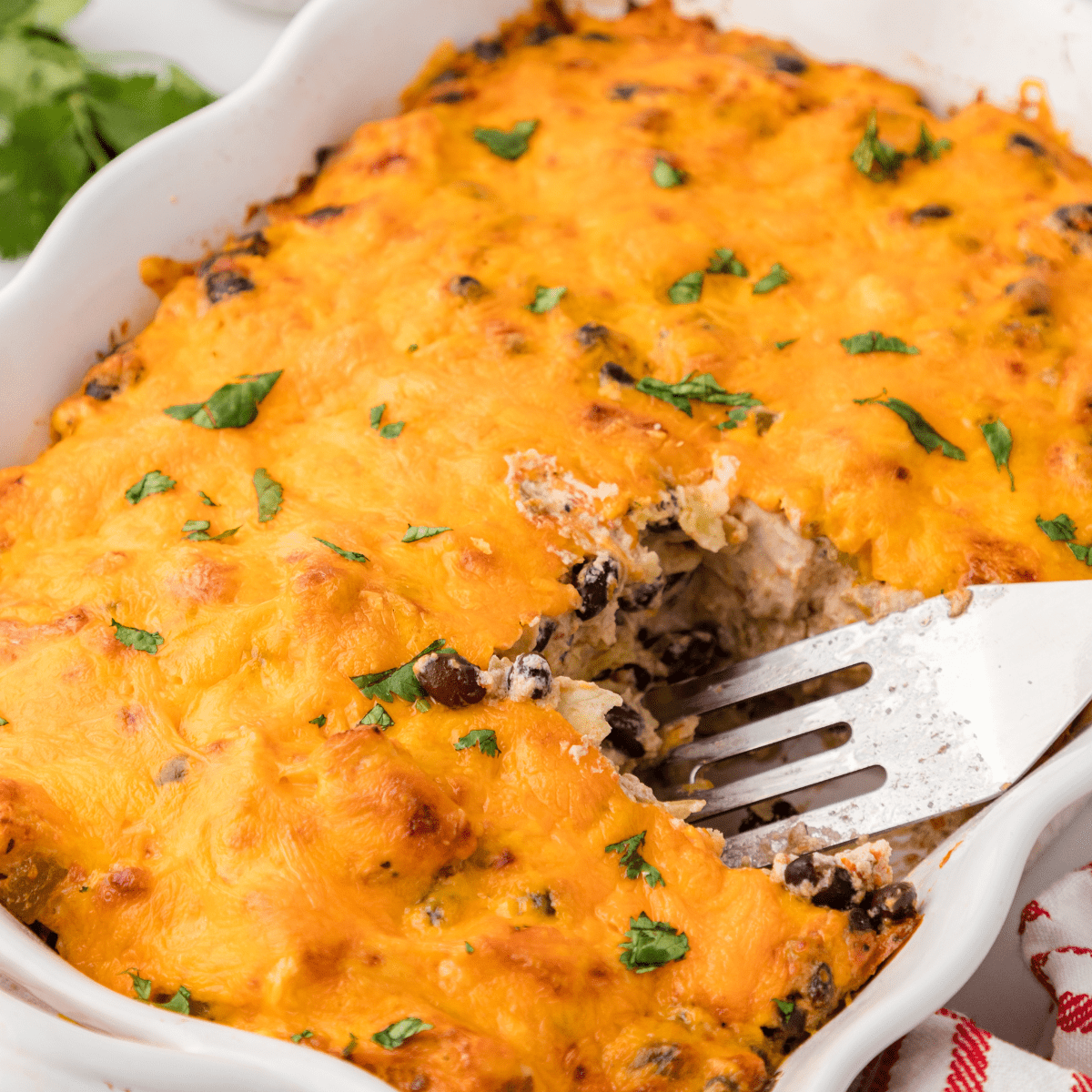 When I first started doing Weight Watchers almost fifteen years ago, I found a slew of WW-friendly recipes. Some were keepers, and some... well, they weren't worth talking about.
I no longer do Weight Watchers, but I've held on to the good recipes because they're healthy: low calorie and generally low carb.
We eat a lot of Mexican-inspired recipes, and I enjoyed the flavors in this one, even more so because it's a relatively low calorie meal.
Have I ever told you that I love cheese, Dear Reader? I love it. I love all cheese, but especially melted, yummy cheddar cheese. One of my favorite guilty indulgences is a grilled cheese with 5 slices of cheddar, 2 slices of ham, and 2 slices of WheatNut bread. I love it so much, but it's generally not in a low calorie diet.
What follows is one of my favorite inspired by Weight Watchers recipes, due in large part because of its ooey gooey cheesy goodness.
What you'll need to make Mexican layered chicken casserole
EQUIPMENT
You'll need a 9x13 baking dish and a garlic press, in addition to measuring cups and spoons, a mixing bowl, and silicone spatula.
INGREDIENTS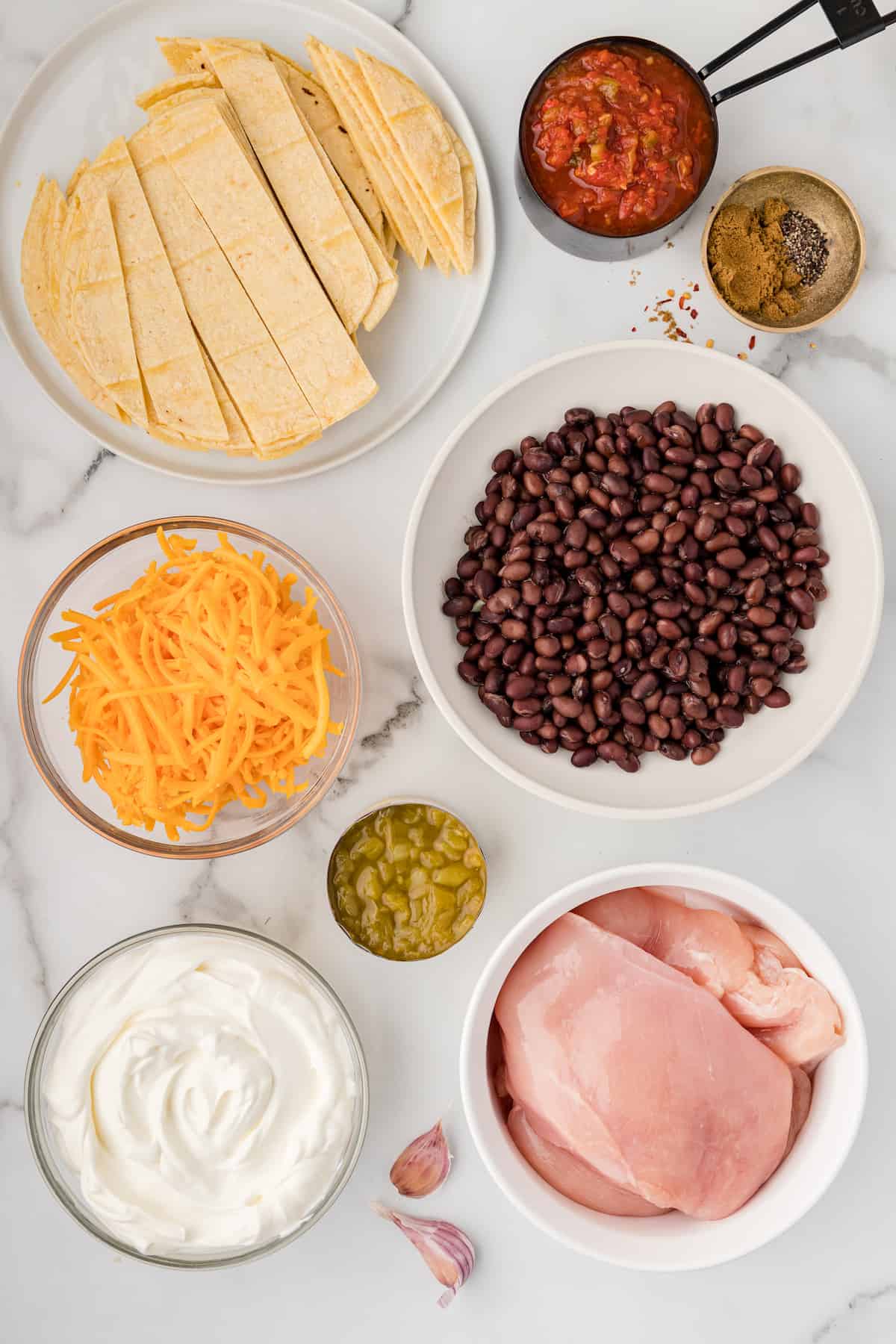 *See recipe card at the bottom of the page for measurements and printable instructions.
Boneless skinless chicken breast, uncooked - I suggest boiling the chicken so that there's no added fat from sautéing it in oil or butter. If you prefer, you can cook the chicken in a different way such as in the Instant Pot or in an electronic grill. If you're in a time pinch, you can also use shredded, canned chicken or a rotisserie chicken instead.
Black beans, drained & rinsed - These add bulk and fiber to the finished dish. Plus, black beans are synonymous with Mexican, don't you think?
Fresh garlic, pressed - If you don't have a garlic press, cut the cloves as small as possible with a very sharp knife. A garlic press is worth the investment; they're cheap, and I use mine every single day.
Plain fat-free Greek yogurt - Greek yogurt tastes just like sour cream which has a lot more fat and calories and less protein. You can use sour cream if you want to, but this Mexican casserole tastes really good with plain Greek yogurt.
Salsa - Salsa is really variable. Some has a ton of sugar and some has almost no sugar. If you're calorie-conscious, make sure you read the labels and choose one with fewer carbs and grams of sugar. I have seen recipes that use enchilada sauce instead of salsa, but I don't recommend that.
Shredded Mexican-style cheese - I like the Mexican-style shredded cheese because it is lightly seasoned, but any shredded cheese will work. You could use shredded cheddar, pepper jack, or a combination of the two and get great results.
Diced green chilies - Diced green chiles typically come in a little can and add something really nice to the casserole. Drain the liquid before adding them.
Ground cumin - You can replace this with taco seasoning if you prefer.
Ground black pepper - You can add a little salt if you prefer, too.
Large corn tortillas - You're going to cut these into 2-inch strips. I guess you could leave them whole if you really wanted to, but they are much more durable than lasagna noodles and would be nearly impossible to cut through when you try to serve the casserole. The recipe is gluten free if you use corn tortillas, but it's okay to use flour tortillas instead of corn if you like them better.
How to make Mexican layered chicken casserole
Preheat the oven to 350º.
Boil the chicken breasts in a saucepan until cooked through, usually 10 to 15 minutes. Drain, cool, and cut into one-inch chunks. Alternately, you could sauté the chicken in a large skillet over medium-high heat or cook it in the microwave. You could also use canned, shredded chicken from a can if you're in a pinch and need a quicker meal.

In a large bowl, combine cubed chicken, black beans, garlic, Greek yogurt, salsa, one cup of shredded cheese, peppers, cumin, and black pepper.

Stir to mix well.

Spritz a 9x13 casserole dish with cooking spray. Arrange half of the tortilla strips in the pan, overlapping them to cover the bottom.

Top with half of the chicken mixture.

Then layer with more tortilla strips.

Then add the rest of the chicken mixture.

Finally, sprinkle the top with remaining shredded cheese.

Bake until filling is bubbly and cheese is melted, about 30 minutes.

Let stand 5 to 10 minutes before slicing into 12 pieces.

Note on serving size:
One thing to note is that a serving of this casserole is 1/12 of a 9x13 pan - pretty small, but it is rich. So if you're going to make this (and you should!), plan on having a salad or one of the above vegetable sides to go along with it. You won't be able to fill up on the casserole and stay within your calorie or point goal for the day.
Variations:
This chicken enchilada casserole recipe is very flexible and can include a lot of different foods with great results.
You could add some diced onion, diced tomatoes, sliced green onions, and/or diced bell peppers.
You could substitute roast turkey (great for leftovers!) or ground beef or even shredded pork. I've never tried it, but I think leftover pork or beef roast would be good, too.
You could add some crushed tortilla chips, corn chips, or Doritos on top of the shredded cheese to add a little crunch.
You can make Mexican chicken casserole ahead!
If you want to make a freezer meal (for yourself or for someone else), prepare the casserole in a disposable foil pan. Prepare as directed, right up to the shredded cheese. Wrap the pan tightly with plastic wrap and then two layers of aluminum foil, and stick it in the freezer for up to a month.
To cook the frozen casserole, thaw it overnight in the fridge and then bake as directed, 30-35 minutes at 350ºF.
Serve Mexican chicken casserole with one of the following veggie sides:
Recipe