This Garlic Parmesan Roasted Asparagus is made with just a few simple ingredients and makes a perfectly delicious side dish for any meal!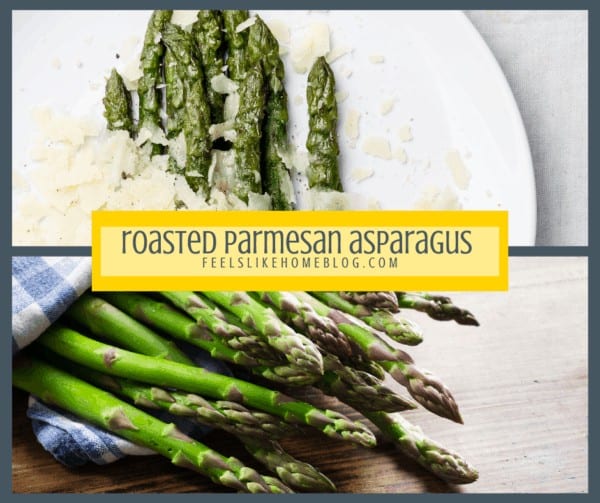 When I met my husband, he was convinced that asparagus was the most disgusting, slimy, revolting vegetable on the planet.
"You've never had my asparagus," I told him.
He'd only eaten asparagus out of a can, soggy and salty and mush. That is no way to eat any vegetable, but especially fragile asparagus spears.
The best way to eat asparagus is freshly cut from the garden, drizzled with olive oil, and roasted. You can find the details of that roasting method in my egg and asparagus salad post.
This recipe takes my favorite method and makes it even more appealing than I thought was possible, and it's no more difficult than the original. All you have to do is add a bit of pressed garlic and some shaved Parmesan cheese, and BAM! Vegetable perfection.
My asparagus-hating husband adores it cooked this way, and so do I. Our kids don't, but they're picky and weird.
How to make garlic Parmesan roasted asparagus
Cut the asparagus. First you have to trim the fibrous ends from the asparagus spears. People say that you should bend each spear at the end, and it will break at the right point. I think that's a bunch of baloney, and it wastes perfectly good asparagus. Instead, I eyeball it and cut each spear where I think the yucky part ends. If it is really firm there, I move up toward the tip a bit and try again. I cut wherever it is soft enough to cut. If you've never cut asparagus, do some trial and error. You will soon know what I mean just from the way the knife feels when you cut into the spear. Typically, the magic point is an inch or two above the grocery store cut. After you have all the ends trimmed, cut the asparagus into 2" pieces. I know it's much prettier to leave it in full-sized spears, but I think it's a lot harder to eat that way. If you cut it pre-cooking, you won't need a knife to cut it on your plate. Just my personal preference.
Prepare the asparagus. The next step is to dump all that beautiful cut asparagus onto a baking sheet (the kind with a raised edge) or 9x13 baking dish (not preferable because the air doesn't flow around the asparagus quite as well). Drizzle it with olive oil and toss to coat. Next, press all that pungent garlic over the top of the oily asparagus and toss it again. Finally, sprinkle the Parmesan cheese over the top of the whole mess. It should smell heavenly and glisten with oily goodness.
Roast the asparagus. The last step is to put the pan into a hot oven, preheated to 425º, and bake for 12 to 15 minutes. You want the pieces to be crisp-tender and just starting to brown on the edges. The cheese should be melted and sizzling on the pan.
Recipe