Perfect bacon wrapped air fryer asparagus is a simple recipe! The end result is crisp and tender asparagus spears that make a healthy side dish for any meal or a healthy snack for any time of day. This quick and easy side dish recipe is also low-carb, keto, vegan, Whole30, and Paleo. It's the best way to eat your veggies!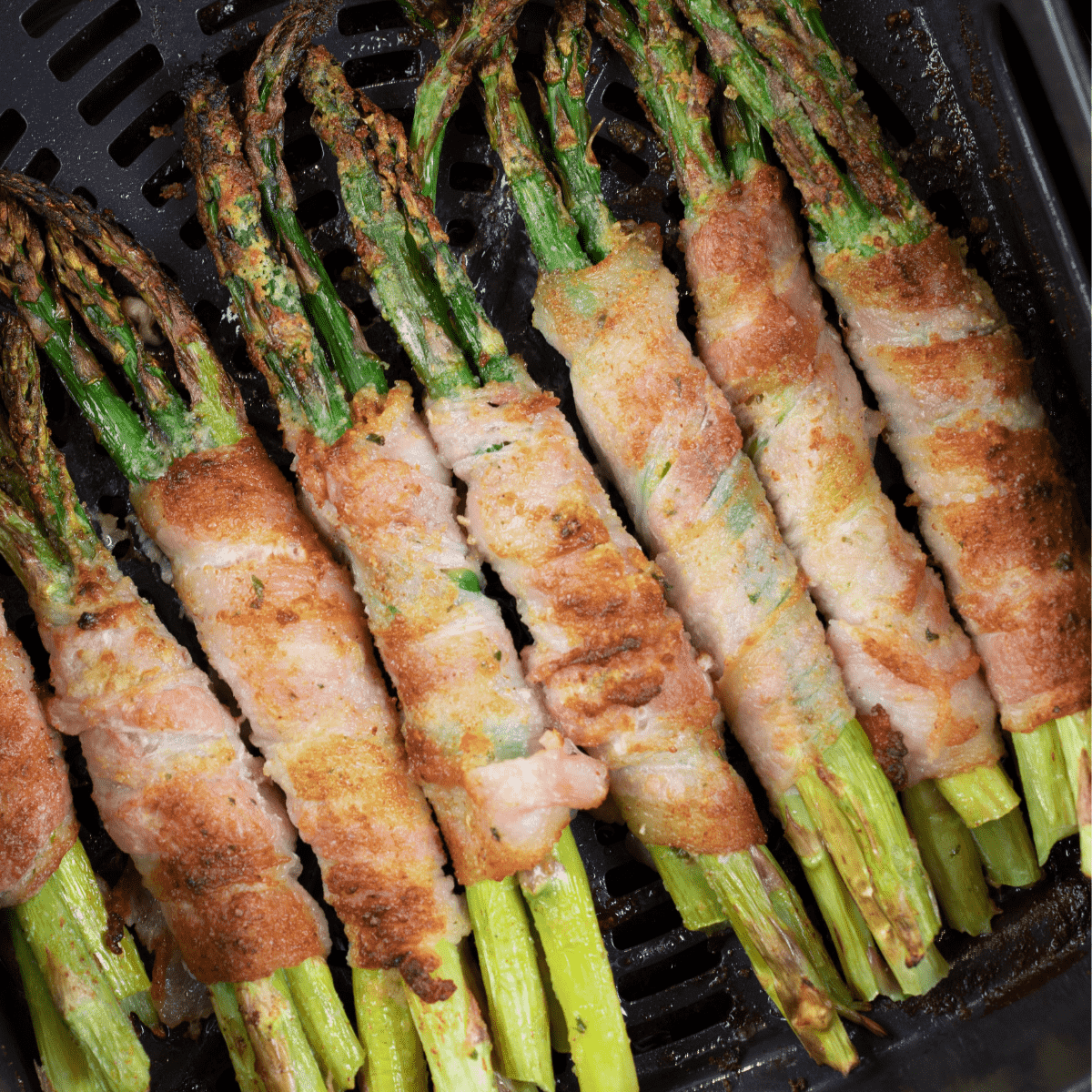 I eat a lot of vegetables, but my favorite by far is asparagus. I only buy fresh asparagus (no canned or frozen), and I always roast it. And it's always amazing.
When I roast it, the asparagus gets really nice and tender and with a slightly sweet taste.
I was thinking though, would air frying it make it crispy and sweet? The answer, my friend, is YES.
Air fried asparagus is just as good as roasted asparagus, but different. It gets tender on the inside with a crispy outside. It's so good.
What you'll need to make air fryer asparagus wrapped in bacon
EQUIPMENT
Air fryer - There are many different varieties of air fryer. Most will work with this recipe, as long as the basket is big enough to lay the asparagus spears flat on the bottom. I guess you could probably angle them in the basket, but you'd probably have to secure the bacon with a toothpick if it wasn't resting on the bottom of the basket.
Basting brush - You'll need this to brush garlic butter over the bacon wrapped asparagus.
Cooking spray - You'll need this to spritz the air fryer basket, so that the bacon doesn't stick while you air fry it. Olive oil spray is fine, or you can use any neutral oil.
INGREDIENTS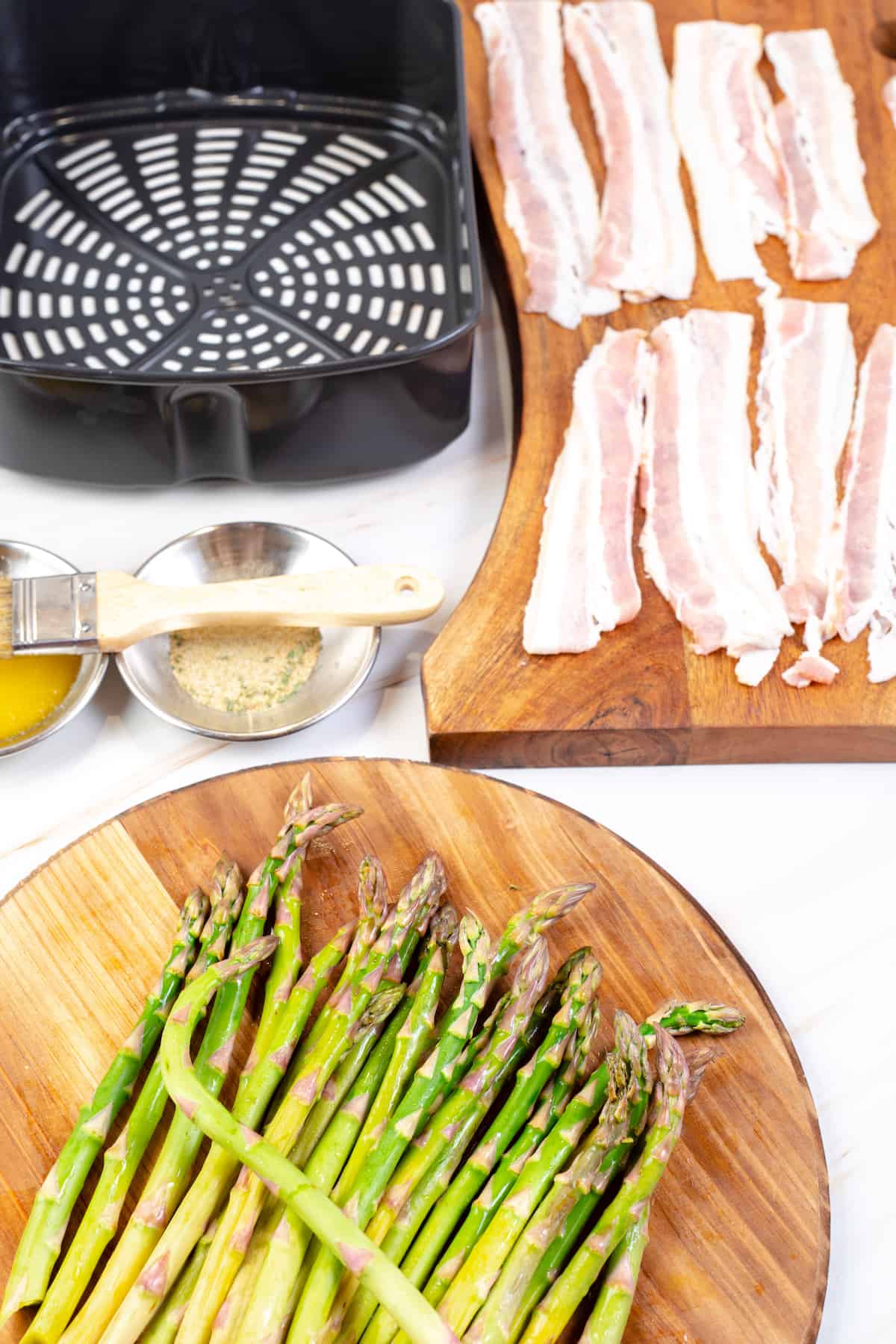 See printable recipe card at the bottom of the page for all measurements.
Melted butter - You're going to mix the butter with garlic powder and brush that delicious mixture over the bacon wrapped asparagus after you put it in the air fryer basket.
Garlic powder - Garlic powder gives this asparagus a wonderful flavor. If you prefer, you could press a couple of fresh cloves of garlic into the melted butter and use that instead.
Fresh asparagus - You'll want to rinse the asparagus and trim the spears so that only the tender parts get cooked. Some people say you can snap the tough ends off each spear, but I prefer to use a sharp knife to cut the woody ends off. I think the snapping method wastes a lot of good asparagus. My method to trim asparagus is to use my knife to test the spear in a couple of spots, so that I can find the magic spot where the tender part ends and the tough part begins. Then I just cut off the tough end off the stalk.

Uncooked bacon - You'll separate the bacon into strips and wrap each slice of bacon around a small bunch of asparagus.
Salt & black pepper - I don't normally add salt and pepper, but you can season the asparagus, the bacon, and/or the garlic butter.
How to make this bacon wrapped air fryer asparagus recipe
Spray the basket of the air fryer with neutral cooking oil and preheat to 375°F.
Combine melted butter and garlic powder in a small bowl.

Remove the bacon from its package and separate into individual strips.
Wrap one strip of bacon around a group of 3-4 spears of asparagus; depending on your bacon to asparagus ratio – you may have to make adjustments.

Repeat for the rest of the bacon and asparagus, until all of the asparagus is equally wrapped in all of the bacon.
Place the bacon wrapped asparagus in a single layer in the air fryer basket. You may have to cook the asparagus in several batches.

Use a basting brush to spread the butter and garlic mixture onto the bacon wrapped asparagus.

Place the air fryer basket into the air fryer and cook for 12-14 minutes, turning once halfway through, until bacon is crispy.

Carefully remove the asparagus from the air fryer basket and let cool for 3-5 minutes before serving.

What to do with leftover air fryer asparagus
Leftovers can be stored in an airtight container in the refrigerator for up to 3-4 days.
To reheat and preserve crispiness, place asparagus back in the air fryer at 375°F for up to 2 minutes.
If you microwave them, they won't be crispy.
Check out these other delicious side dishes:
Check out these other air fryer recipes:
Recipe