This is the best easy teriyaki chicken cooked in the air fryer for a quick weeknight dinner! Homemade sweet teriyaki sauce is the perfect marinade and puts store-bought teriyaki sauce to shame. Follow this simple Air Fryer Teriyaki Chicken Thighs recipe to make an easy, flavorful, and healthier version of one of your favorite takeout meals!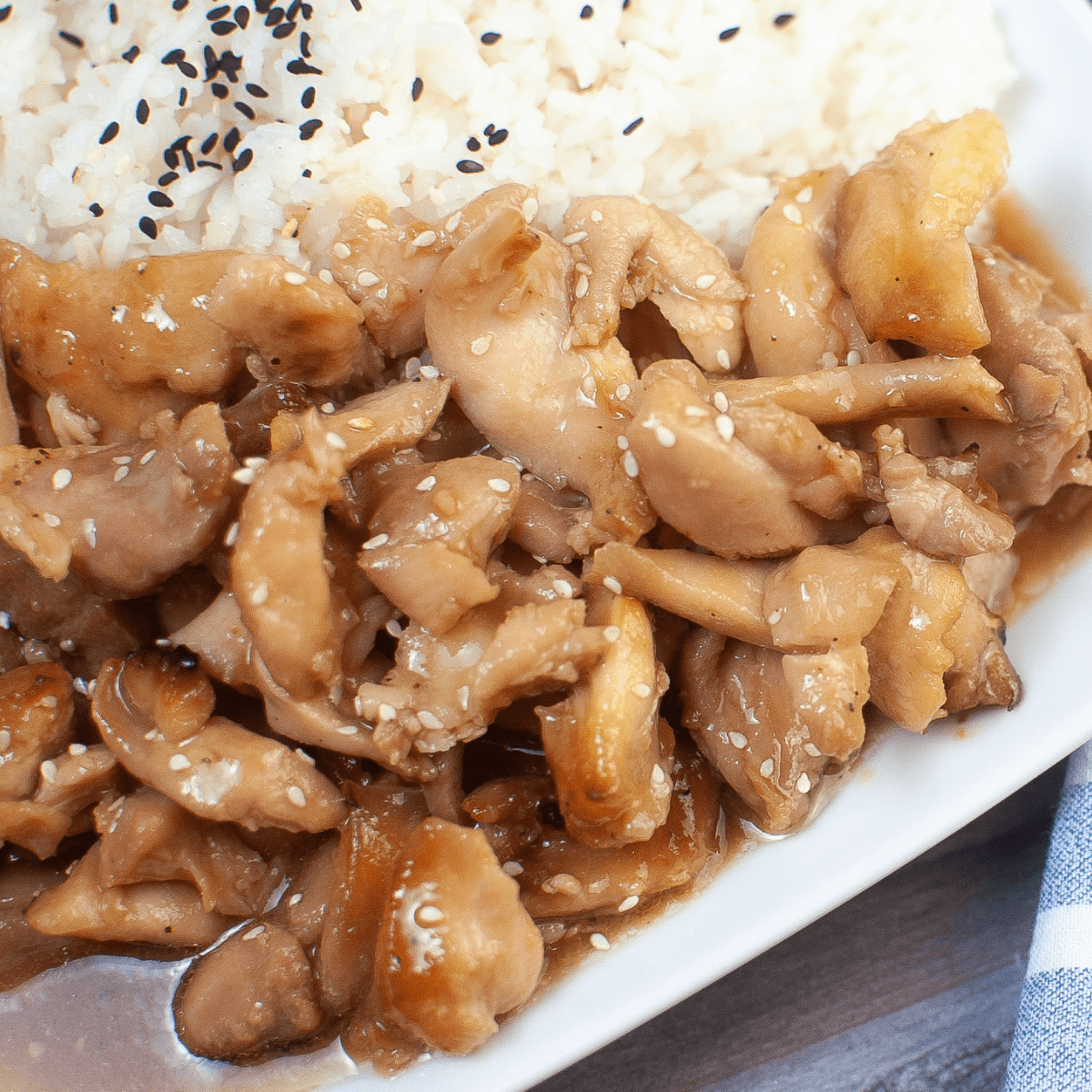 I love an easy dinner recipe that tastes as good as takeout, and this one qualifies on both points!
What is teriyaki chicken?
That's easy! Teriyaki chicken is chicken coated in teriyaki sauce! It's a popular dish in many Asian restaurants, and it's a favorite at my house too.
Homemade teriyaki sauce is a sweet/salty/savory sauce made from low sodium soy sauce, brown sugar, honey, garlic, ginger, and sesame oil, boiled in a small saucepan. Thicken with cornstarch before adding to raw, bite-sized chicken pieces to marinate. Then out of the fridge and into the air fryer for a quick and easy meal!
What you'll need to make air fryer teriyaki chicken
EQUIPMENT
INGREDIENTS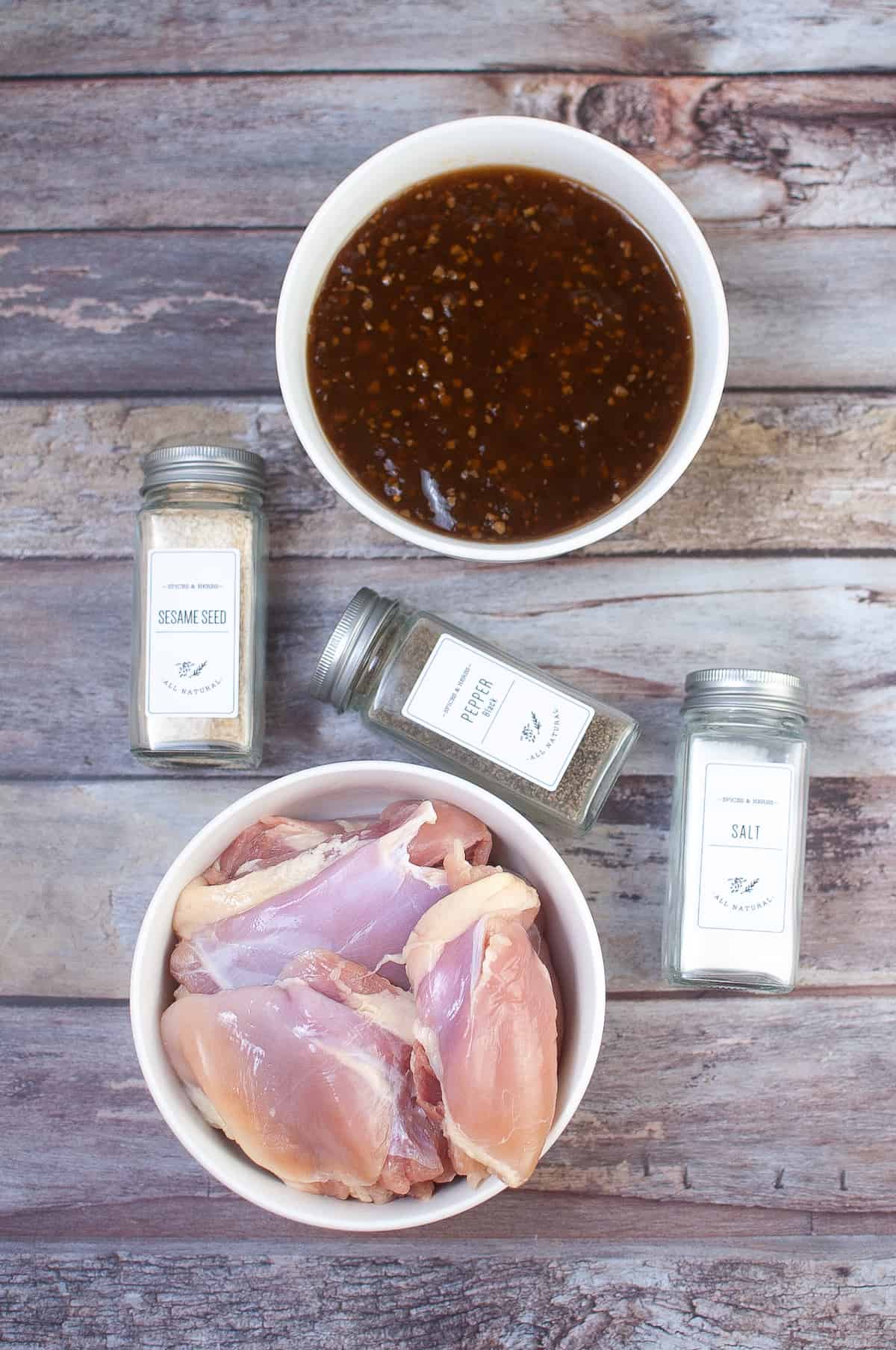 *See printable recipe card at the very bottom of the page for all measurements and printable instructions.
How to make this air fryer teriyaki chicken recipe
Cut the chicken into bite-size pieces and add to a large bowl. Pour teriyaki marinade over the chicken and sprinkle with salt and pepper.

Place chicken in the refrigerator for 30 minutes to marinade.This will allow the sauce to seep into the chicken to seal in the flavor and juices.
Pour the chicken and marinade into a cake pan and place in the air fryer basket.

Air fry at 350ºF for 15 minutes or until chicken is fully cooked to an internal temperature of 165ºF according to a meat thermometer. Stir halfway through cooking.

Serve cooked chicken with sauce over brown rice or cauliflower rice and garnish with sesame seeds and sliced green onions, if desired. For a punch of heat, add some crushed red peppers.
Variations
You could make this into more of a stir fry (without the stir frying) by adding some chunks of onion, bell pepper, and broccoli.
You could prepare chicken wings the same way, instead of using boneless chicken thighs or substitute boneless skinless breast meat for the thighs.
Are teriyaki chicken thighs gluten free?
They can be, if you used gluten-free soy sauce to make the teriyaki sauce. If you use store-bought teriyaki sauce, I would NOT assume that it is gluten free.
Because this recipe has no flour or breading, it's easy enough to make it gluten-free by carefully choosing a gluten-free soy sauce.
Can air fryer teriyaki chicken be made ahead?
I prefer chicken freshly cooked, but you can make the homemade teriyaki sauce and marinate the chicken for up to 48 hours before cooking. Don't let it sit longer than that, though, or it could spoil even in the fridge.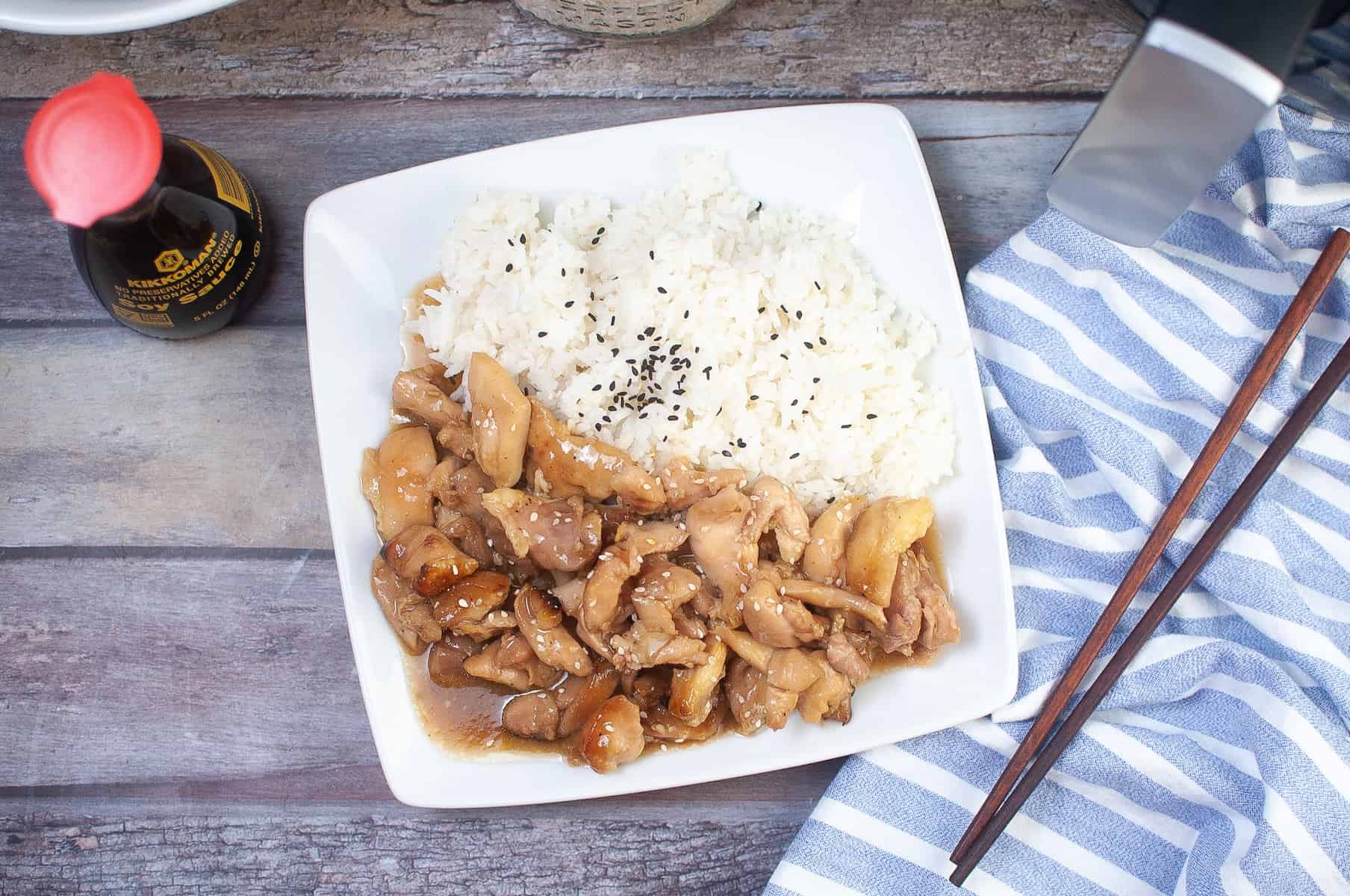 Storing leftover teriyaki chicken
Just like with takeout leftovers, you'll want to store this teriyaki chicken in an airtight container in the refrigerator. You can keep it for up to 3 days.
I've never tried to freeze teriyaki chicken, but I don't see any reason why you couldn't. Place it into a freezer bag, remove the air, and keep frozen for up to 3 months. Thaw in the fridge overnight and heat in a skillet or in the air fryer. I don't like to microwave chicken because I think it gets a weird texture.
Try these other Asian shrimp and chicken recipes
Try these other Air Fryer recipes
Recipe