An easy and healthy recipe for peanut sauce! With 5 simple ingredients, you can use this sauce for Asian stir fry meals, for spring rolls, or lettuce wraps. Similar to spicy Thai satay or Vietnamese sauces, this simple stir-fry sauce is low carb, keto, and gluten free.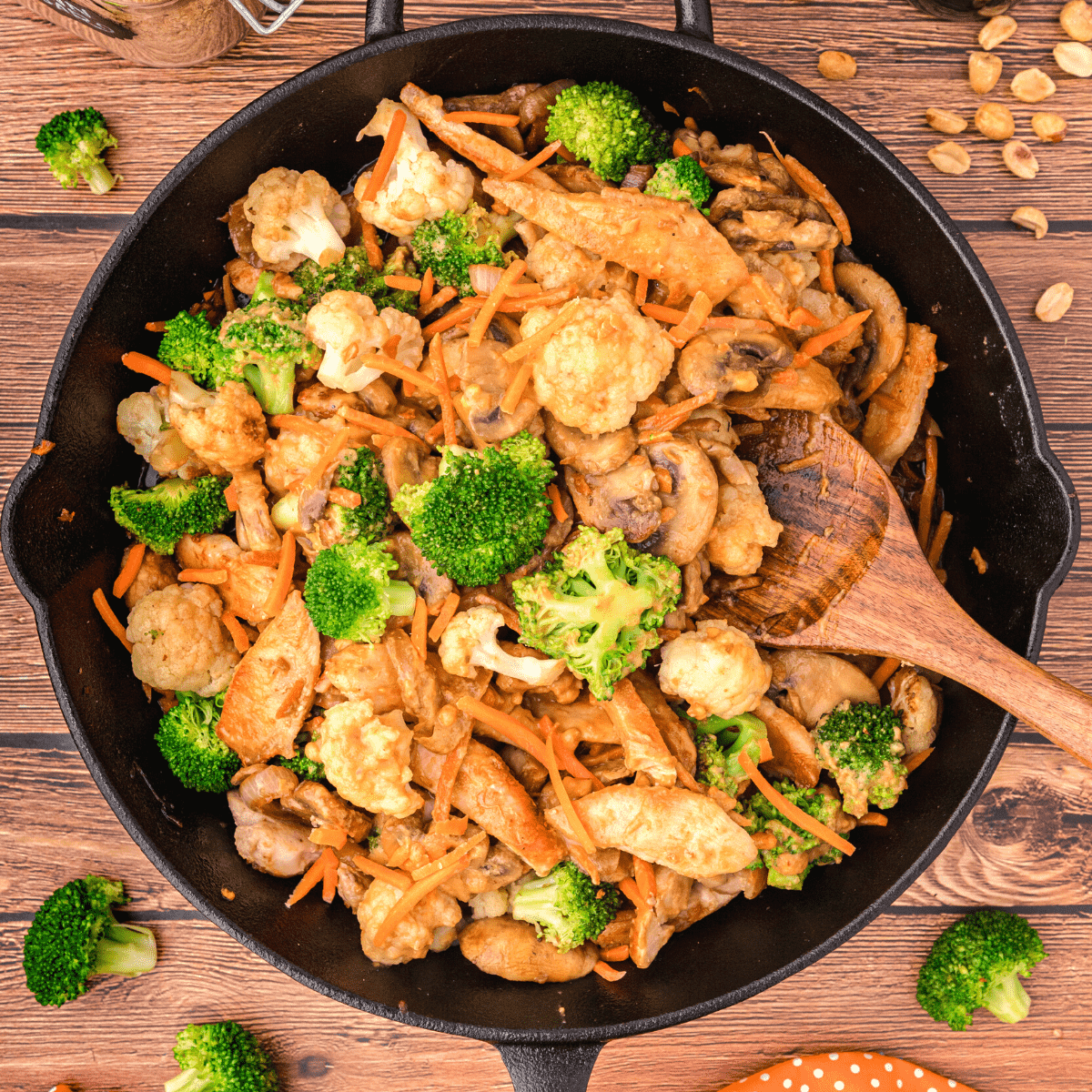 I was a vegetarian for more than 10 years. I loved being a vegetarian.
I only eat meat now because I've had bariatric surgery, and I have a very high protein requirement. Because of my small stomach, eating meat is the only way to get enough protein per day.
Anyway, when I was in college, I was a vegetarian, and I ate in whatever meatless options the dining hall served.
Penn State's dining halls have really great vegetarian and vegan options, as do a lot of universities (I would imagine). I met a variety of awesome foods including BBQ seitan (so good!) and stir fry with peanut sauce.
I was dubious about peanut sauce, but once I tried it? I was in love!
When I first started making this peanut stir fry sauce, I put it on vegetables and extra firm tofu. I would press the tofu slightly to remove as much water as possible, then cut it into cubes and brown it in a large flat-bottom pan over medium-high heat, then add the onions and cook as directed. The tofu will take on the taste of the onions, garlic, and peanut sauce, and it will be like little bites of heaven.
What is peanut stir fry sauce made of?
This peanut stir fry sauce is made from peanut butter (creamy or crunchy), garlic-flavored rice vinegar, a tiny bit of brown sugar, soy sauce, hot water, and a few dashes of hot sauce (optional). This is a very simple and easy recipe with excellent peanutty flavor.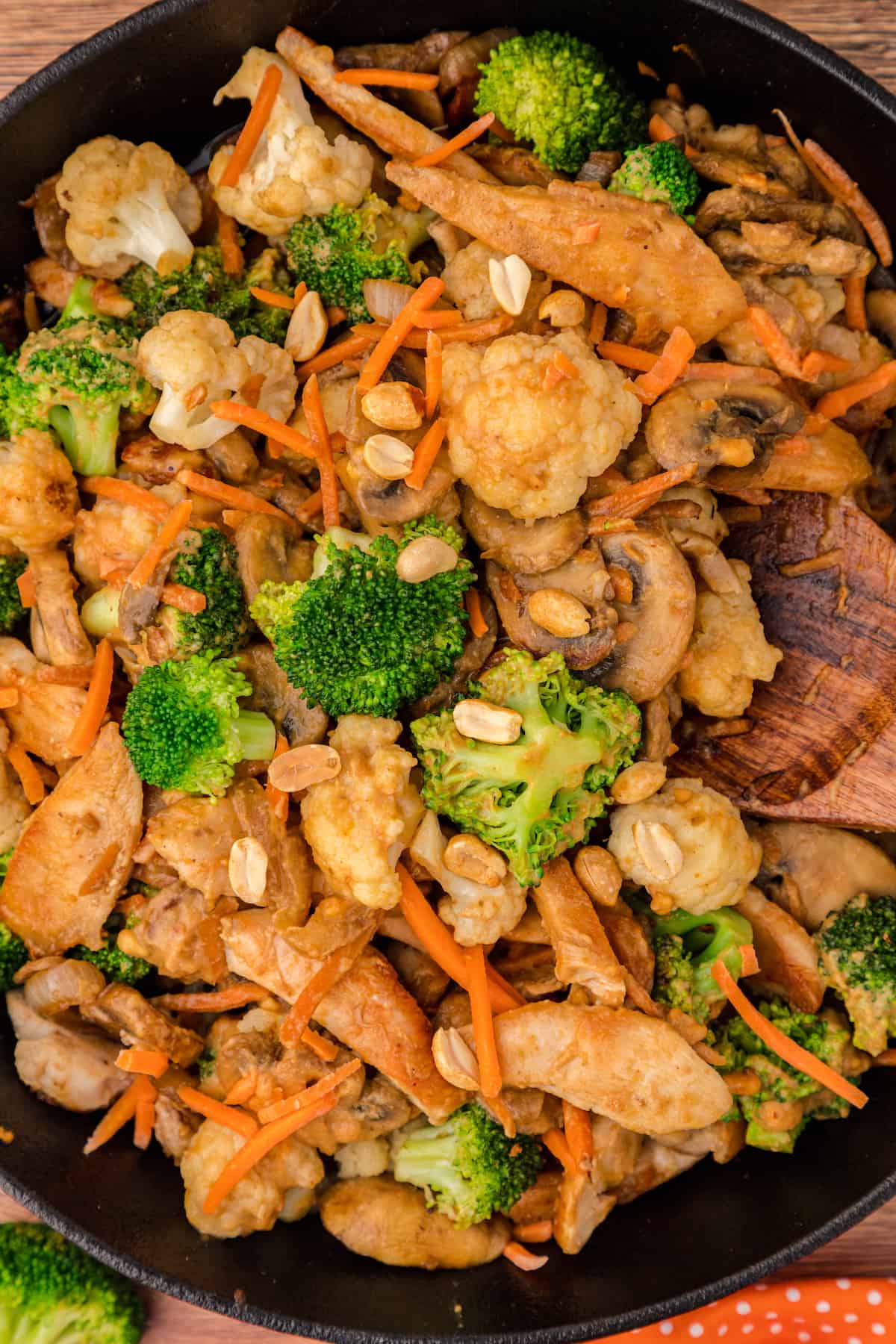 What can you put in a stir fry?
The recipe below is for a chicken stir fry with peanut stir fry sauce, and I have used broccoli, cauliflower, carrots, cabbage, and mushrooms but stir fry is a very versatile method that can include almost any protein and almost any vegetables.
Most stir-fries include a protein or two and a bunch of vegetables, but you have almost limitless options within those categories.
One key to cooking stir fry is to cut the protein and the vegetables into thin strips or small pieces. These cook more quickly. If the pieces are too thick, the outsides will burn before the insides are cooked.
Protein options:
Tofu - Use extra firm.
Chicken - Use tenders or breasts/thighs cut into thin strips.
Beef - Use thin strips.
Pork - Use thin strips.
Scrambled eggs
Shrimp
Crab
Fish - Although this doesn't hold up well to the tossing motion that you normally would use to cook everything. If you want a fish stir fry, you may prefer to cook the veggies in the stir fry sauce and then lay the fish plank on top.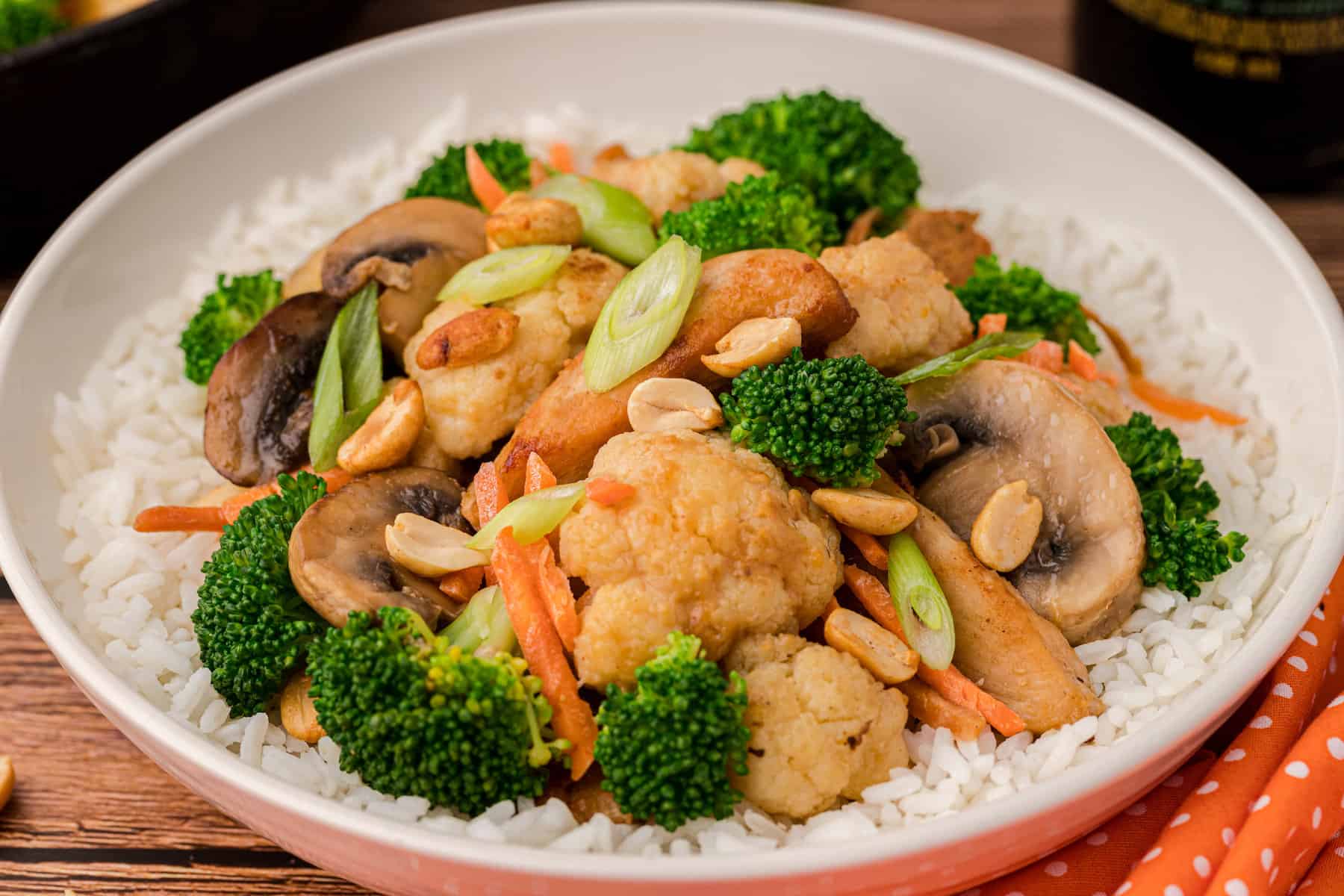 Veggies:
Onion - Sliced
Broccoli - Cut into florets
Cauliflower - Cut into florets or chopped
Carrots - Shredded
Mushrooms - Sliced
Cabbage - Shredded
Zucchini or summer squash - Cut into quarter or half rounds
Green beans - Whole or cut into pieces
Snow peas or sugar snap peas - Typically used whole
Green onions - Both greens and whites, chopped
Bell peppers - Sliced into strips
Tomatoes - Chopped and seeded
Spinach - Added in the last 4-5 minutes of cook time.
What you'll need to make chicken and vegetables with peanut stir fry sauce
Equipment
You'll need a sharp knife to chop the vegetables, a wok or very large skillet, a wooden or bamboo spatula or spoon and a garlic press to mince the garlic. To prepare the sauce, you'll need measuring cups and spoons, a whisk, and small bowl.
Ingredients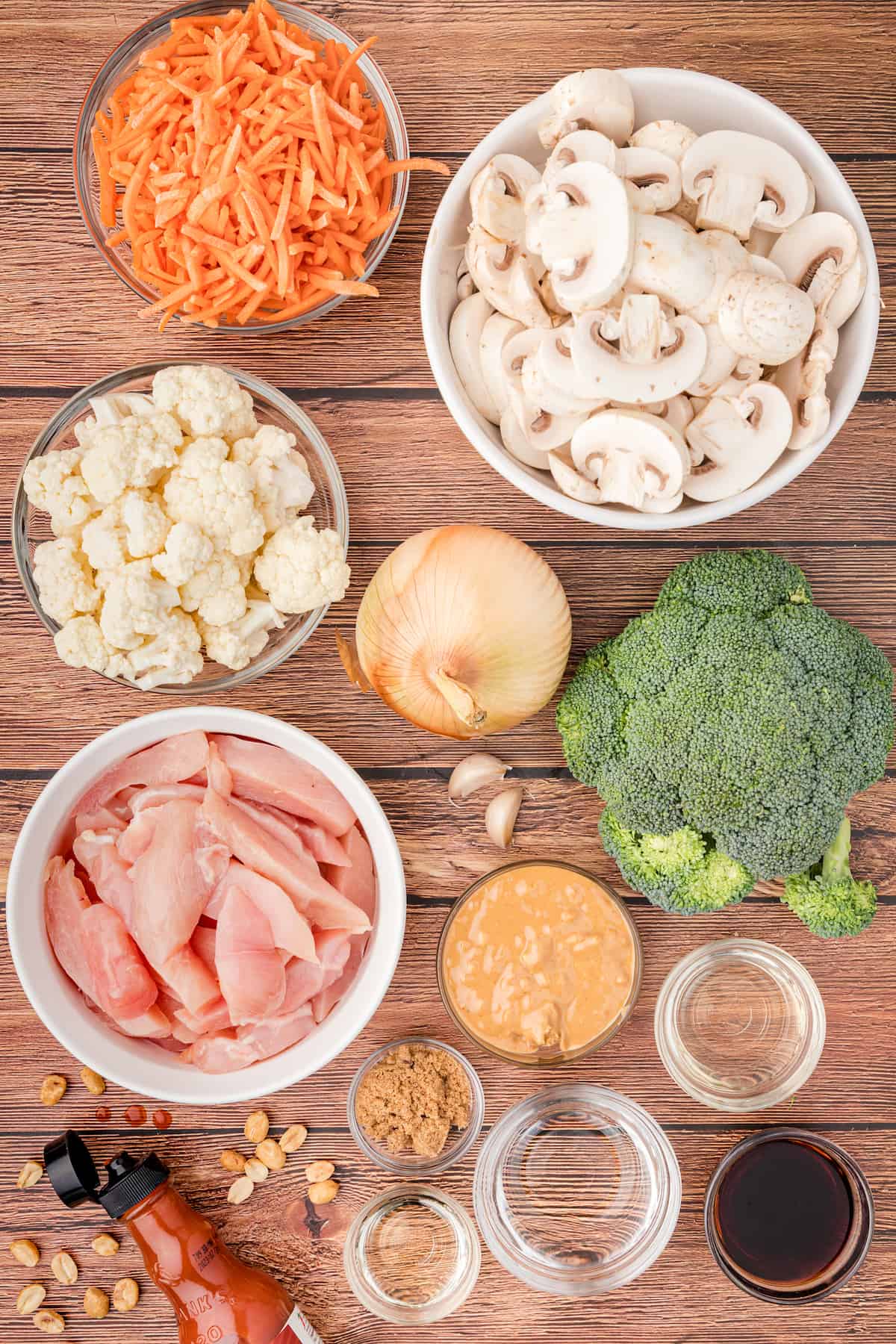 See the printable recipe card below for measurements.
Canola oil - You will use this to sauté the chicken and vegetables. You could use an equal amount of butter or another oil if you prefer. If you can find it, garlic-flavored canola oil is really nice.
Chicken tenders - You can use any protein of your choice (tofu, beef, pork, egg, whatever). When I was a vegetarian, I made this same recipe with a pound or two of extra firm tofu. If you use a different meat, I would recommend thin strips for quick cooking.
Sliced onion - You can use any variety of onion, but I prefer sweet Vidalia. You'll want to slice it really thin so that it cooks more quickly.
Fresh garlic - You'll press this with your garlic press. If you don't have a garlic press, you can mince it as small as possible with a sharp knife. Feel free to add extra if you like garlic.
Chopped broccoli - You can use whatever veggies you want. I like broccoli, cauliflower, carrots, and mushrooms best, but also sometimes add zucchini or summer squash, green beans, snow peas or sugar snap peas, bell peppers, or tomatoes.
Chopped cauliflower
Carrots, cut into thin sticks - You can often buy carrots pre-shredded in the produce department.
Sliced mushrooms - I know some people really hate mushrooms. You can leave them out.
Peanut stir fry sauce ingredients
Peanut butter - I prefer smooth peanut butter, but you could also use crunchy if you want.
Hot water - You want the water to be hot so that it melts the peanut butter more easily and also so that the sauce doesn't cool the vegetables down when you add it to the skillet.
Garlic-flavored rice vinegar - If you can't find garlic-flavored vinegar, any rice vinegar will be fine. And if you don't have rice vinegar at all, you could use apple cider vinegar or white vinegar in a pinch. The flavor will be slightly different but still really good.
Soy sauce - I use low sodium soy sauce, but you can use any soy sauce you want. Soy sauce is often not gluten-free, so make sure you check the ingredients if that's important to you.
Brown sugar - This is a very small amount of sugar, but you will miss it if you leave it out.
Hot sauce - This is optional. If you just add a few drops to a ¼ teaspoon, it will add flavor without adding heat. If you like your stir fry spicy, feel free to add more.
Ingredients for serving
Chopped peanuts - This are optional for garnish. If you're using crunchy peanut butter, you may not want additional peanuts. Or maybe you do.
Basmati rice - Basmati rice is my favorite. Use brown rice, jasmine rice, or whatever you like best. You could also use rice noodles which would be really nice with the sauce.
How to make chicken and veggie stir fry with peanut sauce
Preheat the oven to 250ºF.
Prepare rice or rice noodles according to package directions.
Heat canola oil over medium-high heat in a wok or very large skillet. Sauté the chicken until it's almost cooked through. Remove the chicken to an oven-safe dish and put it in the warm oven.

Add the mushrooms and onion to the skillet and sauté until they are soft. Add the garlic and sauté for one minute more or until the garlic is fragrant. (Don't add the garlic too early or it will become bitter.) Remove mushrooms and onions to the plate with the chicken, then put it back in the warm oven.

Pour ½ cup of water into the skillet then add the rest of the veggies. Put a lid on the skillet and let them steam for a minute or two, and then remove the lid and continue to sauté until the vegetables are bright and are just beginning to get tender.

Add the chicken, mushrooms, and onions back into the skillet.

While the vegetables are cooking, prepare the peanut sauce in a small bowl.

To do so, combine the peanut butter, hot water, vinegar, soy sauce, brown sugar, and hot sauce.

Pour sauce over the stir fry in the wok.

Simmer for two or three minutes, until the vegetables are tender. Don't overcook the veggies. They should be crisp-tender.

Serve stir fry over rice. Sprinkle chopped peanuts and sliced green onions over each serving.

What oil should you use in a stir fry?
The best oil for stir frying is canola oil because it has a neutral flacor and a high smoke point, and stir fry is typically cooked at a higher temperature than most meals.
I don't recommend olive oil because it does funky things (at a chemical level) at high temperatures, and it can also sometimes make the smoke detector go off.
Variations of peanut chicken stir fry
You can add a tablespoon of grated or minced ginger root to the peanut sauce. I do that a lot because it adds a really nice depth to the sauce.
You can add a teaspoon or two of sesame oil to the sauce. Sesame oil has a rich, nutty flavor that goes really well with the peanut butter.
You can add 2 tablespoons of fresh lime juice to the sauce. Lime and peanut butter are a winning combination.
Can you serve peanut stir fry over noodles?
Yes! Peanut stir fry sauce is awesome on noodles. I prefer rice noodles in place of the rice, or you can use ramen or even a plain old flour-based pasta!
I've heard of people dipping cheese-filled tortellini in peanut stir fry sauce, and I'm intrigued but haven't tried it yet.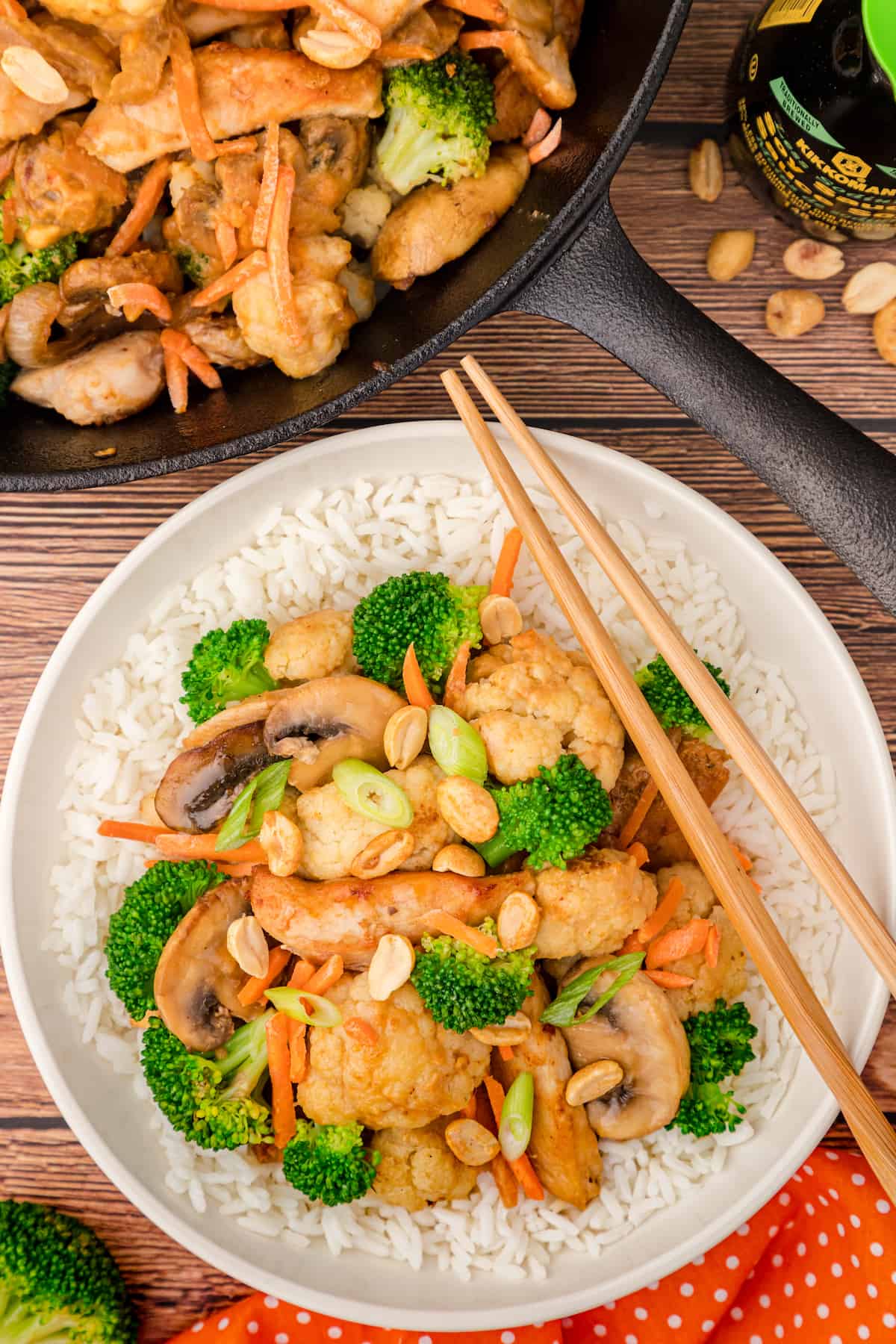 Is stir fry healthy?
Yes! Most stir fries are full of veggies which are of course super healthy. The only place you can run into trouble is in the stir fry sauce which often contain huge amounts of sugar and fat.
This particular peanut stir fry sauce does have a tiny bit of sugar, but it is negligible. Peanut butter is not a low calorie food, but it is full of healthy plant-based fat and fiber, so the small amount in the recipe does not make it unhealthy. I think this is a very healthy meal.
Can you make peanut stir fry sauce ahead?
Yes. You can make it up to 3 days ahead. Store it in the refrigerator in an airtight container and pour it on the veggies cold. Turn the heat down to medium or even medium-low after adding the sauce, to warm the sauce without burning it.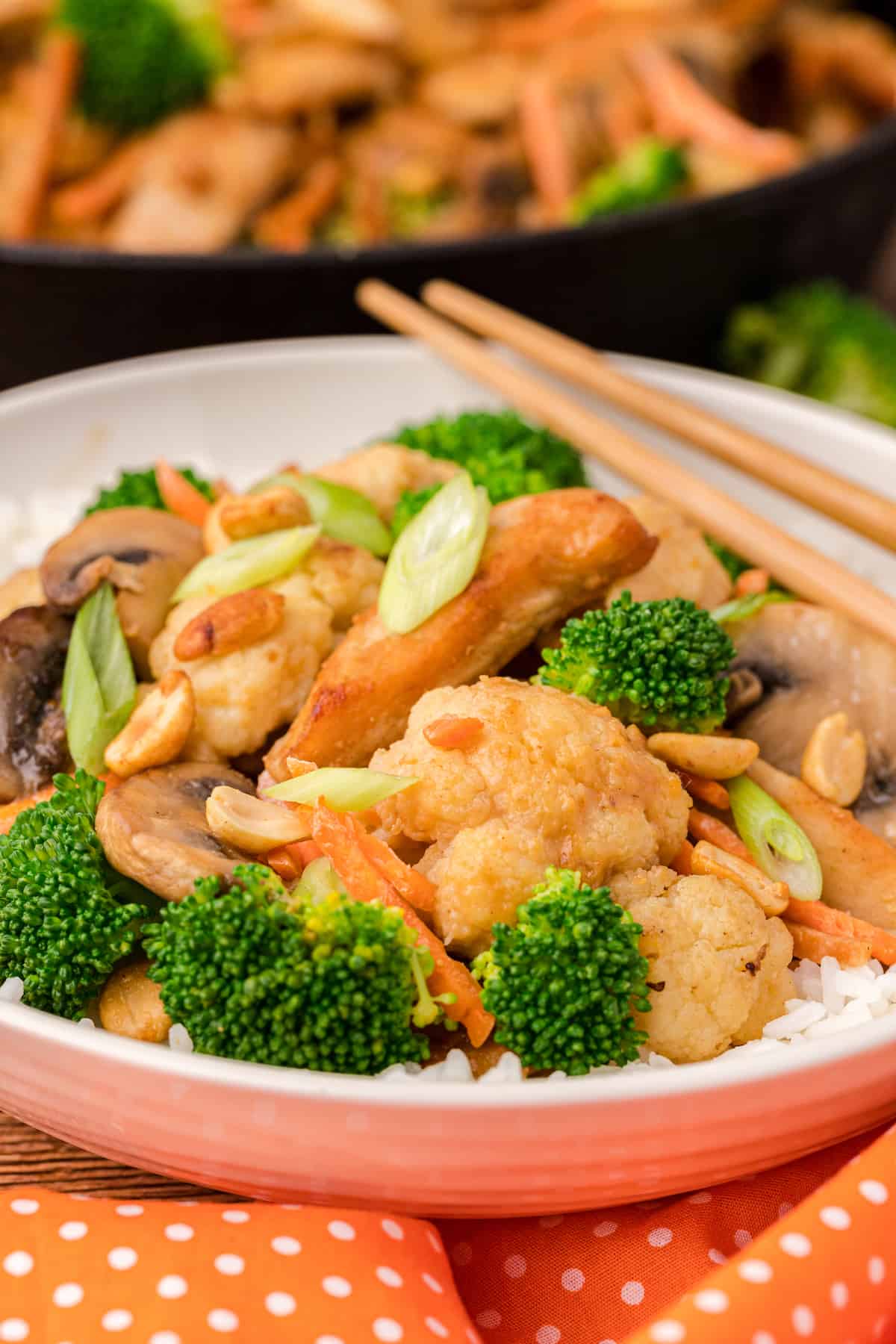 How to store leftover peanut chicken stir fry
You can store this stir fry in an airtight container for 3 days in the refrigerator. To reheat, throw it back in the wok and stir fry for a few minutes, until heated through. Be careful not to overcook the veggies as they will turn to mush.
I don't recommend reheating chicken in the microwave because I think microwaved chicken gets really weird and kind of gross.
If you want to make this as a freezer meal, undercook everything slightly and pour the whole thing into a freezer bag. Thaw overnight in the fridge before reheating in a wok over medium-high heat.
Try these other vegetable dishes while you're here:
Recipe