The Sweet Balsamic Vinaigrette that we bought at the Farm Show is so good that we're making up recipes to use it.
This recipe is one of those.
I asked Joe what we had in the pantry, and he rattled off a few things.
On the list was a 15 pound bag of basmati rice we'd purchased from Sam's Club a while ago but never opened. Not knowing how to cook it or what to cook it with, I asked Joe to follow the instructions on the bag and make a cup.
In the interest of time (and because Grace has been a very tired and very cranky small person today), Joe chopped up some fresh veggies and opened a can of shredded chicken to stir in with the rice.
He measured one cup of the rice-veggies-chicken mixture for each of us, and he poured one ounce of balsamic vinaigrette over the top just before he put our plates on the table.
No cheese.
No cream.
Nothing remotely rich at all.
But, oh, the flavors.
I wasn't very hungry, but I really wanted a second helping. I abstained so that I could enjoy it again for lunch tomorrow.
We're going to be making basmati rice a lot, thanks to that 15 pound bag. I'm looking forward to every bite.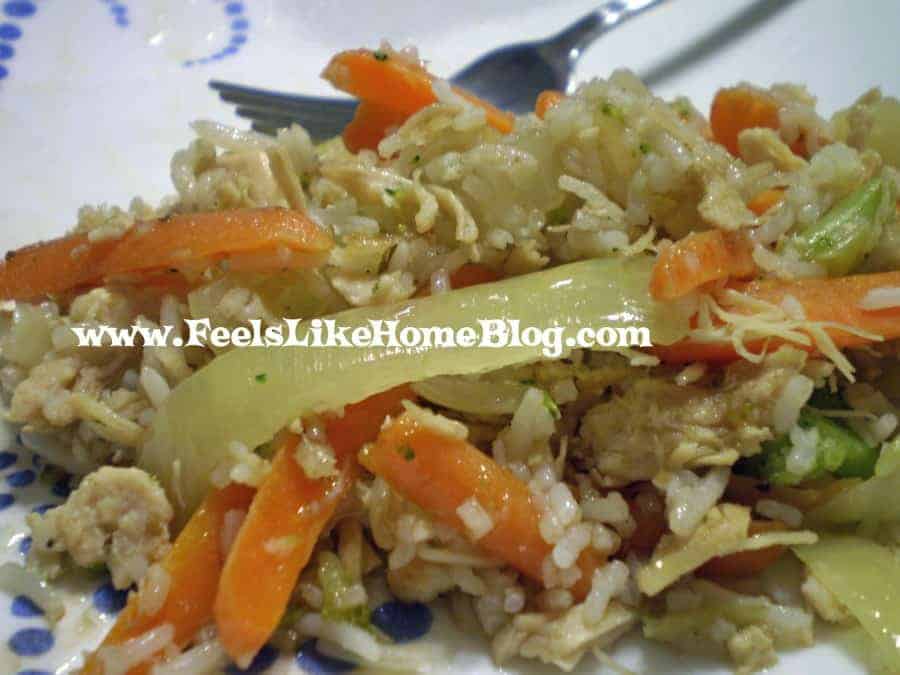 Suggestions
We really used just what we had in the house. I think this would be awesome with sugar snap peas and water chestnuts added in. Oh, and cauliflower. Maybe a handful of corn, too.
The shredded chicken was nice because it blended in with the rice. I don't like the texture of most meats, so that appealed to me. I would shred whatever meat went into this dish.
If I calculated correctly, one cup of this mixture has 276 calories. That's insanely low for such a hearty, filling meal.
Recipe