Easy make-ahead chicken recipes - This boneless chicken savoy is simple and healthy. Baked in the oven, it's quick to prepare and you can do the bulk of the work the night before. Keto, paleo, and low carb if you skip the rice. We use boneless breasts, but you could also use bone in.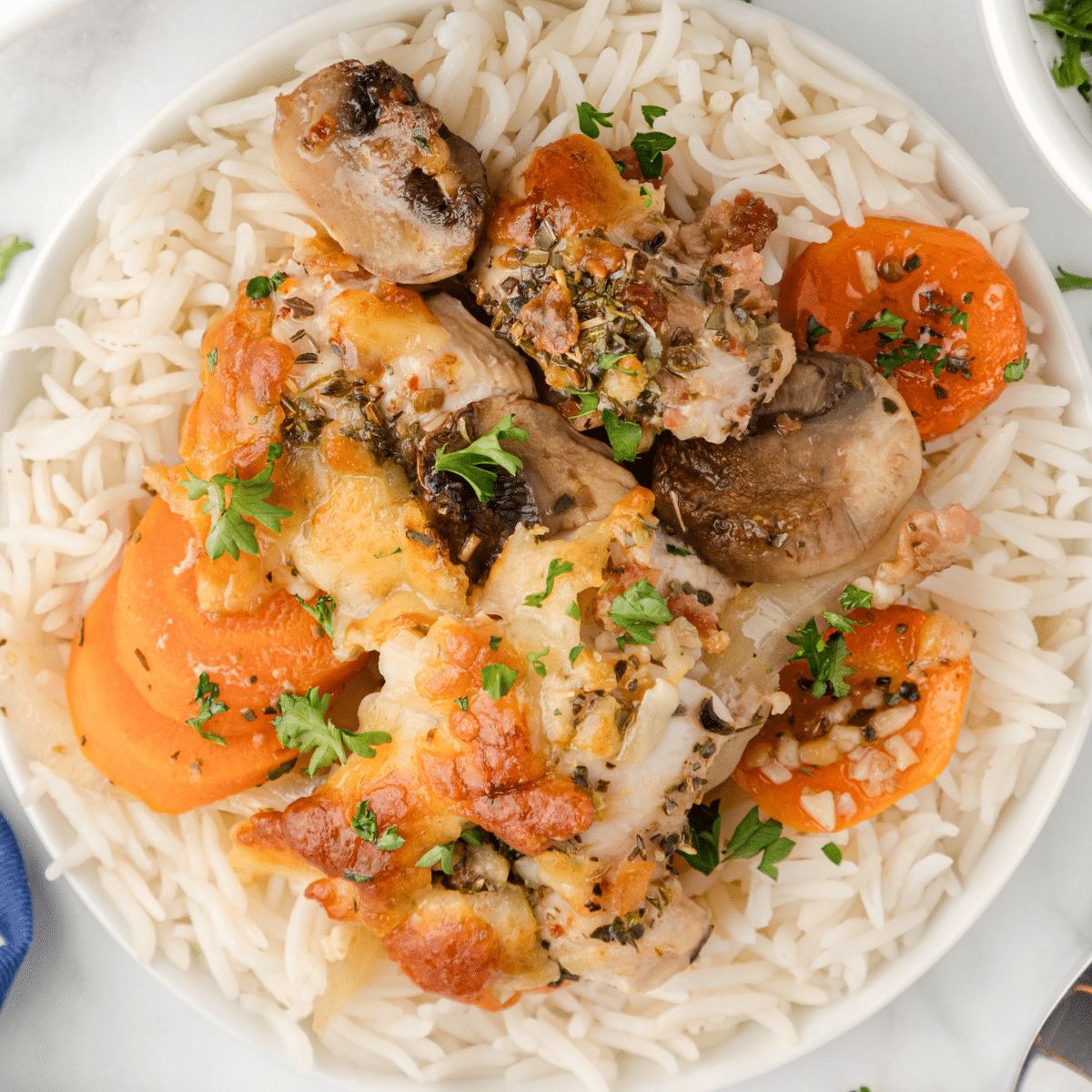 A couple of weeks ago, we found a recipe on a scrap of yellow paper tucked in a cookbook in our dining room.
Obviously, I had copied the recipe from somewhere, but I don't know when or from where.
In the margins, I'd make lots of notes and changes. The original Chicken Savoy recipe was basically just bone-in chicken with a cheesy herb crust and a tart balsamic vinegar sauce, but my kids don't like to eat chicken with bones in it, so I used boneless skinless chicken breasts. Then also, rather than making a bunch of dishes, I decided to throw some veggies in with the chicken and make it a one-pot meal.
The kids said they vaguely remember eating it once, deciding that the chicken was dry, and writing it off. I remembered it too, but I remembered liking it, so I decided to make it one day last week.
After I made the Chicken Savoy, we decided to have cheeseburger soup instead, and we had the leftover soup the next day as well.
The chicken savoy ended up marinating for almost 48 hours, making it absolutely amazing. It was moist, flavorful, and delicious. I think preparing the meal a day or two ahead is the key to this dish.
I'm not sure how safe it is to allow chicken marinate for longer than overnight. I'd like to hear thoughts on that in the comments. I don't want anyone to get sick from over-marinating their chicken, so if you're not sure, stick to marinating it overnight only.
What you'll need to make boneless chicken savoy
EQUIPMENT
INGREDIENTS
See printable recipe card at the bottom of the page for all measurements and nutritional information.
Boneless skinless chicken breasts - If desired, you can season chicken with kosher salt and black pepper before cutting into bite-sized pieces. I usually buy chicken tenders and then chop them into pieces. It's more expensive than buying whole breasts but it speeds up the process so I'm willing to pay a little more. Alternately, you can use boneless skinless chicken thighs and cut them up the same way.
Sliced carrots - The carrots add a nice sweetness to the chicken.
Sliced mushrooms - My kids started hating mushrooms, so I leave these out and double the carrots when I'm cooking for them.
Sliced onion - I leave these big enough that my kids can pick them out, because they don't eat onions either. You can chop the onion if you want smaller pieces.
Crumbled bacon - You can leave this out, but why would you want to?
Extra-virgin olive oil - You need oil in the marinade, but you can use avocado or canola or whatever oil you prefer.
Chicken broth - This bulks up the marinade and allows it to permeate all the chicken and veggies while it soaks. If you prefer, you can use low-sodium chicken broth and then salt the marinade to your preference.
Pressed garlic - As I said above, I prefer to squeeze my garlic with a garlic press, but you can also mince it with a sharp knife. You want the bits to be as small as possible. No one wants a big bite of fresh garlic.
Italian seasoning - I love Italian seasoning and sometimes use a bit more than the recipe calls for. If you don't have Italian seasoning, you can make your own by combining 1 teaspoon each of dried basil, dried thyme, dried rosemary, dried marjoram, dried parsley, and 2 teaspoons of dried oregano. Don't use all of it in your Chicken Savoy! Measure 2 tablespoons of the spice mix and save the rest for another time.
Crushed red pepper flakes - I don't recommend leaving this out. It will not make the dish spicy at all but does add a nice note to the overall dish.
Balsamic vinegar - Buy the best imported balsamic vinegar that you can afford. It makes a big difference.
Parmesan cheese - This should be grated or shaved cheese, not the powdery stuff in the can.
Fresh parsley - To garnish, if desired
Cold water & cornstarch - You'll mix these together, pour them into the cooking liquid, and then boil the liquid to make a gravy to pour over your chicken and rice.
Jasmine rice - This should be cooked according to package directions. I plan ½ cup of rice for everyone except myself. I only eat a scant ¼ cup because I've had bariatric surgery and have a very small stomach.
How to make boneless Chicken Savoy
To make ahead 
Arrange chicken, bacon, and vegetables in a deep 9x13 pan.

In a small bowl, mix oil, chicken broth, and balsamic vinegar.

Pour vinegar mixture over the chicken and vegetables.

Sprinkle spices over the top.

Cover the pan tightly and place it in the refrigerator for 8 hours up to overnight.

To cook
Preheat the oven to 450ºF.
Remove the cover and top the chicken mixture with Parmesan cheese.

Place the baking dish in the preheated oven and bake for 45 to 60 minutes or until the top is golden brown and the chicken has reached an internal temperature of 165ºF.

This step is optional, but I like to make a gravy to drizzle over the chicken and rice. Use a spoon to remove 1-2 cups of liquid from the baking dish and add to a small saucepan. In a very small dish, mix 1 tablespoon of water with 1 tablespoon of cornstarch per cup of liquid until it makes a smooth paste. (Use 2 tablespoons of each if you're using 2 cups of liquid.) Add the cornstarch slurry to the cooking liquid. Bring the mixture to a boil over medium-high heat. Stir frequently until the liquid reaches a gravy consistency.
Serve chicken over rice and drizzle with balsamic gravy. Jasmine rice is our favorite but you can use whatever rice you prefer.

Where does chicken savoy come from?
I have done a little research on chicken savoy, and I discovered that it was created by a chef nicknamed Stretch at the Belmont Tavern in Belleville, New Jersey. I have never been there but I've heard it's a bit of a dive. From what I've found, my version is not all that similar to the original except that both have the same cheese-herb crust and a vinegar sauce. Theirs uses red wine vinegar whereas mine uses balsamic because that's what I like. I think my chicken savoy is better.
Try these other delicious chicken recipes:
Recipe