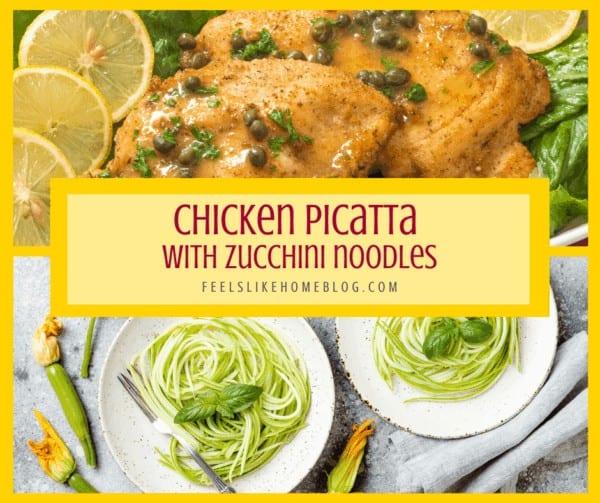 This healthy chicken piccata recipe is served over zucchini noodles (or zoodles, if you want to be one of the cool kids), and that makes it a delicious and low carb option. Oh, and did I mention that it's totally delicious? Joe made it for me a few weeks ago, and I was overjoyed with the creamy, lemon sauce and the almond flour breading. So good.
I remember the first time I ever heard of a spiralizer, when my friend Jill posted asked for recommendations for a good one on Facebook at least 6 or 7 years ago. I was like, "What the heck?" and I asked her why she thought she needed another single-use gadget.
She told me that I had been missing out my entire life, and I thought she was wacky and moved on.
Then, fast forward to 2017, following my bariatric surgery, when I was trying to keep my daily carbs under 50 grams, and pasta was no longer on the menu. (I'm not sure if I still subscribe to that version of the bariatric diet, but that's a thought better saved for another post.) Joe and I decided to give spiralized zucchini a try.
It was trial and error at the beginning as we tried several different spiralizers (stay away from the Pampered Chef version - it leaves too much waste) and settled on one that we liked (this one which is cheap and works really well with minimal waste).
For a long time, we spiralized several zucchinis a week, and I realized that Jill was a smart woman all those years ago.
What is chicken piccata?
Chicken piccata (or any piccata, like veal piccata) is a traditional Italian dish made from a thin, pan-seared piece of meat coated with flour and drenched in a buttery lemon caper sauce.
Picatta dishes are typically served over a fine pasta like angel hair, but we prefer to serve ours over zoodles.